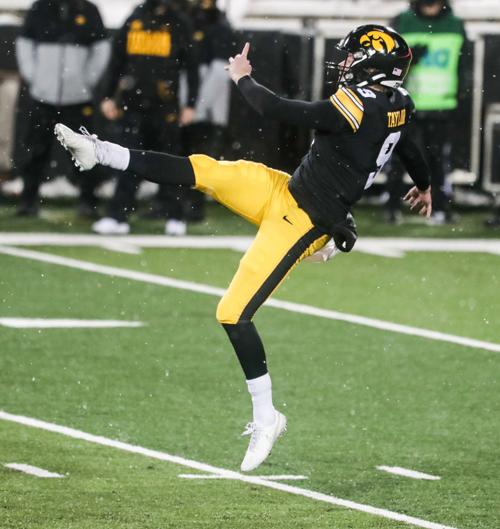 Nico Ragaini's catch, a wake-up call for ball in Australia and the fine line in this week's preparation are all part of today's Hawkeye 10@10.
Served up each weekday at 10 a.m. during game week at hawkmania.com, the Hawkeye 10@10 provides your daily dose of Iowa football news and notes.
Here is today's Hawkeye 10@10:
1. Nico Ragaini has caught nine passes for 113 yards for Iowa through four games, none more impressive than the 30-yard reception he had on a third-down play last week against Colorado State.
"Hell of a catch,'' quarterback Spencer Petras said.
Iowa coach Kirk Ferentz called Ragaini an "underrated'' football player.
"He's really dependable and has a knack that way,'' Ferentz said. "I think it stems from him being a competitive person, really competitive.''
2. Iowa's offensive line had its share of growing pains in the Hawkeyes' win over Colorado State last week, but center Tyler Linderbaum is fine with that.
The junior said it provides Iowa players with a chance to grow. "I think it was good,'' Linderbaum said about Sunday's film session. "There were a lot of mistakes, but the best thing is that you can learn from those mistakes. We play an imperfect game.''
Linderbaum said the return of senior guard Kyler Schott is making a difference.
Schott is seeing limited snaps as he works his way back into playing shape after missing around six weeks with a broken bone in a foot.
"When 'Shooter' is in the game, he makes us better,'' Linderbaum said.
3. With a short week of preparation, there is a fine line that has to be walked as Iowa prepares for a Friday night kickoff against Maryland.
"You still have the same amount of work you would normally do, just less time to get there. It's not quite as bad as playing on a Sunday in the NFL and turning around and playing Thursday but there are a lot of parallels,'' Iowa coach Kirk Ferentz said.
"You have to try to figure out quickly what it is you want to try to do and make your plan fairly concise. And like any week, you've got to make sure you can get the information across to your players where they have a chance to execute it.''
Ferentz said that while the work to be done remains unchanged, it has to be undertaken with caution.
"You don't want to use up the same amount of energy on a game week because there's not that recovery time from Wednesday on that we typically enjoy,'' Ferentz said.
4. Tory Taylor is one Hawkeye who has no problem with a 7 p.m. start in Friday's game at Maryland.
He said that translates to a 10 a.m. kickoff back home in Australia where his family members typically watch games on a livestream.
"They're looking forward to this. Normally, they're having to get up at 5:30 in the morning to watch,'' the Iowa punter said. "They're excited for it and a chance to sleep in a bit.''
Taylor said the Iowa-Iowa State game was televised live in Australia.
"That was big because it allowed my friends and family to just turn on the television and watch,'' he said.
5. Maryland enters Friday's game against Iowa leading the Big Ten in quarterback sacks.
The Terrapins have recorded 16 sacks through four games totaling 129 yards of losses.
Maryland's Dureell Nchami and Sam Okuayinonu rank third and eighth in the conference, respectively, each averaging one sack per game.
"We've done a good job of putting people in situations, third and longs, where we can create five one-on-one match-ups that give us a chance to make some things happen,'' Terrapins coach Mike Locksley said.
6. Iowa had its streak of nine straight games with 25 or more points end on Saturday with the Hawkeyes' 24-14 win over Colorado State.
The Iowa defense did extend its ongoing streak of allowing fewer than 25 points to 26 consecutive games.
That streak is the longest in the nation among power-five programs.
7. Defenses on both sides of the field Friday will be stingy.
In addition to Iowa extending its streak of allowing fewer than 25 points, Maryland has allowed 14.2 points per game in its 4-0 start to the season.
The Terrapins have not allowed more than 24 points in a game this season and have given up a combined total of 33 points in their last three games.
Iowa leads the Big Ten in allowing 11 points per game, while Maryland's defensive average ranks fourth in the conference.
8. Maryland coach Mike Locksley isn't a fan of playing multiple Friday night games.
The Terrapins' first two Big Ten games this season have been under the lights on Friday nights, a 20-17 win at Illinois on Sept. 17 and now Friday's game with Iowa.
"I guess we're still the new kids on the block with having to play Friday night games,'' Locksley said. "At some point, maybe we'll get full membership (in the Big Ten) to where we may not have to do this.''
9. Maryland will be chasing its first 5-0 start to the season since 2001 in Friday's game against fifth-ranked Iowa.
The 7 p.m. game takes on an added important for the Terrapins in part because of their upcoming schedule.
Maryland has games remaining with No. 4 Penn State, No. 11 Ohio State, No. 14 Michigan and No. 17 Michigan State.
10. Iowa wrestling coach Tom Brands is scheduled to be the featured speaker at Monday's Davenport Grid Club luncheon.
Brands wlll join Quad-Cities area college and high school coaches on the program for the noon event at the Knights of Columbus, 1111 W. 35th St., Davenport.
Tickets, priced at $12 each, can be purchased at the door and include a buffet lunch. Grid Club luncheons are open to the public.