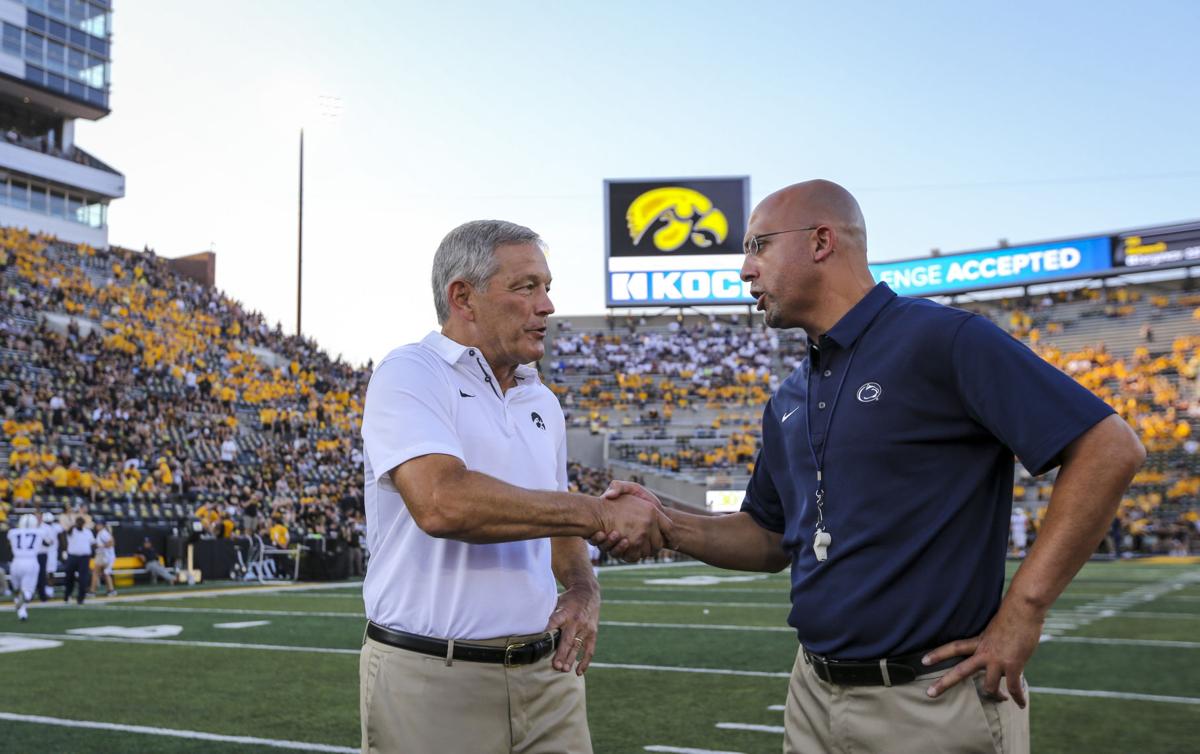 For early October, this is a big as it gets. Third-ranked Iowa. Fourth-ranked Penn State.
Enjoying the moment, national attention and the Nittany Lions thinking about a little Hawkeye trickery are all part of today's Hawkeye 10@10.
Delivered each weekday at 10 a.m. during game week at hawkmania.com, the Hawkeye 10@10 dishes up your daily dose of Iowa football news and notes.
Here is today's Hawkeye 10@10:
1. Tight end Sam LaPorta sees the Iowa-Penn State match-up as a golden opportunity for those who put in the work inside the Iowa football complex.
"We've earned it at the end of the day, the people in this building, not the campus, not our families and things like that,'' LaPorta said.
"We players, the coaching staff, the people in this building, we've earned this opportunity and I think it's important to understand that we deserve this and we're going to try our very best to go out there and win on Saturday.''
2. Iowa safety Kaevon Merriweather understands the excitement that surrounds Saturday's 3 p.m. game between third-ranked Iowa and fourth-ranked Penn State.
But, he has spent the entire week attempting to focus on the game.
"It's really not too difficult to block out the noise, not get too excited,'' Merriweather said. "I know that if I'm not really prepared for the game, that excitement is going to go down the drain.''
3. Noah Cain is Penn State's leading rusher, but he is just part of a balanced rushing effort.
The Nittany Lions have rotated three or four backs in most of their five games this season.
Coach James Franklin understands the positives and negatives of that.
"I think the benefit is the opportunity to keep three backs fresh and healthy for a complete game and season,'' Franklin said.
"The drawbacks, depending on the type of backs that you have, sometimes they just need to get in a rhythm. I get that as well. But I also think that until somebody steps up and shows that they are the guy, it's hard for us based on what we have seen at this stage, to just crown somebody.''
Penn State has four ball carriers averaging between 27 and 35 rushing yards per game.
4. Top-five match-ups are a rarity in college football. Before Saturday's game between third-ranked Iowa and fourth-ranked Penn State, the Hawkeyes have played in just five previous top-five games and the Nittany Lions have played in 10.
Recalling being part of top-ranked Iowa's 12-10 win over second-ranked Michigan in 1985 as the Hawkeyes' offensive line coach, coach Kirk Ferentz wants his team to enjoy the experience.
"I'll remember that game for as long as I live because of the environment that day,'' Ferentz said. "Not everybody gets that chance. We didn't play in those games at UConn or Maine. I can tell you that. …These are neat experiences. We just happen to be the guest at the party this year. We get to play Penn State, and that's good.''
5. Penn State has spent some time this week thinking about the possibility of the Hawkeyes using a little trickery at times on Saturday.
"We're going to spend time on those things this week, whether it's on PAT, field goal, with shifts and motions and swinging gates as we call them,'' Franklin said.
"They ran one a few years ago that we had worked on, but they were still successful. They're always going to have a wrinkle in there that you need to be prepared for.''
Franklin said his staff has broken down tape of all the trick plays Iowa has used against Penn State over the years.
"They've run some good ones. They do a great job with motions and shifts, so we're going to make sure we get those things covered this week,'' Franklin said.
6. The fumble that Sebastian Castro forced in last week's win at Maryland was even more impressive as coaches broke down tape.
Coach Kirk Ferentz said it might have been the play of the game.
"He made a great play,'' Ferentz said. "Read the guy cutting back, knifed in there, made a great tackle, knocked the ball out. We came out with the ball, turned that into a score. That was a really big, big play.''
More importantly from Ferentz's perspective, it showed the defensive back's potential.
"He's not a household name but has done a lot of good things here for a couple of years,'' Ferentz said. "… He's stacked behind some really good players at his position, some veterans at the safety spot, but that kind of play hopefully can lead to better things for him in his career.''
7. Saturday will be the 10th America Needs Farmers game at Kinnick Stadium for the ninth year, a former Hawkeye will be given ANF Wall of Honor recognition.
Marshal Yanda, who is part of the fifth generation of his family to operate a dairy farm north of Anamosa, Iowa, will the recognized during the Iowa-Penn State game.
A 13-year NFL veteran and eight-time Pro Bowl selection, Yanda welcomes the chance to celebrate the work done by farm families throughout the country.
He also spent time encouraging Iowa players to prepare for the top-five match-up against Penn State as they would any other game.
"The biggest thing is to make sure that you're not making this game any bigger than any other game on the schedule,'' Yanda said. "Just take it one game, one day at a time.''
8. Iowa and Penn State are meeting for the sixth time Saturday when both teams are ranked.
The Nittany Lions have won four of those previous five games.
Iowa's lone win came in 2010 by a 24-3 score when 17th-ranked Iowa beat 22nd-ranked Penn State.
The Nittany Lions have beaten higher-ranked Hawkeye teams twice, in 1984 and in 1995.
9. FOX will air its Big Noon Kickoff pregame show from the Pentacrest on the Iowa campus on Saturday.
The television show, which regularly includes former Hawkeye and long-time Oklahoma coach Bob Stoops, Rob Stone, Reggie Bush, Matt Leinart and Brady Quinn, will air live from the Pentacrest from 9-11 a.m. on Saturday.
Fans are welcomed to attend.
Fans are also reminded that under a new policy this year, university-operated parking lots will not open until six hours before kickoff, opening at 9 a.m.
10. Iowa basketball assistant coach Kirk Speraw will be the featured speaker at Monday's Davenport Grid Club luncheon.
Speraw will join Quad-Cities area high school and college football coaches in speaking at the noon lunch at the Knights of Columbus, 1111 W. 35th St., Davenport.
Grid Club events are open to the public and tickets, priced at $12 each and including a buffet lunch, can be purchased at the door.