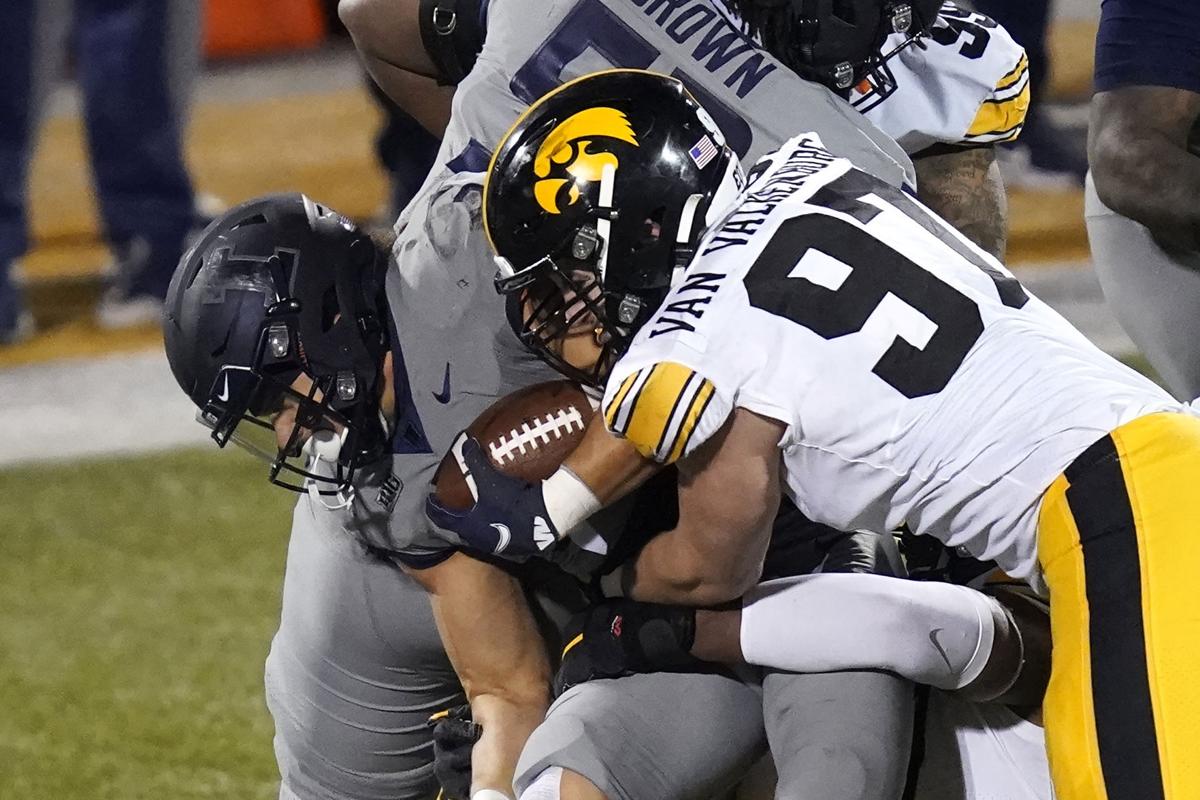 Hawkeyes, past, present and future all have a spot in today's Hawkeye 10@10.
Your in-season daily dose of Iowa football news, delivered weekdays at 10 a.m. at qctimes.com and hawkmania.com, shifts to off-season mode now but not before delivering the latest.
Here is today's Hawkeye 10@10: 
1. The dust has seemingly settled on the decision-making process for Iowa seniors who had the option of returning for an additional year of eligibility.
Iowa honored 22 seniors prior to the Wisconsin game and following defensive end Zach VanValkenburg's announcement that he plans to return in 2021, coach Kirk Ferentz referenced Iowa's 21 seniors in a statement he made on the day when junior Daviyon Nixon announced his plans to enter the NFL draft.
"I want to say thank you to the 21 seniors for their dedication and commitment to our program,'' Ferentz said in a statement. "These men have all contributed in some way to make our program better throughout the course of their careers. Some will chase professional football dreams, while most will move on to their chosen careers.'' 
2. Future Hawkeye Cooper DeJean won a major national honor on New Year's Day.
The safety who signed with Iowa last month from Iowa Class 1A state champion OABCIG was named as the All-American Bowl Adidas Football US Player of the Year.
DeJean accumulated more than 4,500 yards of offense and scores 62 touchdowns in addition to playing defense for his high school team. 
3. Iowa junior Charlie Jones finished as the Big Ten's most productive punt returner.
Jones averaged 10.5 yards on 21 returns for the Hawkeyes, work that included the only punt return for a touchdown in the Big Ten this season.
The only other Hawkeyes to finish on top of league statistical charts were Daviyon Nixon, who led the Big Ten with 13.5 tackles for a loss and Zach VanValkenburg, who had a league-leading four fumble recoveries. 
4. Iowa will finish the season second in the Big Ten in both scoring and scoring defense.
The Hawkeyes averaged 31.8 points per game during their 6-2 season, second only to Ohio State among Big Ten teams and allowed 16 points per game. Only Northwestern at 15.9 points allowed fewer.
The Hawkeyes' Keith Duncan finished second in the Big Ten in scoring, collecting 68 points. Only Minnesota running back Ibrahim Mohamed with 90 points finished with more. Duncan kicked a Big Ten-best 14 field goals, averaging 1.8 per game.
Following bowl play, Iowa's Daviyon Nixon and Chauncey Golston finished tied for second in the conference in sacks with 5.5. Indiana's Micah McFadden moved past the pair in the Hoosiers' Outback Bowl game to finish the season with six. 
5. A.J. Epenesa made his first professional start over the weekend for the Bills.
The former Hawkeye defensive end finished with three tackles for Buffalo in its 56-26 win over the Miami, a game which also saw former Iowa defensive back Micah Hyde collect one tackles. 
6. C.J. Beathard had another strong start for San Francisco at quarterback on Sunday in a 26-23 loss to Seattle.
The former Iowa quarterback completed 25-of-37 passes for 273 yards and one touchdown in the loss.
Former Hawkeye George Kittle was his target frequently. Kittle finished with seven catches for 68 yards in the game. 
7. One week after making his first start for Green Bay, former Iowa walk-on Dominique Dafney caught his first NFL touchdown pass.
Dafney scored on a 13-yard pass play for the Packers in their 35-16 victory over the Bears, a game which saw former Hawkeye linebacker Christian Kirksey collect seven tackles including one sack. 
8. It was a busy weekend for former Hawkeye defenders in the NFL.
Josey Jewell and Michael Ojemudia led the Broncos with nine and seven tackles respectively in a 32-31 loss to the Raiders, while Amani Hooker had three tackles and interception and Desmond King finished with three stops for the Titans in a 41-38 win over the Texans.
Elsewhere on defense, Anthony Nelson shifted to an outside linebacker position and had two tackles for the Buccaneers in a 44-27 win over the Falcons, Adrian Clayborn had one tackle for the Browns in their 24-21 win over the Steelers and Kristian Welch had one tackle for the Ravens in their 38-3 win over the Bengals.
On offense, Noah Fant caught four passes for 48 yards for the Broncos in their loss to the Raiders and T.J. Hockenson had three receptions for 25 yards in the Lions' 37-35 loss to the Vikings. 
9. Mike Daniels sat out the Bengals' 38-3 loss to the Ravens.
The former Hawkeye defensive lineman was placed on Cincinnati's COVID list on Saturday. 
10. Former Hawkeye Geno Stone has a new NFL home.
Stone was claimed off waivers from the Ravens last week by the Texans, where he will begin his 2021 season.
The defensive back was a seventh-round pick of Baltimore in 2020 draft.
BONUS 10. If 2020 taught us anything, it is that schedules can be flexible. Here is Iowa's current 2021 football schedule:
Sept. 25 – Colorado State