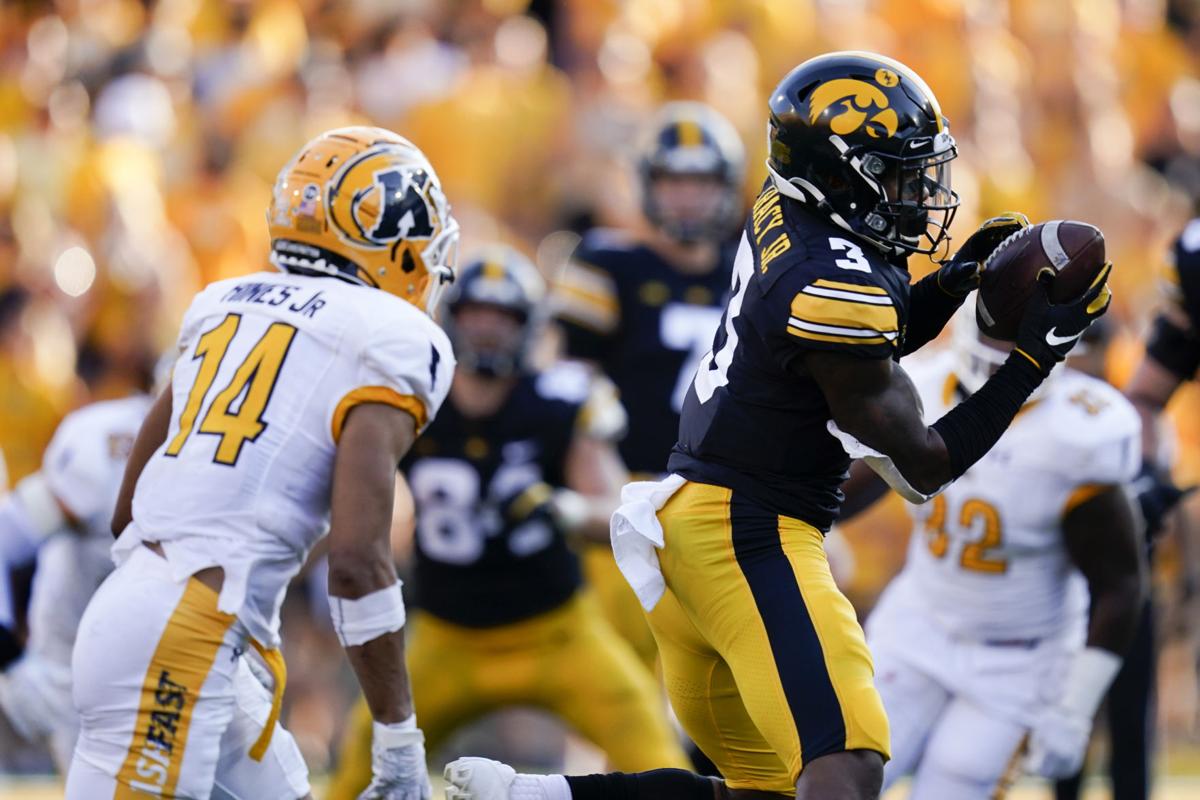 Tyrone Tracy Jr. on his evolving role, Noah Shannon on sacks and where Hawkeyes rank among national leaders have all found their way into today's Hawkeye 10@10.
Delivered each weekday at 10 a.m. during game week at hawkmania.com, the Hawkeye 10@10 provides your daily dose of Iowa football news and notes.
Here is today's Hawkeye 10@10:
1. As his career continues, Tyrone Tracy Jr. is seeing football through different eyes these days.
With Brandon Smith and Ihmir Smith-Marsette completing their eligibility, Tracy moved into a more visible role in the Iowa offense and through three games has learned that is accompanied by additional defensive attention.
"I'm understanding that it does create open spaces for others,'' Tracy said. "Our offense has a lot of weapons. I just make sure that I run the right routes, do what I can to do my and be ready when the ball comes my way.''
Tracy said he is also working to help Iowa's younger receivers grow, working on his own vocal leadership abilities on the sidelines as well as on the field.
"I think I can be a little more vocal on the sidelines. My leadership is more 'Imma show you and then you can just follow me.' So, I'd like to be a little more vocal.''
2. Defensive tackle Noah Shannon was as impressed with Iowa's collection of seven sacks in last week's game against Kent State as anyone.
"That was crazy. I didn't really know how many we had, it just seemed like we were getting a pretty good rush going as a team,'' Shannon said.
Team, he said, is the key to it all.
"I feel like we're playing pretty well together,'' Shannon said. "We're all on the same page and that is allowing us to accomplish a lot. Last week was fun and now the idea is to keep building on it.''
3. Four Hawkeyes currently rank in the top 10 in the nation in statistical categories.
Punter Tory Taylor ranks seventh in the Football Bowl Subdivision with his average of 49.7 yards per punt.
Iowa junior Tyler Goodson ranks ninth nationally with five rushing touchdowns three weeks into the season and senior defensive backs Matt Hankins and Riley Moss rank ninth nationally with two interceptions and an average of 0.7 interceptions per game.
4. The return of Kyler Schott is making an impact on the practice field as much as anywhere for the Iowa football team.
The offensive guard saw his first action of the season last week, adding a veteran presence to the mix on the Hawkeye front five.
"It sounds pretty basic and mundane, but guys that have been out there just react a little bit more naturally and a little quicker,'' Iowa coach Kirk Ferentz said.
"That part shows up right away. We see it in practice every day, at least the past couple of weeks. The more you can add to the mix, the better you're going to be.''
5. Colorado State coach Steve Addazio wants his team to build off of the defensive success it had a week ago in winning at Toledo, a team that had taken Notre Dame to the wire the previous week.
The Rams limited the Mid-American Conference team to 21 rushing yards a week ago after struggling on that end of the field in season-opening losses to South Dakota State and Vanderbilt.
He said his team will need to find efficiency on both sides of the field, extending drives offensively and getting off the field on third down defensively.
"Iowa's not going to beat themselves. We have to be ready to go in there and take it,'' Addazio said.
6. As a team, the Hawkeyes lead the Big Ten seven statistical categories this week.
Iowa leads the conference with three defensive touchdowns, six interceptions, eight turnovers gained, a defensive scoring average of 10 points per game, a perfect 100 percent on scoring when reaching the red zone and in having no interceptions and no kickoffs returned by an opponent.
Individually, Iowa leads the league in just two areas. Charlie Jones' average of 25.2 yards on kickoff returns leads the Big Ten and Matt Hankins and Riley Moss share the Big Ten lead with two interceptions apiece.
7. Colorado State is making a rare appearance in the state of Iowa.
The Rams last played in the state in 1983 when it lost at Iowa State 21-17, one of the Cyclones' four victories that season.
Colorado State is 1-11 all-time against current members of the Big Ten. Its most recent game against a Big Ten team came in 2016 when the Rams played at Minnesota.
Colorado State has future games scheduled against Michigan in 2022, Indiana in 2026 and Wisconsin in 2027.
8. Four former Iowa players are among 122 candidates on the preliminary list for consideration as potential 2022 selections in the Pro Football Hall of Fame.
Tight end Dallas Clark, safety Merton Hanks, punter Reggie Roby and safety Bob Sanders are among players under consideration.
The list of 122 will be trimmed to a group of 25 semifinalists in November.
9. The Rams have the most veteran full-time assistant coach of any program in the country at the collegiate level this season.
Colorado State defensive coordinator Chuck Heater is in his 45th season as a full-time assistant coach at the collegiate level.
He has coached in 527 games during his career. Northwestern's Mike Hankwitz previously was the nation's most-experienced assistant before his retirement following the 2020 season.
10. Former Iowa line coach Reese Morgan is scheduled to be the guest speaker at Monday's Davenport Grid Club luncheon.
Morgan, making his first appearance at the Grid Club, will join Quad-City area high school and college football coaches in speaking at the noon luncheon at the Knights of Columbus, 1111 W. 35th St., Davenport.
Tickets, priced at $12 and available at the door, include the program and a buffet lunch.
Grid Club luncheons are open to the public.