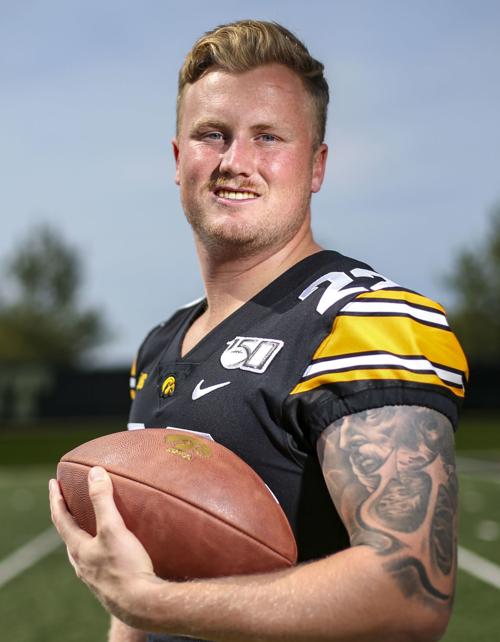 IOWA CITY — Michael Sleep-Dalton spent part of Saturday afternoon depositing punts inside the 5-yard line at Kinnick Stadium, just the latest stop for the 26-year-old Australian electrician who hopes to make a difference on the Iowa football team.
The graduate transfer from Arizona State was among specialists battling for starting assignments who thrived during the Hawkeyes' annual Kids at Kinnick Day practice.
Kickers Keith Duncan and Caleb Shudak, who shared the top spot on the depth chart when Iowa opened fall camp, did little to separate themselves with a perfect performance, each hitting field goals from 34 and 40 yards from the right hash and 46 and 50 yards from the left hash at different points within the Iowa scrimmage.
"That might have been the most impressive part of the day, the consistency those two guys showed," Iowa coach Kirk Ferentz said. "No matter where they did it from or what angle they did it from, they knocked them through. They've both looked good all camp. Maybe both of them will help us."
Sleep-Dalton appears poised to help Iowa's punting game as well.
The pressure wasn't what it will be once Miami (Ohio) arrives at Kinnick Stadium for the Hawkeyes' 6:30 p.m. season opener on Aug. 31, but he launched a 62-yard effort that dropped just inside the five and had another downed at the 1-yard line.
A two-year starter at Arizona State, Sleep-Dalton went shopping for a place to complete his collegiate career when it became apparent that he was likely going to be replaced in the lineup following a coaching change.
Iowa, which ranked 107th in the NCAA Football Bowl Subdivision last season in net punting, became a possibility because of the Hawkeyes' desire to create some competition at the position following an inconsistent junior season by returning starter Colten Rastetter, who averaged 38.9 yards a year ago.
Sleep-Dalton averaged 43.8 yards on 59 punts last season for the Sun Devils, driving 10 punts 50 or more yards.
"My coaches in Australia encouraged me to look a different opportunity at this point in my career, something that could benefit me, and I found that here in Iowa," Sleep-Dalton said.
Long before Sleep-Dalton and his fiancee Sarah packed their belongings and loaded them into a car along with their dog and cat for the trek from Tempe to Iowa City, this journey started in his hometown of Geelong, Australia.
It was there, more than 9,500 miles away from where Sleep-Dalton spent Saturday afternoon working for a starting opportunity, that he ultimately decided his dream was worth chasing.
Sleep-Dalton grew up playing Australian rules football, "from since I was old enough to walk and hold a football in my hand.''
After completing high school, Sleep-Dalton entered the workforce, doing an apprenticeship as an electrician with an Australian branch of American-owned Alcoa.
He made a good living, purchasing a house that he still owns and is currently renting out, but Sleep-Dalton wanted more.
"I've been out in the real world and know what it takes, and I don't want to work 9-to-5 again," Sleep-Dalton said. "So, I thought I would come over (to the United States) and pursue a goal."
He trained with Pro Kick Australia and added his name to a list that now numbers more than 75 kickers from his country who have found scholarship opportunities to kick at the collegiate level in the United States.
He initially competed at the junior college level for the City College of San Francisco, averaging 41.7 yards on 45 punts, before transferring to Arizona State, where he spent the past three years and earned his undergraduate degree.
"The transition in San Francisco was difficult," Sleep-Dalton said. "It was a guy who had been living by himself in my own house suddenly living in a one-bedroom apartment with four teammates sleeping on a futon. I sort of questioned myself a couple of times."
It led to the opportunity in the Pac-12, where he suffered a torn right quad the week before the Sun Devils' 2017 season opener and quickly taught himself to punt with his left leg.
"It wasn't ideal, but it was pretty much out of necessity, and I can punt with either leg," said Sleep-Dalton, who stuck to his preferred right leg during Saturday's scrimmage.
Iowa coaches like the competition they have created by adding Sleep-Dalton to the roster, and Sleep-Dalton likes the fit he has found at Iowa.
"The coaches here, the experience and longevity they have, and what (strength and conditioning coordinator Chris) Doyle has to offer that I can learn from, this is a perfect spot for me to be in," Sleep-Dalton said.
With one eye on taking his game to the next level, Sleep-Dalton also likes the variety of weather he anticipates seeing as the Hawkeyes work through their Big Ten schedule.
"The elements here will challenge me, and I welcome that," he said. "I have punted in the cold before, not in Arizona, but in our games in Washington and Oregon, so I know a little about what to expect. I'm here to compete and see what I can do as I learn."