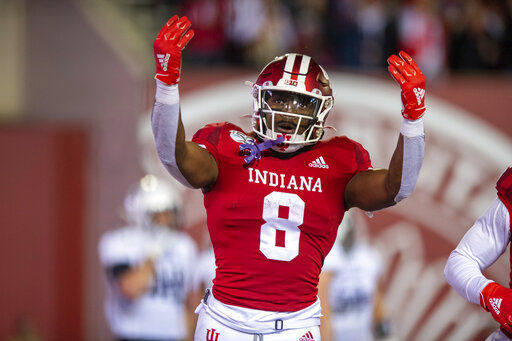 College football caught its breath this weekend.
With four of the top five teams and nine of the 25 overall on a bye week there isn't a lot movement on my ballot for this week's Associated Press college football poll.
Georgia's win over Florida along with the first losses of the season for SMU and Appalachian State force some movement, and the loss by Appalachian State led to the only departure from last week's list.
Indiana, 7-2 on the season, moves into the No. 25 spot on my ballot this week.
The Hoosiers have a bye next weekend, but will be challenged down the stretch to stay on the list. A trip to Penn State, a home game with Michigan and a roadie at Purdue remain on the Indiana schedule.
The top six spots on my ballot -- Alabama, Ohio State, LSU, Clemson, Penn State and Georgia -- remain unchanged. Oregon, Oklahoma, Utah and Baylor fill out the rest of the top 10.
I dropped the Gators from seventh to 11th, a modest move, following the one touchdown loss, while maintaining Florida's position ahead of an Auburn team it defeated.
Minnesota, now one of seven remaining unbeaten teams, sits at 13 heading into its home game this week with Penn State.
SMU's 54-48 loss to Memphis allows Michigan, Notre Dame, Wisconsin, Iowa, Cincinnati and Boise State to all rise one spot into the 14th through 19th spots.
Memphis moves up four to 20, with Kansas State rising to 21 following a dominant win against Kansas.
With Alabama facing LSU and Penn State meeting Minnesota next weekend, two more teams will be dealing with their first loss of the season one week from now, guaranteeing more moves seven days from now.
Here's is my AP ballot for today, part of the national ballot that will be released early this afternoon: