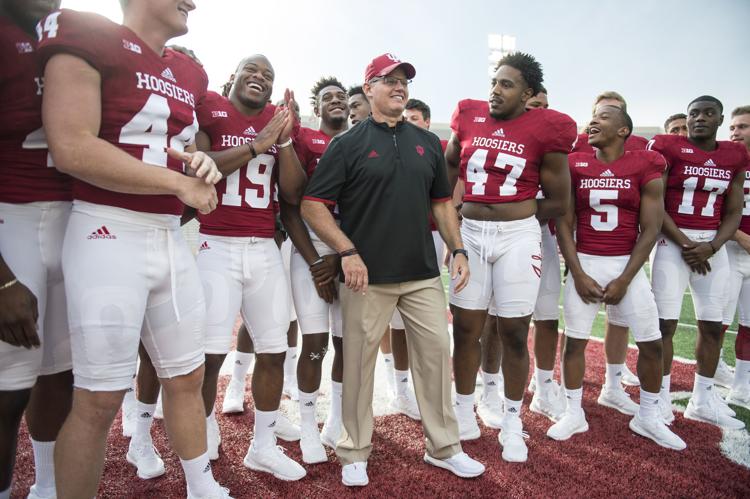 Big Ten breakdown: Indiana
Coach: Tom Allen, 5-8 entering second full season at Indiana and overall
2017 record: 5-7, 2-7 Big Ten (tied for sixth, East Division)
Offensive starters returning (11): QB Peyton Ramsey, WR Donavan Hale, WR Luke Timian, WR Nick Westbrook, RB Morgan Ellison, RB Mike Majette, OL Coy Cronk, OL Brandon Knight, OL Wes Martin, OL Hunter Littlejohn, OL Simon Stepaniak
Defensive starters returning (4): DL Jacob Robinson, DB Marcelino Ball, DB Jonathan Crawford, DB Andre Brown Jr.
Specialists returning (1): P Haydon Whitehead
Returning statistical leaders: Rushing, Morgan Ellison 143-704; Passing, Peyton Ramsey 134-205-5-1,252-10; Receiving , Luke Timian 68-589; Tackles, Jonathan Crawford 62; Interceptions, Jonathan Crawford 1
Jonathan Crawford: A three-year starter in the Hoosiers secondary, the senior strong safety is one of four players returning on defense with starting experience. He has eight career interceptions and Indiana will rely on his experience as it works to replace starting safety Chase Dutra and cornerback Rashard Fant.
Morgan Ellison: Totaled 704 rushing yards last season as a true freshman and is being counted on to help bring some life to an Indiana rushing attack which struggled to gain much traction in 2017. The 6-foot-1, 225-pound Ohio native averaged 4.9 yards per carry and led the Hoosiers with six rushing touchdowns during his rookie season.
Nick Westbrook: Figures to be one of the top targets for whoever emerges as the Hoosiers' starting quarterback after missing the 2017 season because of a knee injury suffered on the opening kickoff of a season-opening game against Ohio State. Westbrook was Indiana's second-leading receiver in 2016 and is among a number of capable receivers on the roster.
Whop Philyor: Emerged late in the season last fall as a capable Big Ten receiver. The Tampa native brings quickness to the position and recorded 25 of his 33 receptions last season during the final five games of his freshman season.
Brandon Dawkins: A graduate transfer from Arizona, the 6-3, 210-pound California native started 14 games over the past three seasons for the Pac-12 program. He rushed for 20 touchdowns and passed for 15 with the Wildcats and is currently battling returning part-time starter Peyton Ramsey as well as redshirt freshman Nick Tronti and true freshman Michael Penix for the job.
2: The Hoosiers sent two linebackers, Tegray Scales and Chris Covington, to the NFL after last season, leaving a major need at the position. Georgia Tech graduate transfer T.D. Roof is being counted on to provide part of the solution.
"We have to change the way we play. It's pretty simple. We have to finish. We play with unbelievable toughness. We've competed for 60 minutes. Now, it's time to finish.'' – Tom Allen, Indiana coach
Sept. 1 – at Florida International
Sept. 22 – Michigan State*
Where Indiana ranked in the Big Ten in 2017:
Scoring offense: 23.2 (Eighth)
Rushing offense: 112 (12th)
Passing offense: 276 (Third)
Totals offense: 388 (Fourth)
Scoring defense: 30.0 (10th)
Rushing defense: 166 (Ninth)
Passing defense: 196 (Seventh)
Total defense: 362 (Seventh)
The Hoosiers' record over the last five years:
Iowa 44, Indiana 28, Ties 4
Record in the last five games vs. the Hawkeyes:
2010: Iowa 18, Indiana 13
2011: Iowa 45, Indiana 24
2012: Indiana 24, iowa 21
2014: Iowa 45, Indiana 29
2015: Iowa 35, Indiana 27