Working to ensure that one loss doesn't lead to another, there are a couple of tweaks to the Iowa depth chart for Saturday's game at Purdue.
That, along with a look into the future and an update on the start time for the next home game, are all part of today's Hawkeye 10 @ 10, your daily dose of Iowa football news and notes.
Delivered each weekday at 10 a.m. at Hawkmania.com, your home for all things Iowa, here is today's Hawkeye 10 @ 10:
1. Parker Hesse believes looking forward is more important than looking back right now for the Iowa football team.
He said the quicker the Hawkeyes forge ahead and begin getting ready for Purdue, the better off the team will be.
"This one is going to sting and nobody feels good about it, but we can't let it beat us twice,'' Hesse said following Saturday's 30-24 loss at Penn State. "We have big games ahead of us and we have a lot to accomplish still. We have to work now to get better as a team and work towards Purdue.''
The Hawkeyes learned a year ago what can happen if that doesn't happen.
Iowa followed a flat performance in a 38-14 loss at Wisconsin by losing 24-15 the next week at home to the Boilermakers.
2. There are only minimal changes on Iowa's depth chart for Saturday's 2:30 p.m. game at Purdue.
Running back Ivory Kelly-Martin, who exited the Penn State game after aggravating an ankle injury, is listed as the starter at the position this week with Toren Young and Mekhi Sargent sharing the second line on the depth chart.
On defense, a healthy Jack Hockaday now shares the top line at middle linebacker with Kristian Welch who started at the position against the Nittany Lions.
The other change reflects the one-week suspension of Matt Hankins. Michael Ojemudia is now listed as the back-up cornerback at both right and left positions, replacing Hankins behind Julius Brents this week as the top reserve on the left side.
3. Iowa's offensive line is looking to bounce back from a rough outing at Penn State.
The Hawkeyes were called for four false starts and the inability of center Keegan Render to hear Nate Stanley's cadence led to a few snap issues including one that led to a fumble.
"I couldn't hear him, a lot of guys up front couldn't, but that's not an excuse,'' center Keegan Render said. "We've got to work through that.''
4. Hawkeye safety Amani Hooker felt a few critical breakdowns decided Saturday's game at Penn State, a game which saw Iowa hold the Nittany Lions' offense to their lowest yardage total of the season.
"We're a good defense. We came out and fought hard, played hard as a defense,'' Hooker said. "We're on to next week and the best thing we can do is come out and play hard next week, too.''
5. Nate Stanley endured a rough day under center at Penn State, but his 198 yards of total offense did push Iowa's junior quarterback over 4,000 yards of offense in his career.
The work moved him past a couple of Hawkeye legends on the school's all-time list and his 4,158 yards moves him into 11th place in school history.
Stanley passed Ed Podolak (4,026) and Sedrick Shaw (4,156) on the all-time list with the yards he gained against the Nittany Lions.
6. The starting time for Iowa's next home game remains undetermined.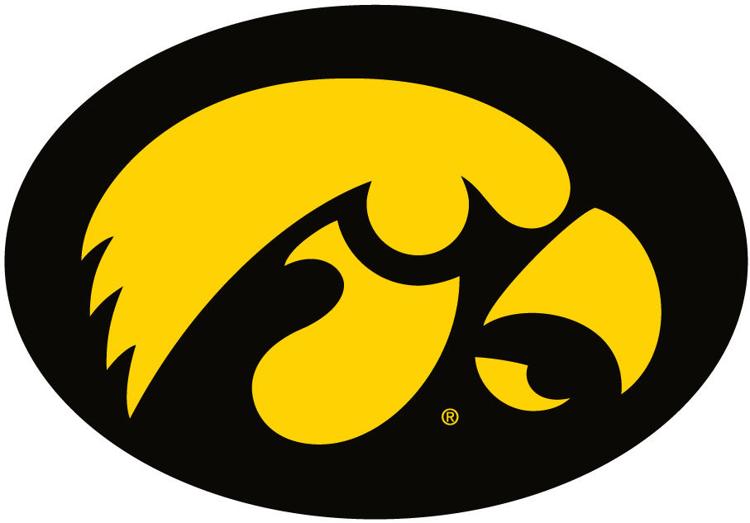 Television networks have opted to use a six-day pick allowed in their contracts for next week, meaning the kickoff time for the Hawkeyes' Nov. 10 home game against Northwestern will not be determined until after this weekend's games have been played.
The game will not be at night.
No Big Ten games will be played during the evening on Nov. 10.
Expect an announcement sometime Saturday night that I will pass along on Twitter at @sbatt79. Follow along.
7. Geno Stone's pick six was the first interception Iowa had returned for a touchdown since Brandon Snyder returned one 89 yards for a score in the Hawkeyes' win over Illinois on Oct. 7, 2017.
His 24-yard run back was the third interception of the season for Stone and marked the 11th straight year that Iowa has returned at least one interception for a touchdown.
8. The job that Penn State defensive end Yetur Gross-Matos did against Iowa and the play of a former Iowa high school player were recognized Monday when the Big Ten announced its weekly award winners.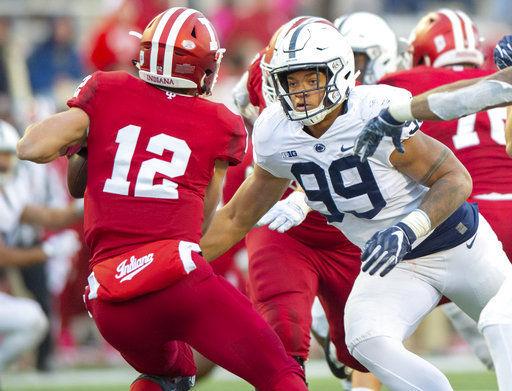 Gross-Matos was named the Big Ten defensive player of the week after recording a career-high four tackles for a loss among a team-leading nine tackles in the Nittany Lions win over Iowa. Gross-Matos also matched a career best with two sacks in the win.
Rocky Lombardi, a West Des Moines Valley graduate who made his first start at quarterback for Michigan State in its win over Purdue, shared Big Ten freshman of the week honors.
Lombardi completed 26-of-46 passes for 318 yards and two touchdowns against the Boilermakers.
He shared the award with quarterback Tanner Morgan of Minnesota, who threw for 302 yards and three touchdowns while making his first career start for the Golden Gophers in a win over Indiana. Javon Leake of Maryland was named the Big Ten offensive and special teams player of the week.
The sophomore running back recorded 274 all-purpose yards and scored four touchdowns in the Terrapins rout of Illinois. Leake ran for 140 yards and three scores and returned three kickoffs 134 yards, including a 97-yard return for Maryland's first touchdown of the game.
9. Kicker Miguel Recinos continued his climb up the Iowa career scoring charts Saturday.
The senior from Mason City hit two field goals and two extra points against Penn State and the eight points pushed Recinos into 20th on the Hawkeye all-time scoring list with 146 career points.
He passed Mike Saunders, who had 144, on Saturday. Recinos has helped himself with consistency. He has hit his last nine field goal tries.
10. Iowa quarterback commit Alex Padilla was on target for his Cherry Creek (Colo.) last week, connecting on 16-of-19 passes and throwing one touchdown pass among efforts of future Hawkeyes.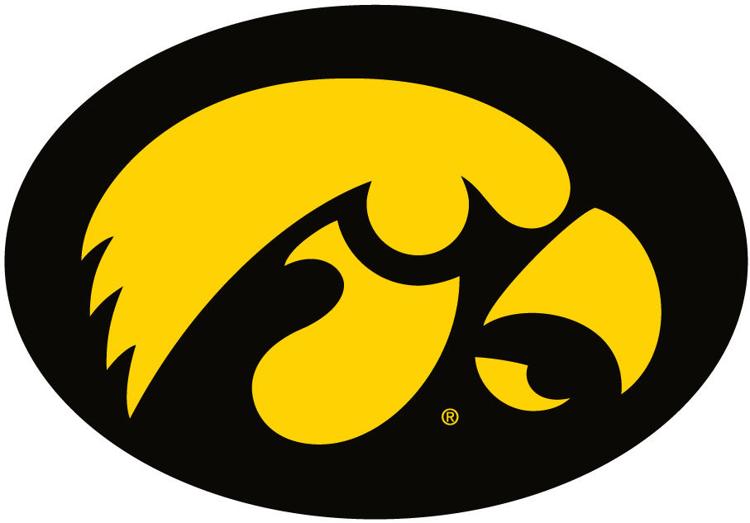 Elsewhere, running back Tyler Goodson rushed for 52 yards and scored four touchdowns for North Gwinnett (Ga.) in a win and tight end Josiah Miamen of Dunlap had 15-yard touchdown catch for Dunlap as its Illinois playoff run ended with a 28-21 loss to Yorkville.
On defense, Cedar Falls linebacker Jack Campbell had 14 tackles in an Iowa 4A playoff win over Indianola, safety Sebastian Castro of Oak Lawn Richards finished with a pair of stops in an Illinois playoff shutout over Rock Island, defensive end Jalen Hunt totaled three tackles for a loss in a win for Belleville (Mich.), defensive end Jake Karchinski had three tackles for West De Pere (Wis.) in a playoff win, defensive back Dane Belton broke up a pass and had one tackle for Tampa (Fla.) Jesuit in a win and linebacker Jestin Jacobs had two tackles for Northmont (Ohio).