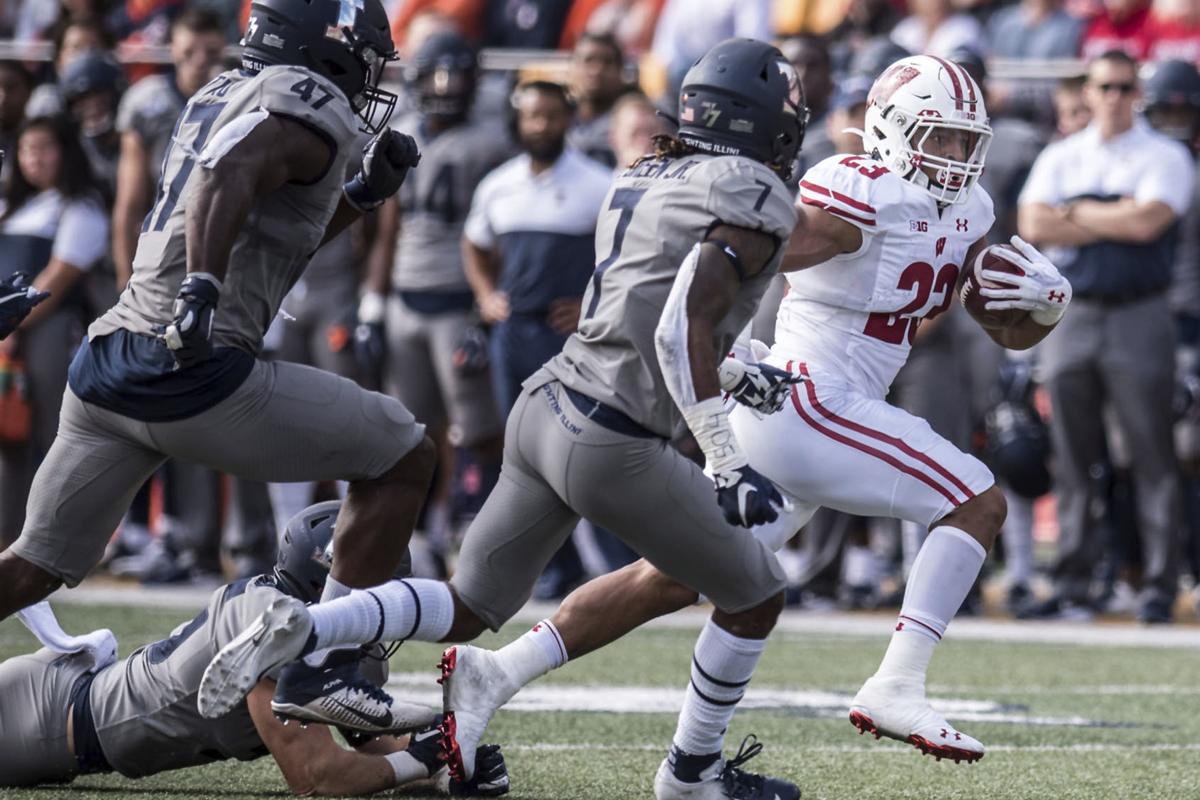 Four things the football teams from Iowa and Wisconsin can do to position themselves for success in Saturday's 3 p.m. game at Camp Randall Stadium:
Wisconsin (6-2, 3-2)
1. Re-establish the run
The Badgers ground game hasn't been its old dominating self recently, something that underwent a bit of an examination during Wisconsin's bye week following a 38-7 loss at Ohio State.
Jonathan Taylor is still in the backfield, but his average of 3.7 yards per carry over the past three games is off nearly three yards from his career average.
The junior is still one of the country's most dynamic backfield threats and with four games left in the regular season, he's already pushed past the 1,000-yard marker for the season.
Tyler Biadasz, a 6-foot-3, 321-pound junior center, anchors the Wisconsin offensive front, but the Badgers have shuffled things at both guard positions during the season and list two potential starters at each spot for this week.
2. Get after it
Consistently pressuring opposing quarterbacks was an offseason emphasis for the Badgers' defense and the results are making a difference.
Wisconsin has already topped its season sack total from 2018, going from 19 a year ago to 32 so far in 2019. Senior inside linebacker Chris Orr and senior outside linebacker Zack Baun lead the way. Orr has nine sacks and Baun has 7.5 through eight games.
As a team, the Badgers average 7.3 tackles for a loss per game, a number that has also improved over an average of 4.9 per game a year ago.
The 32 sacks and 57 tackles for a loss are stats complemented by 21 quarterback hurries and 40 passes broken up, among the reasons the Badgers can be a quarterback's worst nightmare.
3. Get off the field
Led in tackles by linebacker Jack Sanborn, a sophomore who was among Iowa's top recruits in the 2018 recruiting class, the Badgers' defense has been quick to get off the field.
Wisconsin has denied any sort of a drive on 49.5 percent of its opponents possessions, recording a nation-leading three-and-out rate of 49.5 percent.
Clemson ranks second nationally in that category, forcing opponents into three and outs on 47.4 percent of their possessions.
The effort has helped Wisconsin share fourth nationally in scoring defense, allowing just 11.4 points per game.
4. File a flight plan
In his first full season as Wisconsin's starting quarterback, Jack Coan has displayed an accurate arm.
The 6-3, 221-pound Sayville, New York, native has completed a Big Ten-best 74.5 percent of his 184 passes this season. He has thrown 10 touchdown passes and has been intercepted only twice.
The protection provided by a line which has allowed 15 sacks has provided Coan with time to work, among the reasons the Badgers rank 10th nationally on third-down conversions.
Coan has completed 36-of-47 passes on third down, converting 25 of those for first downs.
He surrounded by experienced receivers, with junior Quintez Cephus, junior Danny Davis and senior A.J. Taylor combining for 66 catches.
Iowa (6-2, 3-2)
1. Establish the run
Much like the Hawkeyes will challenge the Badgers with the nation's eighth-ranked rushing defense -- allowing 87.8 yards per game -- Wisconsin will test Iowa's mettle on the ground.
The Badgers are giving up 84.1 rushing yards per game, fifth nationally, just about what Iowa has averaged in losses to Wisconsin in each of the last three seasons.
The Hawkeyes have rushed for an average of 85.3 yards in those games.
Iowa has averaged 98 yards on the ground in its five Big Ten games and is averaging 145.8 yards for the season. Mekhi Sargent at 55.4 yards, Toren Young at 44.6 and Tyler Goodson at 39.5 lead the Hawkeyes' rushing attack.
2. Swarm after the swarm
Swarming to the ball will be key objective of the Hawkeye defense against Wisconsin.
Iowa will likely rely on its base 4-3 defensive alignment to deal with a Badgers' rushing attack which ranks second behind Ohio State in the Big Ten with its average of 216.4 yards per game on the ground.
Expect that to include additional help in run support from Iowa defensive backs based on down and distance.
The expected absence of middle linebacker Kristian Welch because of an injury will likely put redshirt freshman Dillon Doyle and true freshman Jack Campbell in the crosshairs of the Wisconsin rushing attack.
3. Defend the tight end
Iowa will be tested again by another of the Big Ten's premier tight ends.
Badgers sophomore Jake Ferguson caught the first of Wisconsin's three touchdown passes in its 28-17 win at Iowa a year ago.
The 6-foot-5, 246-pound grandson of Wisconsin athletics director and former coach Barry Alvarez has caught at least one pass in the 21 games he has played at the collegiate level.
Ferguson has 21 receptions on the season for 247 yards and two touchdowns.
He caught a game-high four passes for 58 yards at Iowa a year ago and his skill set is similar to two of the league's premier tight ends the Hawkeyes have already faced this season.
Penn State's Pat Freiermuth caught two passes for 25 yards in the Nittany Lions' win over Iowa and Brycen Hopkins of Purdue finished with five catches for 51 yards in the Hawkeyes' win last month.
4. Play turnover-free ball
Iowa is 6-0 this season when it wins the turnover battle against its opponent and 0-2 when it doesn't.
That statistic played out a year ago in the match-up between the Hawkeyes and Badgers.
Nate Stanley was intercepted once and Iowa lost a pair of fumbles in the game, all factoring into helping Wisconsin take home a 28-17 win from Kinnick Stadium.
Both Iowa and Wisconsin are among national leaders in time of possession, a reflection in part of the ball security that has helped both teams rank among the top six in the Big Ten in turnover margin.