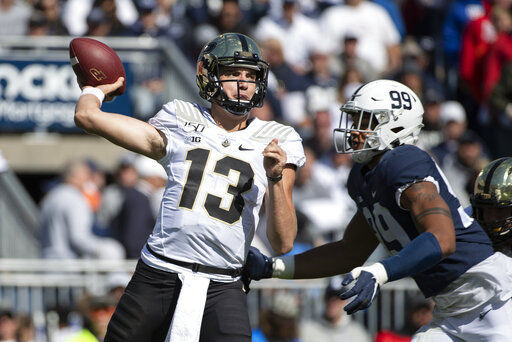 Four things the football teams from Iowa and Purdue can do to position themselves for success in Saturday's 11 a.m. game at Kinnick Stadium:
Purdue (2-4, 1-2)
1. Be Purdue
The Boilermakers are built to throw the football and to beat Iowa, Purdue will need the quarterback to make a difference.
In his second start in place of injured Elijah Sindelar, redshirt freshman quarterback Jack Plummer enjoyed the fifth-most productive day for a Boilermakers quarterback who attempted more than 20 passes in a game last Saturday when he completed 33-of-41 for 420 yards in a 40-14 rout of Maryland.
His 80.5-percent completion rate against the Terrapins has been topped only by Kyle Orton, Bob Griese, Drew Brees and Mark Herrmann in Purdue history.
A repeat performance may be asking a bit much, but Plummer will need to be effective if the Boilermakers are going to have a chance to add a third straight win over Iowa to their recent collection.
2. Deliver on defense
Opponents have moved the ball against Purdue all season. Among Big Ten teams, only Rutgers is allowing more than the 444.5 yards the Boilermakers are surrendering this season.
With injuries keeping linebacker Markus Bailey and defensive tackle Lorenzo Neal off the field, Purdue has been even younger than it anticipated being on the defensive side of the ball this season.
Freshman defensive end George Karlaftis and graduate transfer linebacker Ben Holt are enjoying solid seasons.
Karlaftis, a 6-foot-4, 265-pound native of West Lafayette, leads Purdue with 9.5 tackles for a loss and four sacks.
Holt, who began his career at Western Kentucky, has led the Boilermakers in tackles four times this season and is currently second in the Big Ten with an average of 10 tackles per game.
3. Spread things around
Purdue has rushed for more than 100 yards just twice in its first six games, but has depth and skill in its receiving corps to compensate.
With top returning receiver Rondale Moore sidelined the past two weeks with a hamstring injury and ruled out for the Iowa game, true freshman David Bell and tight end Brycen Hopkins have picked up the slack in the receiving corps.
Bell, a 6-foot-2, 210-pound Indianapolis native who was heavily recruited by Iowa, was the Big Ten freshman of the week last week after catching nine passes for 138 yards and touchdowns last week against Maryland.
Hopkins, a fifth-year senior, was named the John Mackey tight end of the week for the second time this season after recording 10 receptions for 140 yards.
On the ground, freshman King Doerue is the only Boilermakers back to gain more than 100 rushing yards this season.
4. Play beyond their years
Injuries have turned Purdue into one of the Big Ten's youngest football teams.
Including 12 starters, the Boilermakers have had 30 true or redshirt freshmen play during the first half of the season.
That's led to some consistency issues that Purdue has struggled with away from home this season.
The Boilermakers gave up 10 points in the final 52 seconds of a season-opening  34-31 loss at Nevada and endured 10 sacks in a 35-7 loss at Penn State two weeks ago in their only other venture outside of Ross-Ade Stadium this season.
Iowa (4-2, 1-2)
1. Establish the run
Iowa's ability to succeed on offense begins with establishing the run.
After totaling just 71 total yards on the ground over the past two games, dropping the Hawkeyes' rushing average to 156.8 yards, Iowa's focus this week has centered on growing cohesion among a front five which has started five different lineups in six games.
Improved consistency in blocking should help the Hawkeyes regain some traction in a rushing attack that has seen increased contributions from freshman Tyler Goodson, who joins Mekhi Sargent and Toren Young in averaging between 42-55 yards per game on the ground.
2. Take care of the ball
After turning the ball over just once through its first four games, the Hawkeyes have turned it over six times the past two weeks while gaining just one takeaway.
That's a recipe for what Iowa has endured -- back-to-back losses to two of the Big Ten's elite programs.
Ball security has been an area of emphasis on the practice field this week for Iowa offensive players and the issues there have been reflected in other areas.
While it is not a be-all, end-all stat, Iowa's average time of possession in the losses to Michigan and Penn State dropped seven minutes from it where it was over the first four games. That has put additional pressure on the defense.
3. The rush is on
Iowa will need Chauncey Golston to build off of a pair of pretty stout performances against Michigan and Penn State the past two weeks.
The junior defensive end has combined for 13 tackles in the two games, recording a pair of sacks and four quarterback hurries.
Purdue's success against Iowa the past two seasons has included a quick trigger under center, the rapid release of passes and Iowa's ability to rock Jack Plummer's world will be an important factor this week.
The Hawkeye defensive front four will be lined up across from an offensive line which has shuffled personnel at four positions over the past three weeks with junior left tackle Grant Hermanns the only constant.
4. Be Bob Sanders
Easier said than done, but anything the Hawkeyes can do to bring the type of edge that Saturday's honorary captain brought to the field for Iowa during his all-American career would be helpful.
Iowa opponents have turned the ball over just once in the last three games and the Hawkeyes' ability to create turnovers against a Purdue offense which averages just under 42 passes per game can only help.
Geno Stone's interception at Michigan two weeks ago the only turnover Iowa has gained in that time and Iowa hasn't recovered a fumble -- something Sanders forced a nation-leading six times as a senior -- since picking up a pair on the rain-soaked turf at Iowa State four games ago.