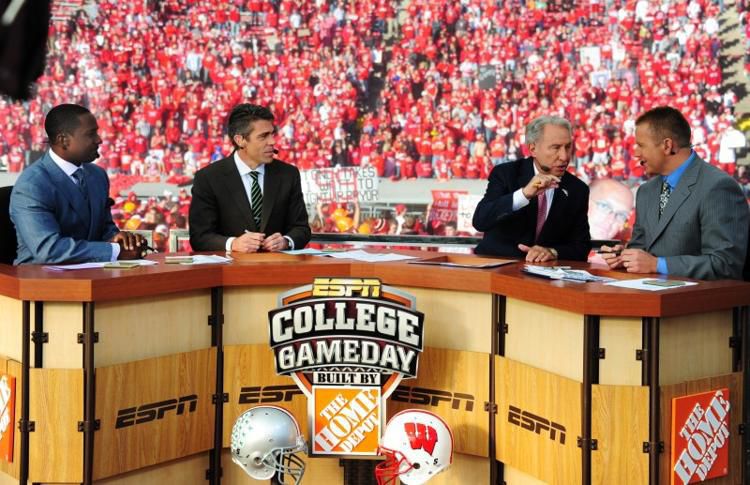 You'll probably get to hear Kirk Herbstreit talk Saturday morning about how mature Brock Purdy is for a young quarterback. You'll most likely hear Desmond Howard extol the virtues of A.J. Epenesa.
You'll get to see Lee Corso clown it up and put some sort of oversized bird likeness over his head, either a hawk or a cardinal.
And you'll get to see a bunch of people wearing cardinal and gold plus some wearing black and gold waving signs and acting crazy, probably after consuming beverages no one should be imbibing so early on a Saturday morning.
For the first time ever, ESPN's College GameDay is coming to Ames to stage its weekly pregame show at the site of the Iowa-Iowa State football game.
Try to contain your enthusiasm. I know I'm not having much trouble containing mine.
I know this is a big deal to some people, but it really shouldn't take precedence over the hard-fought, highly contentious, extremely interesting football game that will take place in Ames later Saturday.
It's just sort of meaningless window dressing. The ESPN people probably will be packed up and gone before the game even begins.
It does offer some validation for the Iowa State football program. ISU had been one of only 11 power-five conference programs never to have hosted GameDay. It can finally get off that list, leaving the likes of Rutgers, Kansas, Illinois and Minnesota to aspire to someday have Herbstreit, Corso and the gang come to visit.
But after back-to-back eight-win seasons, did we really need this to tell us that the Cyclones have arrived in the land of respectability?
There was a certain amount of buzz that GameDay might be coming to this game long before the season even began.
According to some reports, Iowa State athletic director Jamie Pollard began lobbying for this nine months ago, sending a letter to ESPN pointing out that Ames is a wonderful place and that both competing teams figured to be pretty good.
It helped that there are relatively few other interesting matchups around the country this week.
The alternatives were things like Pitt at Penn State and Oklahoma at UCLA. There was some thought the favorite to be selected was Syracuse, which plays No. 1-ranked Clemson and which also never has hosted GameDay.
Syracuse screwed that up by going out and getting mauled by Maryland 63-20 on Saturday.
Of course, Iowa State nearly screwed it up, too, by going into triple overtime before scratching out a victory over Northern Iowa in its season opener a week ago. If the Cyclones lose that game, this isn't happening.
You have free articles remaining.
That near-miss — along with Maryland's impressive win — was enough to nudge the Cyclones out of the Associated Press Top 25 this week, meaning that this will not be the first matchup of ranked teams in the history of the Cy-Hawk series.
But that wasn't enough to discourage ESPN.
It is special in that GameDay appearances aren't a common occurrence for most programs.
Even Iowa has only hosted GameDay twice, both times for games against highly-ranked Ohio State teams. GameDay came to Iowa City for a 1996 game in which the No. 2 Buckeyes defeated the No. 20 Hawkeyes 28-26. They returned in 2006 for a game in which No. 1 Ohio State rolled to a 38-17 win over No. 13 Iowa.
Iowa also has been a part of five other GameDay matchups on the road or at neutral sites.
But Iowa State never even has done that. So, absolutely, yes, this is a big deal in a symbolic sort of way.
GameDay has been around since 1987, but it didn't start going to live locations at game sites until late in the 1993 season when it made the first of nine visits to South Bend, Indiana, for a Florida State-Notre Dame game.
Since then, it has been all over the place. It's even been to games at Harrisonburg, Virginia; Fargo, North Dakota; and Bowling Green, Ohio.
They love instate rivalries. They've done the GameDay thing at the site of eight Florida-Florida State games and seven Auburn-Alabama games.
They've been to Ann Arbor, Michigan, 12 times.
But they've never been to Ames, Iowa. Until now.
You can tell some people are really geeked about this. Especially Pollard.
Shortly after the announcement was made, the ISU AD took to Twitter to say: "I could not be happier for our fan base. They have earned this with their unwavering loyalty and passion. I hope everyone takes the time to enjoy this week. Go Cyclones!''
On Sunday evening, he was still gushing, revealing that the GameDay broadcast will originate from the plaza south of the stadium.
"The Sukup End Zone Club will be a great backdrop for the show.''
On Monday, he tweeted out a video of the scoreboard at Jack Trice Stadium with a countdown to the start of GameDay at 9 a.m. Saturday.
Great. Let's get this over with and get on to the game itself, which figures to be much more interesting.