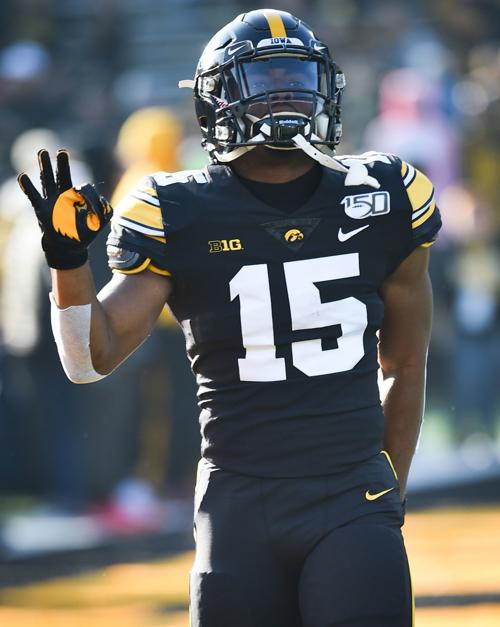 Tyler Goodson bringing more than ball-carrying skills to the Iowa offense, Michael Ojemudia missing from this week's depth chart and a Hawkeye becoming a semifinalist for a national award are all part of a busy Tuesday at the Hawkeye 10 @ 10.
Your daily dose of Iowa football news and notes is delivered each weekday at 10 a.m. at Hawkmania.com, your home for all things Iowa.
Here is today's Hawkeye 10@10:
1. Tyler Goodson's work isn't surprising teammates.
"He's been getting better every week since the season started,'' Iowa quarterback Nate Stanley said. "We see it every day in practice, the way he works, the way he prepares.''
Goodson's production in his first career start extended beyond his game-high 94 rushing yards for the Hawkeyes.
"Maybe as impressive as anything, his blitz pick-up off a play action in the second half. For a freshman to make that protection, then execute it, was really impressive,'' Iowa coach Kirk Ferentz said.
"It's even more impressive because he didn't execute it during the week, the end of the week last week. I think that kind of shows you the kind of young guy he is. He learned from a mistake, carried it out there to the game field.''
2. Michael Ojemudia is not part of an Iowa depth chart for Saturday's 11 a.m. game against Illinois that reflects the Hawkeyes' recent improved overall health as a team.
Brandon Smith returns to the chart as the No. 2 wide receiver behind Tyrone Tracy, a healthy Nate Wieting now tops the depth chart at tight end with Sam LaPorta moving into the No. 2 spot in front of Shaun Beyer and Tyler Goodson is listed as the starting running back, with Mekhi Sargent and Toren Young filling the second and third lines.
On defense, Kristian Welch is listed as the starting middle linebacker with Dillon Doyle and Jack Campbell sharing the second line. Riley Moss is listed to make his second start at right cornerback in place of Ojemudia, moving Julius Brents into the No. 2 position on the left side behind starter Matt Hankins.
3. Iowa's receiving corps has been balanced.
Ten games into the season, the Hawkeyes have five receivers with at least 20 catches on their resume.
Nico Ragaini currently leads Iowa with a 39 catches, two more than Ihmir Smith-Marsette.
"It's a pretty close group. I have never been a part of a group of receivers like we are this year,'' Ragaini said. "We truly care about each other and want to do well. If you watch us after a touchdown, we truly care about and are happy for each other.''
The group is getting healthier, too.
Brandon Smith returned from an ankle injury to get his first action since the Purdue game on Oct. 19, getting a couple of snaps against Minnesota.
4. The Hawkeyes started their seventh different offensive line combination in 10 games against Minnesota, with Landan Paulsen returning to the front five at left guard and Kyler Schott opening on the right side.
Alaric Jackson and Tristan Wirfs at the tackle spots and Tyler Linderbaum at center remained constants.
"It's been a long road,'' Iowa coach Kirk Ferentz said. "… From where I was standing, it seemed like we played more as a unit, more solidified. I'm sure there are still a lot of things on film to correct.''
Ferentz said he believed Alaric Jackson turned in his best game of the season against the Golden Gophers.
You have free articles remaining.
"Just seemed like he really controlled things pretty well from his position,'' Ferentz said. "We've got a lot of respect for the guys that were playing across from him.''
5. Iowa's A.J. Epenesa wasn't the only player to repeat in earning Big Ten player of the week honors this week, earning the conference honor for the third time in his Hawkeye career.
Wisconsin running back Jonathan Taylor shared offensive player of the week honors with Michigan quarterback Shea Patterson, the eighth time Taylor has won the award.
Patterson completed 24-of-33 passes for 384 yards and four touchdowns in the Wolverines' win over Michigan State, while Taylor ran for 204 yards and two scores in the Badgers' win at Nebraska.
Northwestern's Chris Bergin and Wisconsin's Aron Cruickshank shared special teams player of the week recognition.
Bergin returned a blocked field goal 85 yards for a score and recovered a fumbled kickoff in the Wildcats' win over Massachusetts while Cruickshank scored on an 89-yard kickoff return in the opening quarter of Wisconsin's win.
Northwestern running back Evan Hull was named the Big Ten freshman of the week, running for 220 yards on 24 carries and scoring four touchdowns in his first career start.
6. Nico Ragaini's moves to the end zone for Iowa's first touchdown Saturday were made with a purpose.
The Hawkeye receiver had been collecting his share of grief from teammates about his inability to make people miss.
"I had it in my head that I was going to break a tackle or make a little move, so when I saw the opportunity to get by the guy and score the touchdown, I knew I had to take it,'' Ragaini said.
7. Jackson Subbert has had a relatively quiet career at Iowa, which is a good thing when you are a long snapper.
The Hawkeye senior from Williamsburg's work is getting noticed, however.
Subbert has been named as a semifinalist for the Patrick Mannelly Award, presented to the top senior long snapper in the Football Bowl Subdivision.
Subbert is one of two Big Ten athletes on the list of 10 semifinalists, joining Ohio State's Liam McCullough.
Iowa State's Steven Wirtel also made the list of semifinalists.
8. Anthony Hitchens and Ben Niemann were busy on Monday night for the Kansas City Chiefs in their 24-17 win over the Los Angeles Chargers.
Hitchens finished with two tackles and eight assists and Niemann recorded two tackles and two assists for the Chiefs in the win. Former Hawkeye Desmond King returned one kick 25 yards for the Chargers.
9. Iowa played against one of 12 semifinalists for the Biletnikoff Award on Saturday.
Minnesota's Rashod Bateman is the only Big Ten receiver to make the list announced Monday. He finished with receptions for 98 yards in the Golden Gophers' loss to the Hawkeyes.
10. Tyler Goodson is the fourth true freshman to start for Iowa this season, the largest collection of true freshmen to start games for the Hawkeyes in coach Kirk Ferentz's 21 seasons.
He's also the first true freshman to start at running back for Iowa since Greg Garmon in 2012.
The other three first-year running backs to start for Iowa were Jordan Canzeri in 2011, Marcus Coker in 2010 and Brandon Wegher in 2009.
Of that previous group, only Canzeri completed his career at Iowa.