For some, Saturday's Cy-Hawk party came with a price.
A breakdown of what took place on and off the field at Jack Trice Stadium, along with a look at the work of former Hawkeyes in the NFL and elsewhere in college football, are all a part of today's Hawkeye 10 @ 10.
Your daily dose of Iowa news and notes are delivered each weekday at 10 a.m. at Hawkmania.com, your home for all things Iowa. Here is today's Hawkeye 10 @ 10:
1. There were 61,500 fans inside Jack Trice Stadium on Saturday for Iowa's 18-17 win over Iowa State, but the party started early and ended late in the parking lots outside the Cy-Hawk game.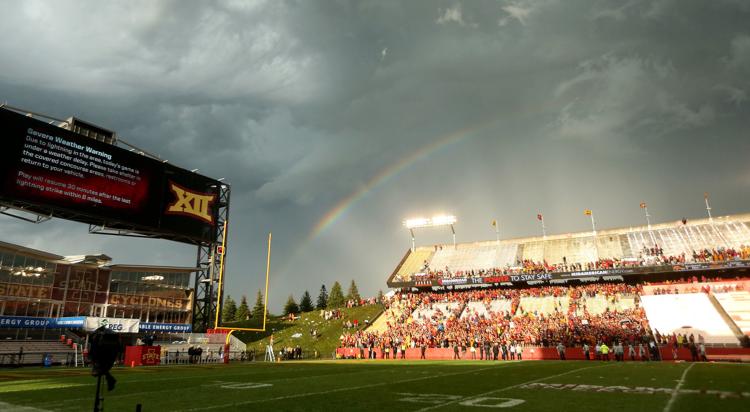 With tailgate lots opening at 5 a.m. to accommodate an 8 a.m. College GameDay telecast on ESPN, Iowa State University police were kept busy dealing with a crowd estimated to be in excess of 100,000 people.
In a statistical summary of game day activities released by the Iowa State Department of Public Safety, 52 citations were issued and 31 people were arrested.
Of the 52 citations, 12 were issued to Iowa State students and of the 31 people arrested, only four were ISU students.
Overall, a total of 51 citations for possession of alcohol under the legal age were issued, and 30 individuals were arrested on charges of public intoxication.
One person was arrested for possession of a controlled substance while one was charged with interference with official acts, one was charged with possession of drug paraphernalia and one fan was charged with assault.
Of individuals arrested on public intoxication charges, 10 had a blood alcohol content of .20 or higher.
Public safety officers also dealt with 148 first-aid calls and eight individuals were transported to hospitals by ambulance.
2. Iowa junior Keith Duncan and freshman D.J. Johnson were among players to receive Big Ten player of the week recognition this morning.
Duncan was named the Big Ten special teams player of the week after kicking four field goals in the 18-17 win over Iowa State.
His final kick from 39 yards with 4 minutes, 51 seconds remaining in the fourth quarter provided Iowa with its margin of victory. The Weddington, North Carolina, native also connected from 25, 40 and 42 yards as the Hawkeyes won their fifth straight against Iowa State.
Johnson shared Big Ten freshman of the week recognition.
The Indianapolis native recorded six solo tackles and two assists in his first career start for Iowa at cornerback and broke up two passes in the win.
3. The starting time for the Hawkeyes' Sept. 28 home game against Middle Tennessee State was announced this morning.

Iowa's final nonconference game of the season will kickoff at 11 a.m. and will be televised by ESPN2.
4. Mark Kallenberger continued to see his number of snaps increase on the Iowa offensive line.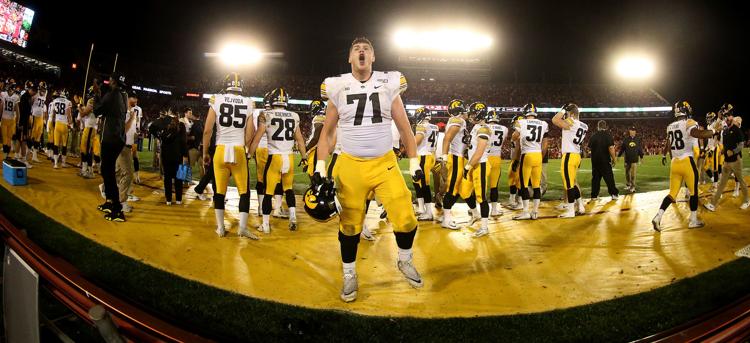 The junior from Bettendorf took the field on the Hawkeyes' third series of the game and was in the lineup at tackle for 29 of the 73 plays the Hawkeyes ran against the Cyclones.
5. Perfect starts have been a trend recently for Iowa.
You have free articles remaining.
Register for more free articles
Stay logged in to skip the surveys
The Hawkeyes are 3-0 for the third consecutive year and the ninth time in 21 seasons with Kirk Ferentz as the program's head coach.
6. Anthony Hitchens collected four tackles and one assist and Ben Niemann totaled two stops and one assist for Kansas City in its win over Oakland, highlighting the work of former Hawkeyes in the NFL on Sunday.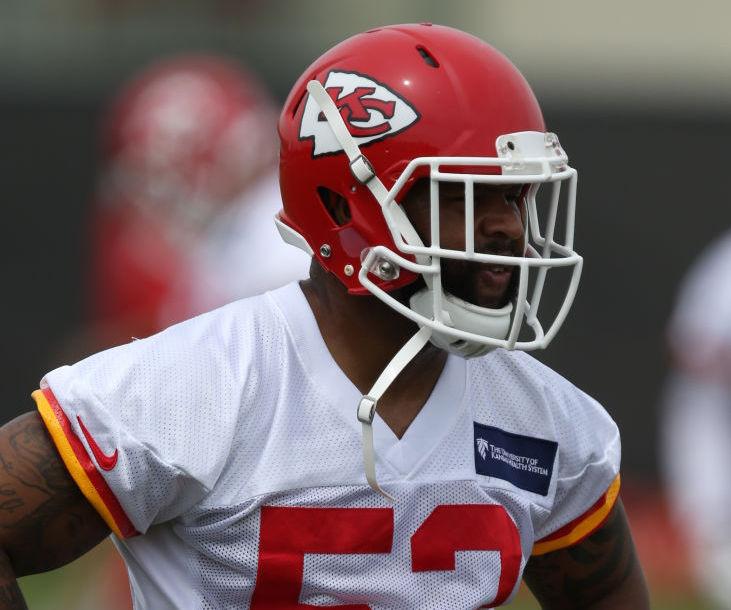 On offense, George Kittle finished with three receptions for 54 yards in the 49ers win over the Bengals and T.J. Hockenson caught one ball for a seven-yard gain for the Lions in a win over the Chargers.
Elsewhere, Josey Jewell had three tackles and three assists for the Broncos in a loss to the Bears, Adrian Clayborn had one tackle for Atlanta in a win over Philadelphia and Jaleel Johnson had one tackle for the Vikings in their loss to the Packers.
On special teams, Desmond King averaged 23.5 yards on a pair of kick returns for the Chargers against the Lions.
7. Iowa and its next opponent, Middle Tennessee State, are both enjoying a bye week this week.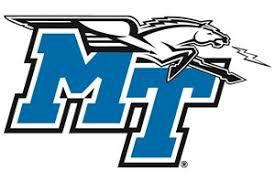 The Blue Raiders will arrive at Kinnick Stadium on Sept. 28 with a 1-2 record after falling 41-18 to Duke on Saturday night.
Duke quarterback Quentin Harris picked apart the Middle Tennessee State secondary, completing 24-of-27 passes for 237 yards and four touchdowns in addition to running for 107 yards.
Sophomore quarterback Asher O'Hara completed 19-of-27 passes for 201 yards and two touchdowns and led the Blue Raiders with 67 rushing yards on 18 attempts.
O'Hara has completed 70.7 percent of his 89 passes this season and leads the team in rushing.
8. Two former Hawkeyes, Aaron Mends and Romeo McKnight, helped lead Illinois State to a 21-3 win over Eastern Illinois over the weekend.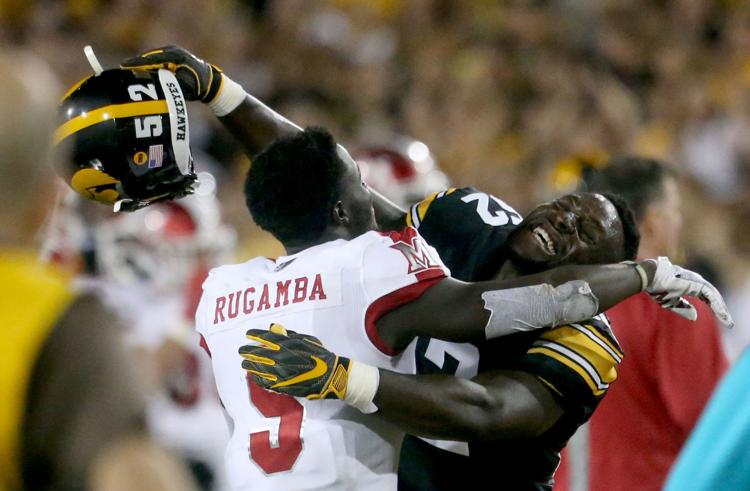 Mends finished with six tackles and forced a fumble for the Redbirds defense while McKnight had 2.5 sacks and three tackles for a loss among his five tackles in the win.
Elsewhere, former Hawkeye Manny Rugamba finished with seven tackles and two assists to lead Miami (Ohio) in stops in its loss to Cincinnati, a game which saw former Iowa defensive back Cedric Boswell total two tackles.
Ryan Boyle quarterbacked Indiana State to its first win of the season, completing 11-of-18 passes for 133 yards and rushing for 46 yards on 13 carries in a win over Eastern Kentucky.
9. Quarterback Nate Stanley finished with 222 yards of total offense against the Cyclones, raising his career total to 5,979 yards.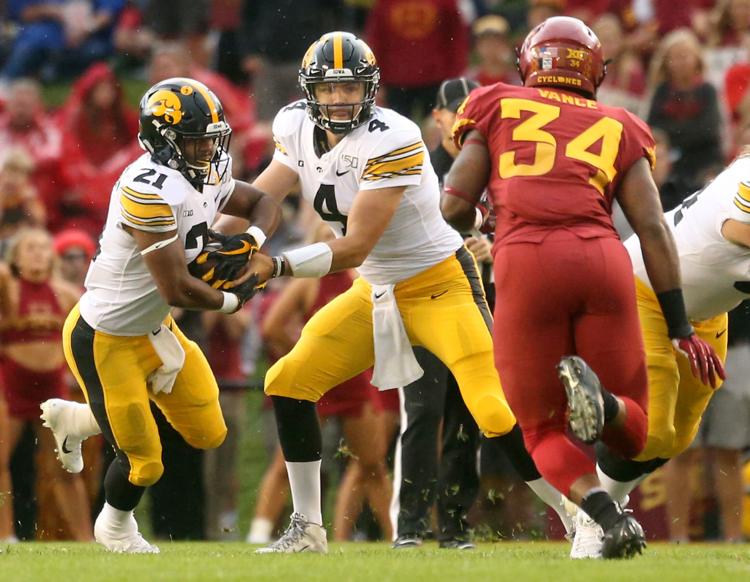 The senior now ranks seventh on Iowa's career list in that category, passing James Vandenberg and Matt Sherman with his work at Iowa State.
10. Iowa men's basketball director of recruiting and player development Courtney Eldridge will be the featured speaker at today's Davenport Grid Club luncheon.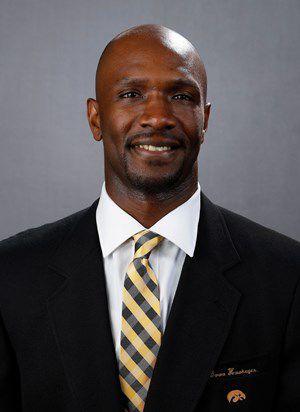 A player on Fran McCaffery-coached teams at North Carolina-Greensboro, Eldridge joined the Iowa staff in 2017 as the video coordinator before being named earlier this year to his current position.
Open to the public, the Davenport Grid Club luncheons are held at the Knights of Columbus, 1111 W. 35th St., Davenport and begin at noon.
Tickets, priced at $10 each, are available at the door and include a buffet luncheon.