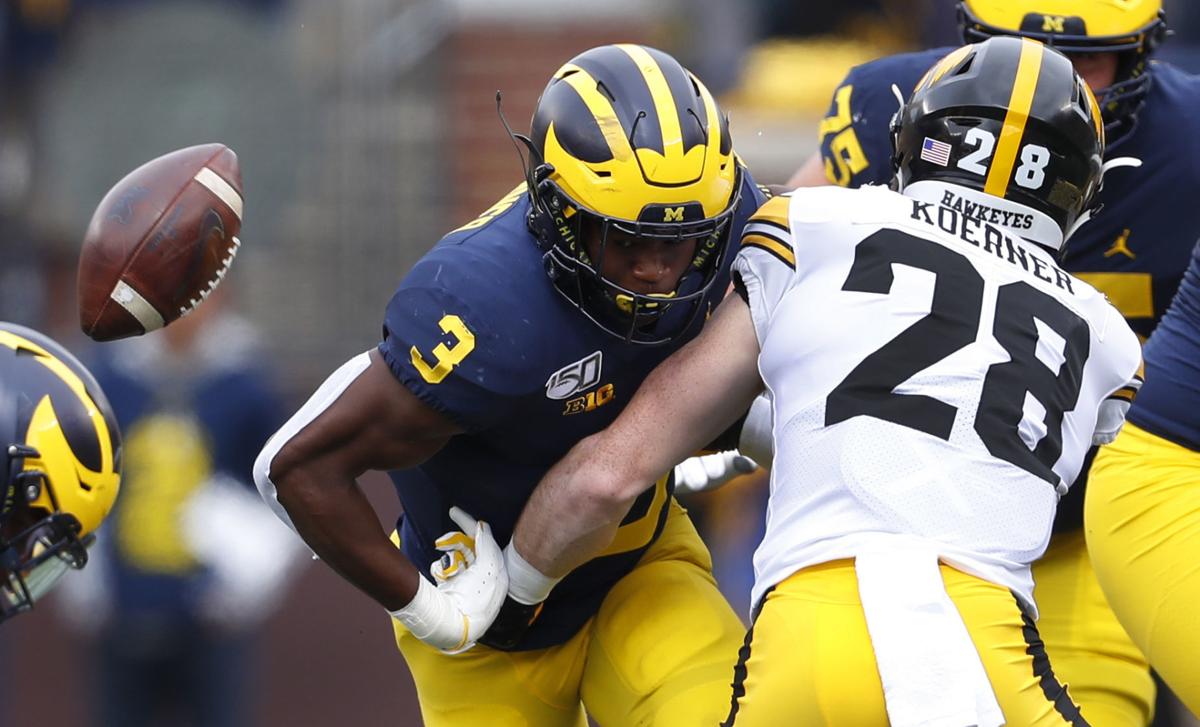 Dealing with Wisconsin's Jonathan Taylor and the strength of the Badgers' defense are among the topics tackled in today's Hawkeye 10 @ 10.
Your daily dose of Iowa football news and notes is delivered each weekday at 10 a.m. at Hawkmania.com, your home for all things Iowa.
Here is today's Hawkeye 10@10:
1. Iowa free safety Jack Koerner believes defending Wisconsin running back Jonathan Taylor will be a collaborative effort for the Hawkeyes.
"He makes good first contact and you've got to be able to take him down. Solo tackles are going to be tough on him, so we have to make sure we're running to the ball,'' Koerner said. "… We've got to get as many hats to the ball as we can. If he's going to have one-on-one situations all day, it's not exactly what we want.''
2. Jonathan Taylor's numbers illustrate why he is among an elite group of backs to play the college game.
The Wisconsin junior running back, looking to rebound from a season-low 52-year effort at Ohio State, has rushed for 5,180 yards in 35 games for the Badgers.
He joins Georgia's Herschel Walker (5,596), Wisconsin's Ron Dayne (5,091) and Oregon LaMichael James (5,082) as the only players in college football history to run for more than 5,000 yards before the end of their junior season.
Taylor has topped 1,000 yards this season already, entering the Iowa game with 1,009 yards on his stat sheet.
Against Iowa, Taylor rushed for 157 yards as a freshman and 113 yards as a sophomore.
He has not scored a touchdown against the Hawkeyes.
3. The strength of Wisconsin's defense impresses coach Kirk Ferentz.
While Iowa ranks fifth nationally in total defense, the Badgers top that list giving up an average of 223.5 yards per game and are first in pass efficiency defense, third in pass defense and fourth in quarterback sacks.
"I'm not saying these guys are the Pittsburgh Steelers, but it kind of reminds me of the Steelers when I coached in the National Football League,'' Ferentz said. "They have a lot of different ways to put the pressure on you and they're kind of subtle with some things they do, but they're impactful. They make it tough to move the ball and score points.''
4. Wisconsin coach Paul Chryst attempted to recruit Iowa quarterback Nate Stanley while he was coaching at Pittsburgh and Chryst opened his weekly news conference by saying some nice things about the Hawkeyes' senior from Menomonie, Wisconsin.
"Nate's a heck of a player. Enjoyed getting to know him and his family,'' Chryst said. "He competes and is obviously really talented and he has good weapons around him and uses them well. He gets football, just the way he competes and his toughness. He's a really good player.''
5. Iowa quarterback Nate Stanley is positioned to move into the third spot on Iowa's career passing yards chart this week.
The senior quarterback currently sits in fourth, trailing Chuck Long, Drew Tate and Ricky Stanzi.
Stanley enters the Wisconsin game with 7,301 career passing yards, 76 yards behind Stanzi, and with 7,172 total yards of offense, which also ranks fourth on Iowa's career list.
You have free articles remaining.
Long finished his career with 10,461 passing yards and Tate collected 8,292 yards.
6. Although he has been out with an injury, middle linebacker Kristian Welch continues to make an impact on Iowa's linebacker play.
He has helped prepare Dillon Doyle and Jack Campbell to take the field for the past two games, doing what he can to make certain the redshirt freshman and true freshman are ready for competition.
"He's out there coaching those guys every day, working with them, talking in their ears, and that's really valuable, too,'' Iowa coach Kirk Ferentz said.
"I'm sure he's doing the same things with the whole group. He's just a veteran player that we have a lot of respect for and it's a tough break. That's the nature of this game, unfortunately, so it's a tough deal.''
7. The injury that has sidelined Kristian Welch for the past two games is described as "stinger like'' by coach Kirk Ferentz.
"Some injuries are funny. Stingers, concussions, they could be three days or they could be three months. I've seen it go both ways on both those,'' Ferentz said. "Some injuries are a little bit more predictable. Stingers aren't, and it's matter of regaining strength and maintaining it.''
Welch's position at middle linebacker is a factor as well.
"He plays a position where he's apt to get hit pretty frequently,'' Ferentz said. "If he was a placekicker, we'd have a better chance, but right now I don't know that It's realistic he'll be able to play this week.''
8. Wisconsin and Iowa both thrive with ball control.
The Badgers lead the nation in time of possession, holding onto the ball for an average of 36 minutes, 48 seconds per game.
That's more than 90 seconds longer than any other team in college football. Utah is second on that list at 35:11.
Iowa is currently seventh nationally in time of possession at 34:21.
The Badgers have held the ball for at least 39 minutes in five of their eight games, including for 41:07 against Michigan.
9. With two field goals in his most recent outing, kicker Keith Duncan has moved into 10th on Iowa's career field goal list.
The junior has connected on 19-of-22 attempts this season and currently has collected 26 during his collegiate career.
Duncan enters the Wisconsin game two shy of matching Marshall Koehn for ninth on that list.
Nate Kaeding holds Iowa's school record with 67 field goals between 2000-03.
10. The National I-Club will host a Hawkeye Huddle in Madison prior to Saturday's game.
The event, free and open to the public, will be held from noon-2 p.m. at Union South, 1308 West Dayton Street just to the east of Camp Randall Stadium.
Held before every Iowa road game, Hawkeye Huddles feature cash refreshments, snacks, door prizes and appearances by Herky and the Iowa cheerleaders.