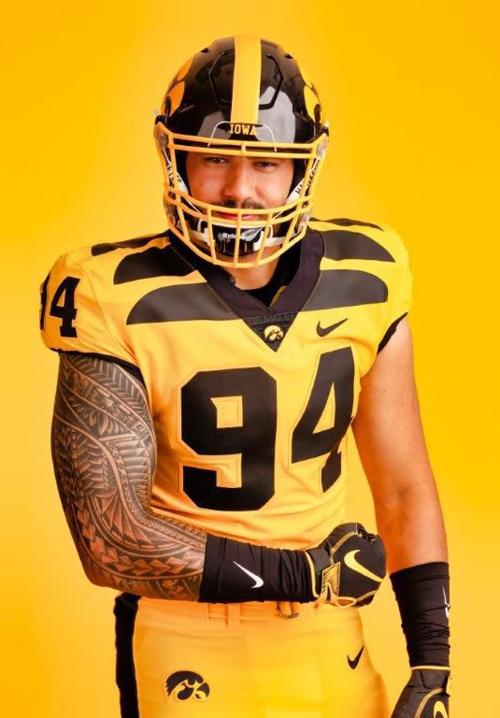 Iowa's bold gold look, Penn State's expectations for Saturday's match-up and Hawkeyes under the lights are all part of today's Hawkeye 10 @ 10.
Your daily dose of Iowa news and notes is delivered each weekday at 10 a.m. at Hawkmania.com, your home for all things Iowa.
Here is today's Hawkeye 10 @ 10:
1. Iowa is going gold Saturday, breaking out alternative jerseys for the 6:30 p.m. game against Penn State.
The bright gold uniforms with black highlights are a throwback look of sorts, flipping the color scheme from jerseys worn by the Hawkeyes in the mid-1990s.
Iowa running back Toren Young doesn't mind the temporary style change.
"It's something different,'' he said. "It's a cool look, something that gets guys excited. They look good.''
Young said he doesn't typically get all that worked up about alternate jerseys.
"I'm just a football player,'' he said. "I'd be good with going out there wearing leather helmets.''
2. Iowa's practices this week have been good, coach Kirk Ferentz said.
He said the Hawkeyes have been focused in their workouts following last weekend's 10-3 loss at Michigan.
"If you look at any of our really successful seasons, outside of '15 or '09, we experienced some turbulence, either in September or October, but we had the right answer moving forward,'' Ferentz said.
"In 2003, we had a couple bumps along the way but we kept getting back up and going back to work. That's why I say, you play out the whole season. Don't panic after one game, or have a party, either. It's all about running the race well.''
3. Hawkeye fullback Brady Ross finds it easy to flip the script from one game to the next, saying that a return to the practice field Sunday forces Iowa players to put the past behind them and move on, win or lose.
"Look at the film on Sunday, learn from it and then you're on to the next week. For players, there is no time to sit around and sulk in defeat. The fans, they can dwell on it as long as they want. We have to move on.''
4. Penn State offensive lineman Will Fries expects Saturday's game to be a lot like the last two match-ups between the Hawkeyes and Nittany Lions, games that were decided on the final play of the game with play in the trenches dictating how it all plays out.
You have free articles remaining.
"That's what this game is all about, those 'O' line, 'D' line matchups,'' Fries said. "That's something they themselves on and something we pride ourselves on, just being a physical team, playing with great technique and combining those two things to really win the game up front.''
5. Quarterback Nate Stanley found some things to build on from the Michigan game as Iowa prepares to face a Penn State team with a similar aggressiveness on defense.
"We feel like we were close, we moved the ball in other areas of the field, but we just kind of stalled ourselves out when we got down on their side of the field,'' Stanley said.
6. After being sacked eight times by Michigan, among the challenges Nate Stanley will deal with again this week is a sack-happy defense.
Penn State leads the country with 25 sacks through five games, an average that also leads the country.
"We know what they like to do. We know we have to get ready for,'' Iowa center Tyler Linderbaum said.
7. Iowa's defense is among some rare company in college football.
Only three teams at the FBS level have allowed 30 points or less in more than the nine-game string the Hawkeye defense has put together.
Washington at 20, Notre Dame at 19 and California at 13 top the list.
Iowa at nine shares the fourth spot with Florida, Kentucky and the Penn State team that will visit Kinnick Stadium on Saturday.
8. The early-season growth of first-year Penn State quarterback Sean Clifford has caught the eye of Iowa defenders.
"They've put up big points throwing the ball, gaining a lot of yards that way,'' strong safety Geno Stone said. "We know what type of team this is and trying to contain them as a defense is going to be a hard thing to do.''
9. The prep program at Cathedral Prep High School in Erie, Pennsylvania, will be well represented on the field Saturday.
Three Nittany Lions – junior defensive tackle Evan Presta, wide receiver Henry Fessler and offensive lineman Juice Scruggs – and Hawkeye redshirt freshman defensive back Terry Roberts are all products of the same high school program.
10. Saturday's 6:30 p.m. kickoff will be the fourth time Penn State has played under the lights at Kinnick Stadium, more than any other opponent Iowa has hosted in 20 night games.
Iowa is 13-6 overall under the lights at Kinnick with a 3-4 record against ranked opponents and a 1-2 mark against the Nittany Lions.
The Hawkeyes' lone win against a rated Penn State team under the lights in Iowa City came in 2010 by a 24-3 score.
Iowa lost to the Nittany Lions at home at night 38-14 in 2012 and 21-19 in 2017.