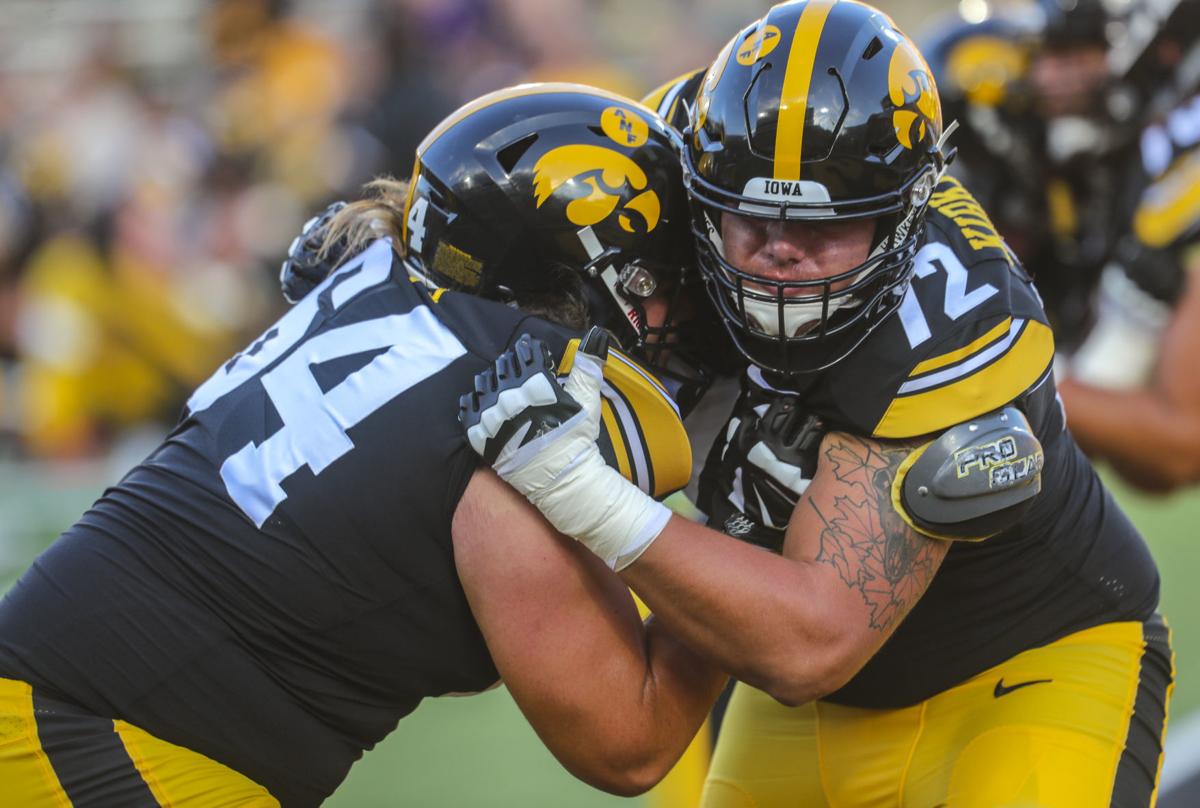 IOWA CITY — There were moments during Iowa's football opener Saturday when Kyler Schott couldn't believe what was happening.
The next man in was in, and performing well, to help the Hawkeyes to a season-opening victory over Miami (Ohio).
Iowa coaches had plans to mix and match offensive line combinations in the opening game of the year, plans that were expedited when starting tackle Alaric Jackson left the game in the first quarter with a knee sprain that will sideline him for at least the next two games.
That moved Levi Paulsen from right guard to right tackle and gave Schott the shot of a lifetime.
"A couple of times, when there was a bit of a break, I caught myself looking around, looking up into the stands and thinking to myself, man, this is pretty cool,'' Schott recalled Tuesday.
Iowa coach Kirk Ferentz felt the same way about Schott's performance against the RedHawks.
"He's one of those guys, I don't want to call him nondescript, but he's not flashy and if you watch him closely, he just does a lot of things really well and consistently,'' Ferentz said. "He's certainly done that in August. He really had a good month of practice and was very consistent.''
That positioned Schott for the opportunity he was looking for when he chose a preferred walk-on offer from Iowa over the only school willing to take a chance on a 6-foot-2, 290-pound offensive lineman from North Linn High School.
"I was probably going to go to Wartburg if I didn't end up here,'' Schott recalled. "My brother wrestled and played football there and if I didn't get a chance here, that's where I would have went. Nobody else was throwing any scholarship offers my way.''
Schott said he arrived at Iowa with only one objective.
He planned to show up ready to work every day, learn as much as he could from the coaches and teammates and see how it all played out.
"Nothing fancy about it, just good, hard work,'' Schott said. "I'm not the biggest guy, but that doesn't mean I can't work as hard as everybody else out there.''
Defensive end A.J. Epenesa joked following Saturday's game that labeling Schott 6-2 might even be a bit of a stretch, something the sophomore from Coggon, Iowa, didn't dispute.
"I probably need to be wearing the right pair of cleats to get there,'' Schott said.
Ferentz said Schott performed well on the scout team after arriving at Iowa and caught the eye of coaches during spring ball as he worked against 6-3, 295-pound defensive tackle Cedrick Lattimore.
"Lattimore is a tough guy to block, and he probably blocked him as well as anybody we have during the course of camp,'' Ferentz said. "I'm not saying he won every battle, but he certainly did a lot of good things. Sometimes, you just have to believe what you see and I think he's a good example of it.''
Passing the eye test could give Schott a starting assignment Saturday when Iowa opens Big Ten play with an 11 a.m. game at Kinnick Stadium against Rutgers.
Jackson will miss this week's game, giving Levi Paulsen the start at right tackle, but injured returning starter Cole Banwart is nearing a return to competition after missing the opener and "has a shot'' to play this week according to Ferentz.
If Banwart cannot go, Schott will likely remain the Hawkeyes' next man in.
Iowa used six different offensive line combinations from start to finish in its season opener and Ferentz expects the Hawkeyes to continue to rotate a lot of bodies through its front five this week.
In addition to searching for the most productive combinations, coaches are attempting to help a number of young linemen gain experience.
"We'll certainly be short (Jackson) and we may get Cole back, maybe not, but we'll keep rotating,'' Ferentz said. "The good news is I thought Kyler played well, (Cody) Ince came in and played well and both (Landan and Levi Paulsen) played their best football since they've been here. The trick for us right now is to keep pushing forward and see these guys improve.''
And, as was the case last Saturday, Schott will be ready to roll with whatever comes his way.
"If I get a chance to start, I'll give it everything I have. If I don't, I'll be ready when I'm needed,'' Schott said. "Nothing changes for me. I'll just get ready to go and really, that's the only thing I can control.''