IOWA CITY — Toren Young found plenty of reasons for Iowa to enjoy what transpired Saturday afternoon at Kinnick Stadium — 644 of them, to be precise.
The junior ran for a career-high 131 yards as the 14th-ranked Iowa football team piled up 644 yards as it ran through, slipped around and threw over helpless Middle Tennessee State in a 48-3 rout.
"A day like that, that's something we all needed," Young said. "It gives everybody a boost, the way we were able to move the ball and spread it around. We have so many backs who can all do good things. It was a good day at the office."
It was the most productive day a Hawkeye offense has enjoyed during Kirk Ferentz's 21 seasons as the program's coach, topping the previous best of 613 yards in a 2005 game against Minnesota.
Iowa's attack was balanced.
Young was among three Hawkeyes who rushed for more than 90 yards, with freshman Tyler Goodson posting a 97-yard effort and Mekhi Sargent rushing for 91 yards.
Collectively, Iowa's 351 rushing yards were the fourth-most collected by Iowa during the Ferentz era, and it was complemented by a 20-of-29 passing performance from Nate Stanley and Spencer Petras, who combined to throw for 293 yards.
Of Stanley's 17 completions in 25 passes, 11 went for gains of 10 yards or more, and the senior credited the detail work of the Iowa line and its deep collection of receivers for making that happen.
"Guys were out there making plays, doing all sorts of things to move the ball. When it's working like that, everybody is having a great time and there were a lot of great times today," said Brandon Smith, whose team-leading six receptions included touchdown catches of 18 and 10 yards.
Coming off a bye week that followed a defense-dominated 18-17 win at Iowa State, the offensive effort was exactly what the Hawkeyes wanted as they prepare to dive deeply into Big Ten competition with a road game at Michigan next on the schedule.
"This was a game that was important for our offense. We executed at a high level. We have a few hiccups, but it was the type of game we all needed to move us forward," Smith said.
As much as anything, Ferentz seemed relieved after Iowa put together its third consecutive turnover-free game.
"I'm just glad we came out ready to play. Coming off of a bye, you never know," Ferentz said. "Bottom line, I think our guys showed up ready and competed hard. … The guys took a big step forward, and we're thrilled to be 4-0."
The Hawkeyes didn't waste any time heading in that direction.
Iowa scored on its first four possessions of each half, starting with a 4-yard touchdown run by Mekhi Sargent to finish off a nine-play 65-yard game-opening drive.
A career-best 49-yard field goal by Keith Duncan followed by Smith's first touchdown reception and a 1-yard touchdown run by Brady Ross sent the Hawkeyes into the locker room with a 24-0 lead at the half.
"It just felt like we were unstoppable," Smith said.
That was the case in the second half when Iowa scored on each of its possessions, beginning with a 42-yard field goal by Duncan on a drive that started with a 52-yard carry by Young.
"It was good to see Toren get on track," Ferentz said. "He has a great attitude and adds a lot to our team. We feel good about all four of our backs. It's an unusual situation, but it seems to be working for us."
A 14-yard touchdown run by Ihmir Smith-Marsette on a jet sweep followed Duncan's second field goal, preceding Smith's second touchdown catch and a 1-yard carry into the end zone by Petras in the game's final minute.
"They didn't do anything we wouldn't expect, but we didn't do anything to slow them down," said Middle Tennessee coach Rick Stockstill, whose team avoided being shut out when Crews Holt hit a 43-yard field goal midway through the third quarter to cut into a 27-0 Iowa lead.
The Hawkeyes averaged 8.1 yards on each of the 80 plays they ran, complemented by a defense which limited the Blue Raiders (1-3) to 216 yards, including just 80 yards rushing.
"Games like this, they come with great preparation and film study during the week," Sargent said. "We looked and played like a team that was really focused on its game."
Iowa's offensive line had a size advantage over its opponent from Conference USA, and the Hawkeyes, off to their first 4-0 start since 2015, made the most of it.
Tackle Tristan Wirfs said it came down to making certain that linemen were able to execute their blocks and create the holes needed for Iowa's offense to work.
"This is the way it is supposed to work. There is a lot we can learn from this game, from what we did well and from what we can do better," Wirfs said. "We all put a lot of preparation into this and to see the benefits, that makes you want it even more."
092819-qct-spt-iowa-foot-001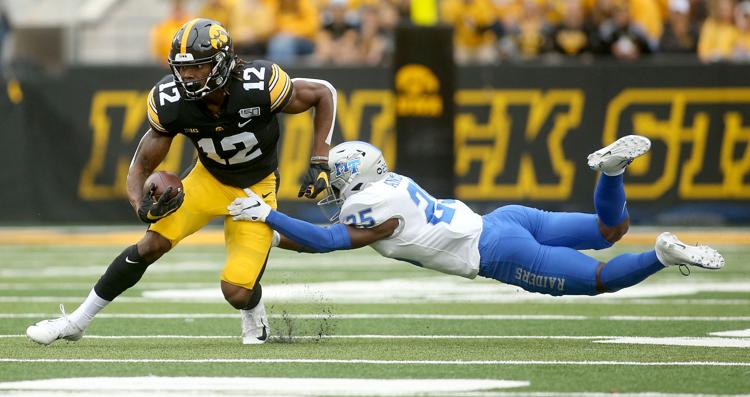 092819-qct-spt-iowa-foot-002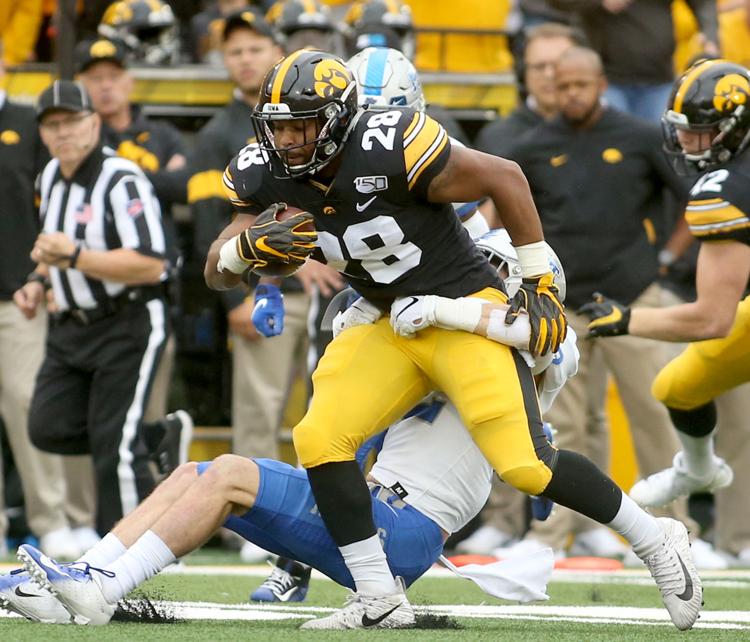 092819-qct-spt-iowa-foot-003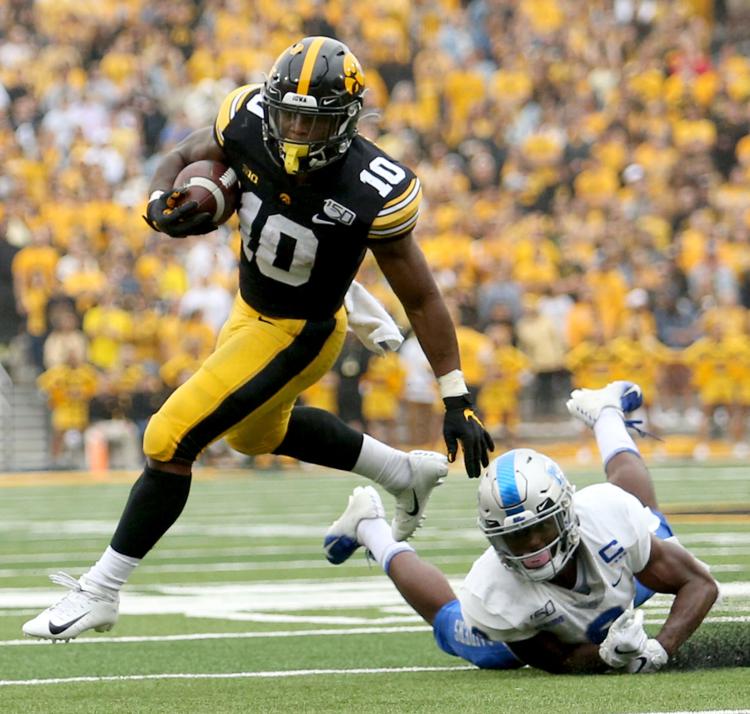 092819-qct-spt-iowa-foot-004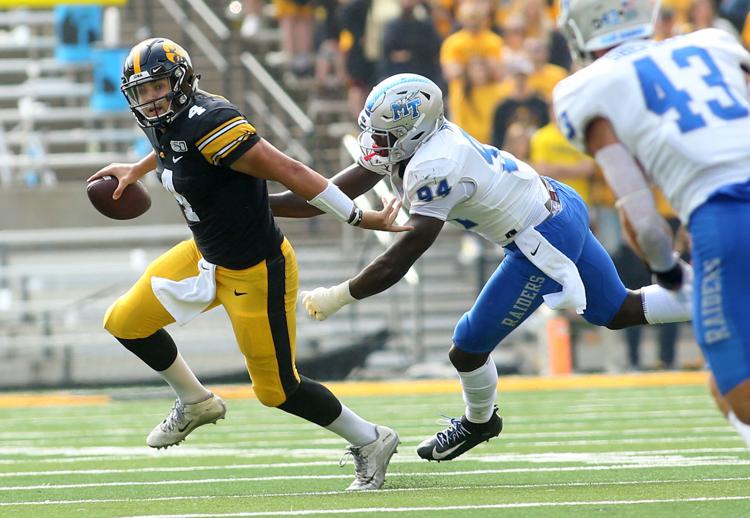 092819-qct-spt-iowa-foot-005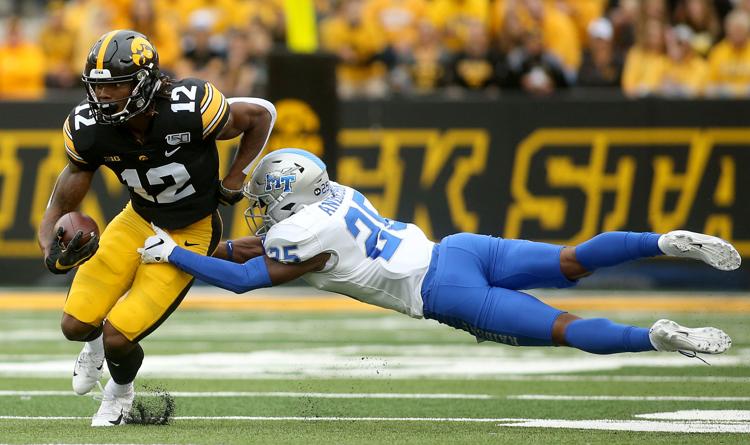 092819-qct-spt-iowa-foot-006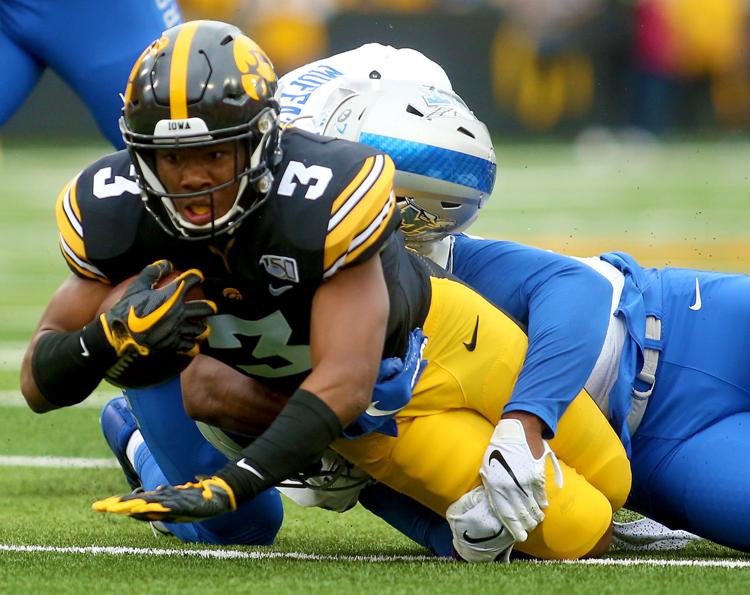 092819-qct-spt-iowa-foot-007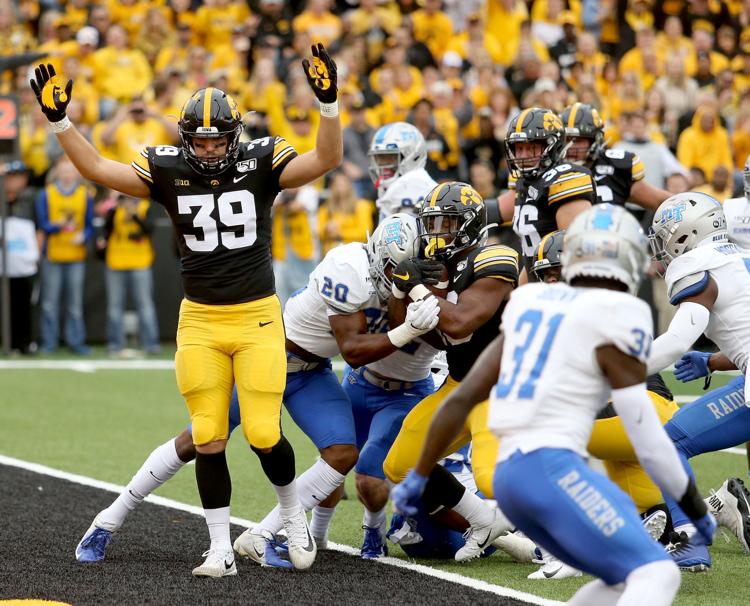 092819-qct-spt-iowa-foot-008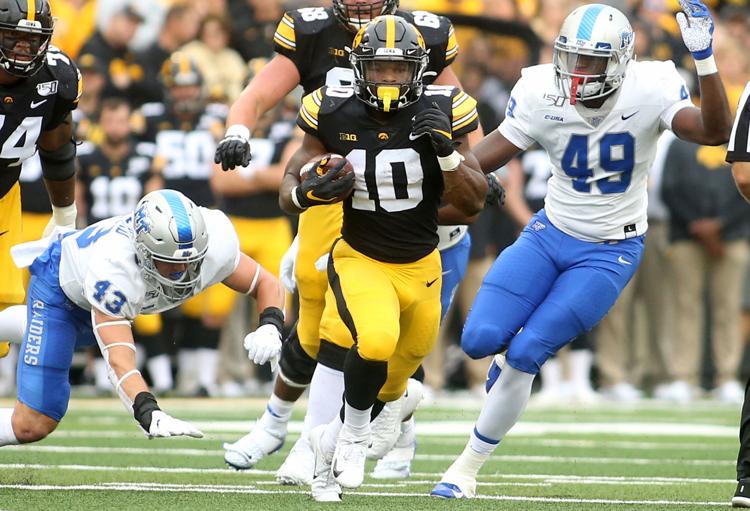 092819-qct-spt-iowa-foot-009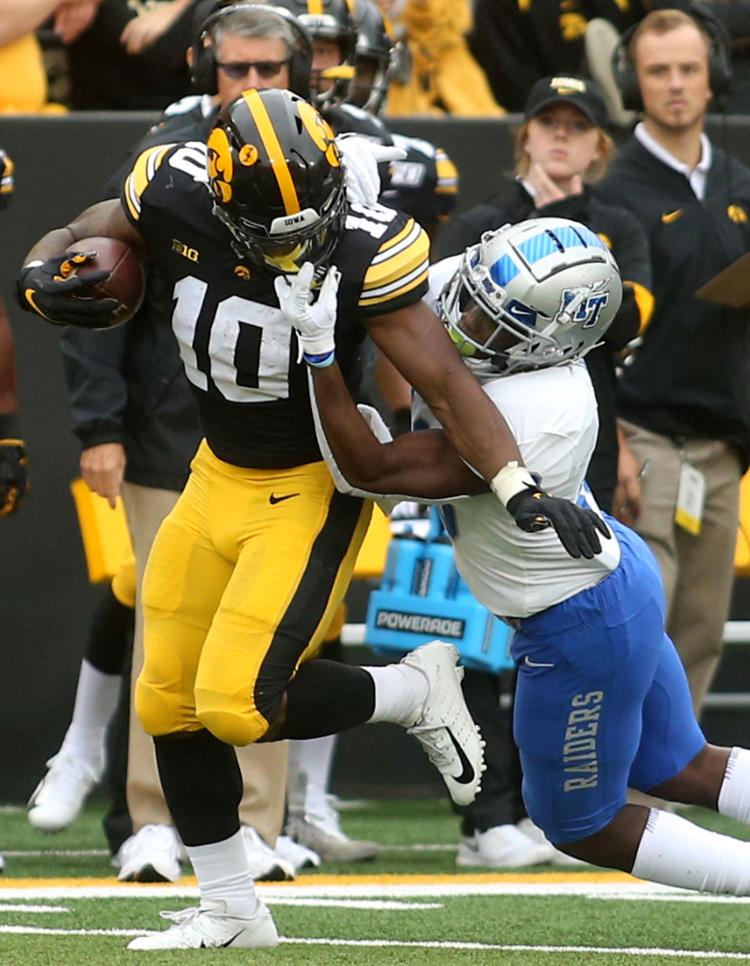 092819-qct-spt-iowa-foot-010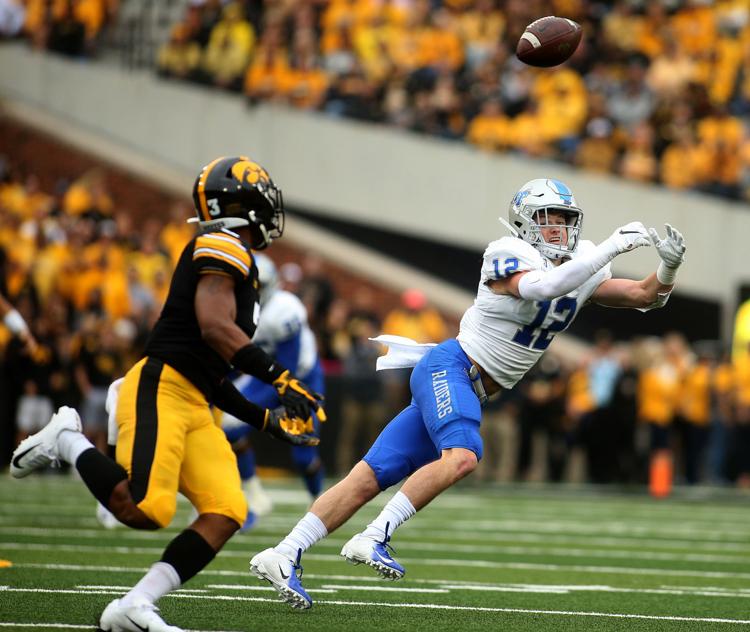 092819-qct-spt-iowa-foot-011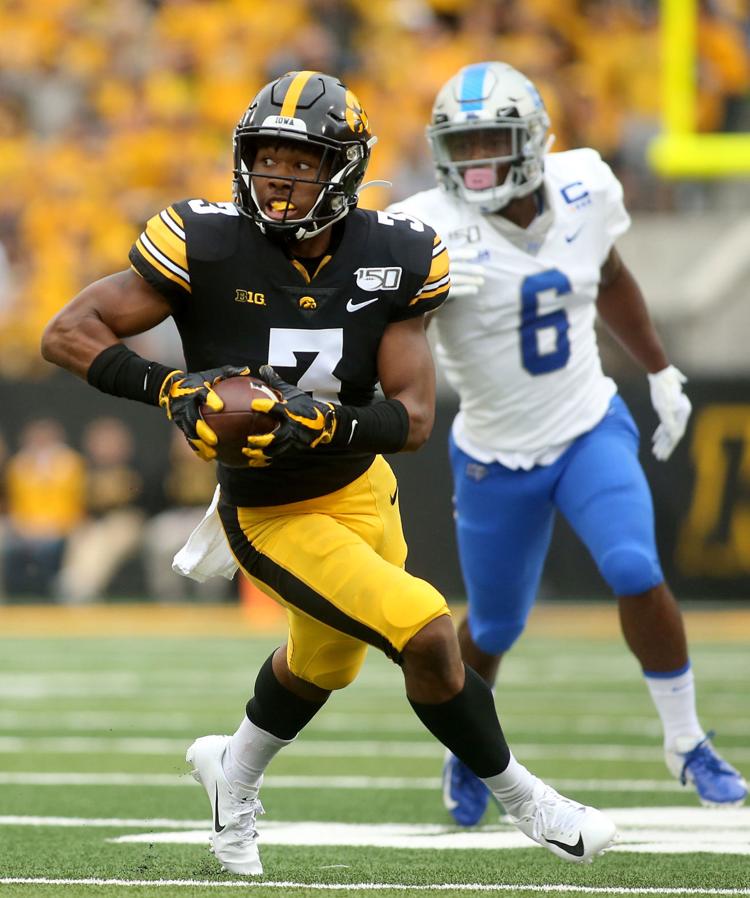 092819-qct-spt-iowa-foot-012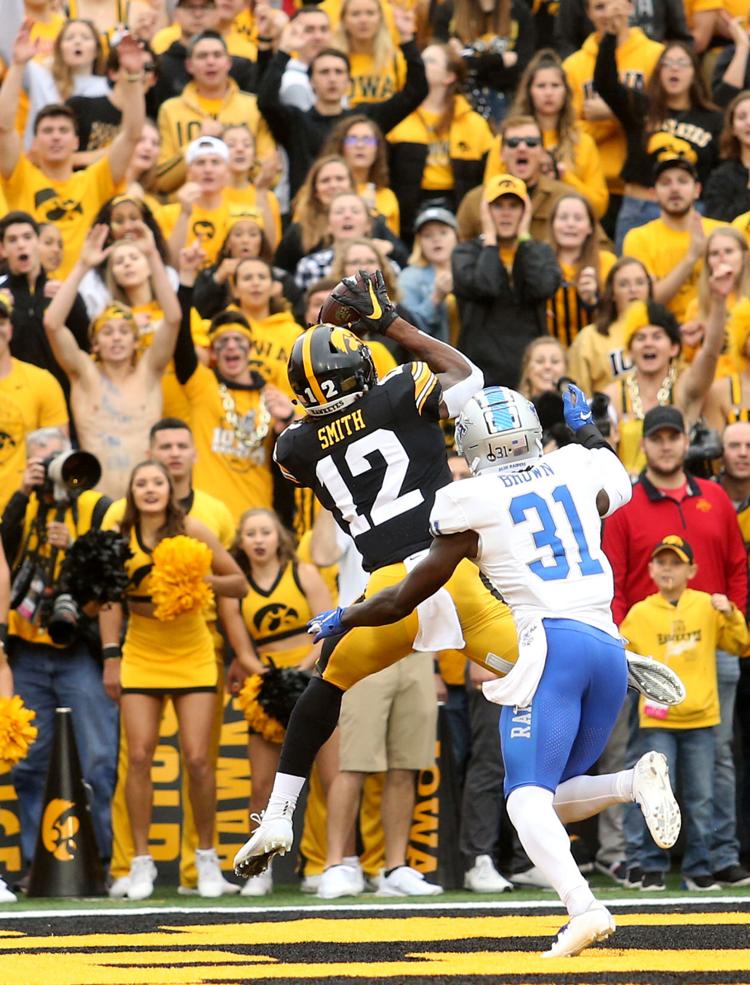 092819-qct-spt-iowa-foot-013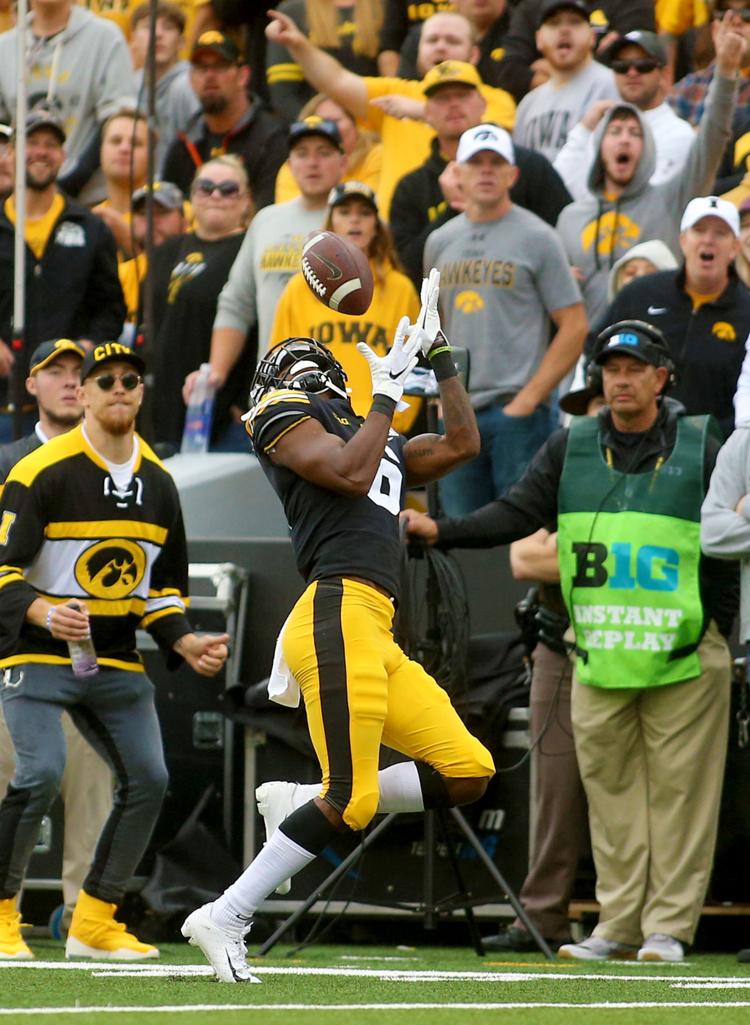 092819-qct-spt-iowa-foot-014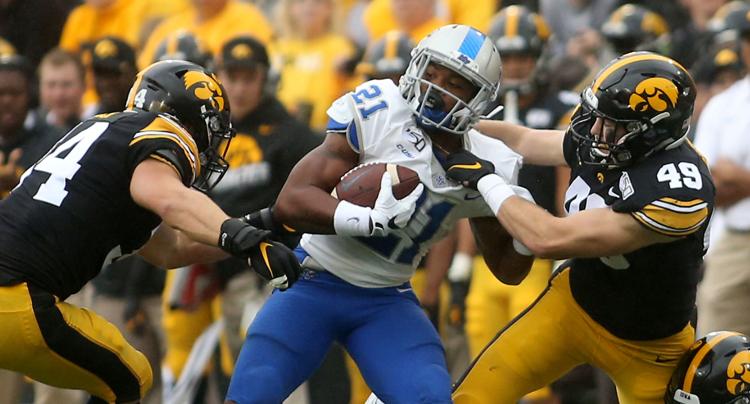 092819-qct-spt-iowa-foot-015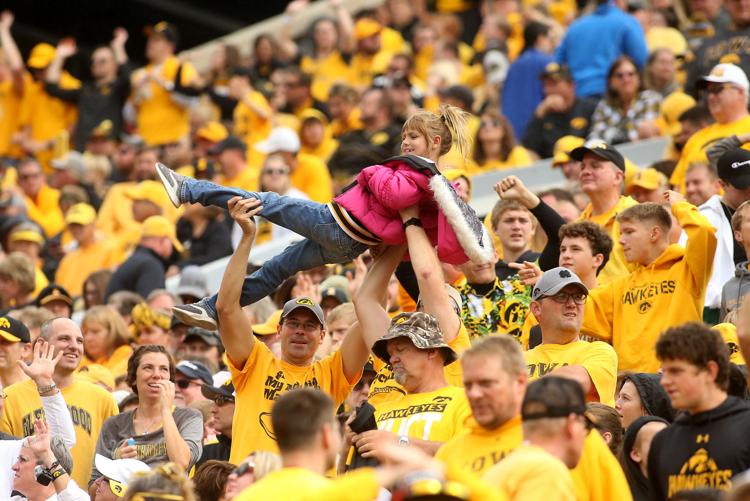 092819-qct-spt-iowa-foot-016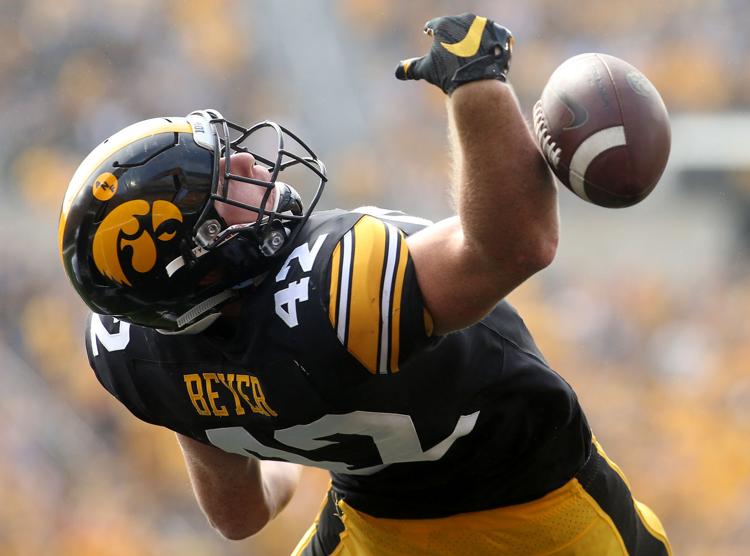 092819-qct-spt-iowa-foot-017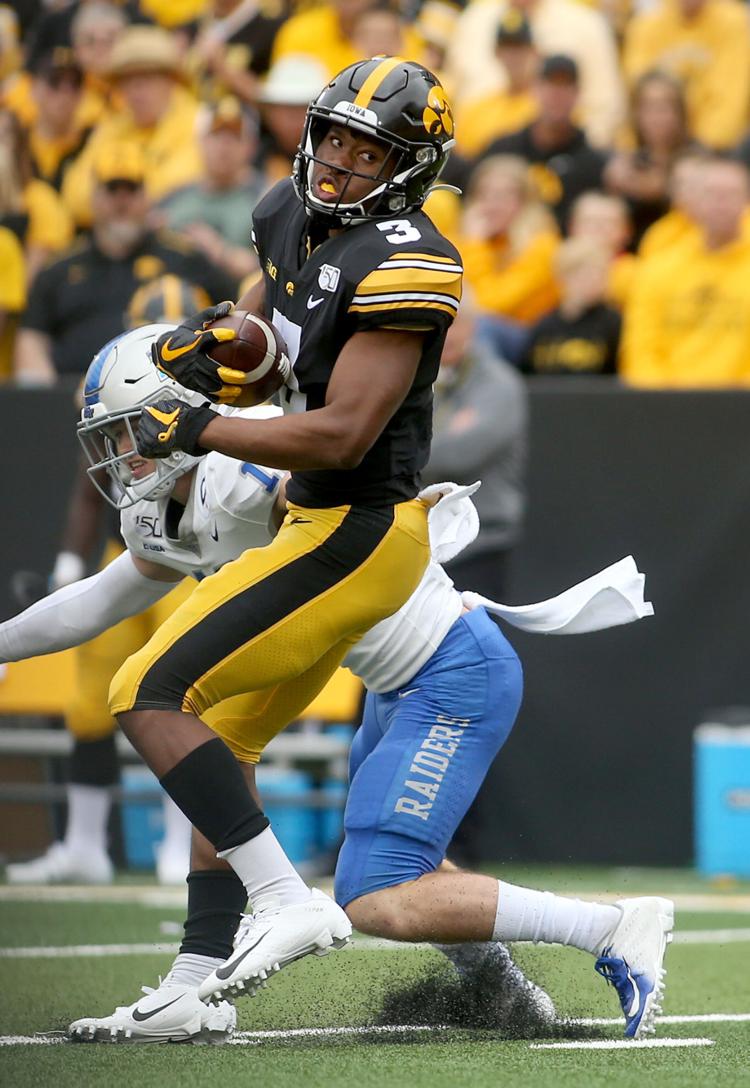 092819-qct-spt-iowa-foot-018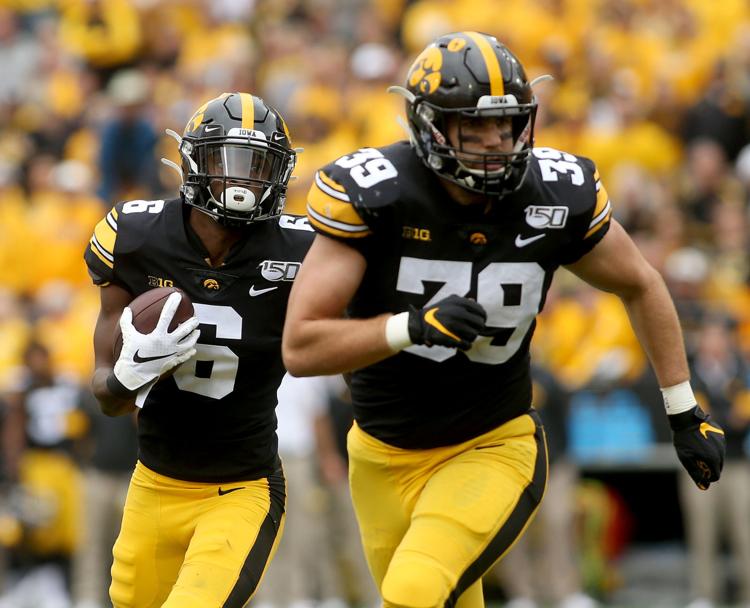 092819-qct-spt-iowa-foot-019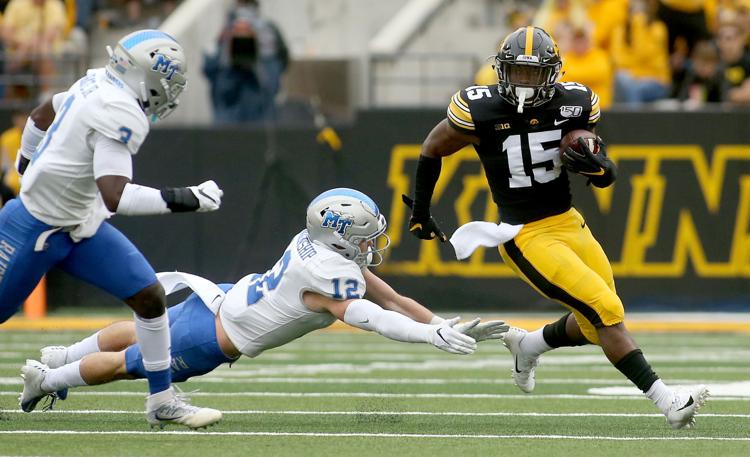 092819-qct-spt-iowa-foot-020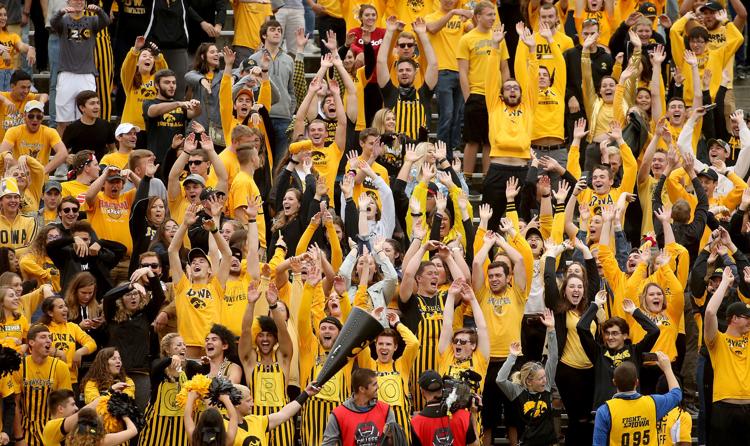 092819-qct-spt-iowa-foot-021
092819-qct-spt-iowa-foot-022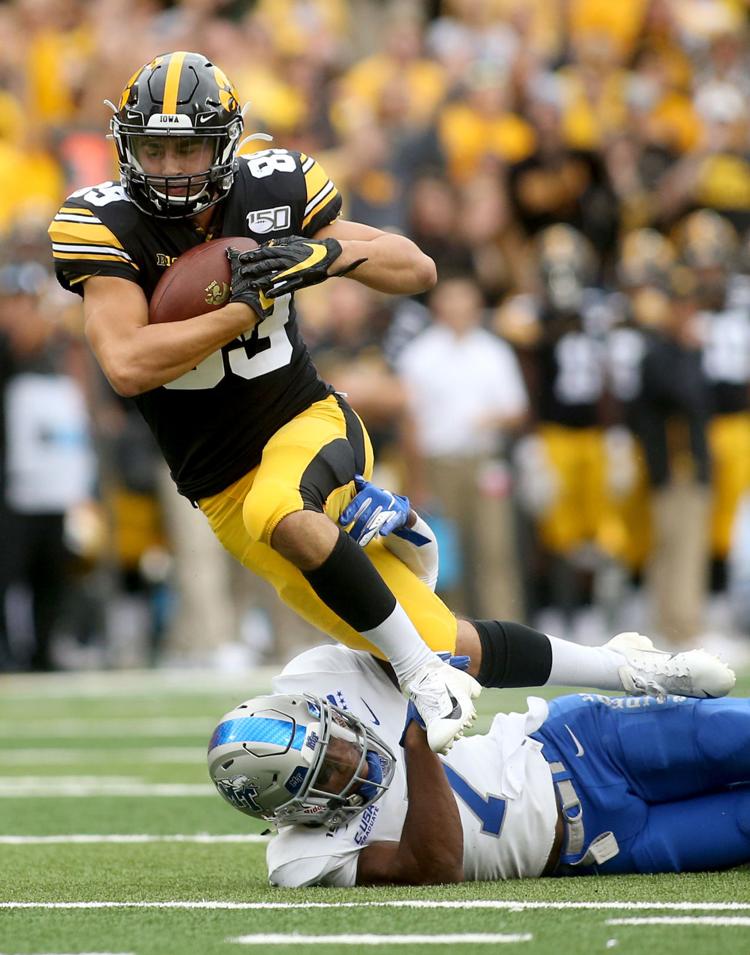 092819-qct-spt-iowa-foot-023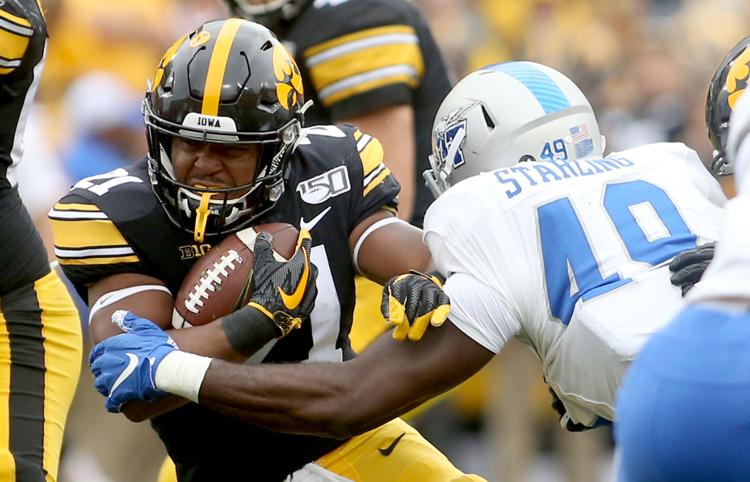 092819-qct-spt-iowa-foot-024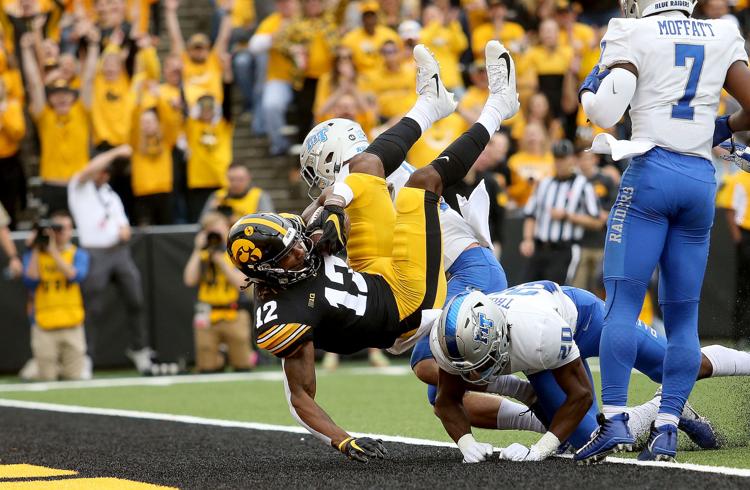 092819-qct-spt-iowa-foot-025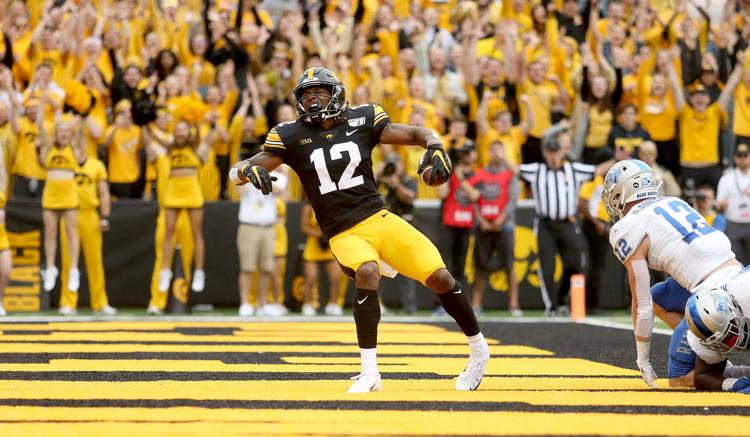 092819-qct-spt-iowa-foot-026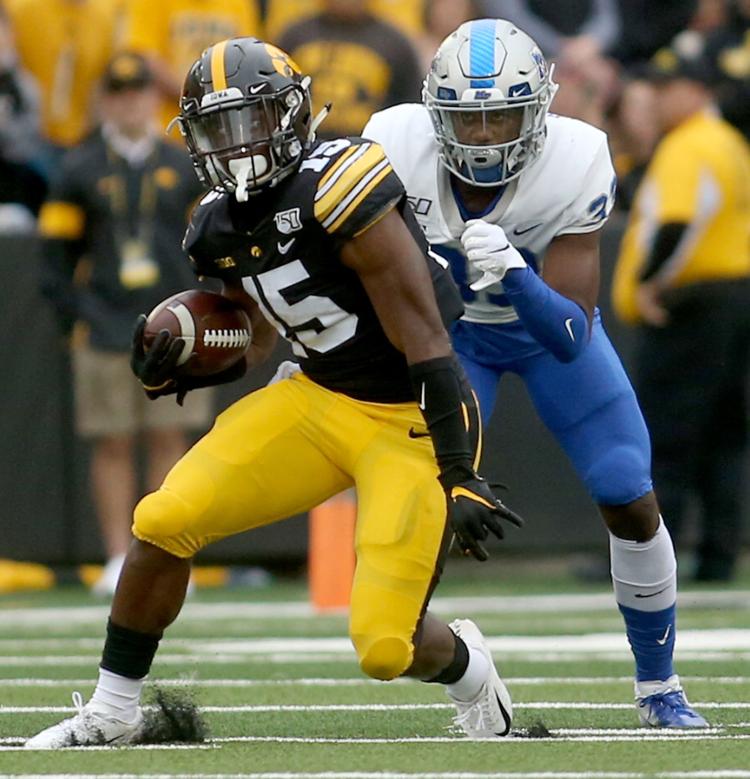 092819-qct-spt-iowa-foot-027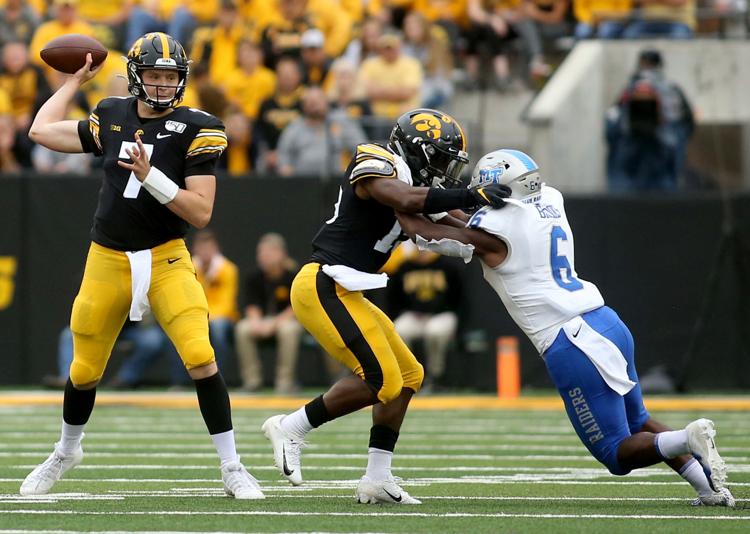 092819-qct-spt-iowa-foot-028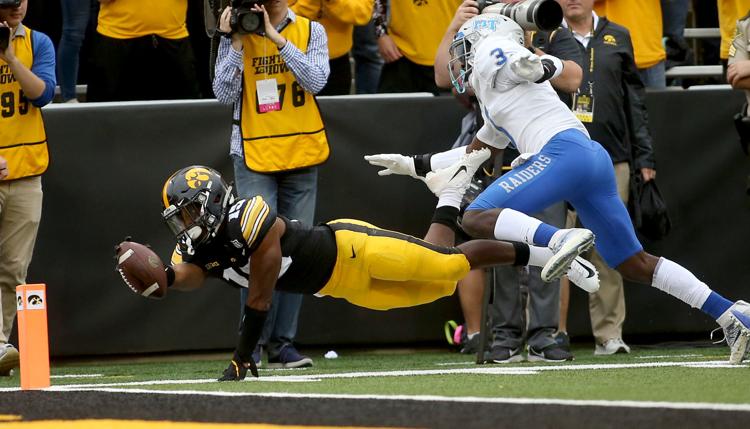 092819-qct-spt-iowa-foot-029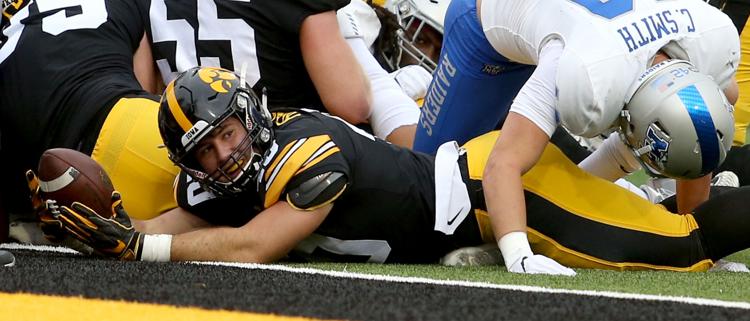 092819-qct-spt-iowa-foot-030