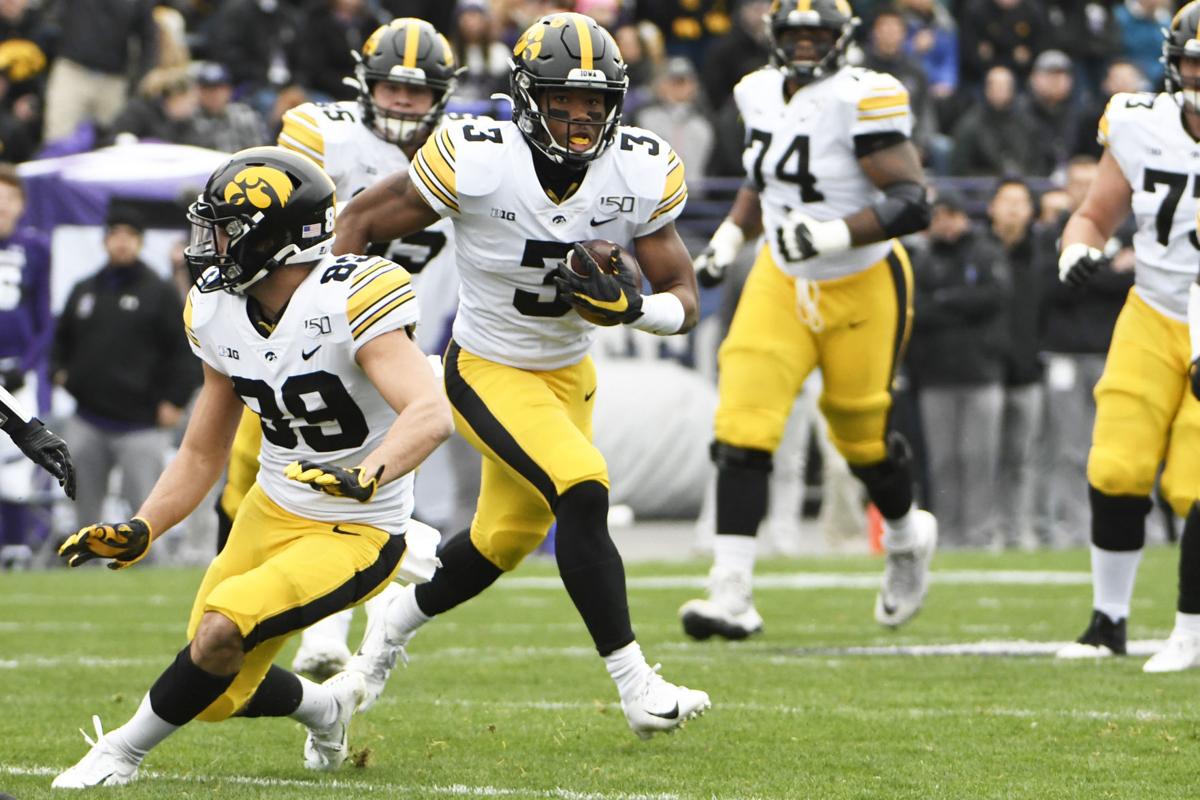 The tug-of-war for Tyrone Tracy, the return of Kristian Welch and Mekhi Sargent regaining his edge are all part of today's Hawkeye 10@10.
That and more are part of your daily dose of Iowa news and notes delivered each weekday at 10 a.m. at Hawkmania.com, your home for all things Iowa.
Here is today's Hawkeye 10 @ 10:
1. Tyrone Tracy arrived at Iowa with the skills of a receiver and a running back, a pair of positions he played in high school at Decatur Central High School in Indiana.
There was a bit of a tug-of-war for Tracy's services during his initial practices between receivers coach Kelton Copeland and running backs coach Derrick Foster.
"Nothing against coach Foster and the running backs, but I was a little selfish. I wanted to keep him in my room,'' Copeland said. "I understood what we needed him to do for Iowa football.''
Foster understands that as well, saying that the redshirt freshman could help the Hawkeyes in either area.
"He still remembers our protection calls,'' Foster said. "I'll tease him every once in a while, 'What do we have on this protection?' and he's like 'Coach, we have this, this and this.' His retention level is through the roof. He's a very intelligent young man and takes pride in it. I think right now he's where he needs to be for us.''
2.  Iowa linebackers assistant Seth Wallace hopes that the Hawkeyes' leading tackler, Kristian Welch, will be able to return to action in next week's game at Wisconsin.
"We hope that will be the case,'' Wallace said.
The middle linebacker senior has missed Iowa's last two games.
If Welch cannot return, Iowa will continue to rotate Dillon Doyle and Jack Campbell at the position.
"The past two games have been a very good experience for both Dillon and Jack and they've done a good job with it,'' Wallace said.
3. Running backs coach Derrick Foster said it has taken some time for Mekhi Sargent to regain his edge since fumbling on his first carry in an Oct. 5 game at Michigan.
"He doesn't want to let his teammates down and I think that weighed on him a little bit,'' Foster said. "I think he was harder on himself than I probably was. He had to get back in the flow and regain his confidence. I think he's done that the last two games.''
4.  Iowa has shutout four of the last 11 Big Ten opponents it has faced.
How rare is that in this era of football?
No other Big Ten team has more than one shutout since the beginning of the 2018 season.
5. The work of walk-on defensive end Joe Evans hasn't surprised line coach Kelvin Bell.
"He's brought a great work ethic to the position and has really moved forward since spring,'' Bell said. "I'll tell him to go in and rush in the quarterback and he delivers. I told him last week on Monday that he was going to get a sack (against Northwestern) and he didn't let me down.''
6.  Iowa returned to the practice field this morning for the first time since playing Saturday's game at Northwestern.
You have free articles remaining.
Coaches felt that eight games into the season, a bit of a break was needed.
"We'll give the guys a chance to rest up a bit and then get back at,'' Iowa coach Kirk Ferentz said.
7. Following a dominant win over Wisconsin, Ohio State players swept Big Ten player of the week honors this week.
Running back J.K. Dobbins was named the league's offensive player of the week and end Chase Young was chosen as the defensive player of the week.
Dobbins totals 221 all-purpose yards against the Badgers, rushing for 163 yards and catching three passes for 58 yards.
He scored a pair of touchdowns in the win.
Young tied school records with four sacks and five tackles for a loss in addition to forcing two fumbles and finishing with six tackles in the victory.
The Big Ten honored Penn State punter Blake Gillikin as the league's special teams player of the week.
He placed five of his eight punts inside the 20-yard line and three inside the 10 in a win at Michigan State.
The senior also recorded his 50th career punt of 50 yards or more when he booted a 58 yarder in the first quarter.
Penn State defensive end Jayson Oweh and Rutgers quarterback Johnny Langan shared Big Ten freshman of the week honors.
Oweh recorded a pair of sacks among three tackles in the Nittany Lions' win at Michigan State while Langan completed 15-of-21 passes for 192 yards and two scores and rushed 21 times for 118 yards and a touchdown in the Scarlet Knights' win over Liberty.
Langan's rushing effort marked the first time a Rutgers quarterback had rushed for 100 or more yards in a game since Sam Mudie topped that mark in a 1961 game against Lehigh.
8. Iowa defensive end commitment Deontae Craig finished with three tackles for a loss and 1.5 sacks among six tackles last week for Culver Academies in its win over South Bend Clay in the opening round of Indiana prep playoffs, among the highlights of the performance of future Hawkeyes at the prep level over the past weekend.
Elsewhere, linebacker Jay Higgins finished with 16 tackles for Indianapolis Brebeuf in a playoff loss to Bishop Chathard, Lukas Van Ness had five tackles and three tackles for a loss for Barrington and Logan Jones had one tackle for a loss among his two tackles for Lewis Central in Iowa play.
On offense, running back Gavin Williams ran for 107 yards on eight carries for West Des Moines Dowling in a 77-0 win over Sioux City  North, tight end Luke Lachey finished with seven receptions for 45 yards for Grandview Heights in Ohio, receiver AJ Lawson totaled five catches for 85 yards for Decatur MacArthur in a loss to Springfield Sacred Heart-Griffin and receiver Dionte Vines had five passes for 63 yards and three touchdowns for Taft in Connecticut prep play.
9. In case you missed it earlier this week, the starting time for the Hawkeyes' next game has been set.
Iowa will play at Wisconsin at 3 p.m. on Nov. 9. FOX will televise the game.
10. The Greater Quad-Cities I-Club is sponsoring a Hawkeye Charter Game Watch Brew Tour on Saturday, Nov. 9.
The tour will begin at 10:30 a.m. at Ruby's on 3rd, 429 E. Third St., Davenport, and will include stops at a number of Quad-City area restaurants including Front Street Brewery and Bent River Brewing Company.
The cost is $40 and registration is limited to individuals age 21 and over.
Individuals can reserve a spot by sending a check made out to the Greater Quad-Cities I-Club to Kristal Schaefer, 402 Michelle Lane, Walcott IA 52773 or can be purchased in person at Fortress Bank, 3260 E. 53rd St., Davenport or Powell Financial Group, 5123 Middle Road, Bettendorf.
For additional information, contact Schaefer at (563) 349-5385.