Fullbacks and first-time experiences, they're all among the topics covered in today's Hawkeye 10@10, your daily dose of Hawkeye news and notes.
Delivered each weekday at 10 a.m. at Hawkmania.com, your home for all things Iowa, here is today's Hawkeye 10@10:
1. Toren Young suggested that when shares the backfield with Mekhi Sargent he is in essence playing a fullback-type role in the Iowa offense.
Hawkeye coach Kirk Ferentz suggested that might be a bit of a stretch, given the traditional role of Iowa fullbacks.
"He'd probably go on strike if that happened or threaten to quit – just a joke – but to play fullback for us, that means you're basically relinquishing all rights to touch the ball,'' Ferentz said.
Then, referencing the rare fumble by fullback Brady Ross in Saturday's win over Miami (Ohio), Ferentz added, "We might have taken another step in that direction Saturday.''
2. Iowa coach Kirk Ferentz said there is another reason Toren Young never has to worry about becoming a fulltime fullback.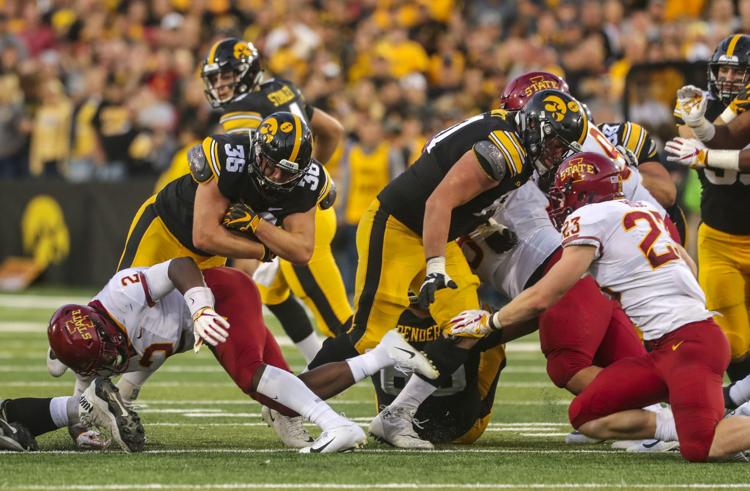 "We have some good prospects coming up,'' Ferentz said. "We've really liked Brady Ross at that position and we've got some good young guys coming up, three good young guys.''
Tanner Pallissard, a redshirt freshman from Lincoln-Way East High School in south suburban Chicago, is currently backing up Ross, a senior.
3. Oliver Martin caught two passes for 14 yards in his Iowa debut last weekend and the transfer from Michigan said it felt good to be finally talking football.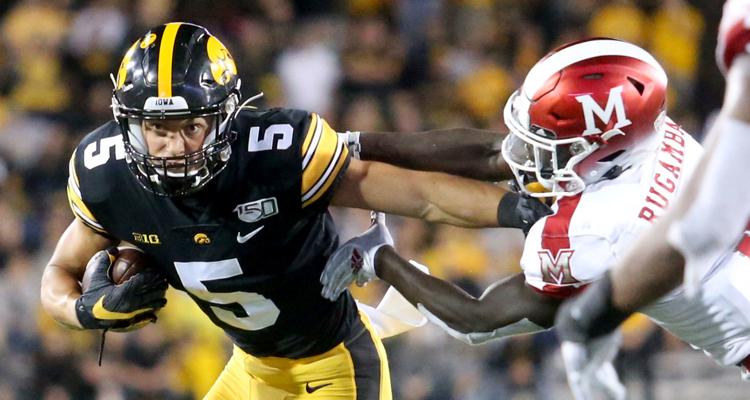 "It's a relief of sorts. There have been so many questions. Why did you leave? Why did you ask for a waiver? To get a chance now to just play football, just talk football, that' feels great,'' Martin said. "That's what I'm here to do. It was a good first game, something to build on.''
4. True freshman Tyler Goodson carried the ball nine times and gained 36 yards in Saturday's win over Miami (Ohio), nine more times than junior Ivory Kelly-Martin had the ball in his hands.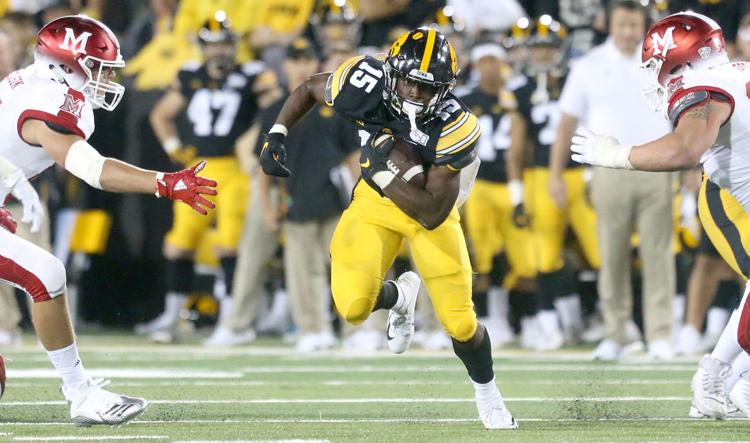 Mekhi Sargent and Toren Young continue to fill the top two spots on the Iowa depth chart, but coach Kirk Ferentz said Kelly-Martin still fills the third spot while coaches worked to give Goodson some experience in the opener.
"He's not ahead of (Kelly-Martin), but he's in the picture for sure,'' Ferentz said. "My guess is we're going to need all four of those guys and we like all four. We like Shadrick Byrd, too. He's been a good addition, too, and there's nothing about him not to like based on what he's done thus far.''
5. Fourth-year Rutgers coach Chris Ash has won eight games during his tenure in Piscataway, continuing to work to get the consistency that Iowa has enjoyed during Kirk Ferentz's 21 seasons.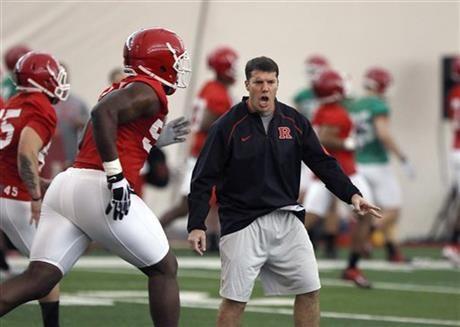 "They have been the model of consistency for years,'' Ash said during his weekly news conference Monday.
You have free articles remaining.
"Kirk has done an unbelievable jot and I have nothing but the utmost respect for him as a coach and what he has done with the staff and program.''
6. Among Iowa players thankful for a chance to be on the field Saturday was defensive tackle Daviyon Nixon.
The sophomore who signed with Iowa out of high school, spent his freshman year at Iowa Western Community College and then sat out last fall to concentrate on academics, was overwhelmed by the experience.
"It was pretty emotional, finally getting to do what I've always wanted to,'' Nixon said. "When it was over, I was in crying in the locker room. They were all tears of joy. It meant so much to me.''
Nixon, backing up Cedrick Lattimore at left tackle on the defensive line, finished with one tackle in his debut.
7. Tyler Linderbaum enjoyed a relatively quiet debut at center for Iowa, something that isn't necessarily a bad thing.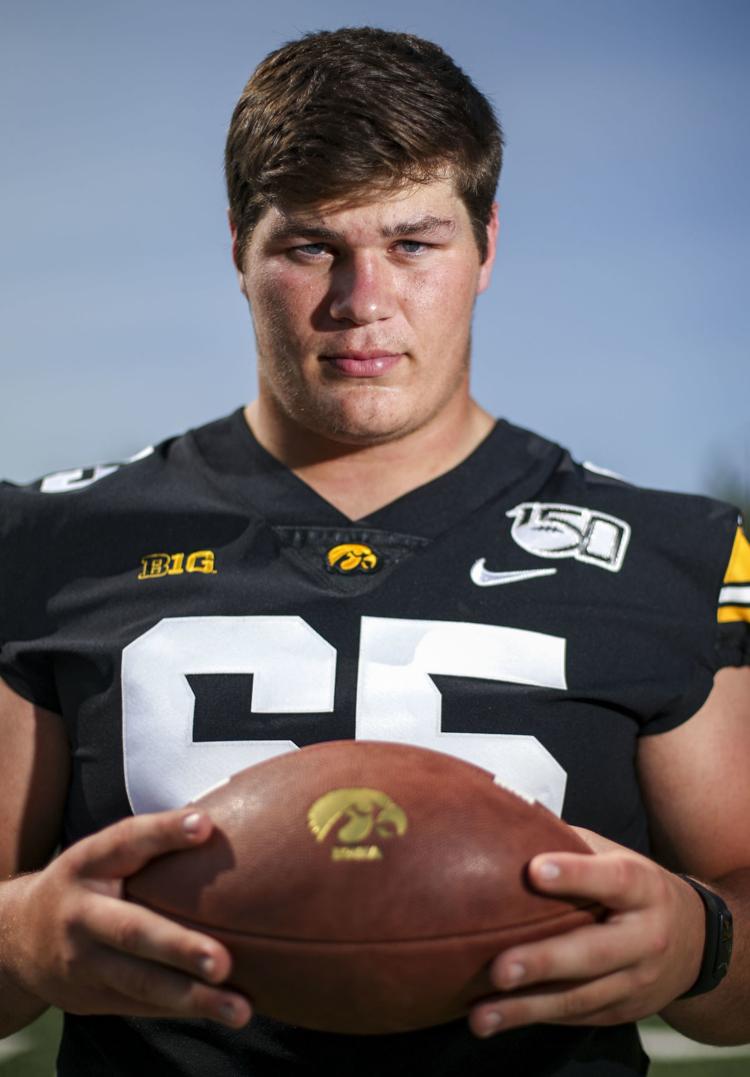 "It was a good experience for me,'' the redshirt freshman said. "There's always room to improve and get better, but it was decent start, something to build on.''
Linderbaum was a constant as the Hawkeyes mixed and matched seven different line combinations.''
8. With tackle Alaric Jackson going down with an injury in the first quarter, Tristan Wirfs found himself shuffling from left tackle to Jackson's spot on the right side during the Hawkeyes' opener.
Coach Kirk Ferentz praised the consistency of Wirfs' performance no matter where he was on the field.
"You get a guy who has played a year or two, hopefully they're accelerating their level of play and just looking a bit more comfortable out there and a little more natural in their play,'' Ferentz said. "Certainly he did. He played his best game since he's been here and that's really encouraging to us.''
9. There are all sorts of Iowa connections on the Rutgers coaching staff.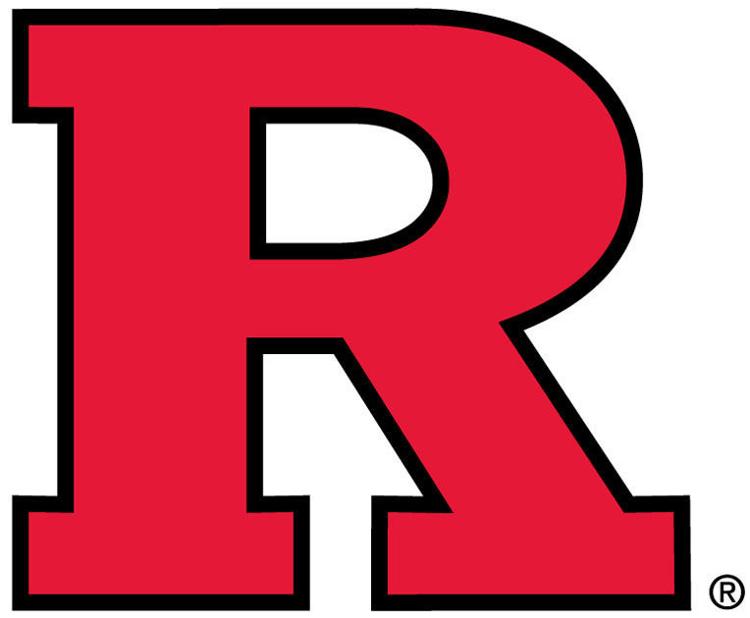 Scarlet Knights wide receivers coach Lester Erb spent 13 seasons on Kirk Ferentz's staff at Iowa, coaching running backs, wide receivers and special teams during his time in Iowa City.
The Scarlet Knights' defensive line coach is a former Hawkeye, Corey Brown, and was a defensive tackle on the first Ferentz-coached Iowa team in 1999.
10. Quarterback Nate Stanley continued his rise on the Iowa's touchdown pass charts with three scoring passes in Saturday's season opener.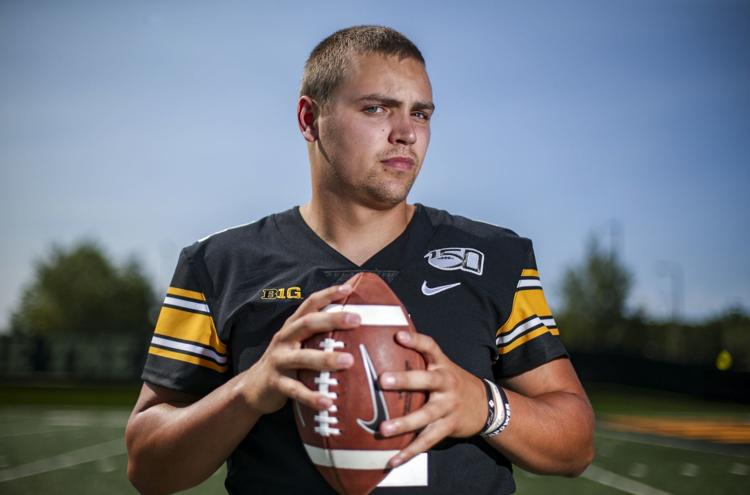 He now has 55 in his career, fourth on Iowa's all-time list.
The senior now trails only Chuck Long (74), Drew Tate (61) and Ricky Stanzi (56) in Hawkeye history.