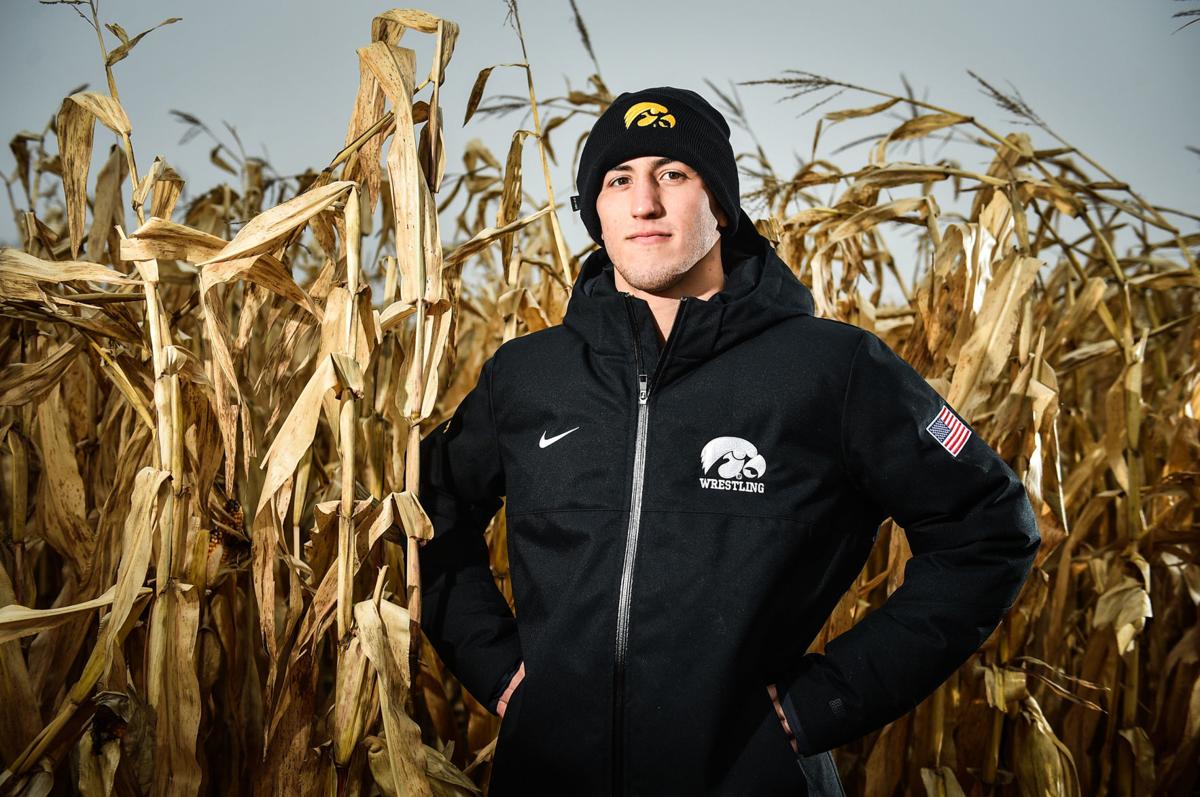 IOWA CITY — Michael Kemerer's wait ends Sunday.
It's been a year since the Iowa wrestler stepped on a mat against competition outside of the Dan Gable Wrestling Complex, a year that challenged the two-time all-American both physically and mentally.
"You have to go out and watch someone else go out there and win your Big Ten title, win your national title, that's not easy,'' Kemerer said. "That's tough because we're competitors. We're selfish. We want to win everything.''
That wasn't possible a year ago at this time for a wrestler who last competed when he placed fourth at 157 pounds at the 2018 NCAA Championships, the final match of a 27-3 sophomore season.
Kemerer is expected to return to the mat at Carver-Hawkeye Arena on Sunday in the Hawkeyes' 2 p.m. season-opening dual against Tennessee-Chattanooga, a dual which will also see redshirt freshman Tony Cassioppi make his Hawkeye debut at 285 after going 20-2 while competing unattached last season.
It's an opportunity that has Kemerer more than ready.
"I'm probably more appreciative of the chance to get back out there than anything,'' Kemerer said. "It's been different, having to sit and watch and wait. That's just not an easy thing for a competitor to do.''
Iowa coach Tom Brands believes Kemerer is returning to action better prepared to compete than he ever has been.
"Michael Kemerer may not have been out there last season, but he never stopped working with his mind,'' Brands said. "He's a great example of how to do it right.''
Physically, it was a challenge.
He spent last Thanksgiving on crutches, beginning to rehab from surgery to repair longstanding knee issues.
By Christmas, Kemerer had an arm in a sling after undergoing shoulder surgery.
"I'm too used to being active, but it was something that needed to be done,'' Kemerer said. "Still, none of that was easy.''
He said he never truly embraced the idea of sitting there and watching others compete.
"You're watching, but you can't do anything about it,'' Kemerer said. "Whether it's a dual meet or a tournament or the nationals, you can't make an impact. You can't change anything on the scoreboard. For me, that was hard.''
Eventually, he found ways to stay involved, stay connected with his teammates.
He spent time watching video, studying his own game and trying to dissect what has worked well for him and how he could improve once he was cleared for a return to the mat.
He spent time working with teammates, trying to coach them up as they prepared for competition.
It all served a purpose, and now that he is ready for a return to competition himself, he hopes to use what he learned to his advantage.
"I want to be a stronger competitor than I've been,'' said Kemerer, ranked as high as second nationally at 174 as the season begins.
Brands is as anxious to watch Kemerer compete as the Hawkeye junior from Murrysville, Pennsylvania is to get back on the mat himself.
"People ask me who looks good. If you had to say one guy, the guy who comes to mind is Michael Kemerer,'' Brands said. "He's healthy and he's strong.''
Kemerer was cleared to resume full physical activity in June, giving him time to prepare for the upcoming season and the challenges it will present.
"I was more than ready when I got the go ahead to get back out there. The coaches, the trainers, they had to hold me back for a few weeks. Everybody wanted to make sure than everything was good,'' Kemerer said.
"When it was time, I was ready and I have had the time to get ready to get back out there and do what I'm capable of doing.''
And now, he's looking forward to adding to the 60-6 record he compiled in his first two seasons at Iowa and preparing for his first match as a 174-pound competitor.
That is the weight class Kemerer was projected to fill a year ago before it was decided that he would undergo surgery.
"He's a '74 pounder, and if anybody looks good, he looks good from where he came from,'' Brands said.
Kemerer won't dispute that.
"I feel as good as I've felt in years,'' Kemerer said. "I feel strong. I feel ready.''
Be the first to know
Get local news delivered to your inbox!