IOWA CITY — Iowa's season-opening 38-14 victory over Miami (Ohio) on Saturday night was a little bit like a wedding.
The Hawkeyes blended something old, something new, something borrowed and something formerly maize and blue to pull away to the win in front of a sellout crowd of 69,250 at Kinnick Stadium.
An old Iowa standby, a sturdy rushing attack, piled up 213 of the 465 yards of the Hawkeyes accumulated against the RedHawks in the first-ever season opener played under the lights at Iowa.
Senior quarterback Nate Stanley borrowed from some successful connections in his past while throwing for 252 yards.
He leaned on returning junior receivers Brandon Smith and Ihmir Smith-Marsette and junior backs Mekhi Sargent and Toren Young early to make plays before working new Hawkeyes into the mix.
Sargent ran for 91 yards and caught four passes for 65 yards to lead Iowa, which saw Michigan transfer Oliver Martin catch his first Hawkeye touchdown pass to open scoring in the Hawkeyes' 28-pont second half.
"We were just taking what the defense gave us. We were very confident, coming off of camp,'' Stanley said.
Sargent said it was just a sampling of the potential he sees in the Hawkeyes' offense.
"We have a lot of guys who can do a lot of things to help this team,'' Sargent said. "We have good depth in a lot of areas and that is only going to help us.''
In a three-point game at the half, a pair of third-quarter touchdowns allowed Iowa to open a bit of a margin against the Mid-American Conference opponent.
Martin and redshirt freshman Nico Ragaini positioned the Hawkeyes to build a lead which reached 24-7 after three quarters.
Martin, granted an eligibility waiver by the NCAA on Wednesday, saw his first action during Iowa's first drive of the third quarter.
He took the field after Stanley had hit Shaun Beyer for an 18-yard gain, serving as a decoy when Stanley handed off to Smith-Marsette for a 16-yard carry to the Miami 9-yard line.
Stanley then hit Martin in the left side of the end zone for a 9-yard scoring strike with 10 minutes, 6 seconds to go in the third quarter, extending the Iowa lead to 17-7.
"It felt good to be out there, playing football and not having to think about a lot of other things,'' Martin said. "I didn't know when I was going to get in. I just tried to stay loose, stay ready and then make a play if I had a chance.''
It wasn't anything new to Stanley.
"He has a good play-making ability,'' Stanley said. "We've seen that all summer.''
Ragaini caught a 45-yard pass to set up the Hawkeyes' next score, a 2-yard carry by Sargent.
A Brady Ross fumble on Iowa's next possession denied the Hawkeyes a chance to add to their 24-7 lead.
Doug Costin scooped up the loose ball for Miami (Ohio) and 10 plays later, freshman quarterback Brett Gabbert threw his second touchdown of the game.
Andrew Homer pulled down a 20-yard pass to pull the RedHawks within 24-14 with 12:53 remaining in the game.
The Hawkeyes answered with a clock-chewing 13-play, 75-yard drive that culminated in a 2-yard touchdown run by Young with 5:56 to play.
An interception by Michael Ojemudia on the next snap positioned the Hawkeyes to add one final score to their lead with just over three minutes to play.
"Their quarterback wasn't the tallest guy. I didn't really see him. I just saw the ball and played the way I am supposed to play,'' Ojemudia said. "I was where I needed to be.''
His 14-yard return to the 23-yard line set up Stanley to hit Smith-Marsette with a 6-yard touchdown pass to give the Hawkeyes their winning margin.
"The best thing was the way we responded in the second half,'' Iowa coach Kirk Ferentz said. "We played better football and we needed to. They exposed a few things we will need to work on, but they have a good staff that had them ready. We made good adjustments, simplified a few things, and I felt that helped.''
Iowa took a 10-7 lead into the locker room at the break, collecting points on two of its first three possessions of the season to withstand a strong start by Gabbert, a true freshman quarterback who threw for 186 yards.
The 6-foot St. Louis native who didn't have a scholarship offer from a power-five program and is the brother of former Missouri quarterback Blaine Gabbert, connected on seven of his first nine passes.
He connected on a pair of 20-yard strikes to Luke Mayock during a 10-play, 77-yard drive that ended with an 11-yard touchdown pass to Jack Sorenson which allowed the RedHawks to open a 7-3 advantage with 11:54 to play in the second quarter.
The Hawkeyes answered quickly.
Young carried for gains 12 and five yards on the next two snaps, opening a drive that reached methodically reached midfield before Stanley hit Sargent for a 41-yard gain to the RedHawks' 9-yard line.
Stanley hit Smith on a fade route for the score which put Iowa in front for good with 8:20 remaining in the half.
"It wasn't the start we wanted but at the half, the coaches settled us down and we came out and played Iowa defense,'' Ojemudia said. "We got back to the basics and it felt good.''
Keith Duncan provided Iowa with its first points of the season after a 13-play drive that ate 6:50 off the clock midway through the opening quarter stalled.
A 17-yard run by Sargent and a 16-yard gain by Stanley on a bootleg moved the Hawkeyes to the Miami 24. A pair of runs by Young moved the ball inside 10, positioning Duncan to connect on a 21-yard field goal with 1:17 remaining in the opening quarter.
The drive was a costly one. Starting tackle Alaric Jackson suffered a right knee injury that forced him to the sideline for the rest of the day, prompting Iowa to experiment with multiple lineup combinations the rest of the day.
Ferentz said the severity of Jackson's injury had not been determined.
"We'll probably know more next time we get together on Tuesday. Fingers crossed,'' Ferentz said.
083119-qct-spt-iowa-miami-foot-017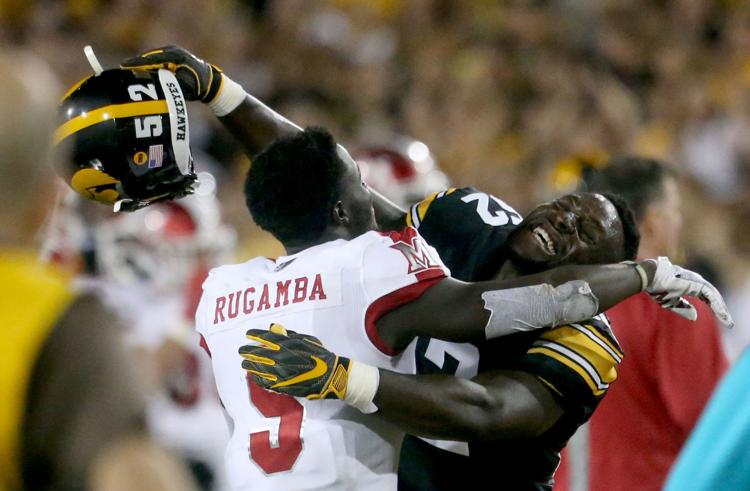 083119-qct-spt-iowa-miami-foot-001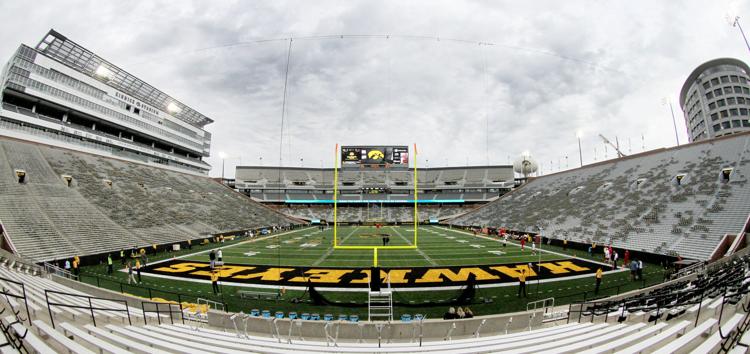 083119-qct-spt-iowa-miami-foot-002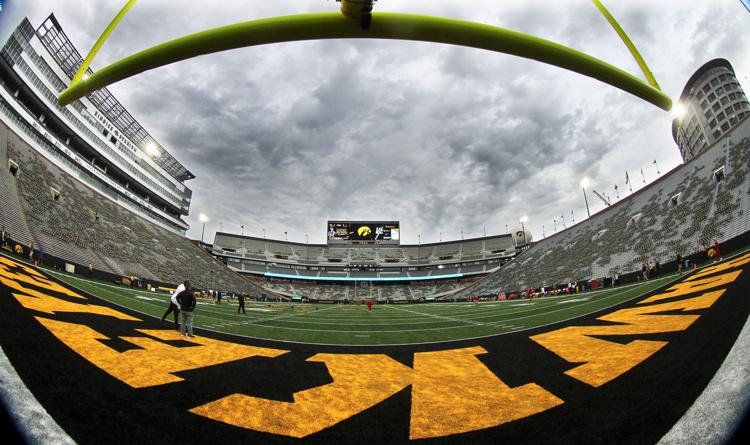 083119-qct-spt-iowa-miami-foot-003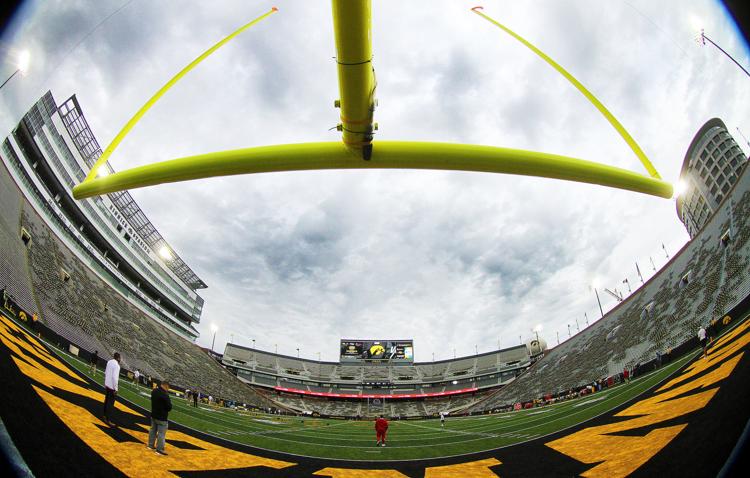 083119-qct-spt-iowa-miami-foot-004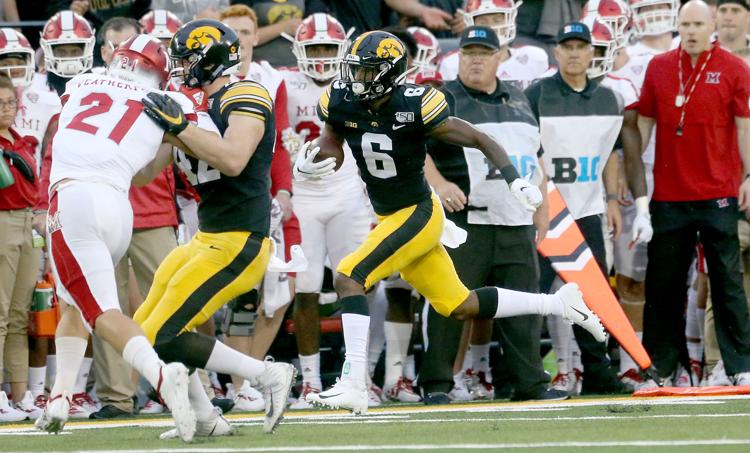 083119-qct-spt-iowa-miami-foot-005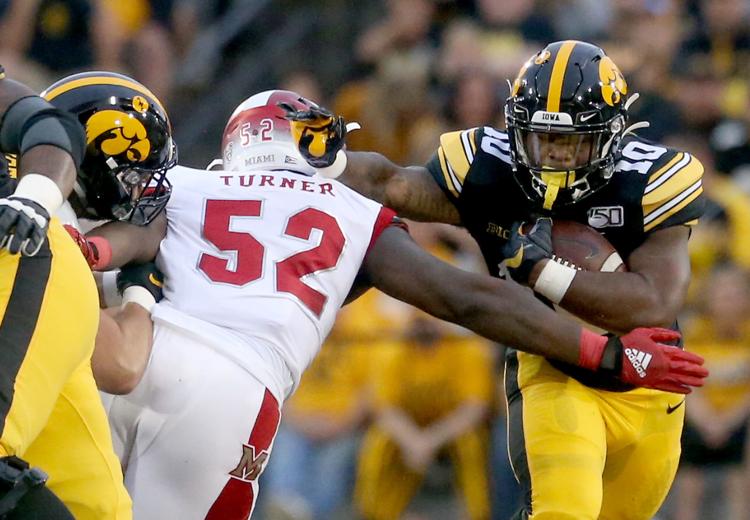 083119-qct-spt-iowa-miami-foot-006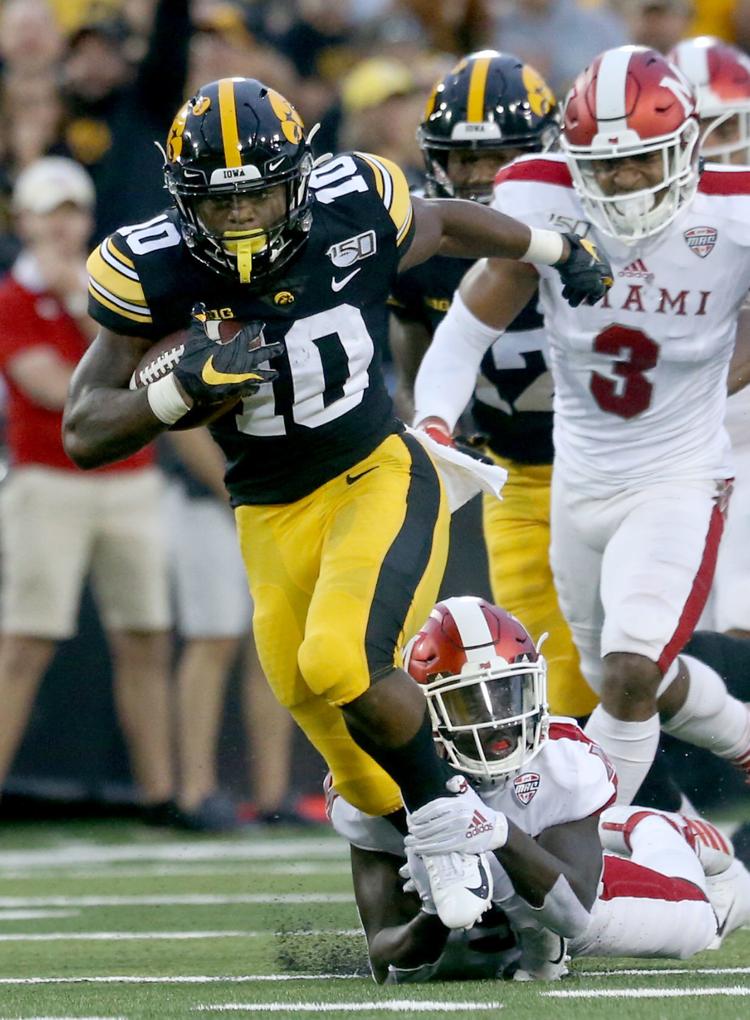 083119-qct-spt-iowa-miami-foot-007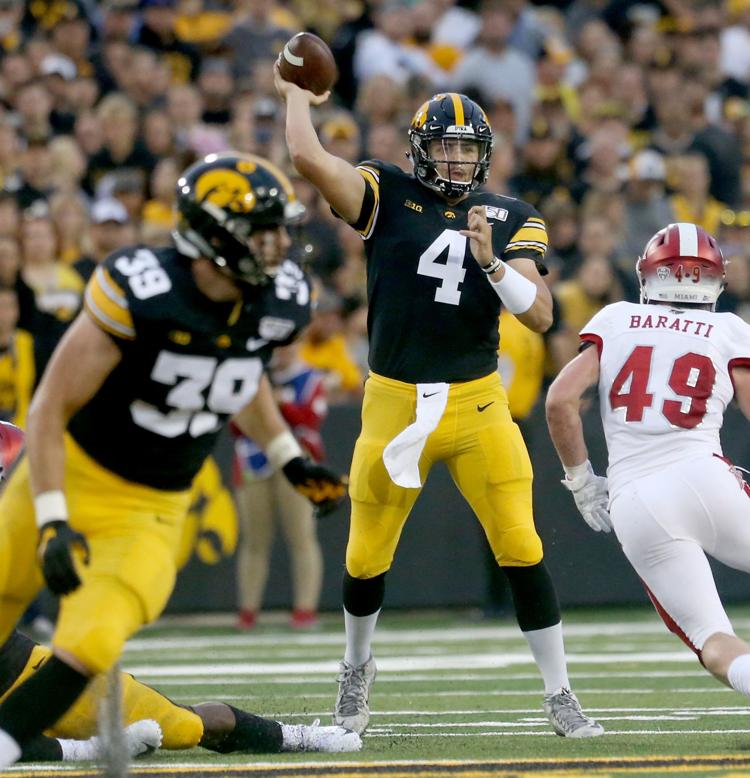 083119-qct-spt-iowa-miami-foot-008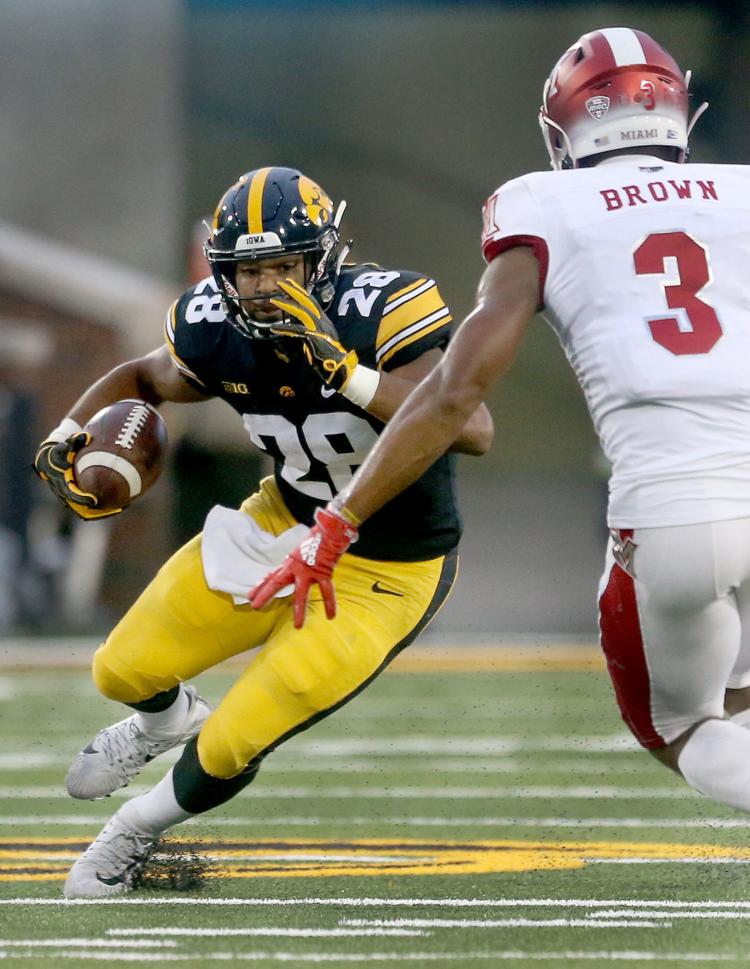 083119-qct-spt-iowa-miami-foot-009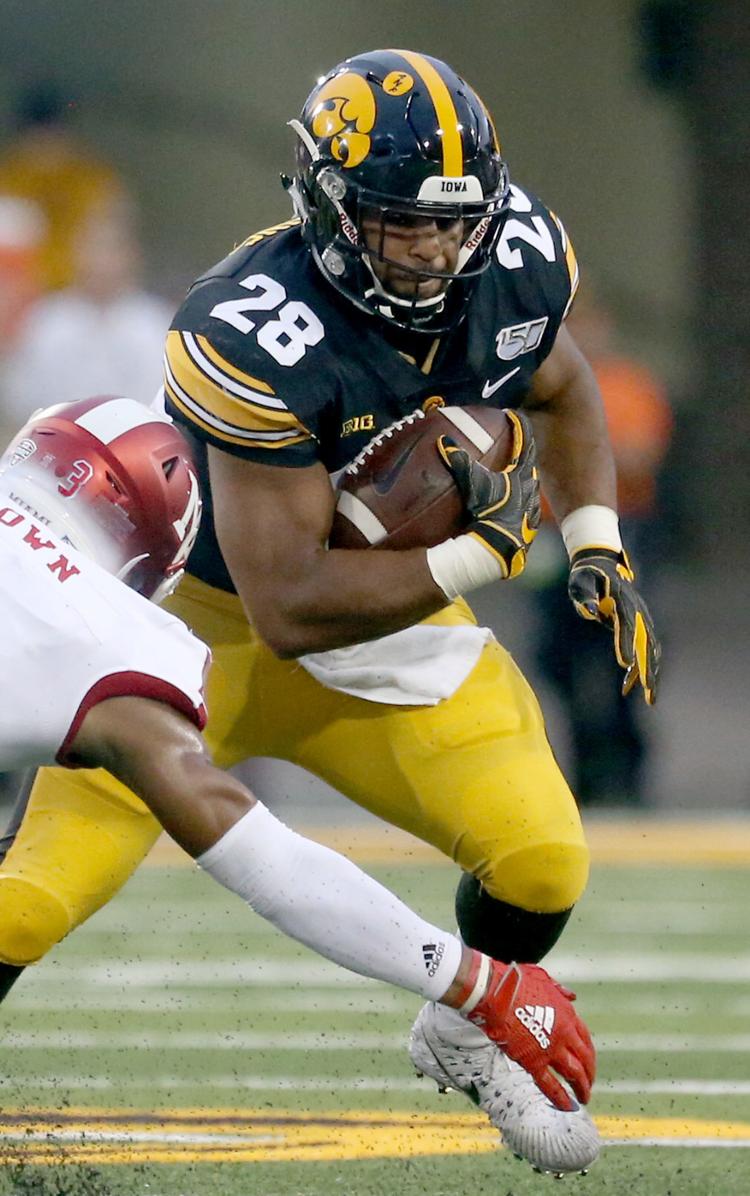 083119-qct-spt-iowa-miami-foot-010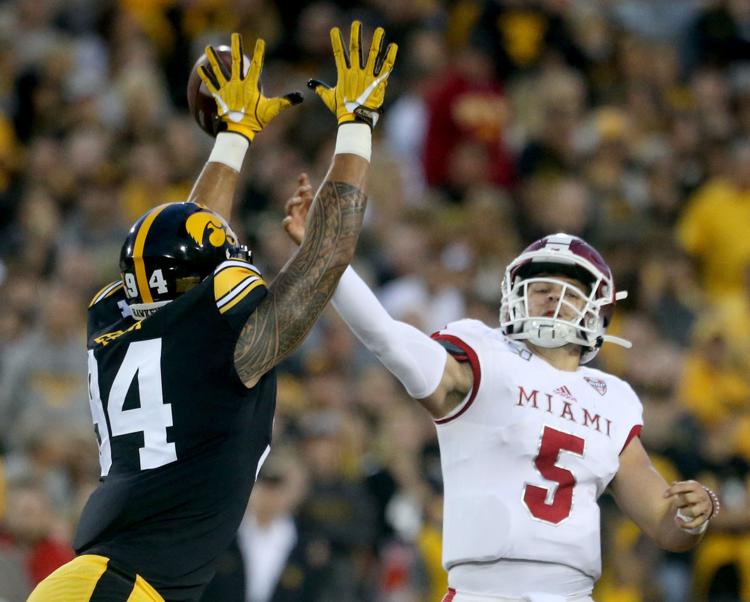 083119-qct-spt-iowa-miami-foot-011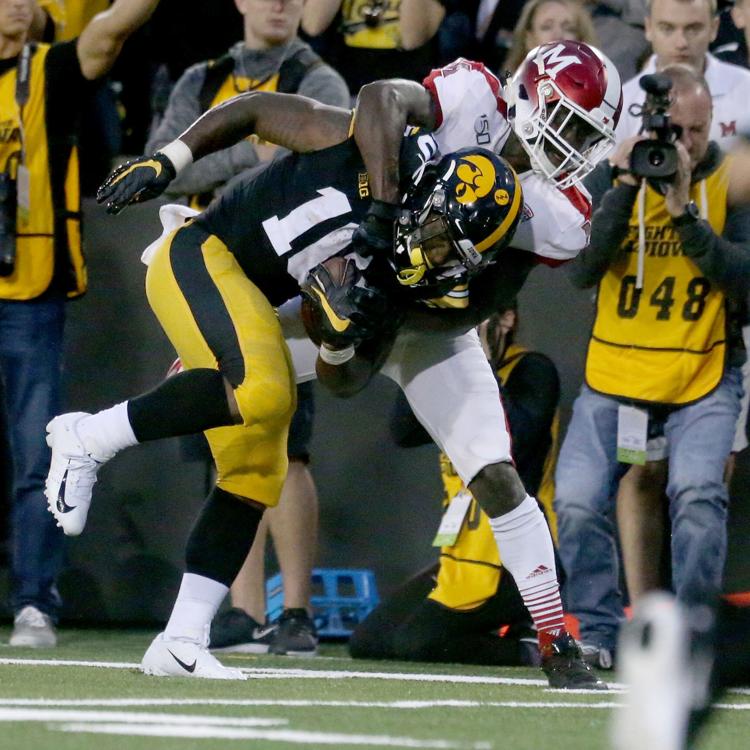 083119-qct-spt-iowa-miami-foot-012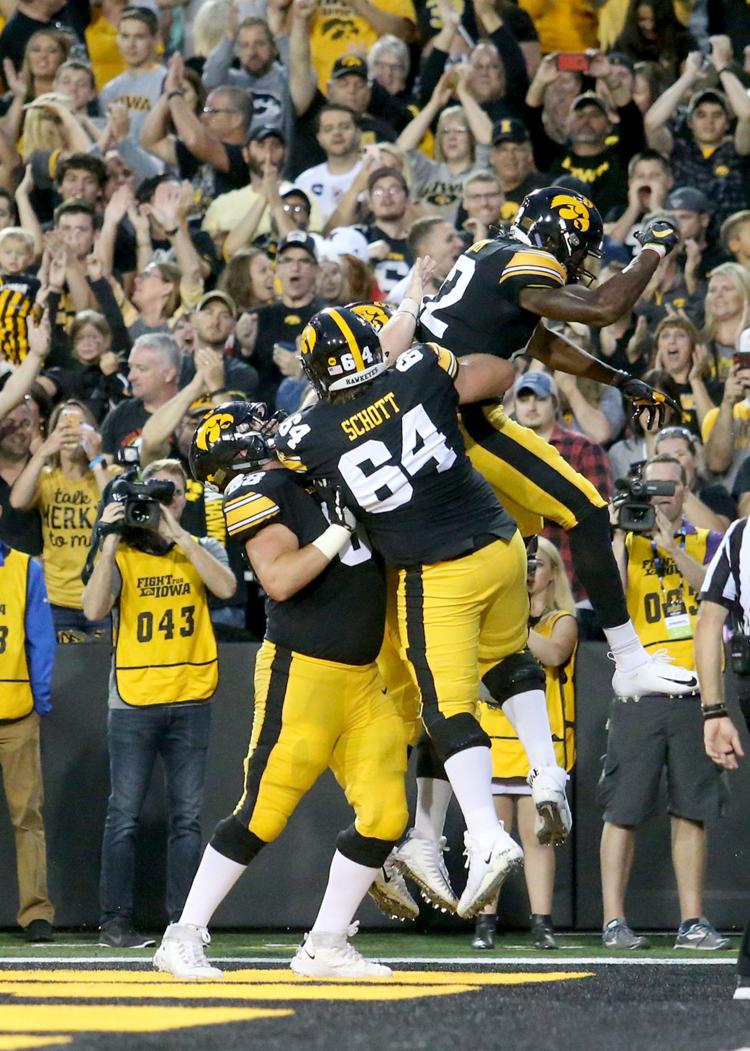 083119-qct-spt-iowa-miami-foot-013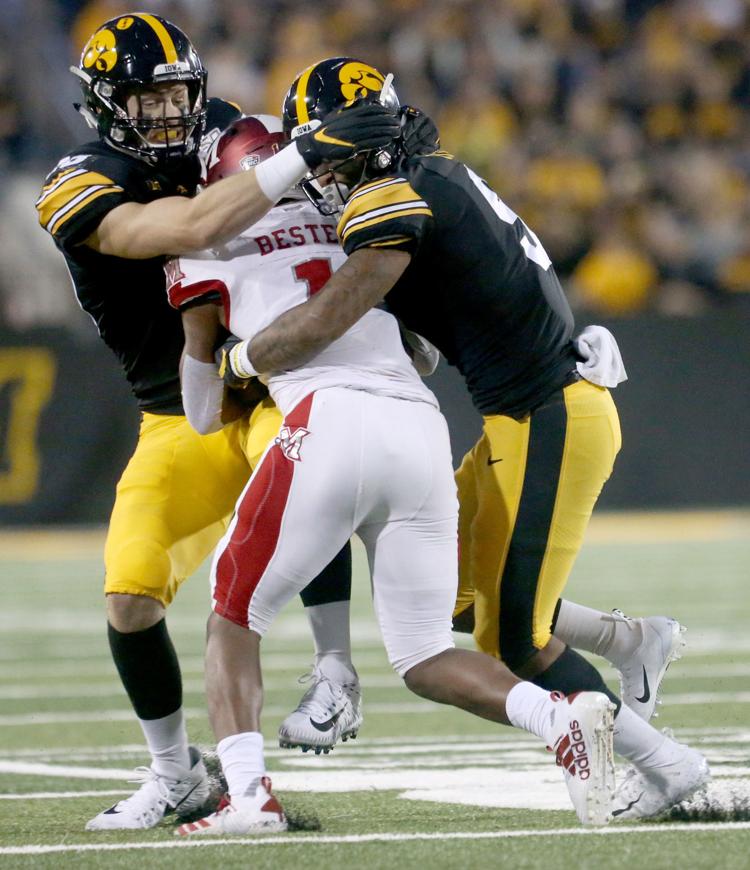 083119-qct-spt-iowa-miami-foot-014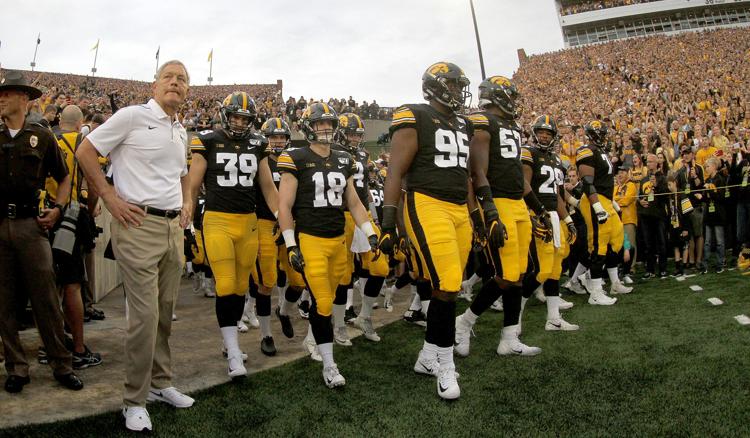 083119-qct-spt-iowa-miami-foot-015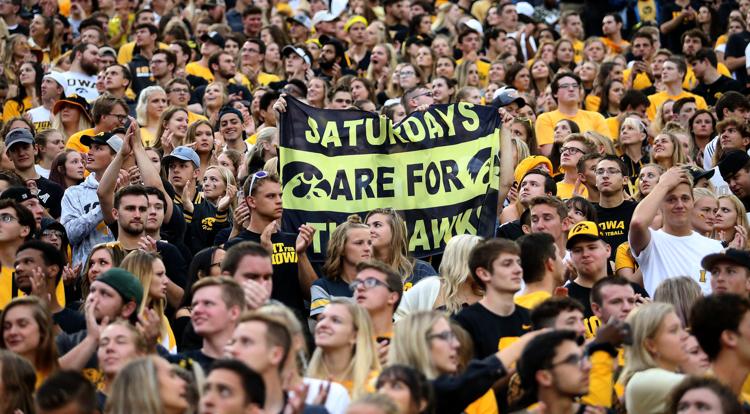 083119-qct-spt-iowa-miami-foot-016
083119-qct-spt-iowa-miami-foot-018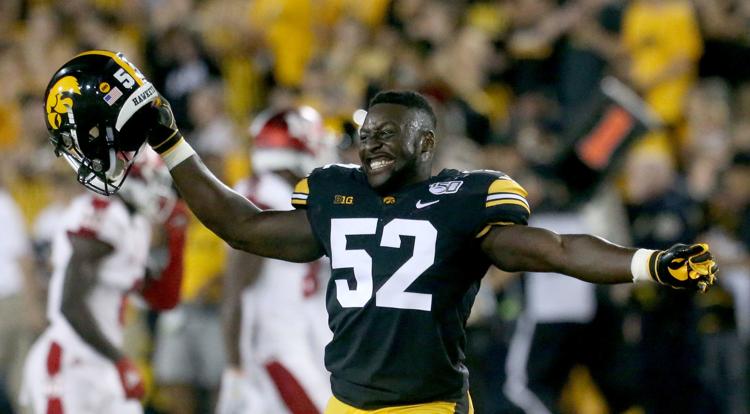 083119-qct-spt-iowa-miami-foot-019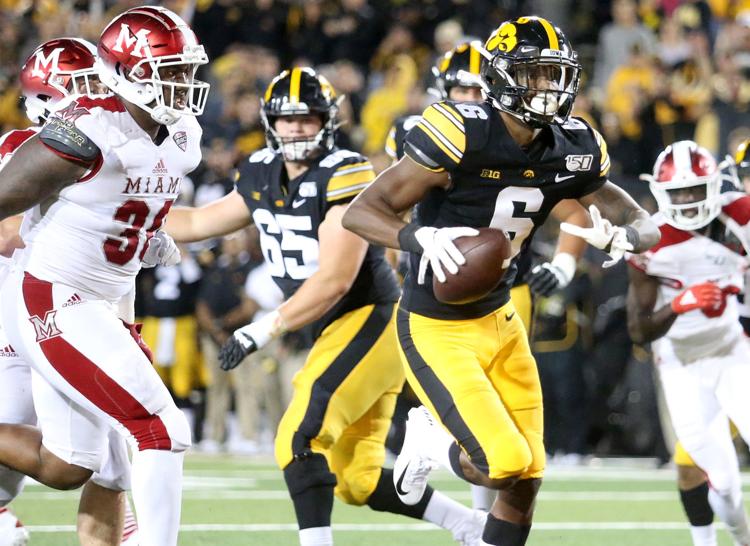 083119-qct-spt-iowa-miami-foot-020
083119-qct-spt-iowa-miami-foot-021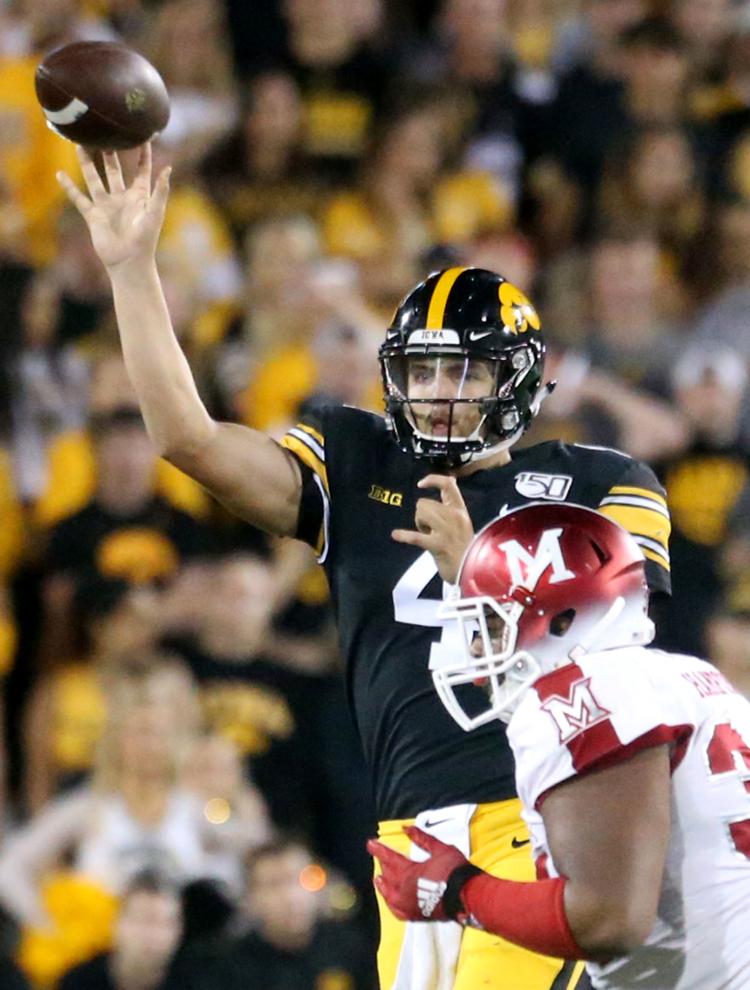 083119-qct-spt-iowa-miami-foot-022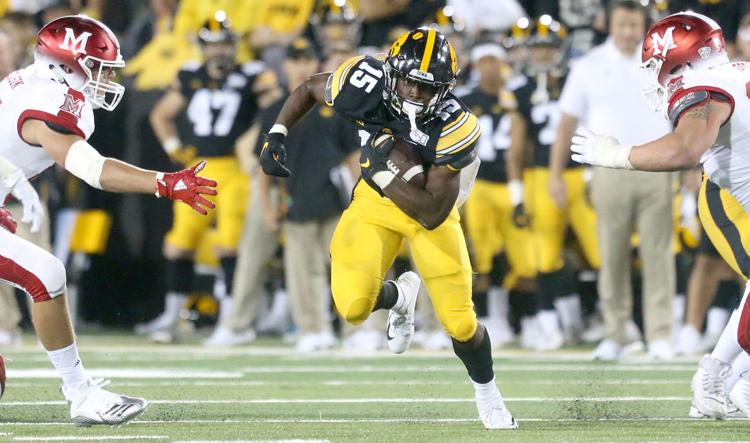 083119-qct-spt-iowa-miami-foot-023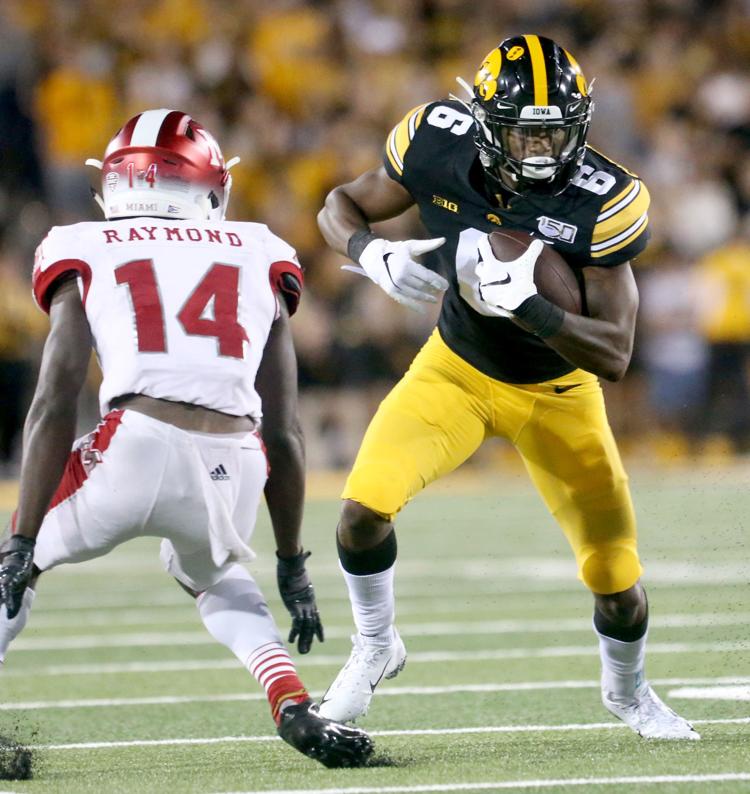 083119-qct-spt-iowa-miami-foot-024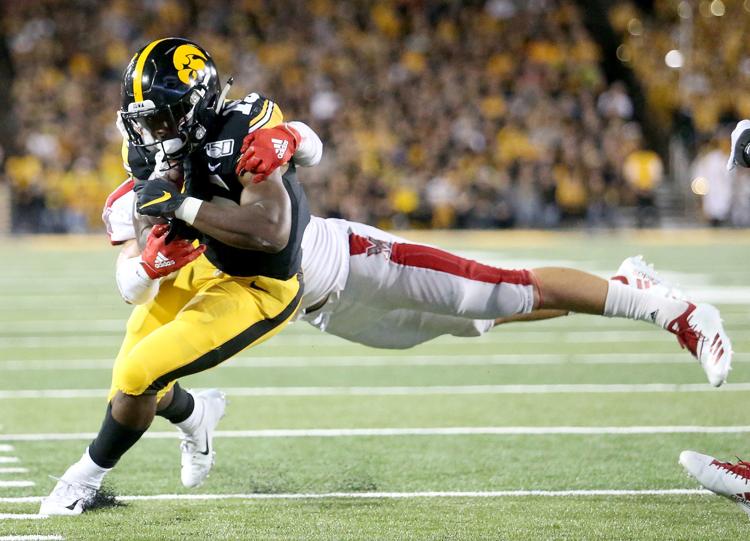 083119-qct-spt-iowa-miami-foot-025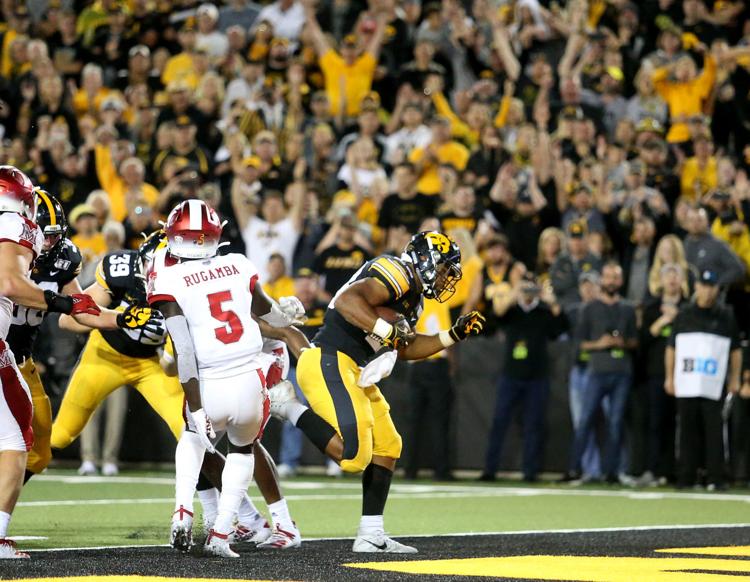 083119-qct-spt-iowa-miami-foot-026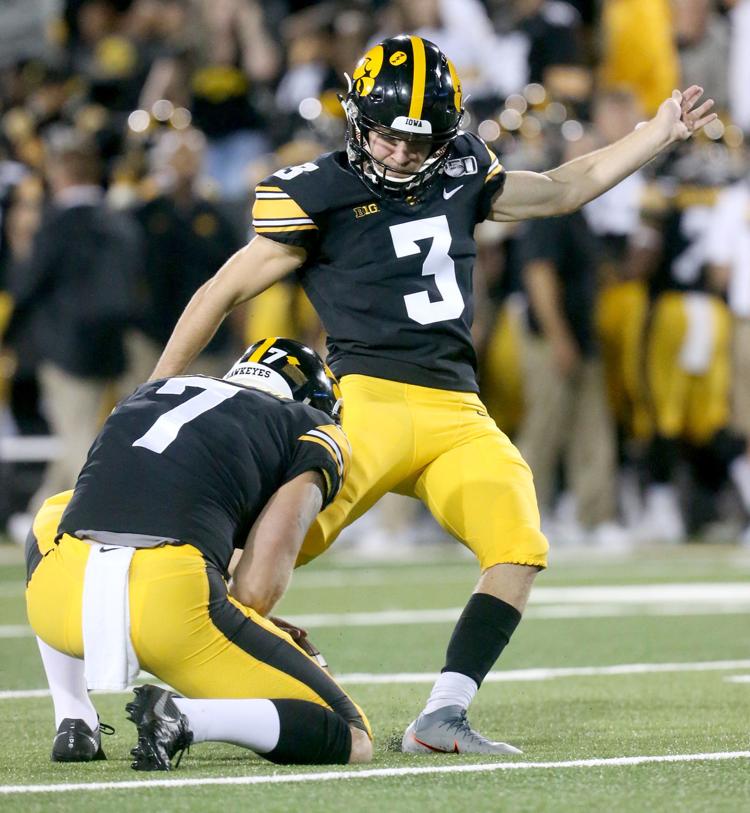 083119-qct-spt-iowa-miami-foot-027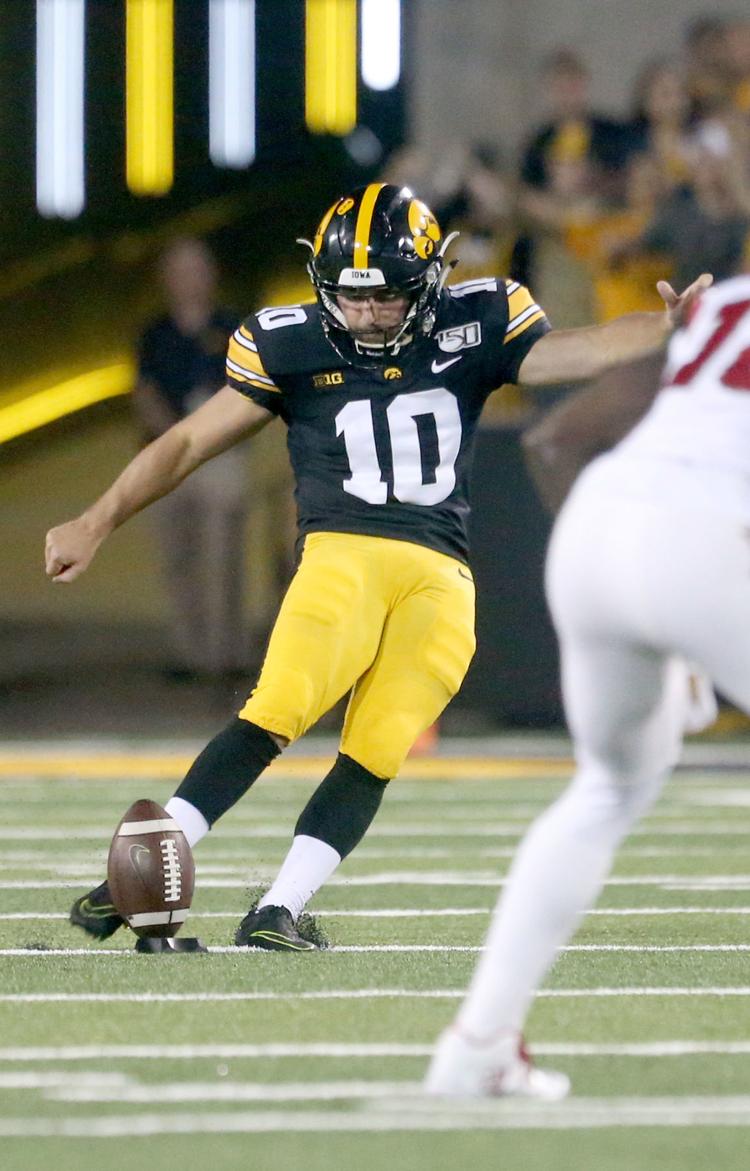 083119-qct-spt-iowa-miami-foot-028
083119-qct-spt-iowa-miami-foot-029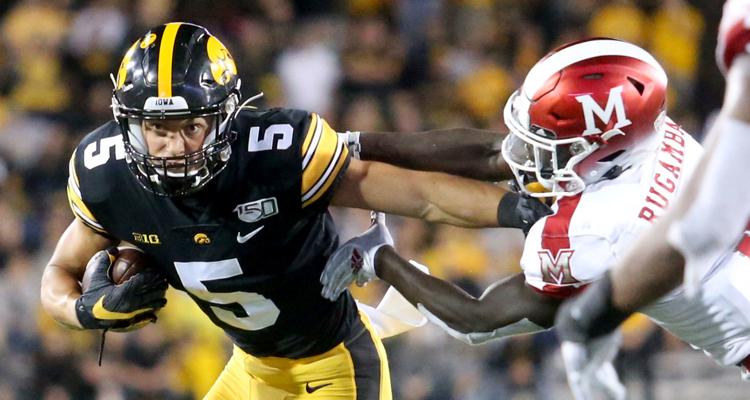 083119-qct-spt-iowa-miami-foot-030
083119-qct-spt-iowa-miami-foot-031