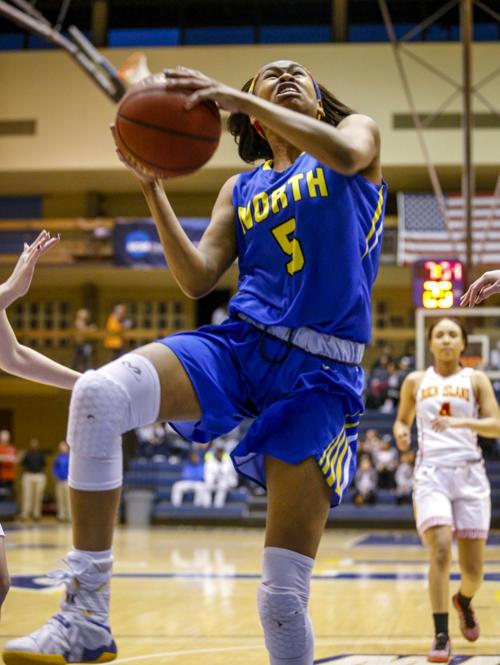 Jinaya Houston has lost her passion for basketball.
Less than two months from the start of the regular season, the former Davenport North standout said in an email to the Quad-City Times that she is ending her basketball career at Iowa.
"I haven't truly enjoyed the game of basketball for some time but felt the need to continue because I didn't want to disappoint anyone," Houston wrote. "It has gotten to the point that my lack of love for the game, and still continuing the sport, has made my anxiety level too high and it affected my day-to-day life.
"In order for me to be happy, I feel that I need to leave the sport and move forward with my life."
The 6-foot-1 Houston signed a national letter of intent with the Hawkeyes last November and spent the summer working out with the program in preparation for the season.
On Friday, the athletic department issued a release saying that Houston was taking some time away from basketball to deal with "personal and health issues."
Houston plans to remain enrolled as a student but said she will not be involved in the basketball program.
A three-time Iowa Newspaper Association all-state choice at North, Houston finished her career with 1,570 points and more than 600 rebounds. The Wildcats won a pair of Mississippi Athletic Conference championships and qualified for the 2016 state tournament.
Houston was expected to see playing time in her freshman season. With her departure, the only other scholarship freshman on the Hawkeye roster is Paula Valino Ramos, a 6-3 post player from Spain.
Iowa returns three starting backcourt players, Tania Davis, Kathleen Doyle and Makenzie Meyer, from last season's 20-win team.
"During the end of my high school career was when I started to realize that I didn't have the same love for the game compared to the beginning of my high school career," Houston said. "The amount of support I've had throughout my whole career was unbelievably amazing and I can't thank everyone enough for how much time they invested in me to get to where I wanted to be."
Houston said the Iowa coaching staff and players, in particular, have been terrific while she contemplated her basketball future the past few weeks.
"I want to thank them for their support and total understanding," she said. "I was thinking about this decision for a couple of weeks. I made sure that with whatever decision I made, I would have reasons to support my decision.
"It's really all I've been thinking about for a while, and I'm really happy with my final decision."