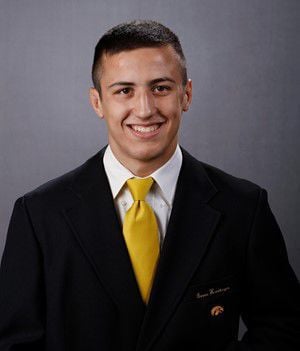 IOWA CITY — Michael Kemerer, Nelson Brands and Tony Cassioppi took different routes to the same destination Sunday.
Each helped the second-ranked Iowa wrestling team finish off a season-opening 39-0 victory over Chattanooga, but each savored their own experience in front of a crowd of 10,466 at Carver-Hawkeye Arena.
Wrestling his first match for the Hawkeyes since the 2018 NCAA Championships, Kemerer dominated from start to finish in his 20-0 technical fall of Hunter Fortner at 174 pounds.
Brands and Cassioppi followed with wins in their first collegiate matches, Brands winning an 8-4 decision over Matthew Wadell at 184 and Cassioppi recording the dual's only pin, needing 1 minute, 45 seconds for the fall in his match at 285 against Grayson Walthall.
"It felt good, felt great to be back out there,'' said Kemerer, who missed the 2018-19 season while recovering from a pair of surgeries. "It felt good get in on some shots and the attacks the way I did.''
The crowd showed their appreciation for Kemerer's work with every point.
"I wanted the pin, but credit to the opponent for the way he fought off his back,'' Kemerer said, adding that winning 20-0 was still "pretty cool.''
Iowa coach Tom Brands found a lot to like and plenty to work on during his team's season opener.
The Hawkeyes picked up bonus points in half of their matches, including the pin from Cassioppi, technical falls from Austin DeSanto at 141 pounds and Kemerer and major decisions from Spencer Lee at 125 and Kaleb Young at 157.
"If you look at it objectively, it was a good start. If you look at it like we do, we've got a lot to work on,'' Brands said.
Nelson Brands, the son of Hawkeye assistant Terry Brands, understood that as well.
"The idea is to get to where Kemerer is, strive to be beating guys 20-0,'' he said.
But part of what Sunday was about for Brands and Cassioppi was to experience that first collegiate match and build from there.
"I grew up around this place, but this was totally different,'' said Brands, who rode the strength of a pair of first-period takedowns to the win. "… To say I was nervous would be an understatement. I was running upstairs to pee every five minutes, but it was good to get the nerves out of the way.''
On the attack from the start, Cassioppi shared that sentiment.
"It was awesome to step on that mat, to hear the crowd,'' he said. "I went out and wrestled my match, wrestled the way I prepared.''
Bettendorf's Paul Glynn wrestled for Iowa at 133, giving up three first-period takedowns before rallying for an 11-7 win over Wade Cummings.
"It was a tough start, but he wrestled a gritty, gutsy match,'' Tom Brands said. "Coming back that way, good for him, good for us.''
It also left room to improve, something Brands said Iowa will need to do before visiting Iowa State next Sunday.
"We've got to get better, no matter what happened here,'' Brands said.
Be the first to know
Get local news delivered to your inbox!