IOWA CITY — Nate Stanley isn't getting carried away.
He's just taking yards on quarterback sneaks as they come.
Saturday, Iowa's senior quarterback gained 10 yards on a dive play on a third-and-1 snap in the opening quarter, added another 10 on a sneak in the second quarter and picked up three more yards on a fourth-and-1 carry at midfield in the final minute of the opening half.
"We're kind of waiting for him to bust one," Iowa tackle Tristan Wirfs said.
That's not in Stanley's plans, but he will take whatever defenses give him.
"I'll keep moving as long as I can," he said. "Most of the defenses we see, they have too much speed to let me get too far downfield."
Iowa coach Kirk Ferentz said Stanley has been effective when asked to carry the ball, adding that quarterbacks coach Ken O'Keefe was a little skeptical when the possibility was first discussed.
"Said he's too tall," Ferentz said. "I told him Drew Bledsoe is 6-5. Can't be that bad."
Going mobile: Iowa limited Middle Tennessee to 216 yards of offense, holding quarterback Asher O'Hara to a team-leading 33 rushing yards and 110 passing yards on 15-of-22 passing.
Defensive tackle Chauncey Golston said the Hawkeyes accomplished what they set out to do against the sophomore who totaled just one more yard on the ground than he collected in the Blue Raiders' 40-21 season-opening loss at Michigan.
"He was a real mobile guy, and we knew coming in we had to have our technique work down," Golston said. "We had to keep him inside and give him a chance to get anything going on the edge."
O'Hara gained 15 of his yards on a carry early in the second quarter, but Cedrick Lattimore and Daviyon Nixon each sacked him among a collection of five tackles for a loss collected by Iowa.
Nixon, who had a career-high seven tackles, said his first career sack was "like slow motion," adding, "I was just in the right place to take it home for us."
Streak ends: After hitting a career-long 49-yard field goal to give Iowa a 10-0 lead in the first quarter, Hawkeye kicker Keith Duncan saw his perfect start to the season come to an end in the final seconds of the opening half.
Duncan sent a 39-yard field goal attempt wide right, the junior's first miss in 10 attempts this season, but started a new streak when he connected from 42 yards in the third quarter.
He entered the game as one of five kickers in the country with at least eight attempts to be perfect on the season.
Brief absence: Geno Stone left the game briefly in the first quarter, holding his right arm while leaving the field before making a quick trip to the locker room.
Stone returned in time for the next series, but true freshman Dane Belton saw his first collegiate action when Stone left the game for one snap during the opening quarter.
Into the lineup: Back from an injury, Cole Banwart made his first start of the season for Iowa.
Banwart started at right guard in place of injured Kyle Schott.
"It felt good to be back out there," Banwart said. "It's good to be back in a routine and playing again."
Defensive tackle Austin Schulte also made his first career start at defensive tackle, slipping into the spot where injured Brady Reiff missed his second straight game.
Back in black: Alaric Jackson was in uniform Saturday for Iowa.
The offensive tackle did not play. He has been out since suffering a sprained knee in the Hawkeyes' season opener against Miami (Ohio) and returned to practice earlier this week.
"We'll know more after we practice next week, but it's encouraging at least," Ferentz said.
As expected, defensive backs Matt Hankins, Kaevon Merriweather, Julius Brents and Riley Moss joined Reiff and Schott in missing the game against the Blue Raiders because of injuries.
It was his day: Carson King joined Iowa fans in participating in the Kinnick wave at the end of the first quarter Saturday.
The Iowa State fan's initial plea for "beer money" on a sign he waved in the background on ESPN's College GameDay before the Cy-Hawk game has now raised $2 million for the Stead Family Children's Hospital. He stood on the sideline, joining the crowd as they waved.
"What it represents is so fantastic," Ferentz said. "It's for Iowans and all people to feel good about. Here's a guy two weeks ago, I didn't know Carson King from Johnny Carson but the next thing you know there's $2 million that's been raised from people all over the country."
The honors: Former Hawkeye defensive back Miguel Merrick was the honorary captain Saturday.
A letterwinner from 2003-06, the Union City, New Jersey, native recorded 202 career tackles and earned honorable mention all-Big Ten honors as a senior.
Merrick wasn't the only former Hawkeye who got a chance to fire up the crowd during an early timeout. C.J. Beathard and George Kittle, on a bye week with the 49ers, energized the crowd as well during a timeout in the first quarter.
For a cause: Iowa coaches joined others throughout the country wearing green patches on their shirts Saturday as part of the Coach to Cure MD initiative.
Nearly 10,000 coaches from all levels of football participated in the American Football Coaches Association program designed to raise awareness of Duchenne Muscular Dystrophy.
092819-qct-spt-iowa-foot-001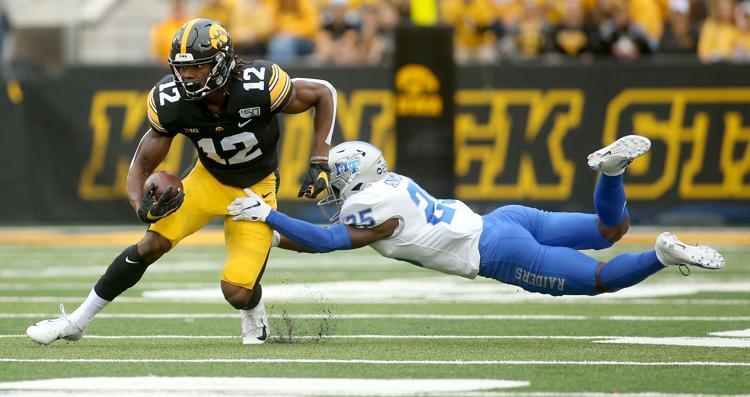 092819-qct-spt-iowa-foot-002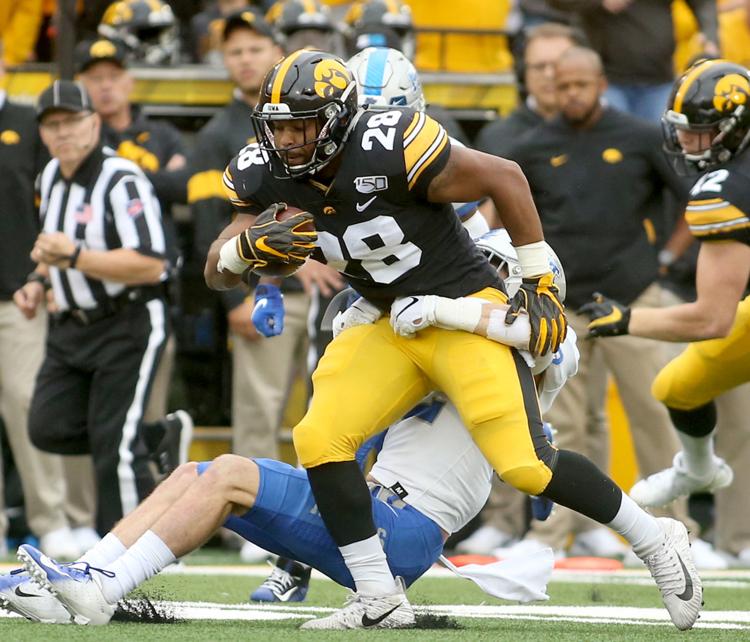 092819-qct-spt-iowa-foot-003
092819-qct-spt-iowa-foot-004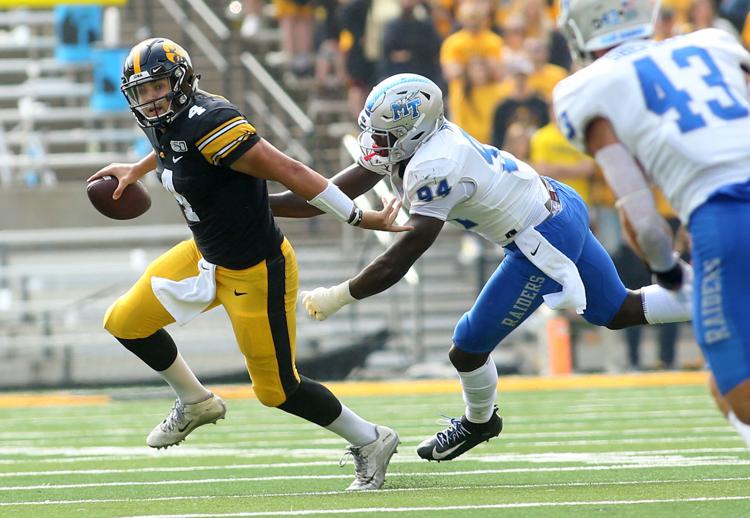 092819-qct-spt-iowa-foot-005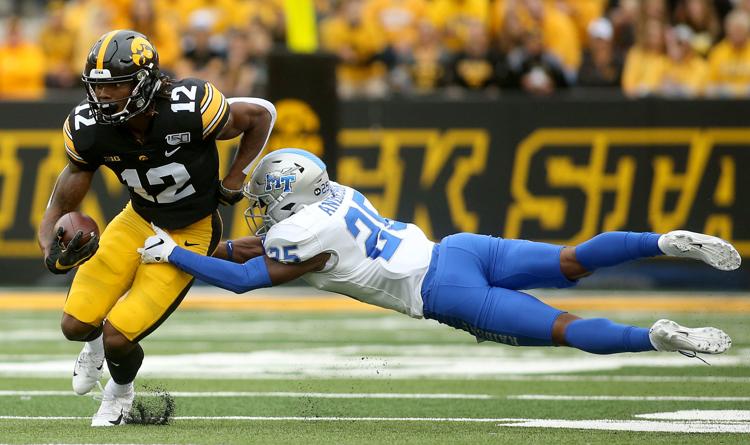 092819-qct-spt-iowa-foot-006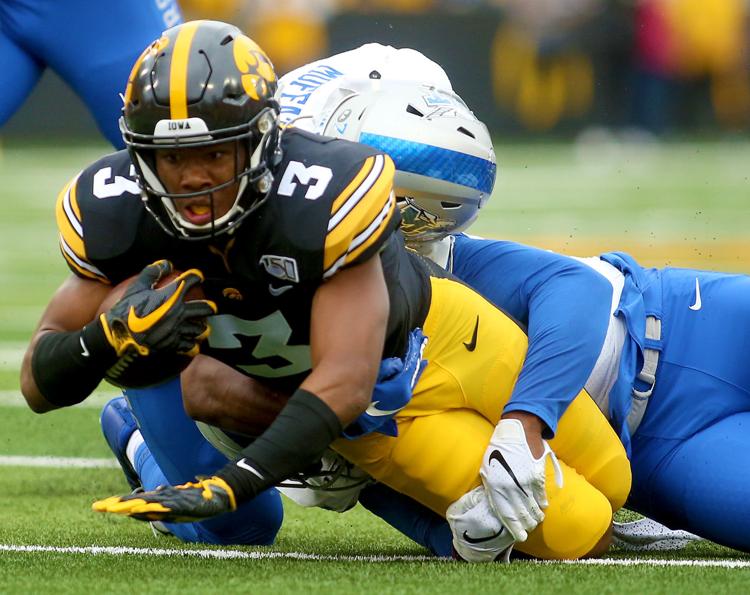 092819-qct-spt-iowa-foot-007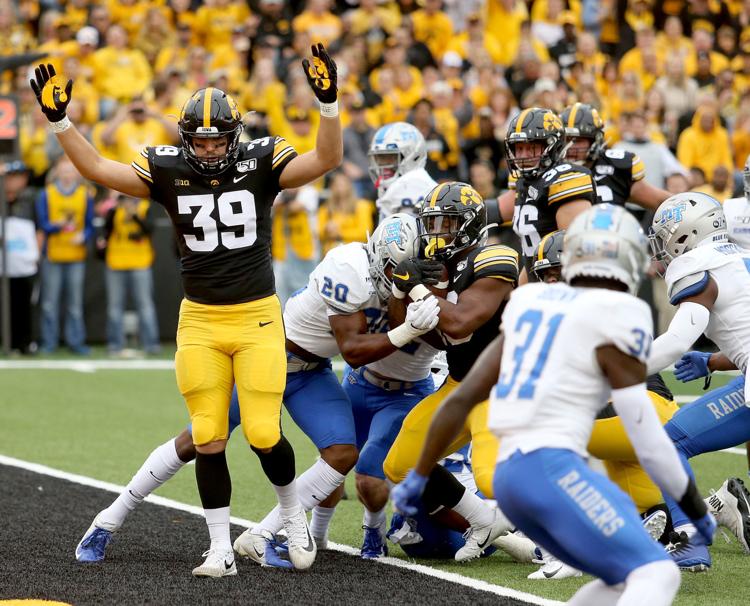 092819-qct-spt-iowa-foot-008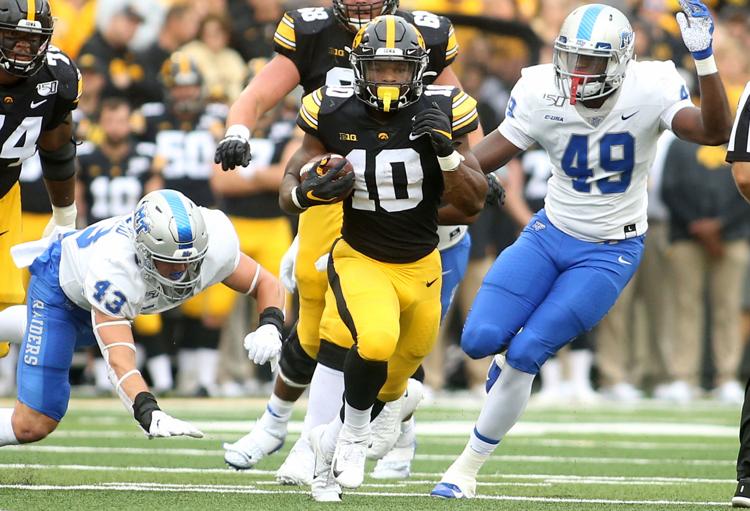 092819-qct-spt-iowa-foot-009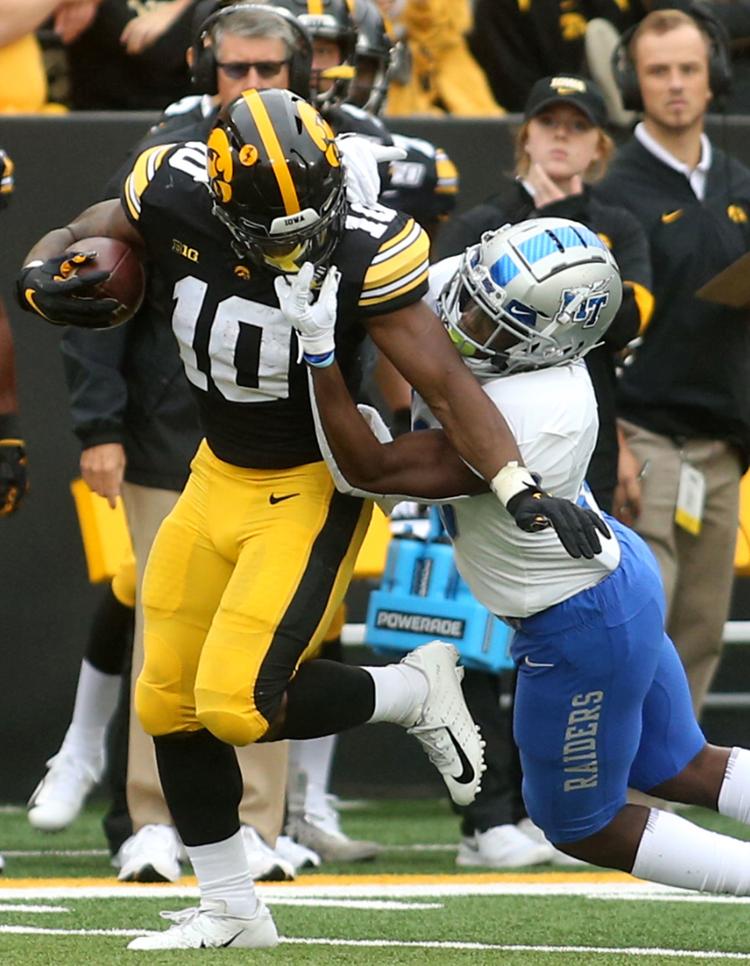 092819-qct-spt-iowa-foot-010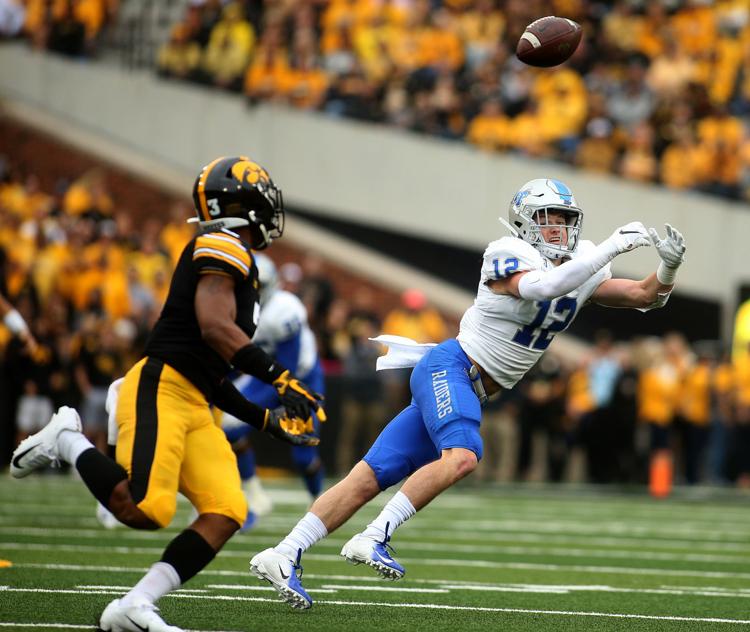 092819-qct-spt-iowa-foot-011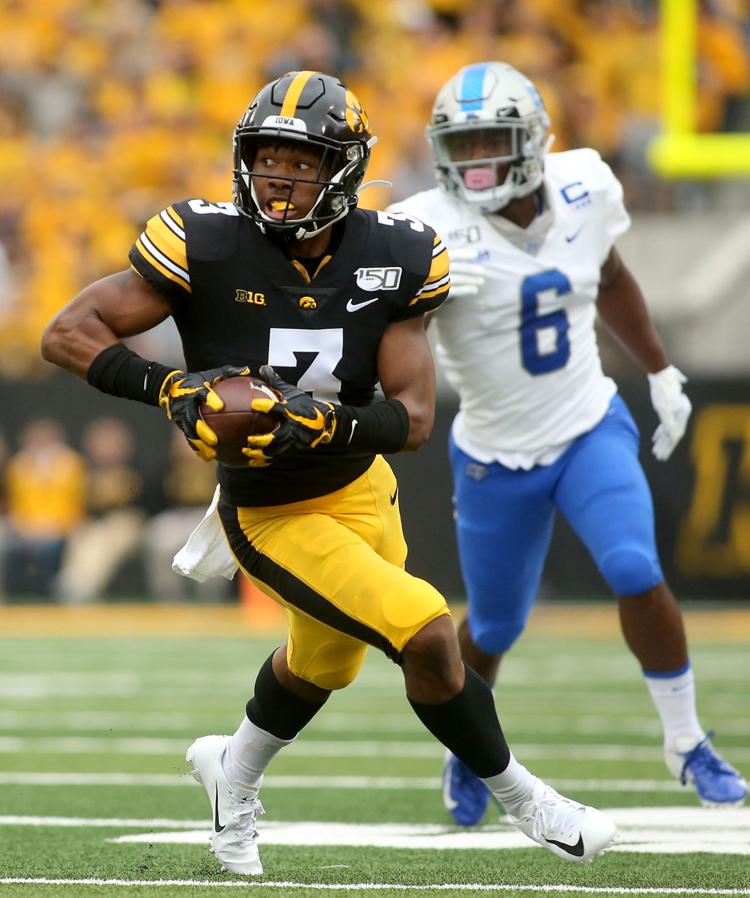 092819-qct-spt-iowa-foot-012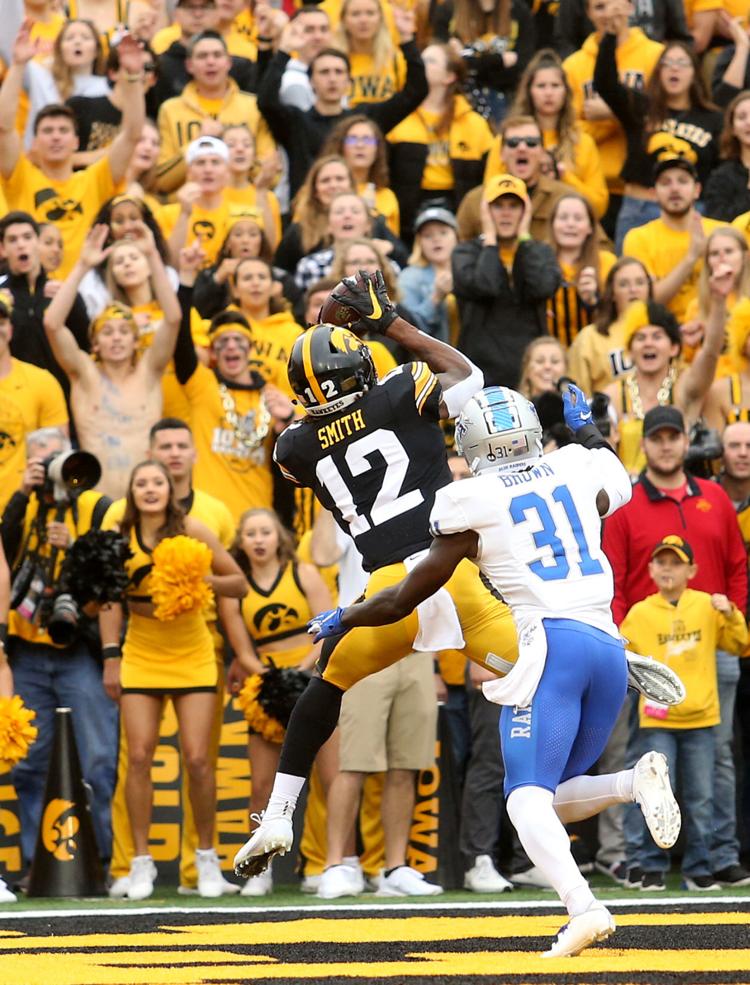 092819-qct-spt-iowa-foot-013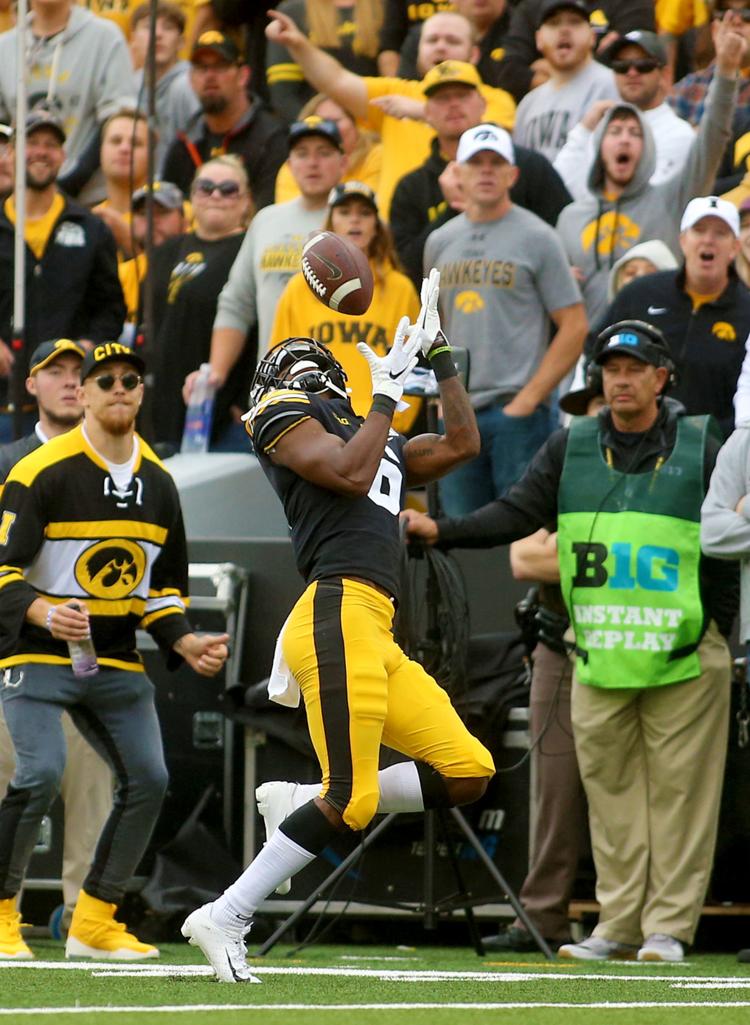 092819-qct-spt-iowa-foot-014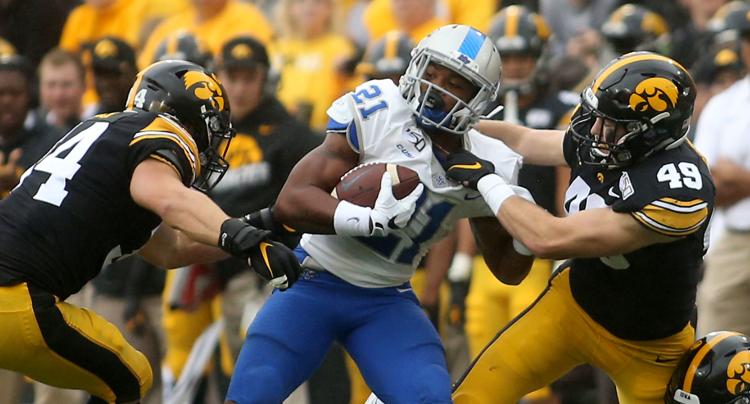 092819-qct-spt-iowa-foot-015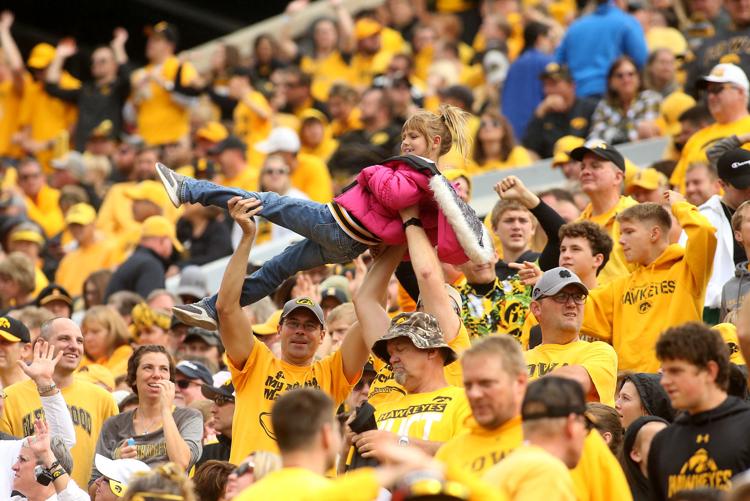 092819-qct-spt-iowa-foot-016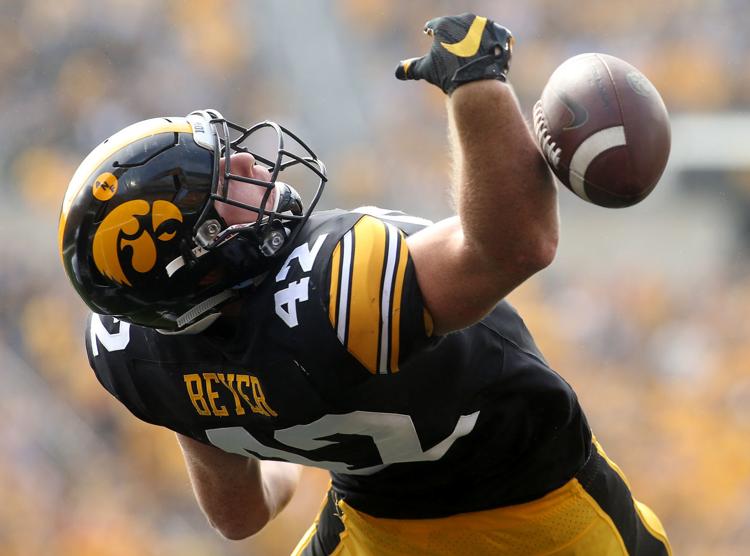 092819-qct-spt-iowa-foot-017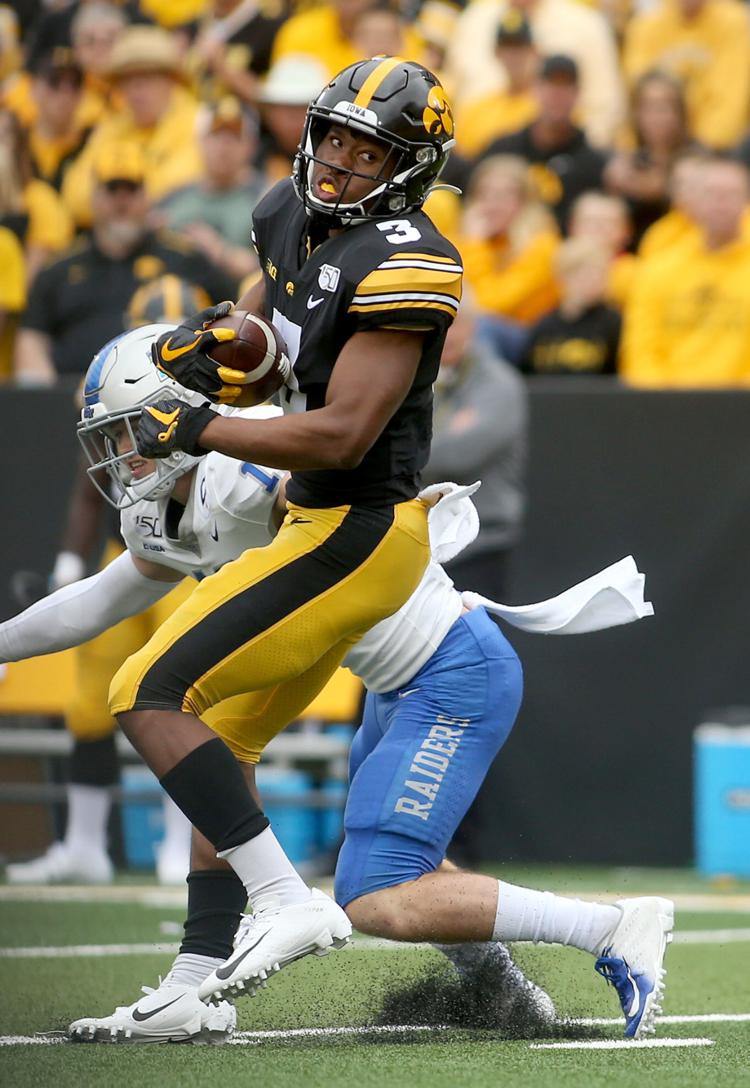 092819-qct-spt-iowa-foot-018
092819-qct-spt-iowa-foot-019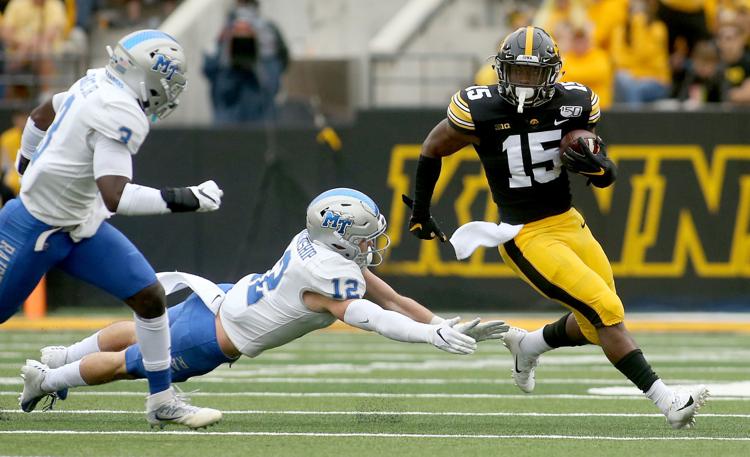 092819-qct-spt-iowa-foot-020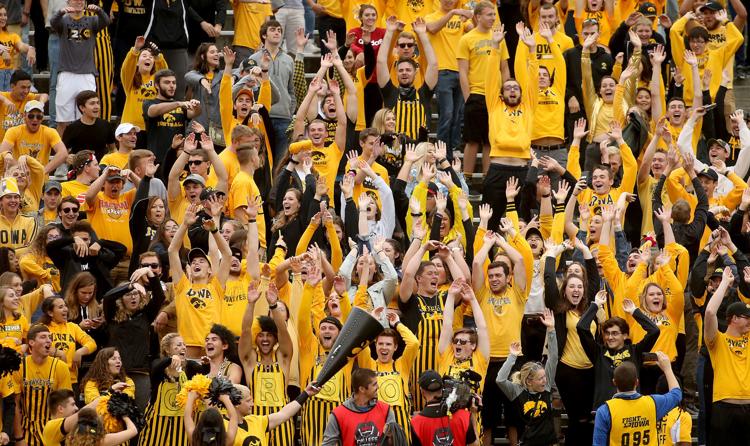 092819-qct-spt-iowa-foot-021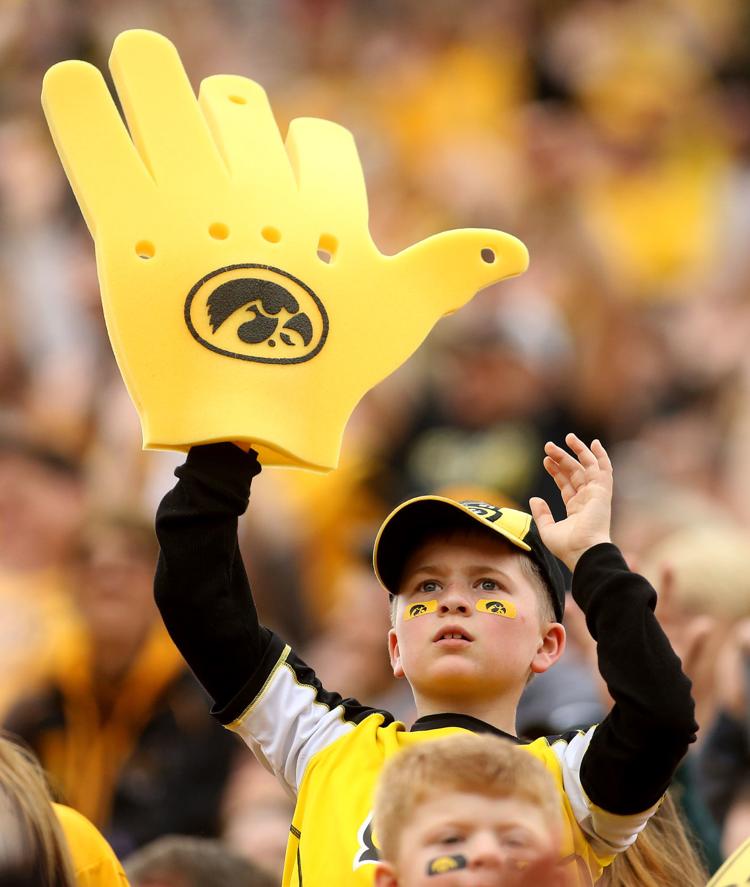 092819-qct-spt-iowa-foot-022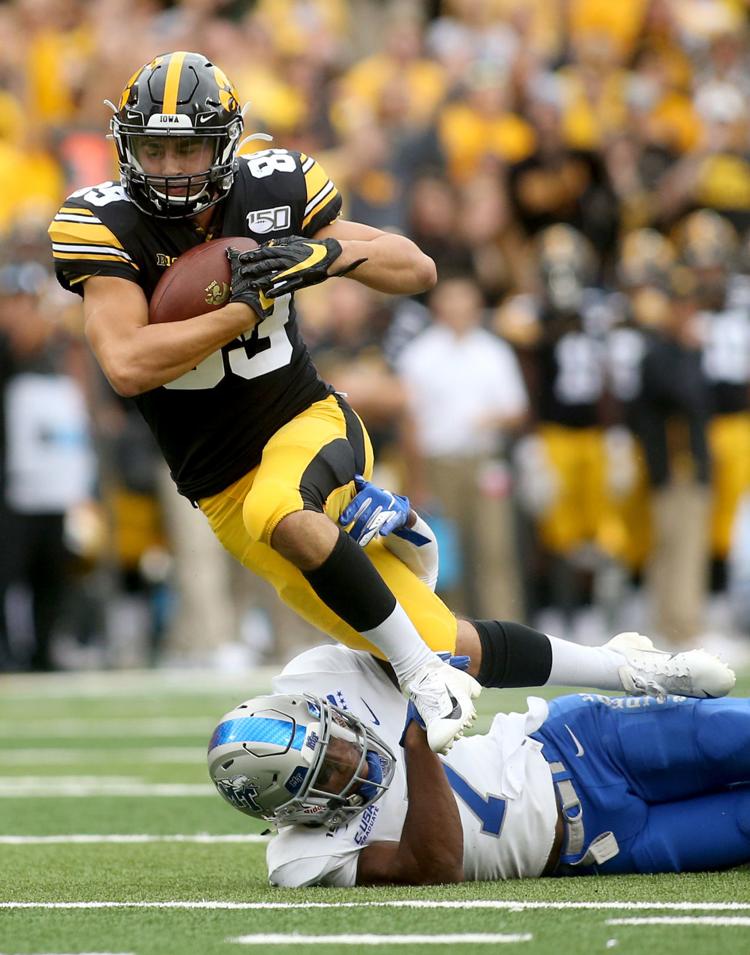 092819-qct-spt-iowa-foot-023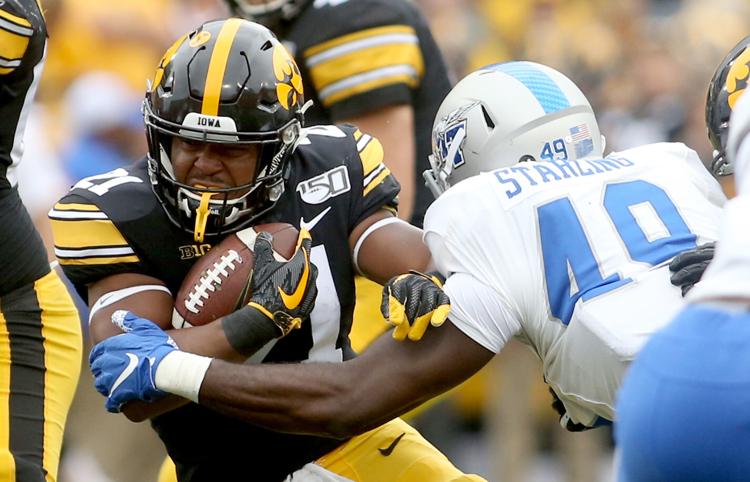 092819-qct-spt-iowa-foot-024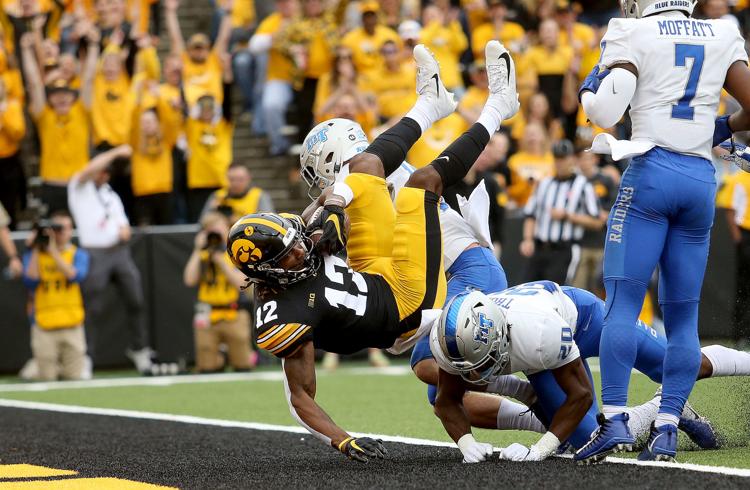 092819-qct-spt-iowa-foot-025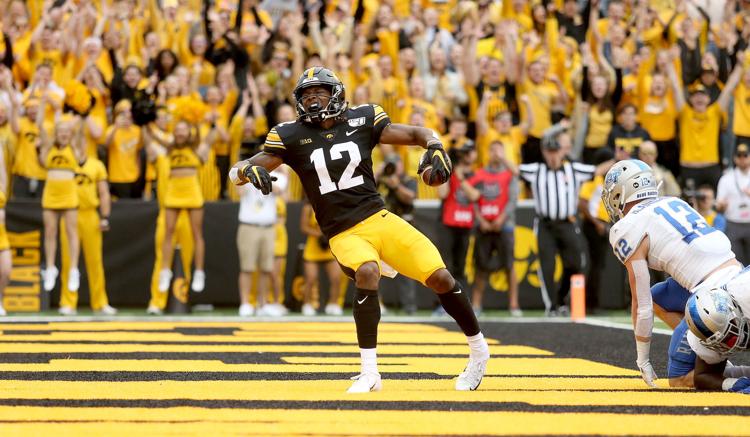 092819-qct-spt-iowa-foot-026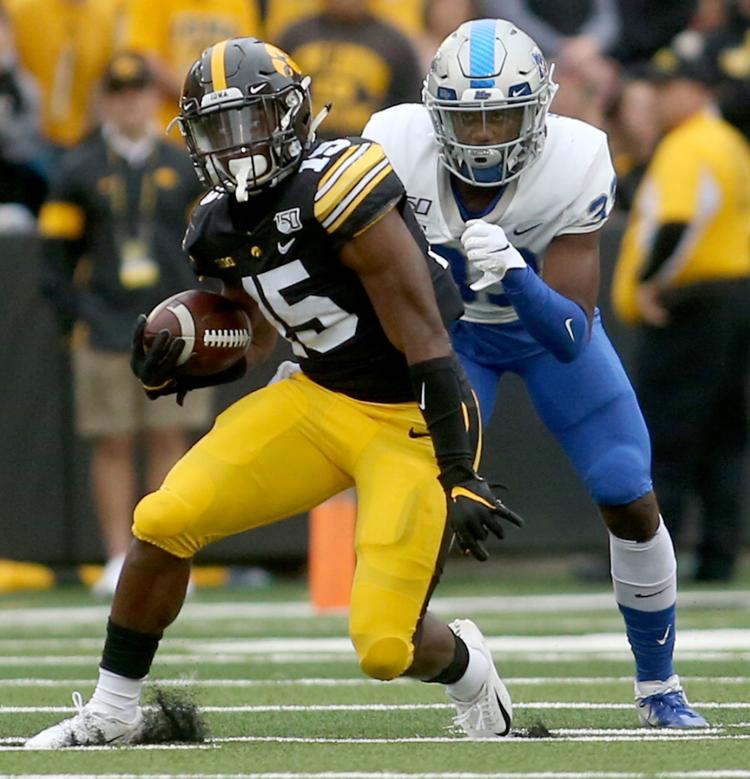 092819-qct-spt-iowa-foot-027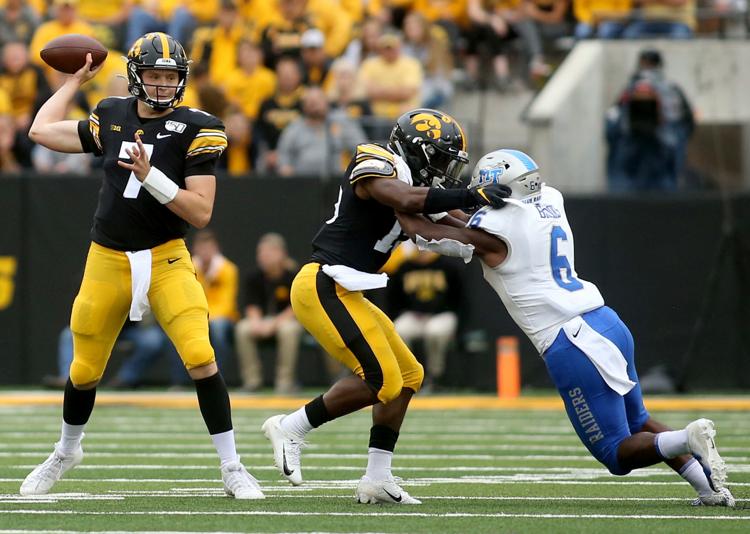 092819-qct-spt-iowa-foot-028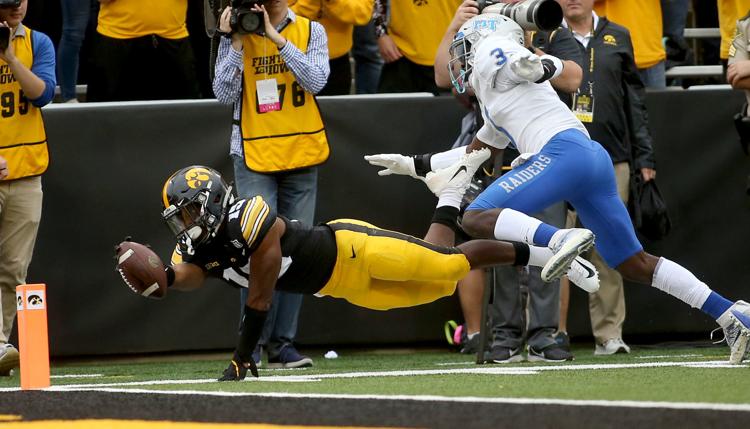 092819-qct-spt-iowa-foot-029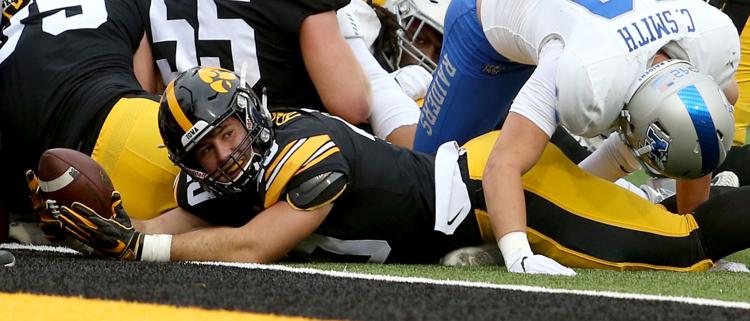 092819-qct-spt-iowa-foot-030