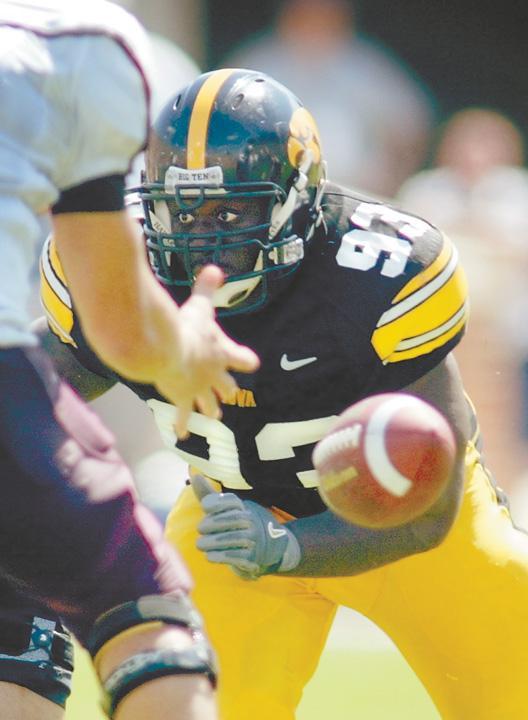 IOWA CITY — Ettore Ewen kept the faith. He didn't see a lot of playing time in the Iowa football team's season-opening win over Montana, but he savored every second he spent on the turf at Kinnick Stadium.
The sophomore defensive tackle recorded the first three stops of his career in the 41-7 victory, an opportunity he made the most of after seemingly spending most of the past two years on top of a rehab bicycle as his teammates prepared for another game.
Ewen tore the anterior cruciate ligament in his left leg during preseason camp shortly after arriving at Iowa in 2004.
During the Hawkeyes' preseason camp last season, Ewen tore the ACL in his right leg.
As he worked his way back from his second season-ending injury in as many years, Ewen tore a pectoral muscle that kept him off the field for spring practices.
"Life's thrown a lot at me, but I never gave up on my dream," Ewen said. "I've been blessed in many ways just to have the opportunity, and I'm just dealing with things as they come."
Ewen had plenty of opportunities to toss it aside.
275-pound native of Tampa played just one season of football at Wharton High School and he planned to accept an academic scholarship to attend Florida before Iowa offered him the opportunity to continue his football career.
A state high school wrestling champion in Florida as a junior, Ewen played the line on both sides of the ball for his high school team and had a strong enough senior season to be selected to start in the Florida East-West All-Star Game.
Iowa took a chance on the potential it saw in Ewen, and as he works toward Saturday's 2:30 p.m. game at Syracuse, he continues to do what he can to repay the faith that was placed in him.
"It would have been easy to walk away, and that's something a lot of people might have done, but that's not me,'' Ewen said. "When times got tough, my parents helped me get through it. They've been my biggest supporters.''
Ewen has followed his father's work in the ministry, frequently speaking to the congregation at the Life Tabernacle Church in southwest Iowa City.
"I don't speak every Sunday, but I do frequently because my faith has always been an important part of me and I believe in sharing that with people who are willing to listen,'' Ewen said.
"It's something I believe in. I was raised in the church and that has provided me a strong foundation to lead a Christian life. It is a part of who I am.''
That strong faith helped Ewen cope.
It helped him deal with surgeries which would have led a number of players to call it a career.
It helped him deal with lengthy rehabilitation periods which had him pedaling for miles on a stationary bicycle and working through a repetitive cycle of exercises to rebuild his body.
"No question. It allowed me to continue pressing forward when I didn't see any way that things were going to work out,'' Ewen said. "I believe there is a plan for each of us though, and I was determined to see things through.''
Nobody enjoyed seeing that come to fruition more than coach Kirk Ferentz.
"He's dealt with a couple of significant setbacks, so it was good to finally see him back on the field,'' Ferentz said. "It was huge for him to be out there last weekend and he's a player we can count on in our rotation on the defensive line. He gives us seven guys we can move in and out and that only helps.''
Ewen said coaches were careful to limit his playing time against Montana.
"The idea is for me to ease into it. The coaches here never gave up on me and as I was dealing with everything, that was important,'' Ewen said. "They still believed in me and wanted to me to be a part of the team.''
Ewen admitted that he dealt with some nerves the night before the Hawkeyes kicked off their season, but as the sun rose on the first day of his true college career, Ewen felt great.
"I felt so relaxed, so ready,'' he said. "The game, it was like an up-tempo practice for me. It felt great and I'm looking forward to being back out there again. It had been a long time.''