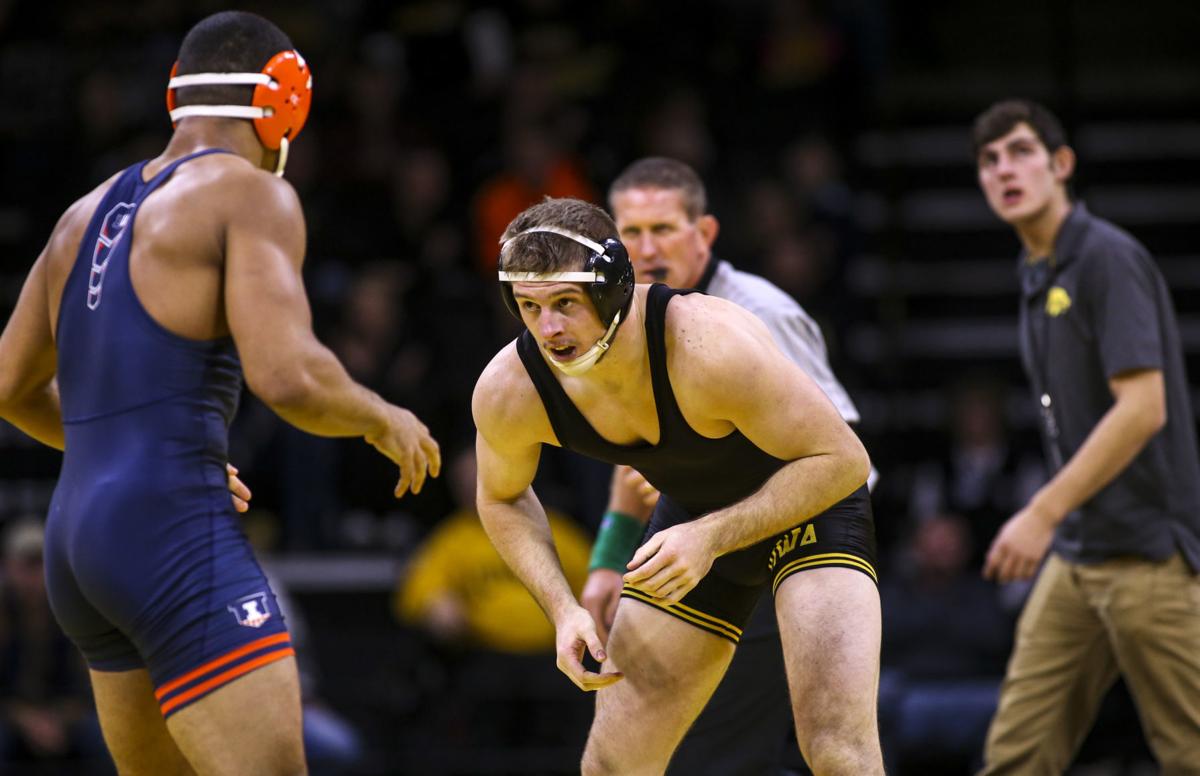 IOWA CITY — There have been a few sacrifices along the way, but the chance to fill a lineup spot for the Iowa wrestling team is worth skipping a few omelets and a second helping of Christmas dinner for the Hawkeyes' Mitch Bowman.
"I'm going to be ready to roll. I feel strong. I feel good. I feel ready to compete,'' the senior from North Scott said.
Bowman wants to be the solution to Iowa's issues at the injury-filled 174-pound position in the Iowa lineup. After weighing in as heavy as 186 pounds this season, the measured weight reduction allowed by the NCAA will position him to compete at 174 at the Midlands Championships beginning on Dec. 29 in Hoffman Estates, Illinois.
Injuries to Michael Kemerer and Myles Wilson positioned Bowman to do what he has done since joining the Hawkeye program, helping out wherever he has been needed.
He has competed at 184, 197 and 285 during this collegiate career and dropping to 174 — a weight he last wrestled at as a redshirt freshman during the 2015-16 season — puts him at a weight eight pounds lighter than he competed at while winning an Iowa Class 3A state championship for North Scott in 2014.
"Bowman's a journeyman,'' Iowa coach Tom Brands said. "If there wasn't enough room on the bus, he'd take off walking to get to Evanston or wherever the (Midlands Championships) is being held this year. He's a guy who is willing to do whatever you ask.''
When a season-ending knee injury sidelined Kemerer, an all-American at 157 last season who was moving up two weights, Bowman was asked to consider dropping down to 174.
His only competition this season has been as an undersized 197 pounder, where Bowman is off to a 2-0 start with wins in duals against Cal-Bakersfield and Purdue.
Bowman has been working through a regimented routine since to gradually cut weight, working with a nutritionist on Iowa's staff to get him where he needs to be in time to weigh in at the Midlands.
An NCAA qualifier at 184 last season for the Hawkeyes, much of what Bowman is dealing with now has been routine.
"I've been cutting weight for 15 years, so I kind of know how it works, how to do it the best way,'' Bowman said. "It's the wrestling lifestyle, so you know what to do.''
That includes making a few sacrifices along the way.
For Bowman, that involves a few less visits to his favorite Iowa City breakfast stop, the Bluebird Cafe, which is selling a few less Popeye omelets these days.
Stuffed with cremini mushrooms, tomatoes, spinach and fresh, house-made hollandaise, the Popeye omelet has become a breakfast staple for Bowman.
"I'm kind of sad about that,'' Bowman said "I usually get the Popeye omelet. It's a big favorite, but it's pretty heavy, especially with the hash browns. I can only go like once a week now.''
More often than not, Bowman said he's fixing his own breakfast now, "a couple of eggs instead of their whole big omelet. You make small sacrifices.''
That will continue when Bowman returns home to Donahue for a quick holiday visit early next week.
"Fortunately, my family's all in with me, supporting me anyway they can,'' Bowman said. "They know that I've got to be disciplined. I won't be going back for seconds, and no cookies.''
"Well, maybe one,'' he said, flashing a quick smile.
By then, Bowman said his thoughts will be beginning to be centered on making his second Midlands appearance.
The 174-pound weight class at the two-day tournament is deep in talent this year, including second-ranked Zahid Valencia of Arizona State among four wrestlers ranked in the top 20 in the weight class this week by Amateur Wrestling News.
"We expect Bowman to be Bowman,'' Brands said. "We expect him to go out and be ready to compete. He's a senior. He's been around. We expect him to learn from his experiences and be ready to go.''
Bowman believes that won't be an issue.
He has continued to feel strong as he trains.