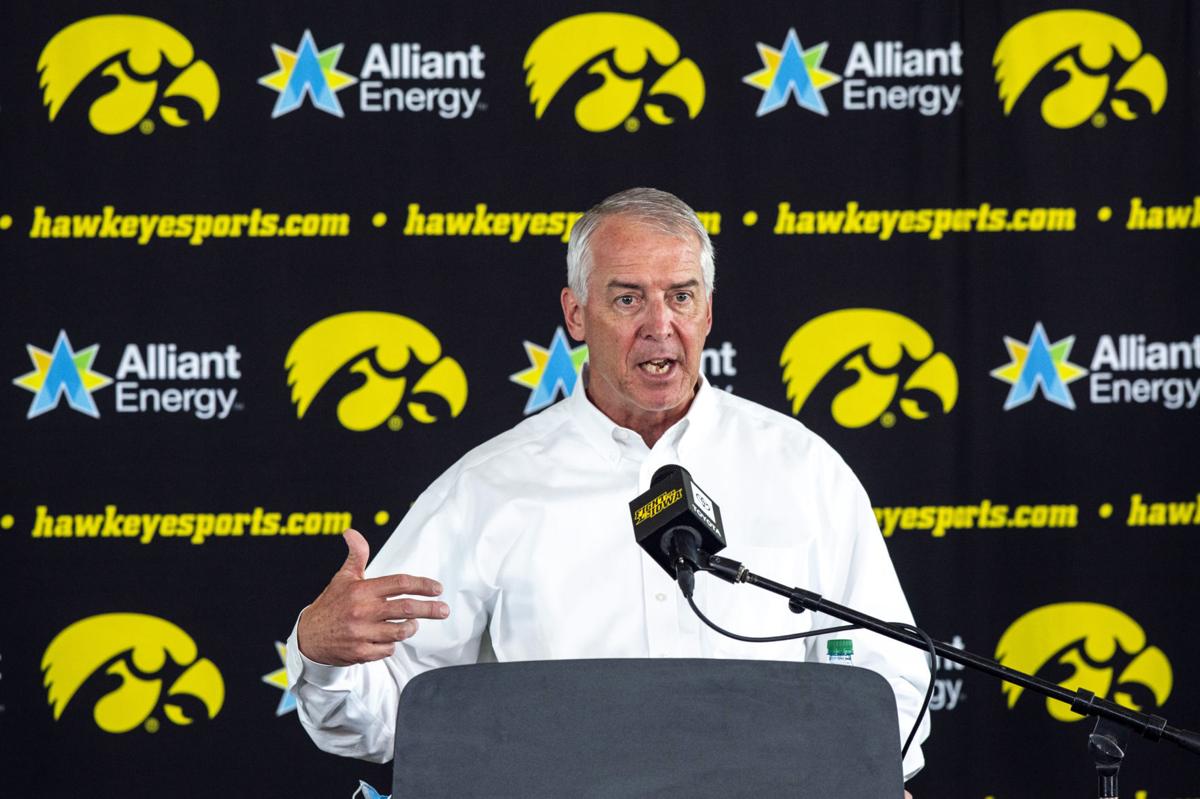 Four athletic programs at the University of Iowa — including three with histories of nearly a century or more — are being eliminated as the athletic department works to cope with $100 million in lost revenue created by the COVID-19 pandemic.
Iowa officials announced Friday that its men's gymnastics, men's and women's swimming & diving and men's tennis programs will be discontinued at the conclusion of the 2020-21 academic year.
The cuts are among several director of athletics Gary Barta indicated would have to be made as Iowa's self-supporting athletics department deals with a projected $60-75 million budget shortfall during the current fiscal year following the Big Ten Conference's decision to scrap plans for a fall sports season because of the coronavirus crisis.
"We are heartbroken for our student-athletes, coaches and staff,'' Barta wrote in a letter announcing the moves that was also signed by university president Bruce Harreld.
"We understand how disappointing this is for our letterwinners, alumni, donors and community members who have helped build these programs.''
In announcing the decision in an "open letter to the University of Iowa and Hawkeye Athletics community,'' Barta and Harreld indicated that each of the programs will have the opportunity to compete during their upcoming 2020-21 season should circumstances around COVID-19 permit.
The university will also continue to honor all existing scholarships through graduation for student-athletes who choose to remain at Iowa and will assist student-athletes who wish to transfer to other institutions "in every way possible.''
Academic and mental health support will be provided as requested to impacted student-athletes and contracts of affected coaches will be honored.
"We carefully and thoroughly reviewed all financial options and each of our programs individually,'' Barta wrote.
Sponsorship at the NCAA Division I level, impact on gender equity and Title IX compliance, expense savings, history of the sport at Iowa and engagement level were among factors considered.
"With the recent postponement of fall sports and immediate financial impact due to this decision, we believe this path is necessary to strengthen athletics and position our programs for future success with the resources we have,'' Barta wrote.
Iowa previously announced reductions in compensation for all athletics department personnel and cuts in operational expenses.
"While the impact of these savings reduces our expenses, a significant deficit remains,'' Barta and Harreld wrote. "We are working to secure financing to cover the shortfall that provides a repayment plan that allows continued success for our remaining sports.''
The programs being cut are among 24 intercollegiate athletic programs currently being offered by Iowa.
Each has a lengthy history.
The men's swimming & diving program at Iowa started in 1917 and has had just five coaches in the program's history.
The first of those coaches, David Armbruster, is credited with the development of the butterfly stroke in the sport.
Five Hawkeyes have earned Olympic medals, the most recent was Artur Wojdat winning bronze in 1988 in the 400-yard freestyle. Iowa has had 30 swimmers and divers earn spots in the Olympics.
The Iowa women's swimming and diving program is the youngest of the sports being cut, dating to 1974.
During the most recent school year, there were 143 men's swimming & diving programs at the NCAA Division I level and 200 women's programs.
Men's gymnastics is the only one of the four sports being cut where the Hawkeyes have won an NCAA team championship. The program started in 1922, and won the national title in 1969. It is a sport that has seen its numbers dwindle at the collegiate level in recent years, with only 16 programs in existence.
Twelve Hawkeyes have claimed individual NCAA titles in gymnastics, the most recent being Michael Reavis in 2005.
The men's tennis program at Iowa is one of the school's oldest athletics offerings. One of 256 Division I programs, the first recorded competition came in 1898 and the Hawkeyes have competed in Big Ten championships since 1923.
Iowa's tennis and swimming & diving programs compete and train in relatively new facilities, while the gymnastics team has continued to be based out of the Iowa Field House.
Hawkeye tennis teams are based out of an indoor and outdoor tennis facility which opened in 2006 while swimming and diving teams have competed since 2010 in a $69.2 million Iowa Campus Recreation and Wellness Center.
Iowa is currently scheduled to host the 2021 NCAA Men's Swimming & Diving Championships.