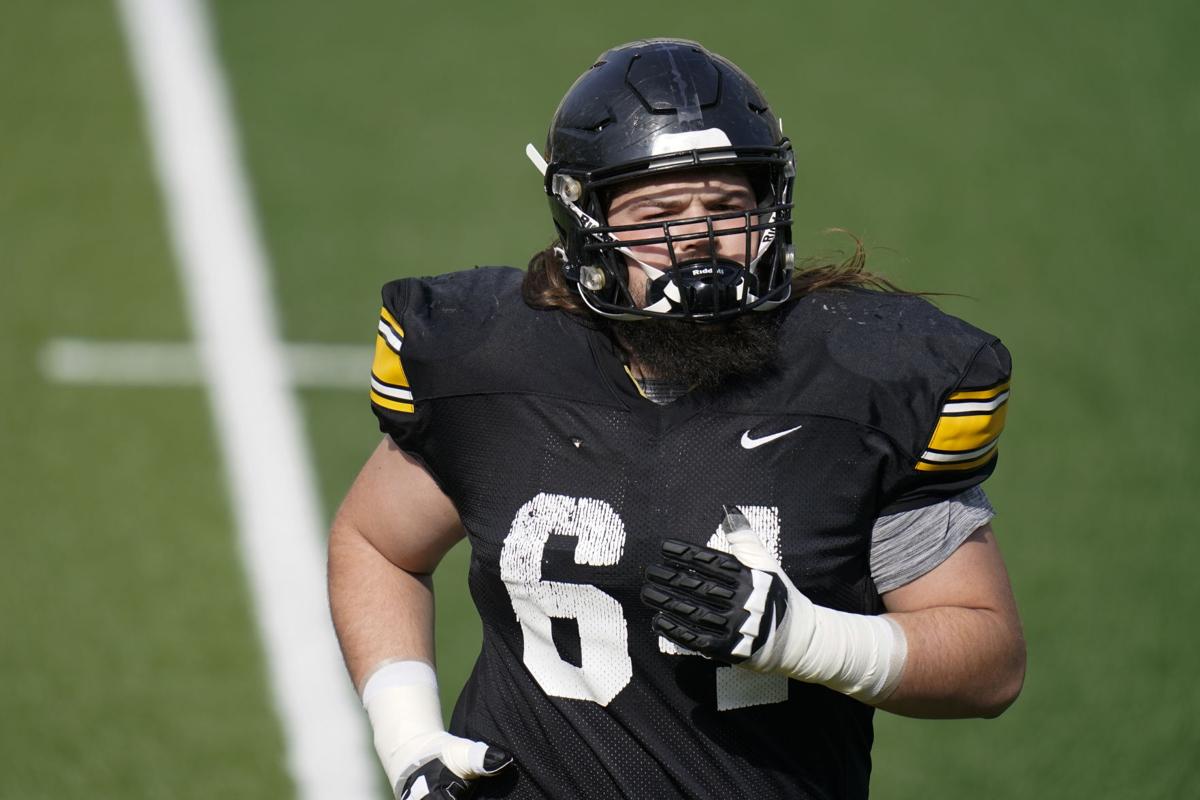 Matt Hankins on Iowa's defensive standard, Kyler Schott's comeback and honors for Tory Taylor are all part of today's Hawkeye 10@10.
Delivered each weekday at 10 a.m. during game week at hawkmania.com, the Hawkeye 10@10 provides your daily dose of Iowa football news and notes.
Here is today's Hawkeye 10@10:
1. Matt Hankins said the four turnovers Iowa turned into 20 points in Saturday's 27-17 win at Iowa State was just another day at the office.
"That's our standard, four turnovers a day,'' Hankins said. "Whether we are on the practice field or playing a game, every day we come out with the idea that we're going to create four turnovers.''
More often than not, it happens.
"Sometimes, we exceed that. It's not luck. It's what we put into it during the week,'' Hankins said.
The senior indicated that the game changers are noticeable on the field.
"You can definitely feel it, the momentum shift. You can definitely feel the momentum changing in a game,'' Hankins said.
2. Iowa coach Kirk Ferentz was quick to point out that the Hawkeyes' two wins over ranked opponents are what they are, two victories in a 12-game season.
But, the Hawkeyes' 23rd-year head coach appreciates what his team accomplished so far.
"There's nothing bad about winning games. There's nothing bad about winning here,'' Ferentz said.
Quarterback Spencer Petras concurred with the big-picture perspective.
"The best we can be right now is 2-0 but as good as it feels to be 2-0, it doesn't mean a thing.,'' Petras said.
3. Kyler Schott returns to the Iowa depth chart this week.
The senior offensive guard who missed the first two games of the season after breaking a bone in a foot while baling hay at his family's farm near Coggon, Iowa, is listed as the back-up to Justin Britt at right guard.
The only other change on the Hawkeye depth chart for Saturday's 2:30 p.m. game against Kent State reflects what Iowa's defensive line alignment has been in the first two games of the season.
Orion's Logan Lee, who has made the first two starts of his career in Iowa's wins over Indiana and Iowa State, is now listed as the starting right tackle on defense.
Yahya Black is listed this week as Lee's back-up, matching the way things have played out on the field so far this season. 
4. Saturday's game at Kinnick Stadium features two teams that rank 1-2 nationally in interceptions through the first two games of the season.
Kent State has picked off eight passes through two games while Iowa is second with seven interceptions in its first two wins.
5. Tory Taylor's 69-yard punt during the third quarter of the Iowa State win was the longest of the sophomore's career.
His previous best was a 61-yard punt against Michigan State last season.
Saturday's effort is tied for 17th in the Iowa record book for the longest punt by a Hawkeye.
Lonnie Rogers set the standard in 1962 with an 83-yard punt in a game against Oregon State. 
6. Iowa's Tory Taylor shared Big Ten special teams player of the week honors with fellow Melbourne, Australia native Adam Korsak of Rutgers.
On Monday, the Big Ten also named Michigan running back Blake Corum as the league's offensive player of the week, Nebraska linebacker Luke Reimer as the defensive player of the week and Ohio State quarterback C.J. Stroud as the freshman of the week.
Taylor averaged 51.1 yards on eight punts in Iowa's win at Iowa State, placing four inside the 10-yard line and recording four punts of 50 yards or more.
Korsak averaged 52.2 yards on six punts in a win over Syracuse, placing five of his six inside the 20 and recording four punts of 50 yards or more.
Corum ran for a career-high 171 yards and scored three touchdowns in the Wolverines' win over Washington in addition to catching three passes for 11 yards and returning two kicks for a 24.5 yards average.
Reimer led the Cornhuskers with 16 tackles, the most by a Nebraska defender since 2015, and intercepted a pass in a win over Buffalo.
Stroud, winning the award for a second straight week, completed 35-of-54 passes for 454 yards and three touchdowns in the Buckeyes' loss to Oregon. 
7. Saturday's victory over Iowa State extended a string of success against ranked opponents for Iowa.
The Hawkeyes have now beaten the last five ranked opponents who have lined up against Iowa.
That is the longest string of success against rated opponents since the Hawkeyes beat six straight ranked teams in 1960. 
8. Sophomore Kyler Fisher moved onto the Iowa depth chart at the start of the season, listed as the back-up to Seth Benson at weakside linebacker.
He earned that spot during fall camp, following a familiar path.
"Kyler came to us as a walk on and has continued to do good things since his arrival,'' Iowa linebackers coach Seth Wallace said. "He's on the front of end of what he can become and I think you'll see it first on special teams. That's usually where things start for a lot of our guys. He's doing a nice job.'' 
9. Iowa running back commit Jazuin Patterson of Deerfield Beach, Fla., rushed for 120 yards and scored a pair of touchdowns on eight carries last week, highlighting the work of iowa recruits at the prep level.
Elsewhere on offense, quarterback Carson May completed 13-of-18 passes for 289 yards and five scores for Jones (Okla.), tight end Addison Ostrenga had two catches for 56 yards and a touchdown for Sun Prairie (Wis.) and receiver Jacob Bostick caught four balls for 73 yards and one touchdown for Palatine (Ill.) in a win over Evanston.
Defensively, end Caden Crawford of Lansing (Kan.) had 14 tackles in a win over Turner and end Aaron Graves totaled five tackles for Southeast Valley in its win over Hampton-Dumont-CAL in Iowa prep play. 
10. The starting time for Iowa's Sept. 25 home game against Colorado State has been set.
The Big Ten announced Monday that the game at Kinnick Stadium will kickoff at 2:30 p.m. and will be televised by FS1.