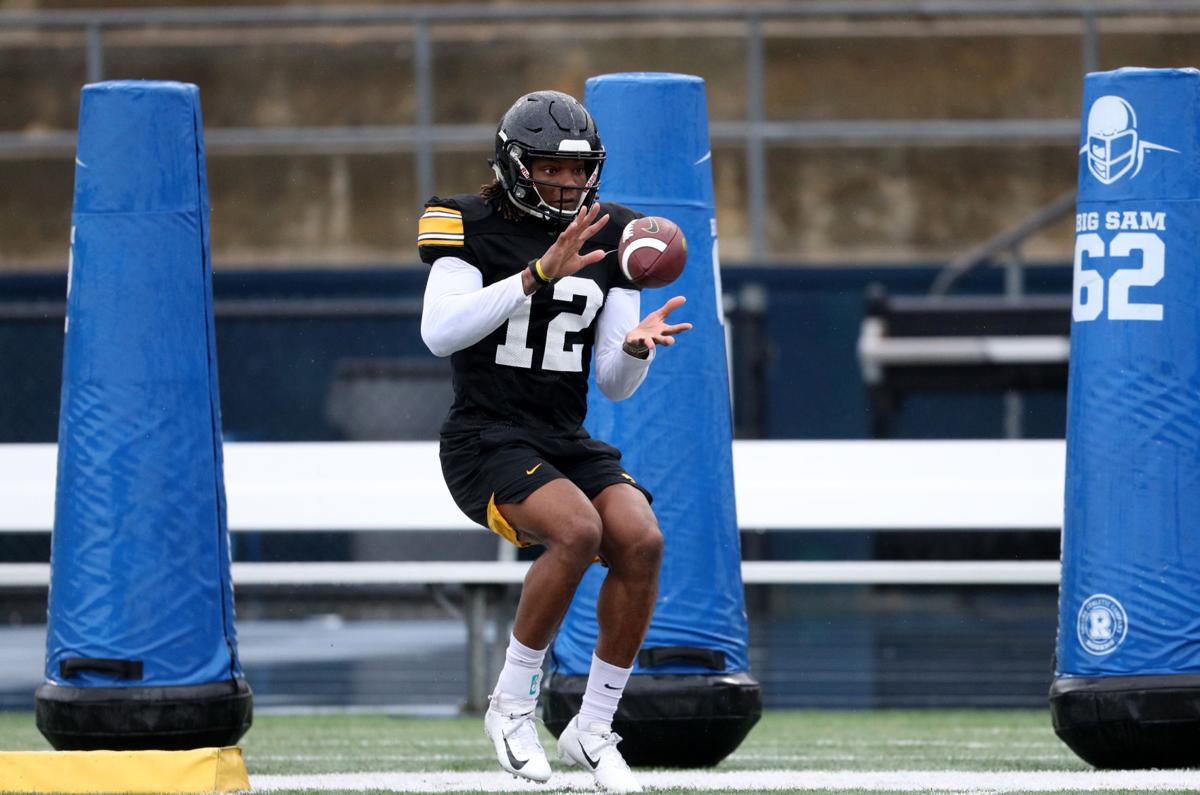 Given all of the uncertainty surrounding how the college football season might look this year and even when or if it may be played, that's a question Brandon Smith has thought about a lot lately.
Smith has spent the summer preparing for his senior season at Iowa, working to build on the growth he experienced as part of an improved Hawkeye receiving corps last fall.
But with the COVID-19 pandemic impacting sports at every level, Smith isn't taking anything for granted.
"Of course, I've thought about what if we don't have a season,'' Smith said. "It has crossed my mind.''
Smith said he is unsure what he would do if college football shifts this year to a spring schedule and the NFL Draft remains on the schedule for next April, something that would leave draft-eligible players in a position where they would have to choose between playing for their college teams or preparing for the draft.
He said at this point, he tries not to concern himself with what he would do if presented with that situation.
"I'm trying to focus on what's happening now and not thinking too much about it,'' Smith said. "I'm just working out, trying to get better and taking things day by day.''
There are so many uncertainties that even coaches have questions that remain unanswered.
The Big Ten has said it will not play nonconference games during the upcoming season and administrators have spent the past 10 days working to hammer out details of just what a season may look like.
For the Hawkeyes, games against Northern Iowa, Iowa State and Northern Illinois are gone.
It remains unknown if Iowa will play only the nine remaining teams on its schedule or if a 10th game will be added to provide teams in the Western Division with a fifth home game this season.
There are plenty of details still being finalized.
Iowa coach Kirk Ferentz said during a recent news conference that he is simply taking things one game at a time.
"Obviously, none of us know how it will all play out. None of the coaches know. More importantly, a lot of people making decisions really don't know what the season's going to bring,'' Ferentz said.
Ferentz would prefer for the season to play out this fall.
He calls any shift to a spring schedule something that should be regarded as a "last resort.''
Ferentz said a shift in that direction would also likely impact how many games teams could play during the 2021 season.
He questions the wear and tear on players bodies if a spring season were to run into late April or May with preparations for a fall season beginning again with the start of fall camp in August.
"The perfect, best scenario right now is for us to play this fall, but if that becomes a reality, that that's not going to take place, then yeah, you certainly have to shift your attention,'' Ferentz said.
"There's no question you would have to modify, you would have to look at the number of games you're playing (in the fall of 2021).''
With all of the uncertainty, Ferentz said his preference has been to simply not to get too far ahead of himself and simply take things as they come.
"It's really hard to get emotional or have a strong feeling on anything right now, because this is nothing like anything we've been used to,'' Ferentz said.
"There is nothing we can compare this to. I think the key here moving forward – and my focus is the next five months – is what we can do on a daily basis to get to the next day, the next week, the next step.''