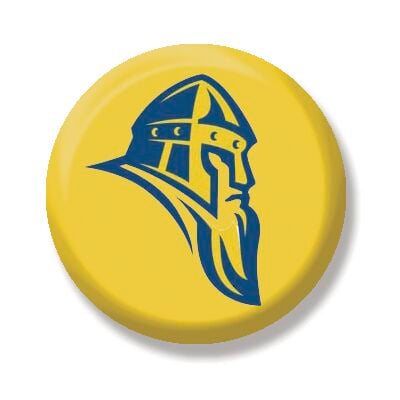 Maybe the Augustana College football team should sport new uniforms for every game, if Friday's outing was any indication.
Debuting new road uniforms, Augie found a different gear with its offense and relied on its bend-but-don't-break defense in finishing off the pandemic-altered 2021 spring season with a dominating 51-14 victory over hosting North Park University Friday evening at the Holmgren Athletic Complex.
In what might have been his final game, senior quarterback Alek Jacobs was efficient, throwing four touchdowns in just 14 attempts as he completed 10 passes for 152 yards.
Sophomore Jacob Brooks provided a nice complement as he rumbled for 164 yards and a score on 20 carries.
"It's just a great feeling for everyone involved," said Jacobs, who said he has still not decided if he is returning for a final fall season. "We've just been working for this for so long, all year, without having a regular season. We just kept practicing and practicing so it was good to see all the hard work everyone has put in pay off."
Augie found the offensive spark it had been looking for in its third spring game. After struggling to put points on the board, sustain drives and find the big plays, the Rock Island Vikings did all three against the hosting Chicago Vikings. Augie only ran 55 plays but turned those into 393 yards of offense, seven touchdowns and a field goal. Augie only punted once in the game and did not have any turnovers.
"They had short fields and we just couldn't stop the run," said NPU coach Kyle Rooker on his post-game show after his team dropped to 1-3.
In addition to Brooks' big night, fellow sophomore Austin Ioerger added 40 yards rushing and a rushing score and caught an 11-yard TD pass. Jacobs added 37 yards rushing.
"Good things happen when you can run the ball," said Augie coach Steve Bell, admitting that he opened the playbook a little as his club finished the spring 1-2.
And there were a number of players who had a hand in this victory. Bell and his staff went deep into the depth chart as some youngsters stepped up and made plays on both sides of the ball.
"We played a plethora of offensive linemen," said Bell, noting he went with a different group than his usual starters for the first two drives of the game, which included no seniors.
He hopes that getting some of the youngsters in a game situation will help when the fall season rolls around in a few short months.
"That's the key is to wrap it all up," said Bell. "It feels good knowing that when you put all three phases together that's what happens. More than anything, it was a good feel-good for the seniors to show out in that game and kind of hand it off to the guys in the fall.
"Getting experience when they truly get out there with the bullets flying is great. There is no feeling of 'haven't been there yet.' We've got a lot of guys who have done it now and that's really nice."
Freshman Casey Erickson added to a 3-0 Augie lead with a 21-yard TD catch from Jacobs in the second quarter and fellow freshman Tizoc Covarrubias caught a 31-yard scoring strike in the third quarter.
Senior tight end Sam Jones also found the end zone on a 5-yard pass from Jacobs.
James Thorp, a sophomore from nearby Knoxville, Ill., recovered a fumble for Augie.
"Winning is huge," said Jacobs. "For the freshmen, this the first win they have been a part of. I always preach that winning is a habit and losing is a habit. Once you get that feeling, you understand what it takes to make it happen. I think is something great for them to build off of."