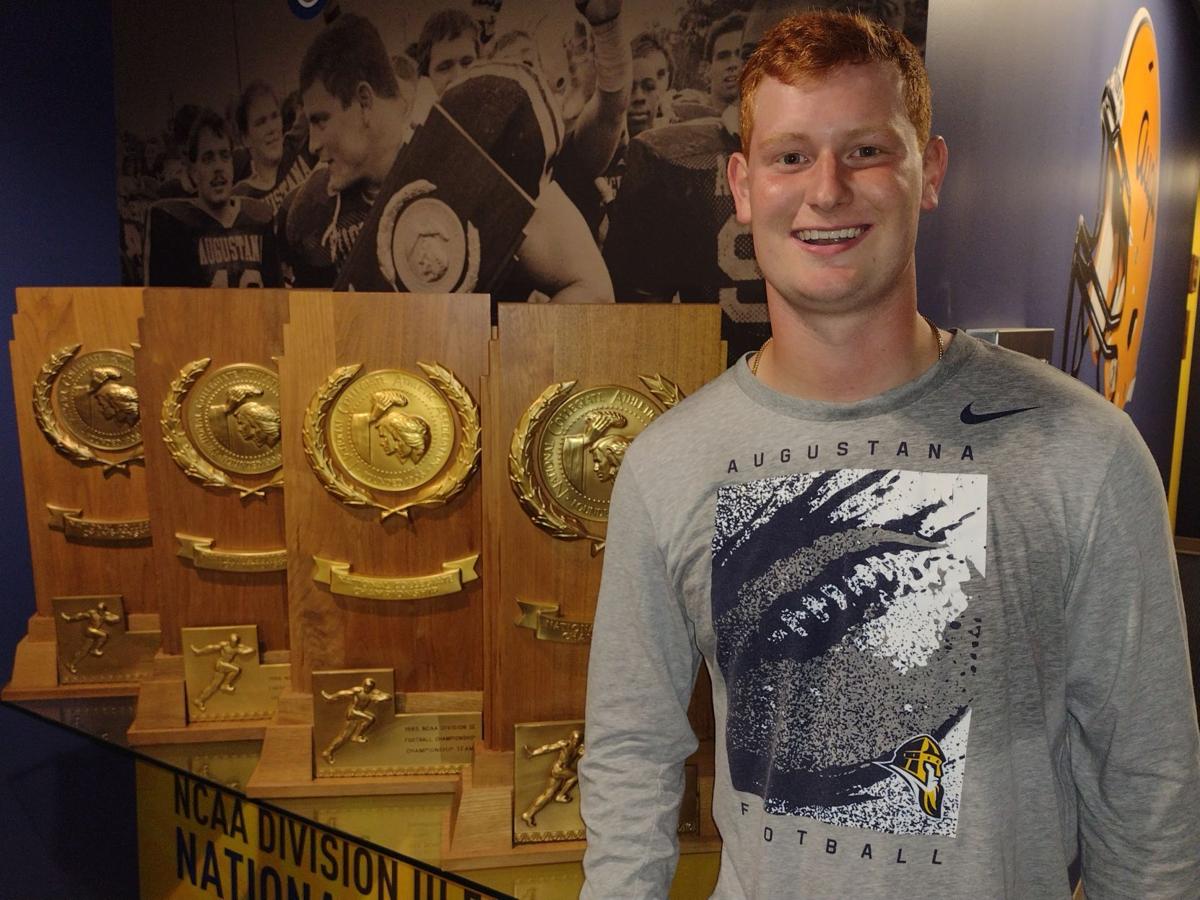 Many football players justify their performances by numbers — how many yards they rushed for, how many tackles they made, how many points they put on the board.
For one Augustana College senior, stats don't come close to showing his value to the program. And that's a good thing because Mikey Scarpinato saw the first varsity action of his career this past Saturday.
And it came on kickoff coverage, a new duty he added this fall because of injuries to others.
"It was definitely a crazy feeling," said the former Alleman High School prep of his first Saturday action. "It was honestly more exciting than nervous. I wasn't as nervous as I thought I'd be."
He still didn't log any stats in the 27-21 overtime loss to Millikin, but his unique career took another turn to go with his switch from defensive back to wide receiver as a Viking sophomore.
It is at that wide receiver position where the Augie legacy is making his mark nurturing the younger players.
"He's an exceptionally hard-working, wonderful kid," Augie coach Steve Bell said of the 5-foot-11, 175-pounder from Sherrard. "He has taken on his role and done a fabulous job with it from a leadership standpoint despite not being a starter.
"He's been a great mentor for our younger receivers. He's the guy who wants to be first in line for all the drills. He's really detailed in terms of coaching and then goes out and tries to apply that within whatever repetitions he's getting in practice."
His attention to detail and verve for the game are recognized and appreciated by his teammates.
"He's a really big supporter," said sophomore wideout Casey Erickson, who said he has benefited from Scarpinato's input since he stepped foot on campus. "If I were to make a mistake, he'd be there to pick me up and correct my mistakes. He's a good leader, is very vocal and friendly with everybody and wants to get to know you as a person as well as a football player.
"Running routes, he's always critiquing you in a good way. He's very fundamentally sound and is a great role model on the football team."
And it is those exact attributes that make him one of the guys Bell appreciates giving his all throughout his four years.
"He has been that mentor for everybody and not afraid to share information with the guys," Bell said. "He actually relishes that role and has accepted the fact that he isn't seeing much playing time."
Despite a limited role on the team, Bell appreciated the fact that Scarpinato was one of the players who spent the most time on the field during the summer honing his skills.
"He works his butt off," Bell said. "He just as easily could have not been out there since he doesn't play a ton, but he doesn't think that way. Which is why he will be really successful when he's older."
And that approach leaves an indelible impression on his teammates, too.
"He's been here all four years and knows the playbook inside and out," said Erickson, noting Scarpinato really pushed him with rout-running techniques that have helped him become a starter. "He knows where the routes need to end up and how fast you should get there. He knows his stuff. Me being young, I take that seriously."
Scarpinato also takes his role on the team seriously despite it being a limited one on game day. He said that he never was ready to throw in the towel over a lack of playing time.
"I guess it's kind of a Scarpinato thing; if you commit to something, you gotta see it through its ups and downs and persevere," he said, lessons he learned from older teammates when he joined the program. "There was no doubt that once I stepped on this campus that I was going to be here all four years."
And it came as little surprise that he ended up a Viking. His dad, Jeff, played for the Vikings during their four-year run of NCAA Division III national championships in the 1980s. His mom, Judy, works on campus in alumni relations.
"It was either between going to a big school and just being a student or pursue my athletic career, and if it was going to pursue my football career, it was going to be at Augustana College," said Scarpinato, who said the University of Missouri to study sports journalism would have been his other potential collegiate path.
The younger Scarpinato admits that his dad didn't push him to Augie.
"He was going to support me either way," he stated. "He just let me think about it myself. Obviously, him going here and playing on two national championship teams had a little bit of a sway, but he let me figure out what was best for my future."
"He's a really sharp kid," Bell said. "He's going to be really successful when he gets out. There's no doubt about that in my mind."
While Scarpinato sees the game through the eyes of a coach and is willing to teach and help out, he isn't sure if coaching will be in his future. Having turned 22 this week, the business marketing and business management double major is looking more toward a career in sports marketing.
"If I get an opportunity, I guess I'd have to think heavily about it," he said of coaching. "As soon as I was little, I always knew I wanted to be involved in sports somehow. Since my senior year in high school I knew I wanted to go into sports marketing."