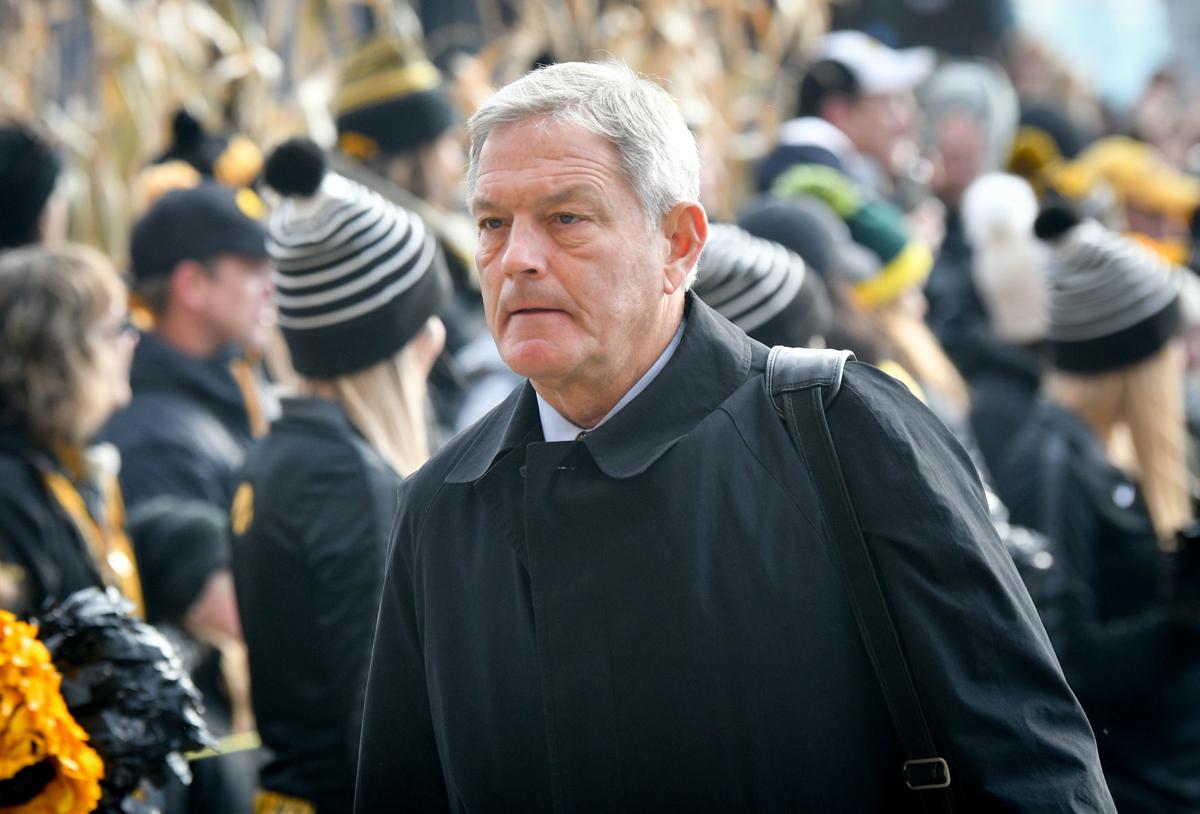 IOWA CITY — Another punter from down under, a graduate transfer from a Big Ten rival and a defensive lineman who hopes for a return to football were on the mind of Iowa coach Kirk Ferentz on Wednesday.
The trio are among the final pieces being added to the Hawkeyes' 2020 roster, which includes 22 recruits on scholarship and a collection of 14 walk-ons who hope to become among the next "stories" developed by the Hawkeye walk-on program.
While most signed with the Hawkeyes in December, the group includes two players who signed letters of intent Wednesday on the first day of college football's traditional February signing period.
Tory Taylor, a 22-year-old punter from Melbourne, Australia, and Michael Lois, a defensive lineman from Elkhorn, Wis., signed on to join a Hawkeye program which has already welcomed Indiana graduate transfer offensive lineman Coy Cronk to the team.
Ferentz said he believes that Hawkeye coaches and staff members have helped put together a class that meets Iowa's expectations on and off the field.
"We're doing a better job of knowing what we are looking for," Ferentz said. "All of these guys are athletes, but they also have a love of the game and a desire to be part of something bigger than themselves. Those are the kind of players we seek out."
Losing 23 players from last year's 10-3 team, Ferentz said the Hawkeyes have needs that the incoming recruiting class will help address.
Taylor provides that possibility at punter, which Ferentz concedes has been an inconsistent area for Iowa during his tenure.
"Punting has been an interesting ride for 21 years," Ferentz said. "We'll just roll with the flow and see what happens."
Although he is 22, Taylor will arrive at Iowa with four years of eligibility and has good size, filling a 6-foot-4 frame with 225 pounds.
"When you look at the list of semifinalists for the Ray Guy (punting) Award, it's filled with players from Australia," Iowa director of recruiting Tyler Barnes said. "He's a big kid with a big leg."
Hawkeye special teams coordinator LeVar Woods traveled to Australia last month in hopes of finding a punter to replace Michael Sleep-Dalton, an Australia native who averaged 41.7 yards on 58 punts as a senior graduate transfer with the Hawkeyes last fall.
Ferentz said finding punters to recruit in the United States has become a challenge, one reason a number of teams have looked to Australia for help.
"I think they must play catch with their feet down there," Ferentz said. "Kicking the ball around, it's just a part of their life growing up."
Taylor is a product of Prokick Australia, an organization which since 2007 has trained and developed punters and kickers in that country and has helped them transition to college football.
"He has good raw skills, but he hasn't played football," Ferentz said. "That's going to be an adjustment. We're going to have to work like crazy to get him ready to be in the situations he will find himself in. We've never gone down that road before so it should be interesting."
Once he arrives this summer, Taylor will compete with Ryan Gersonde for the starting role. Gersonde, a junior, is continuing to work his way back from knee surgery which sidelined him throughout the 2019 season.
Cronk is already on campus as a graduate transfer, arriving from Indiana where he started 40 games on the offensive line before suffering a knee injury early in the 2019 season which allowed him to redshirt and extend his college career.
The 6-foot-5, 325-pound offensive tackle is still working his way back from that injury but will join senior Alaric Jackson, a 34-game starter, in anchoring the Iowa offensive line.
"With Tristan (Wirfs deciding to enter the NFL draft), the timing couldn't be better,'' Ferentz said. "Coy was looking for a different opportunity, and things worked out.''
Cronk has one of year of eligibility remaining and would only face his former teammates if both teams were to reach the Big Ten Championship Game.
"It's probably best for him that we're not playing each other in the regular season, but if we should happen to play them at the end I would think both teams would be pretty happy regardless,'' Ferentz said.
Lois signed a letter of intent Wednesday as expected, but it is still undetermined if the 6-4, 260-pound defensive lineman will play for the Hawkeyes. He suffered a spinal injury diving into a swimming pool shortly after committing to Iowa during his junior year at Elkhorn High School in Wisconsin.
While he has been cleared to compete in other sports, doctors have not signed off on a return to football.
Ferentz said while Lois continues to work in hopes of that happening one day, he does not know if that will happen.
"It's an unfortunate situation for Michael. In our mind, commitments are a two-way street and we're honoring the commitment he made to us," Ferentz said. "Our primary job is to help young people get an education and get ready for the rest of their life."
Lois will have that opportunity at Iowa and Ferentz said if he cannot participate on the field, he will likely be offered a chance to be part of the team in other ways.
"In football, you typically don't get to pick when your career ends," Ferentz said. "Tom Brady might be an exception, but there are a lot of things beyond football."