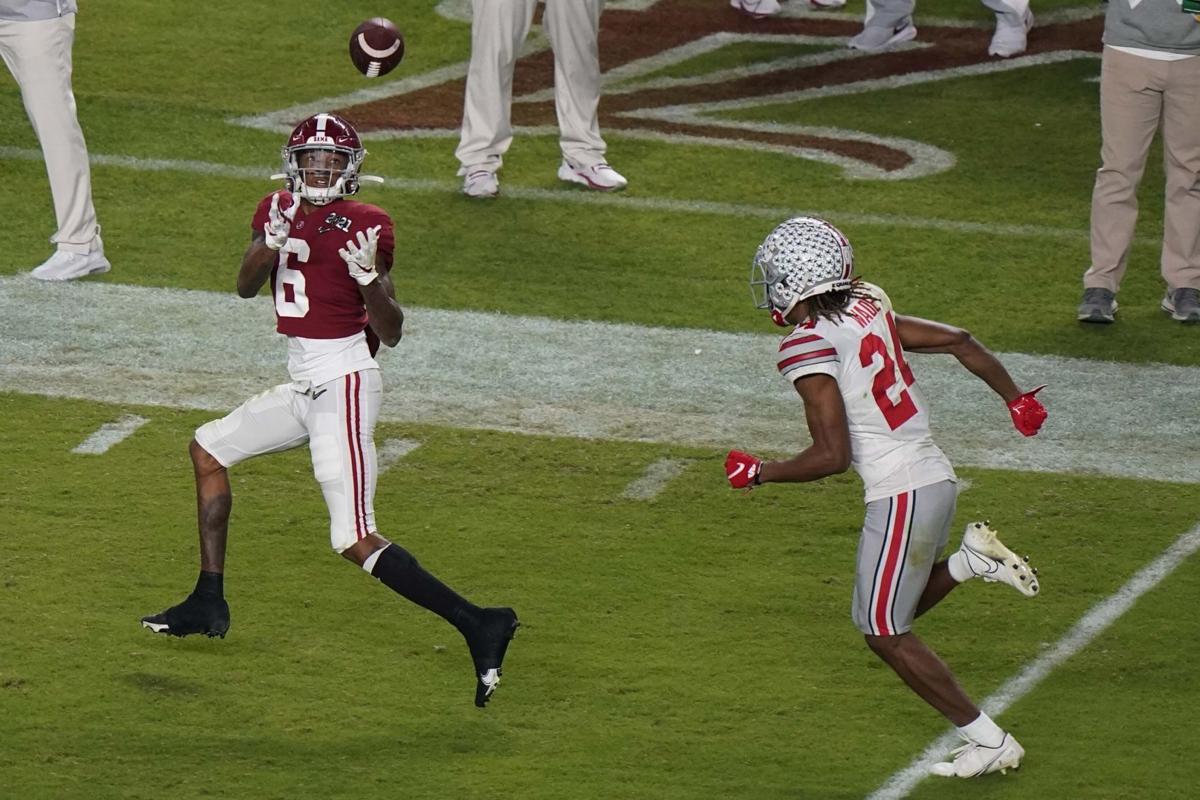 Alabama's football team gave its coach a spot in the history book Monday night.
The Tide rolled to its seventh national championship under Saban's watch, routing Ohio State 52-24, to move the Alabama coach one national title in front of the Tide's legendary Bear Bryant for the most national titles won by a college football coach.
Monday's effort was more like the exclamation point to a dominant season. While the Buckeyes hung around early, they did not have nearly enough offensive weapons to match the firepower Alabama showed up with in Miami.
The Tide and Buckeyes were an easy first two picks for my ballot in the final Associated Press college football poll of the season.
Both displayed the general consistency from the start to the finish of their unique seasons.
It was a challenging year to put together the weekly poll. There were same apples being compared to oranges more often than not during this COVID-19 impacted season.
I felt the same way as I cast ballots for individual awards as well, although there were certainly no regrets in topping my Heisman ballot with DeVonta Smith.
I stuck with Clemson in third in my final AP ballot, but did nudge Texas A&M in front of Notre Dame for the fourth spot based on the Aggies' Orange Bowl performance and the Irish's back-to-back losses to end the season.
Oklahoma begins my second five, which includes Georgia and Cincinnati in seventh and eighth just in front of an Iowa State team which moves up to ninth following its Fiesta Bowl win over Oregon.
Big Ten West champ Northwestern fills the 10th spot following its 16-point win over Auburn in the Citrus Bowl.
BYU, Indiana, Florida, Iowa and Louisiana fill the 11th through 15th spots. I wrestled with what to do with the Hawkeyes after back-to-back cancellations to end a 6-2 season.
Ultimately, I moved both Iowa and Louisiana, the team I had right behind the Hawkeyes on my previous ballot, both up three spots to 14th and 15th.
Tulsa and North Carolina State were the only teams I had rated on that Dec. 20 ballot that dropped off following bowl losses, replaced by Oklahoma State following its rout of Miami (Fla.) and Ball State, which finished off a 7-1 season with a bowl win over previously unbeaten San Jose State.
Here is my ballot for the final AP poll of the 2020 season. The entire poll is scheduled to be released in a couple of hours:
17. Coastal Carolina (11-1)