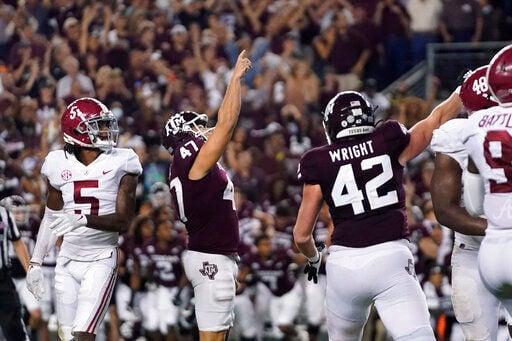 For the first time this season, there is a change at the top of my ballot for this week's Associated Press college football poll.
That was the easy part after Alabama dropped a 41-38 game to Texas A&M.
I moved the Tide from first to seventh this week, elevating Georgia to the top spot on my ballot following the Bulldogs' win over Auburn.
At this point, that was also an easy move.
I'm sticking with Oklahoma and Iowa in that order next on my ballot. As I wrote a week ago, the Sooners seem to be one of those teams with a knack for finding ways to win.
Other than falling behind early and maybe checking their defense at the door in the 55-48 shoot-out win over Texas, I can't find any reason not to move Oklahoma up one spot this week.
Iowa rallied as well and continues its steady progression up my ballot following its third win of the season over a ranked opponent. I'm moving the Hawkeyes up from fourth to third this week.
Cincinnati and Ohio State round out my top five. The Bearcats did as expected Friday night with a rout of Temple and the Buckeyes seem to have their offensive house in order. Like Iowa, it's taken time for Ohio State to make that happen.
Oregon, Alabama, Michigan, Penn State and Notre Dame round out my top 10.
Auburn and Texas leave my ballot this week following losses in league play.
Joining this week is unbeaten San Diego State at 23 and the return of Texas A&M at 25 following its win over the Tide.
The AP will release its top 25 around 1 p.m. today and I expect Georgia, Iowa and Oklahoma to fill the top three spots in that order.
Here is my ballot for this week's poll: