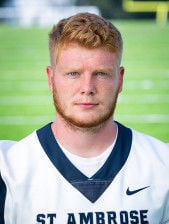 JOLIET, Ill. — Making his first start at quarterback for St. Francis (Ill.) since a February game at St. Ambrose, Eric Maffie wasn't alone in the Saints' backfield Saturday.
From start to finish, the sophomore who prepped at Moline found himself dealing with the heat created by a defense which led the Fighting Bees to a 24-7 Mid-States Football Association victory at Joliet Memorial Stadium.
Ryan Zitkus led another dominant effort by St. Ambrose, which gave up just 1 rushing yard in the game, sacked Maffie nine times, recorded 11 tackles for a loss, intercepted four passes and recovered a pair of fumbles.
"It was another outstanding defensive performance. The number of sacks, the turnovers they created, it was a phenomenal team effort," said Fighting Bees coach Mike Magistrelli, whose team has surrendered a total of 6 yards on the ground in last two games of its ongoing four-game win streak.
Maffie did throw for 343 yards, completing 21-of-43 passes, but the Saints were able to convert on just 2-of-14 third-down situations as St. Ambrose held St. Francis to a single rushing yard on 29 carries.
Zitkus recorded four of the sacks, dropping Maffie for losses totaling 27 yards, in addition to joining six teammates in recording tackles behind the line of scrimmage.
St. Francis coach Joe Curry said in an interview on the university's livestream that overall he was pleased with Maffie's performance.
"We just need to do a better job around him," Curry said. "Credit St. Ambrose, though. They made a lot of plays."
Liam Kelly helped set an early tone for the Fighting Bees, recording the first of his two interceptions in the end zone with 3 minutes, 31 seconds remaining in a scoreless first quarter when the Saints attempted to score on a fourth-and-goal play from 1-yard line.
A stout southerly wind turned the notion of a balanced offense into a two-quarter equation for St. Ambrose, and the Bees scored all of their points with a wind at their backs.
Yemi Ward caught touchdown passes of 52 and 25 yards in the second quarter after the Bees' shifted to their up-tempo offensive package, the latter coming 17 seconds before halftime on a drive set up by a Griffin Zajac interception.
Mirroring the situation that led to the start for Maffie, an injury to last week's starter John Benckendorf moved Declan McDonald into the starting lineup under center for St. Ambrose.
McDonald worked the Bees' up-tempo offense effectively during both drives that led St. Ambrose to a 14-0 halftime lead, needing 1:44 for a 7-play, 79-yard drive that gave the Bees the game's first points and 1:06 for a 6-play, 72-yard drive that followed.
"We keep saying that Declan is a gamer and he proved that again. It was the kind of game he'll learn from," Magistrelli said. "He did a great job of staying poised in tough conditions and putting us in good situations."
The St. Ambrose offensive line did not give up a sack, facilitating the success the Bees had in blending the run and pass in the second and fourth quarters.
St. Francis sliced the St. Ambrose lead to 14-7 in the third quarter when Maffie hit Ravon Johnson for a 58-yard score, one of 13 receptions Johnson had, covering 229 yards.
St. Ambrose carried that one-score lead into the fourth quarter but extended its margin to 17-7 on a 20-yard field goal by Tom Gillen just under four minutes into the final frame.
The Saints (2-5, 2-3 MSFA) moved to the Bees' 31-yard line on the ensuing possession but Zitkus and Drew Ackman dropped Maffie for a 2-yard loss on a fourth-and-1 play to put the ball back in St. Ambrose hands with 7:49 remaining.
The Bees had to punt the ball away, but Kelly intercepted a Maffie pass at the Saints' 30-yard line and returned it 3 yards before McDonald hit Yemm with his third touchdown pass of the day.
The 27-yard score with 5:26 left in the game helped Yemm finish off an eight-catch, 158-yard effort that was part of a balanced Bees approach.
Garret Tiarks and T'Nahleg Hall led a group of seven St. Ambrose ballcarriers, combining for 106 of the 138 yards the Bees (5-2, 4-1) gained on the ground in their second win of the season against a Saints team St. Ambrose defeated 14-6 in its second game of the year.