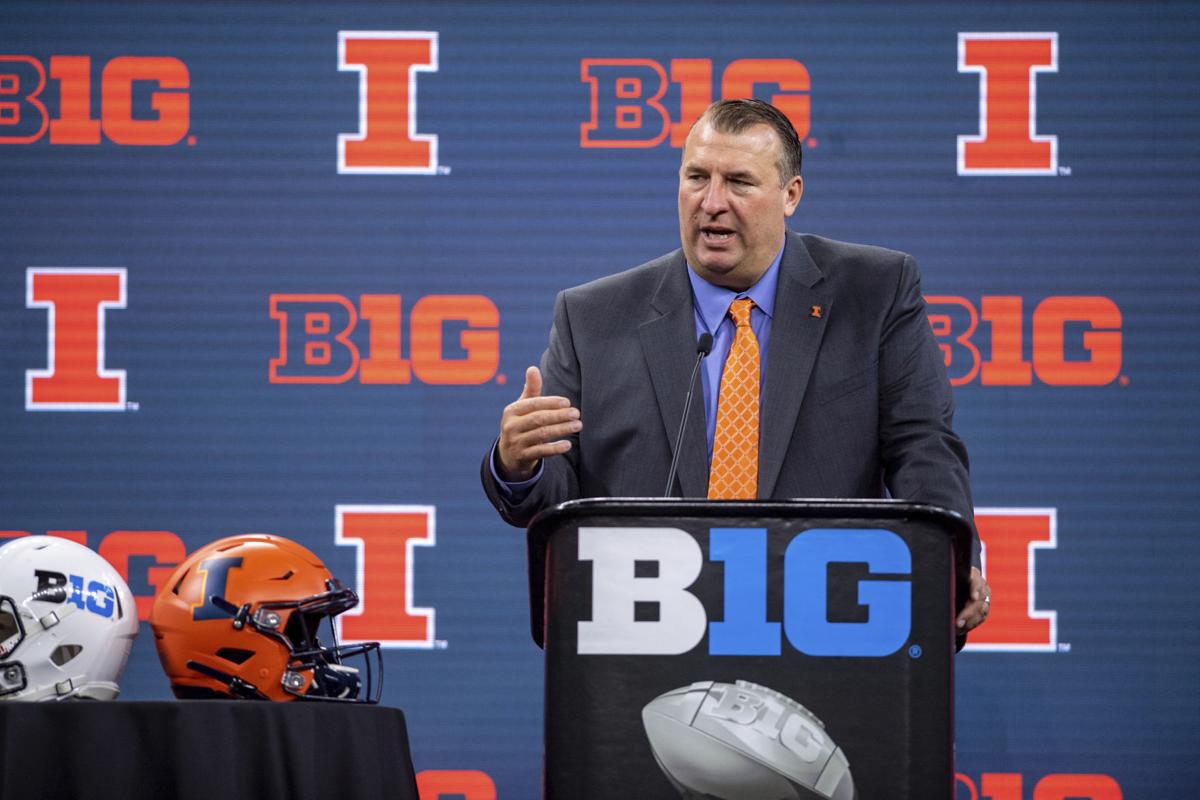 INDIANAPOLIS — Walking into Lucas Oil Stadium on Thursday morning, the memories all returned.
The satisfaction that accompanies winning a Big Ten football championship.
In many ways, new Illinois coach Bret Bielema suggests that he has come full circle, back in the conference he competed in as a college player at Iowa and a league where he received his first head coaching opportunity.
Bielema's first Big Ten kickoff event as the Fighting Illini coach took place Thursday in the same stadium where he coached his final game as the head coach at Wisconsin in 2012, leading the Badgers to a third straight Big Ten championship with a win over Nebraska.
His first game on the Illinois sidelines on Aug. 28 will also be against the Cornhuskers.
The circumstances are different now for the Prophetstown, Ill., native, who was hired in December to rebuild an Illinois program that has struggled to sustain success.
"When I was talking with Josh (Whitman, the Illini director of athletics) about taking on this job, we kept coming back to the places I've been, the stability that those programs have had and the way they have sustained success,"
They talked about Iowa and Hayden Fry, who Bielema played for and gave him his first coaching opportunity.
They talked about the other stops in his career, how Iowa has continued consistent success under Kirk Ferentz as well as the way Bill Snyder and Barry Alvarez built winning traditions.
"Illinois has had flashes of success, but it is a program that has not been able to sustain it," Bielema said. "This is a conference where you can build a career and a lifetime out of it."
Bielema envisions accomplishing that at Illinois.
His first win with the Fighting Illini will never be listed in a record book.
He convinced 22 players who had been given the opportunity to compete an additional year because of the COVID-19 pandemic to return for one final season with Illinois.
Bielema said he never expected every single player who had an additional year available to buy into the idea.
"Coach B is a very convincing guy," Illini offensive lineman Vederian Lowe said. "What he said made sense and one by one, players decided to take that extra year and see what we could make out of it."
Bielema will attempt to do the same with the Fighting Illini program.
He feels like he inherited a group of high-character players that had been recruited by Lovie Smith but never maximized their potential on the field.
"Including the 18 seniors we have back for a normal senior year, we have 40 seniors in the program who are very hungry for success," Bielema said.
"We're very excited about the attitude they have shown, the attitude they have brought, the way they have bought in to what we have been asking them to do."
The experience returning will provide a starting point, but Bielema understands that obtaining the goal of sustained success will take more.
That starts with recruiting.
And that, Bielema said, starts at home.
"Recruiting the state of Illinois is where it has to begin. Any time I've seen a great organization, both in football and life, it starts with understanding and representing the environment you are in," Bielema said.
"For us to be successful at Illinois we need to be supported by the people who make Illinois possible. Fans, alumni, donors, administration, general university, all those things are very important to make Illinois great for a long time."
To maximize success, Bielema said Illinois must not only strengthen its in-state recruiting but connect with players in bordering states as well.
"The kid in downstate Illinois is not all that different from the kid in the middle of Iowa or the middle of Wisconsin," Bielema said. "But it starts in-state."
Bielema still has a Tigerhawk tattoo, something he got as a 19-year old playing the game in an Iowa uniform after walking onto the Hawkeye program.
"It was a great idea then, not so much now, but I do think it is important to realize that that is a big part of where I am today," Bielema said.
He said the coach Illinois hired in December is not the same coach Wisconsin promoted when Alvarez retired 15 years ago.
Bielema, back in the college game after three seasons in the NFL that followed five seasons at Arkansas, also believes he is better prepared now to lead Illinois than he has ever been.
"I stand here now as a 51-year-old head coach versus the 36-year-old coach that I was 15 years ago," Bielema said. "I've learned things through success, but I've also learned things through failure."
That, he believes, gives him a chance to one day enjoy the confetti and the smiles once again.
"We believe we are in a good spot," Bielema said.