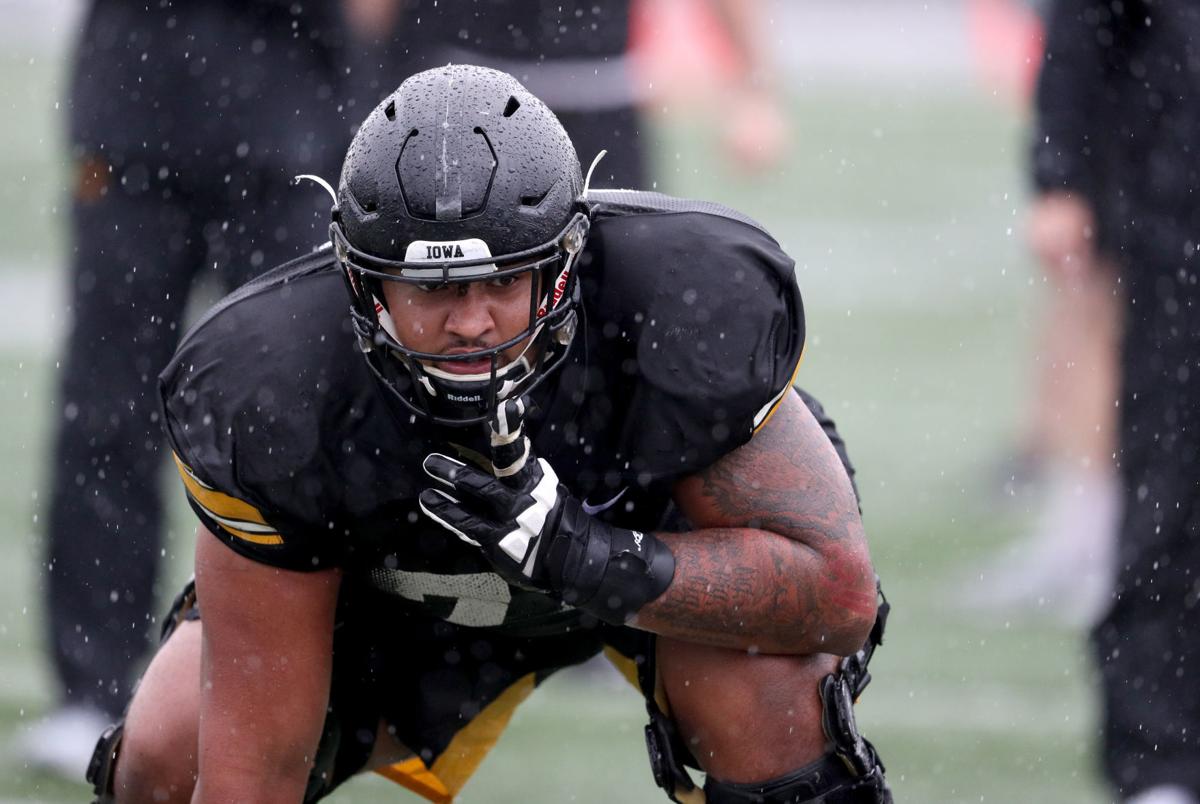 SAN DIEGO — Tristan Wirfs is looking forward to a Holiday Bowl reunion of sorts.
The Iowa all-American offensive lineman joined Hawkeye A.J. Epenesa in taking part in the Army All-American Bowl in January, 2017 with two players expected to start on the USC defensive line in Friday's 7 p.m. game.
Nose tackle Marlon Tuipulotu and defensive tackle Jay Tufele, both redshirt sophomores for the Trojans, got to know Wirfs well during the week they spent together in San Antonio.
"I was teammates with those guys at the Army Bowl,'' Wirfs said. "Getting to play against those guys, I'm looking forward to that, really good guys. I'm excited to see them. I haven't seen them in four years. They're good players. We'll have to be on top of our stuff.''
Wirfs said the Hawkeyes are making progress as they prepare for a USC defense that has shown growth in winning five of its final six regular-season games.
"We will need to be at our best,'' he said. "They're strong, they're physical and they're athletic up front. It's about what you would expect from a USC team.''
Smith progresses: Receiver Brandon Smith will likely return to action Friday for Iowa.
Coach Kirk Ferentz said the junior who hasn't caught a pass since suffering an ankle injury in the fourth quarter of an Oct. 19 game against Purdue has "looked good'' in recent practices.
"He got in some real work on Friday and since we've been out here,'' Ferentz said. "He bringing some good energy to the field.''
Smith caught 33 passes in Iowa's first seven games of the season.
A wet workout: Iowa's midday practice at Mesa College on Monday started in a steady rain and cool temperatures.
"It was like an early March morning back home,'' Ferentz said. "It was a cold start, but I feel like we got a lot of work done. It may rain for the game. We might as well be used to it.''
Since arriving in San Diego on Saturday, Iowa has worked out the past two days at the junior college stadium which is situated next to an outdoor competitive pool at the San Diego school, something that went unused given Monday's weather.
The Hawkeyes are scheduled to work out again behind closed gates at Mesa College after making a morning visit to the USS Theodore Roosevelt.
Attention to detail: Iowa receiver Nico Ragaini sees some familiar looks as he watches the USC defense.
He said receivers coach Kelton Copeland has compared the Trojans' secondary to the talent the Hawkeyes faced earlier this season against Penn State.
"Their attention to detail, it's pretty similar to what we saw from Penn State,'' Ragaini said. "We have to be ready to be tested. They're consistent and we know that we're going to have to make some plays.''
Ragaini expects to be in a position to do that.
He's caught 44 passes this season, two more than Ihmir Smith-Marsette who leads Iowa with 676 receiving yards. Ragaini has totaled 385 yards.
"I'll have to make sure I have at least three more catches than he does this week and I've got some yards to pick up,'' Ragaini said.
Late arriving: While Iowa players have had a couple of days to explore San Diego, the Hawkeyes' competition for Friday's 7 p.m. game arrived on Monday.
The Trojans worked out on their Los Angeles campus before traveling south to begin final preparations for their third Holiday Bowl appearance in six seasons.
Internal work: Offensive coordinator Brian Ferentz said Monday that Iowa was able to get in four practices dedicated solely on itself before turning its attention to USC during the condensed bowl preparation schedule.
"We got some good work in, but right now our thoughts are on trying to win a bowl game against a good opponent,'' he said.
All present: All Hawkeyes are present and accounted for in San Diego.
With no discipline or academic issues, coach Kirk Ferentz said the full roster was available to make the bowl trip this season.
"Everybody's here,'' the 21st-year Iowa coach said.
Be the first to know
Get local news delivered to your inbox!