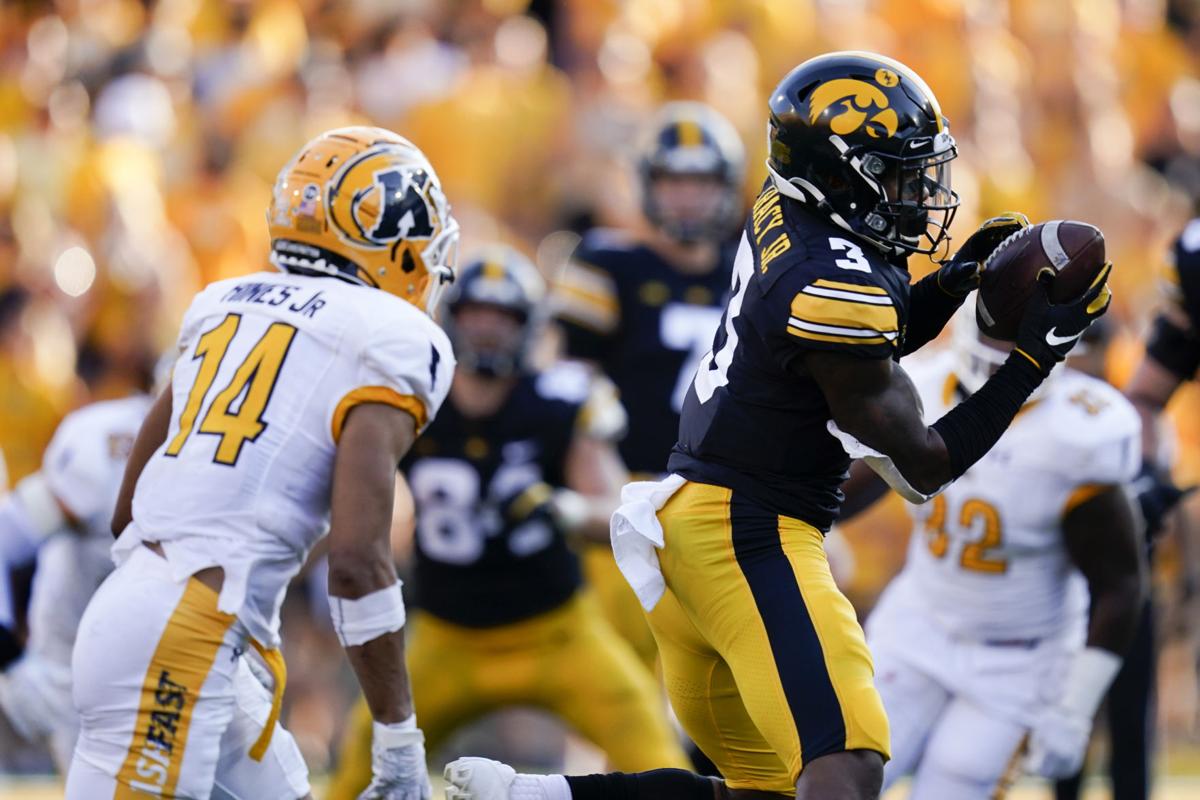 IOWA CITY — Upon further review, Tyrone Tracy remains convinced he caught a third-quarter pass that was overturned by a replace official in Iowa's 30-7 win over Kent State.
"I don't know what more I could have done," said Tracy, who caught five passes for 43 yards in the Hawkeyes' third win in as many games this season.
"I thought I caught it. The coaches thought I caught it. The crowd thought I caught it. But, I have to go with what they call and they said it was incomplete."
The decision came as Iowa was attempting to add to a 16-7 lead and while the crowd of 61,932 vocally expressed its displeasure, coach Kirk Ferentz wanted to see a replay before cementing his final thoughts on the subject.
"I felt bad for the officiating crew because that's a good crew. They worked a good game and they looked like fools out there because they're at the mercy of whatever decisions get made upstairs (in the replay booth)," Ferentz said.
Ferentz maintains that the officials on the field should be the decision makers.
"They're the ones that look like fools and they have nothing to do with (the replay decision)," Ferentz said. "That's why they call the guy the referee, right? He's responsible."
Play on: Kent State's only points Saturday came on a drive when cornerback Riley Moss got burned on a couple of pass plays.
"My eyes got caught in the backfield and I was ready for a little three-step hitch again like I had the first week, but they caught me on it," Moss said. "They read my bluff."
At that point, Moss moved on against an offense that collected 185 of its 264 yards through the air on Dustin Crum's 16-of-23 passing.
"It's about how you come back from bad plays," Moss said. "That's what makes a good player. I think personally and as a defense we did that, especially in the second half. We came out fighting."
Moss recovered the first fumble of his career in the end zone in the third quarter to deny the Golden Flashes a chance.
Paper or plastic: Iowa defenders got to Crum seven times, the most sacks Iowa has had in a game since matching that total in a 2000 game against Northwestern.
"It feels great to be able to put up a number like that," said end Lukas Van Ness, who joined Joe Evans in recording two sacks apiece.
"You work all week long to put yourself in a position to make plays like that."
Keeping the faith: Ferentz gave senior running back Ivory Kelly-Martin a break after he recorded his second fumble of the season in the first half.
"Told him to keep his chin up, hang in there," Ferentz said. "He's going to be fine, a top-quality guy, voted as a captain this week. He does so much for our team beyond running the football. He's made a lot of good plays for us. He's just got to work through it."
Ferentz chose to give Kelly-Martin some space as the game progressed, providing redshirt freshmen Gavin Williams and Leshon Williams with the chance to carry the ball four times apiece.
The pair combined for 31 of Iowa's 206 rushing yards and Gavin Williams caught three passes for 14 yards.
Schott returns: Senior offensive guard Kyler Schott returned to action in a reserve role.
Schott, who was limited to a couple dozen snaps in his return, missed the first two games of the season after breaking a bone in his foot in an accident while baling hay on his family's farm in late July.
Justin Britt made his third start at right guard in place of Schott, who entered the season with eight career starts.
Quick two: Iowa recorded its first safety since 2018 during the opening quarter.
The Hawkeyes took a 2-0 lead when Lukas Van Ness and Zach VanValkenburg combined to sack quarterback Dustin Crum for a 15-yard loss on a third-and-3 play.
"When you see the quarterback heading to the end zone like that, you get going," Van Ness said. "It's a super-exciting situation to be in, a lot of guys closing in like that to make a play."
The safety was the first since Dominique Dafney recorded on a punt block following a bad snap in an Iowa game against Penn State on Oct. 27, 2018.
New passer: Iowa attempted a little trickery on special teams, but while punter Tory Taylor completed the first pass of his career the Hawkeyes didn't move the chains.
Early in the fourth quarter in a fourth-and-9 situation, Taylor hit Sam LaPorta with a pass for a three-yard gain.
The catch was one of a team-high seven LaPorta finished with covering 65 yards.
Taylor punted five times in the game, averaging 47.6 yards.
Long drive contest: Iowa's 20-play touchdown drive was the longest scoring drive the Hawkeyes have had in terms of number of plays during Ferentz's 23 seasons.
The previous long was an 18-play drive that resulted in a touchdown in a 2003 game against Illinois.