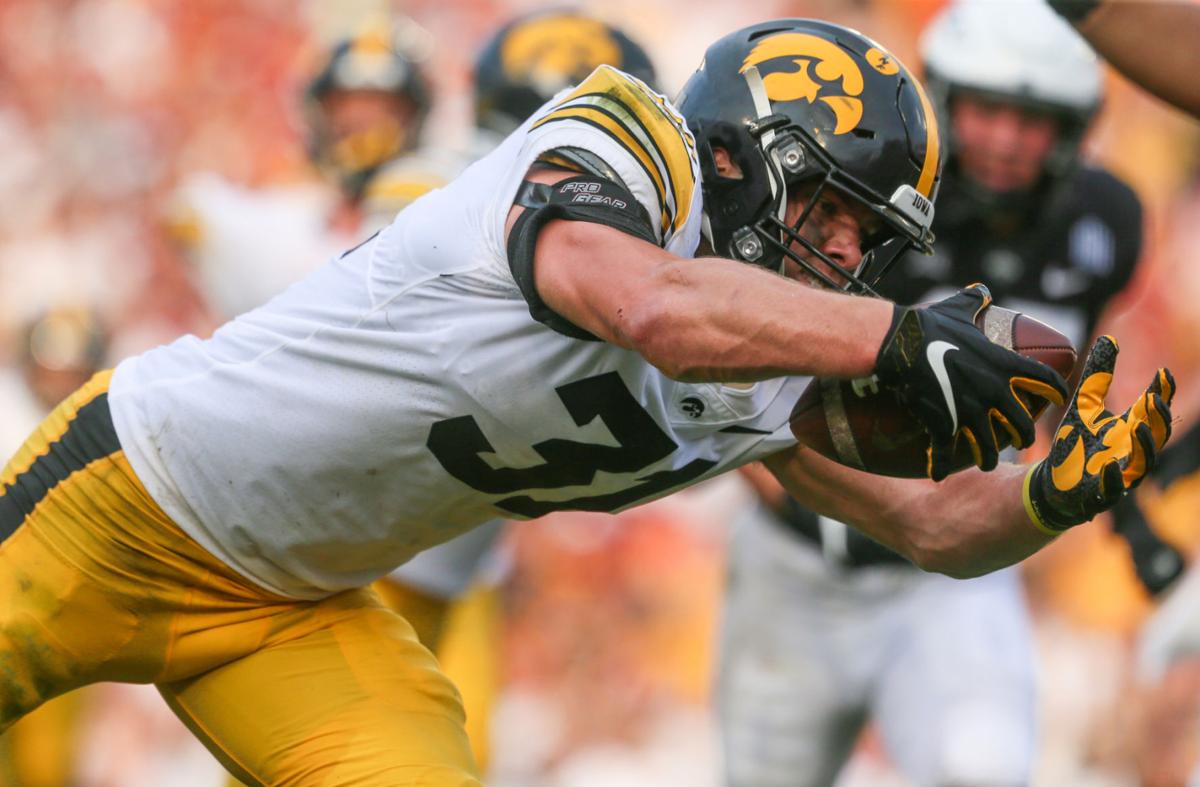 IOWA CITY – Shortly after Jack Campbell completed a 6-yard fumble return Saturday by lunging into the end zone at Jack Trice Stadium, the University of Iowa linebacker remembered how he got there.
The junior from Cedar Falls heaped praise on his teammates for the work they did to provide him with the opportunity to score a touchdown which allowed the Hawkeyes extend a 14-10 lead.
"It was 10 other guys who put me in a position to do what I was able to do,'' Campbell said. "I was blessed to be in a position to make a play.''
The touchdown was the third for the defense during fifth-ranked Iowa's 2-0 start to the season, one fewer than the Hawkeye offense has accumulated and part of a collaborative effort that Campbell considers the standard for Iowa's defense.
Heading into Saturday's 2:30 p.m. game against a Kent State team that leads the nation in rushing after piling up 494 yards last week in a win over VMI, the Hawkeyes rank third in the Big Ten Conference in stopping the run and in the bottom line, scoring defense.
Campbell's fumble return followed a pair of interceptions returned for touchdowns in the season opener by Riley Moss, all among eight turnovers the Hawkeyes have forced through two games.
"It's just the way we play defense,'' Campbell said. "We just fly around. We have a great attitude about everything. Something might go wrong, but that's why we're here. We're here to stop them, get the ball back and get points.''
That, from Campbell's perspective, is the core of how the Hawkeye defense is supposed to work.
"Turnovers are happening because guys are doing the right things,'' Campbell said Tuesday. "Guys are in the right places at the right time, doing their job. Everybody is putting in a good effort and we'll all continue to do that.''
The result is a team-first attitude that seemingly runs throughout an opportunistic defense.
Coach Kirk Ferentz said he sees plenty of cohesion as he watches his Hawkeyes on the defensive side of the ball prepare all week and then execute on game day.
"I think it starts with that they take pride in what they do, what they're trying to accomplish,'' Ferentz said. "They're a good group of guys, really unselfish guys. They just want to play hard and they don't seem to care who does what. They're just generally happy for each other.''
Campbell senses that as well.
He believes it starts with the experience Iowa returned this season on the back of the defense, where veteran players in the secondary have provided leadership and set a tone with their team approach to the game.
"All of those guys are pretty veteran and they've helped all of us get into our roles and create the expectations we all have,'' Campbell said.
Those expectations actually started long before Iowa created its first turnover of the season.
Campbell said the Hawkeyes are encouraged to set aside their personal objectives for the good of the team when stepping onto the practice field for the first time as freshmen.
"When you come in as a first-year guy I feel like a lot of guys at first don't really understand it. It's like why can't we just go out there and play football, run around, just see the ball and get the ball,'' Campbell said.
Over time, Campbell said the philosophy Iowa coaches encourage begins to resonate and becomes easier to comprehend.
"Once you get older, you start to realize how it all works when you work together,'' Campbell said. "Once you buy into that, you might not make the play, but you're doing your job so someone else can make the play, just being selfless, that's when this defense is going to be at its best.''
Campbell has helped Iowa be at its best so far this season. His 14 tackles from his middle linebacker spot are second on the team to the 15 collected by weakside linebacker Seth Benson.
Their work has allowed the Hawkeyes to limit opponents to an average of 82 yards per game on the ground and 2.8 yards per carry.
Kent State will test those numbers.
The Golden Flashes split their production between three ballcarriers who average over 60 yards per game on the ground. As a team, Kent State averages 6.7 yards per carry.
Campbell doesn't expect Iowa's approach to change.
He said Hawkeye defenders will continue to focus on their assignments, believing teamwork leads to better results.
"It's fundamental football, doing your job and knowing and trusting that your teammates will do their jobs, too,'' Campbell said. "That's the reason we have been able to do what we've been able to do so far this season.''