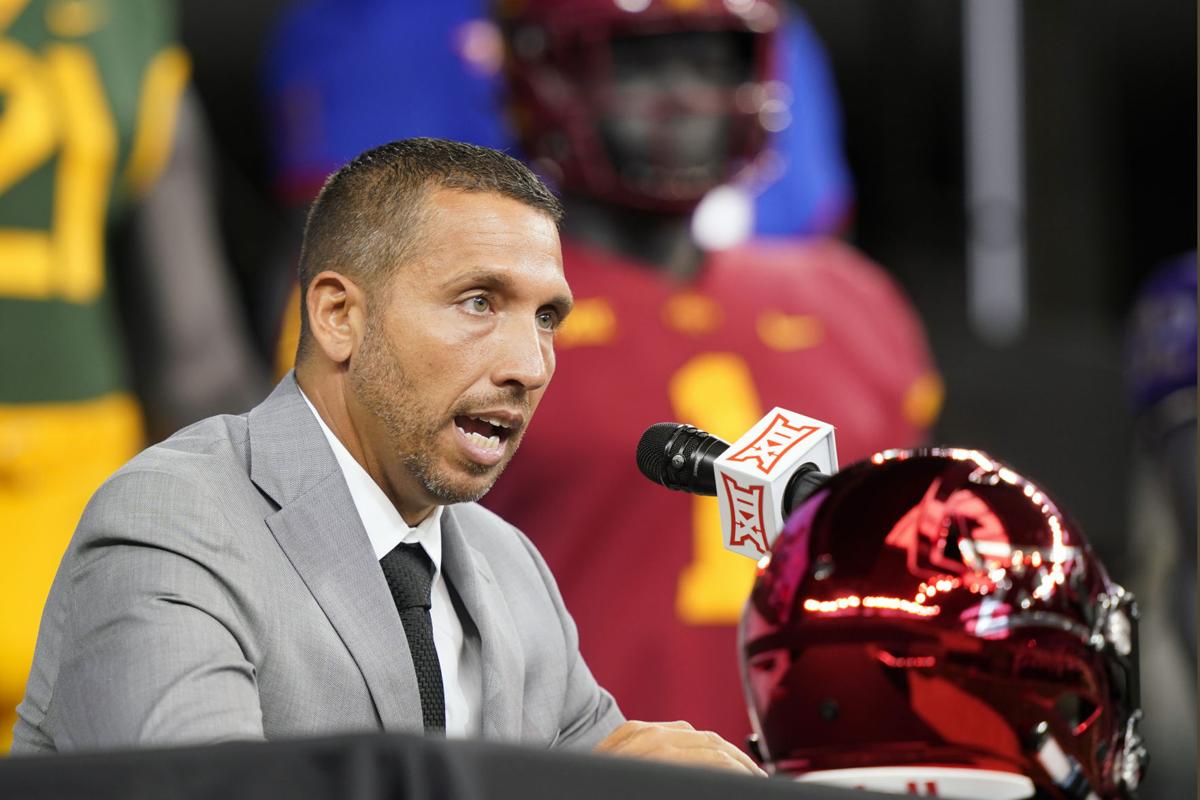 Iowa State football coach Matt Campbell comes up with a new catch phrase or motto for his team about every year.
Last year, it was all about player-driven leadership. Two years ago, it was about handling expectations. Three years ago, it was all about winning in the dark. Four years ago, it was about building the foundation.
For the entire season, that would be his message to the players, media and the fans.
"The great thing about coach Campbell is that if you miss his message the first time, you'll get it again the next 11 weeks," tight end Charlie Kolar joked last season.
Campbell seems to have found his new catch phrase for the 2021 season. It's one word and that word is "transformational."
During Wednesday's Big 12 media days in Arlington, Texas, Campbell mentioned "transformational" in terms of leaders, players and decisions several times.
During his ESPN interview, Campbell was asked about quarterback Brock Purdy picking Iowa State over offers from Alabama and Texas A&M.
"The big thing for Brock, as it is for anybody in our program, is this a transformational decision or a transactional one?" Campbell said during the broadcast. "What I love about our program and what we've been able to build is, 'How can we transform you?' How can we continue to be transformational rather than transactional?
"We don't want to have guys just come, go through the motions, this is what it is and then leave. Brock has been a transformational leader in our program. What he's done for us, who he is and what he's about is far greater than any offers he had coming to Ames."
A transformational player on the defensive side of the ball? Safety Greg Eisworth.
"Greg is one of those young men for us that has been what I would call a transformational leader," Campbell said. "Iowa State football would not be where it is without Greg's leadership. He's been a transformer and really proud of everything that he stands for on and off the field."
As Kolar alluded to last season, once Campbell gets a phrase or motto he likes, he sticks to it.
Expect a few more "transformers" to emerge on Iowa State's roster as the season approaches and as the season progresses.
Do something
Any time Campbell appears at a more national scale, the inevitable question of, "Why are you still in Ames?" comes up.
It came up during his ESPN interview and it came up when Brian Davis of the Austin American Statesman asked him during his time at the podium.
Both times Campbell gave some version of the same answer.
"Very simply put, I didn't get into this profession to be somebody," Campbell said. "I got into this profession to do something.
"That's one of the great joys that we've had over the last five years, and now going into our sixth year here at Iowa State is how do you do something that a lot of people said wasn't possible? How do you have sustained success at a place like that?
"It's been a lot of fun and a great challenge to put a program together and we've worked really hard to create sustained success and a culture where kids want to come in every day and feel confident everyday to become the best versions of themselves. That's what I love about what I get to do and we have great kids in our program. It's a true joy to go to work."
Deep league (minus Kansas)
From top to almost-bottom, the Big 12 should be a deep conference and a difficult one.
Iowa State has had a rise to prominence and was picked second in the Big 12 preseason poll. Oklahoma has an odds-on favorite Heisman quarterback and is always at the top of the league. After that, it's a jumble of five or six teams that could all finish anywhere from second to eighth.
"If you look from top to bottom and look at the quarterbacks in this league, the skill positions in this league, and then if you flip it on the defensive side, I think we're better defensively than we've ever been," Campbell said. "Across the board, we have really good defenses now. And some of the coaching staffs are starting to get some consistency now, too.