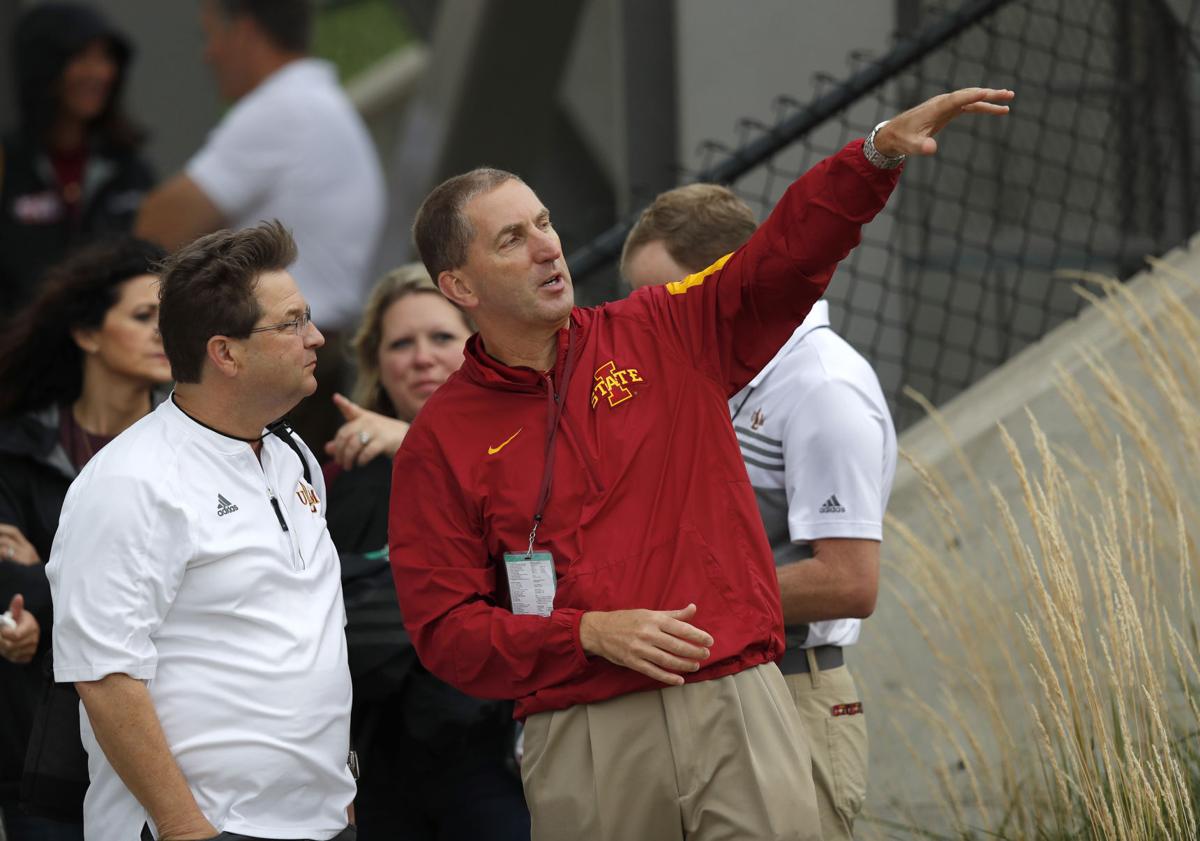 Iowa State Athletic Director Jamie Pollard always thought he'd have to cap football season ticket sales at about 47,000.
Schools have to reserve tickets for visiting teams, players' guests, tickets for sponsors and just general admission. Taking Jack Trice Stadium's capacity of 61,500 into account, 47,000 is the season-ticket cap Pollard and the Iowa State ticket office arrived on after the stadium expansion.
The thing is, he never really needed to worry about it. Iowa State only got close to that number once and that was in 2019 when they sold 46,197 season tickets. Before that, the record was 43,165 set in 2013 — before the stadium expansion. It wasn't really something he really needed to worry about.
Iowa State football is coming off of a historically great season that saw the Cyclones go to, and win, its first-ever New Year's Six Bowl game and go to the Big 12 Championship game. The problem was, very few people got to see the historic season because of the COVID-19 pandemic.
This year, however, both the NBA and MLB have proven that teams can play in full stadiums.
Add in the fact that the Cyclones return 19 of their 22 starters on offense and defense and were picked to finish second in the Big 12 and received four first-place votes.
The historic success from the football team and the pent up excitement from fans has yielded record ticket sales by the fans.
Iowa State has already sold well over 47,000 season tickets, which was once thought to be the cap. But thanks to what Pollard called good "stadium engineering" from the ticket office, Iowa State will likely end up at or near 49,000.
What he means by stadium engineering is the ticket office has worked with season ticket holders to have them move over a seat or two or down a row so there are no longer one-seat gaps in-between season ticket holders. That strategy, that they never needed to worry about before, has yielded an extra couple thousand tickets they're able to sell as season tickets.
"There is a number that we'd have to cap season ticket sales at and no one really knows what that number is because in years past, we would've already been selling single-game tickets by now," Pollard said during a one-on-one interview last week. "Once you start selling single-game tickets, you're done selling season tickets.
"Now, the cap is probably in the 49,000s but it's probably not much more than that. Remember, though, we always thought that number was closer to 47,000."
Iowa State won't get final numbers until August or so because they've had to set student tickets aside as well as Junior Cyclone Club tickets.
"Those two numbers will populate the final total late, but all of the other season tickets are way ahead of previous years," Pollard said. "There's an outside shot we could get to 49,000 but we'll probably end up in the high 48,000 range. That would be 2,500 more than we've ever sold."
Regardless of what the final number is, a new record will be set and fan excitement is unprecedented.
"This year, it has added meaning," Pollard said. "Nine months ago, people were wondering if they'd be able to gather in groups — whether it's a concert or football stadium. … as we were watching this unfold over the last six or seven weeks, it was a barometer of financially where people are — they're buying these tickets like hot cakes — but also a barometer of where they are mentally and their willingness to gather."
The financial implications shouldn't be overlooked, either.
Iowa State's athletic department was able to stay afloat in large part because of season ticket sales last year and Cyclone Club donations, which are needed to buy season tickets.
"Last year, we were at 20% capacity but donations ended up almost at 100%, which was really fascinating and awesome for us," Pollard said. "Even though people weren't buying their tickets, we still had all the costs and people donated. In 2019 we set a record of $11.9 million for the Cyclone Club. In 2020, even though we were 20% for ticket sales, we were at $11.5 million for Cyclone Club donations."
Once again 2021 numbers will set a record.
"Our record for the Cyclone Club, we're going to blow that out of the water," Pollard said. "This year, we're probably going to go past $13 million, which will break the record by over a million dollars. Things are going really, really well leading into this school year."