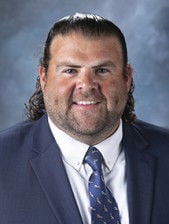 Vince Fillipp has been hired to coach the football program at St. Ambrose, his alma mater.
Fillipp, who recently completed his fifth season as the Fighting Bees defensive coordinator, is being introduced as the program's new head coach at a news conference this afternoon at Lee Lohman Arena.
The Cary, Ill., native was a four-year starter and a 2008 all-American defensive lineman for St. Ambrose, graduating in 2009 with a degree in sport management. He earned a Master's in Organizational Leadership from St. Ambrose in 2011.
Fillipp replaces Mike Magistrelli, who stepped down last fall after 15 seasons.
His coaching career began at St. Ambrose in 2009 and he was part of Magistrelli's staff until 2012.
Fillipp spent one year as the defensive line coach at Earlham College in Richmond, Ind., before spending three seasons as the defensive coordinator at Kansas Wesleyan prior to returning to St. Ambrose in 2017.
This is a developing story. Return to qctimes.com for updates.