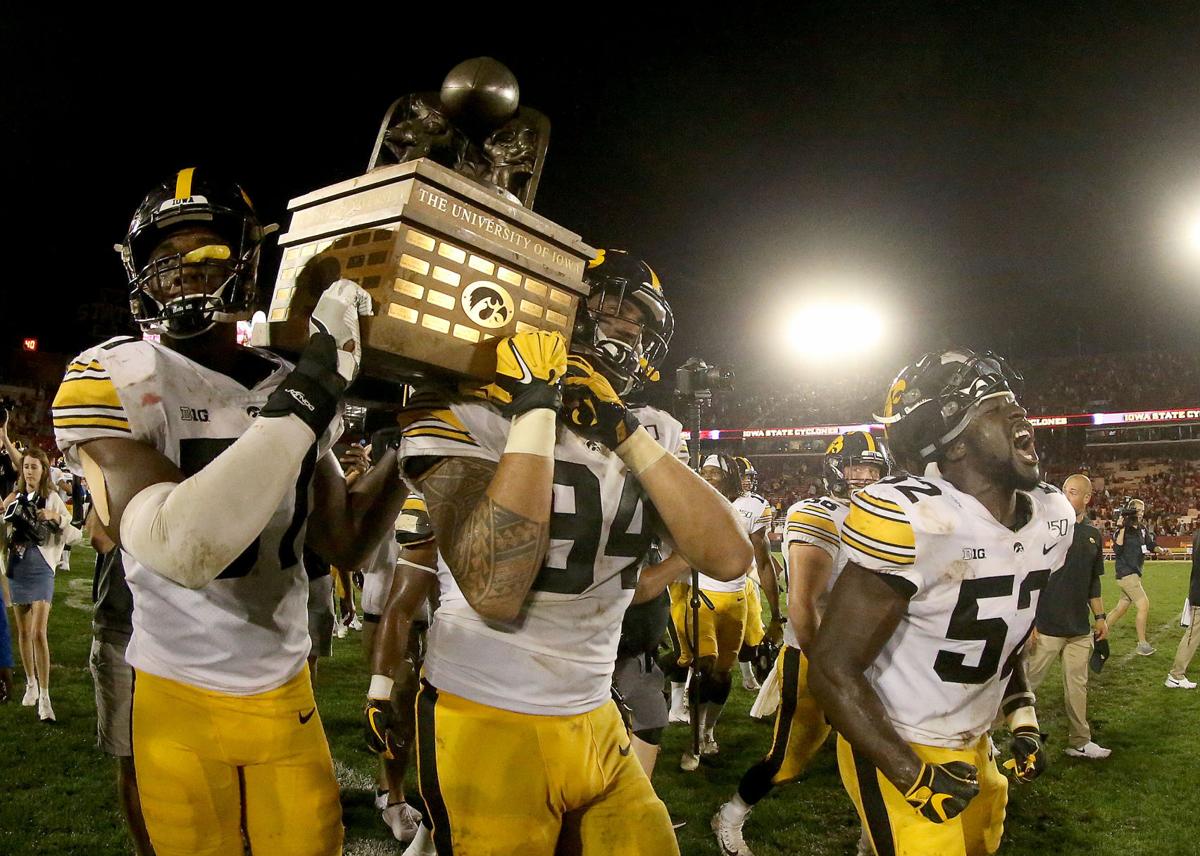 Four things the football teams from Iowa and Iowa State can do to position themselves for success in Saturday's 3:30 p.m. game at Jack Trice Stadium:
Iowa (2-0)
1. Establish the run
When Iowa runs the ball effectively, it wins football games. The Hawkeyes gained 158 yards on the ground last week against Indiana. Building on that will take improved consistency from an offensive line that was a little rough around the edges in the season opener. Tyler Goodson is Iowa's lead back after running for 99 yards in the opener.
2. Get a leg up
This is a series where special teams have mattered. Keith Duncan kicked four field goals in 2019 including the game winner in the fourth quarter to give Iowa an 18-17 win over Iowa State. Caleb Shudak kicked two field goals last week and the son of former Iowa State all-Big Eight kicker could find himself lining up for difference-making kicks Saturday.
3. Start fast
The Hawkeyes put 14 points on the board in the first 2 minutes, 15 seconds of last week's win over Indiana. Tyler Goodson's 56-yard touchdown run and a quick pick-six from Riley Moss left the Hoosiers' with a two-touchdown deficit and in a spot where their game plan was pretty much just words on a sheet of paper.
4. Have tunnel vision
It's been two years since Iowa played a road game in front of a less than friendly crowd and even on that frosty November day in Lincoln, there wasn't the same level of energy there that day that the Hawkeyes will be dealing with from the crowd at Jack Trice Stadium. It will be a good test for a young team, but the ability to ignore surroundings will be important for Iowa.
Iowa State (1-0)
1. Establish the run
The Cyclones have a thoroughbred in the backfield in Breece Hall and the 6-foot-1, 220-pound junior will need to get back on track after gaining 69 yards is ISU's 16-10 win over Northern Iowa last week. That was Hall's lowest rushing total since gaining 55 yards vs. Notre Dame in the 2019 Camping World Bowl.
2. Be Purdy good
If Iowa State hopes to end Iowa's five-game string of success against its instate rival, the Cyclones will need a solid performance from quarterback Brock Purdy. The senior opened the season by completing 21-of-26 passes for 199 yards in the UNI win, the seventh time in his career he has completed at least 78 percent of his throws.
3. Beat Iowa at its game
The Hawkeyes have not committed a turnover in its match-up against the Cyclones since a fourth-quarter fumble in 2015. Iowa State lost two fumbles the last time the teams met, costly mistakes in an 18-17 loss. ISU's ability to hold onto the ball against an opponent that lost a pair of fumbles in its 2021 opener will be important.
4. Benefit from experience
The Cyclones will be the most experienced team on the field Saturday and turning that experience into a difference maker will be important. ISU lists 10 starters on its depth chart this week that started against the Hawkeyes in 2019, including six on defense. Iowa has just three starters back from the most recent match-up in the Cy-Hawk series.