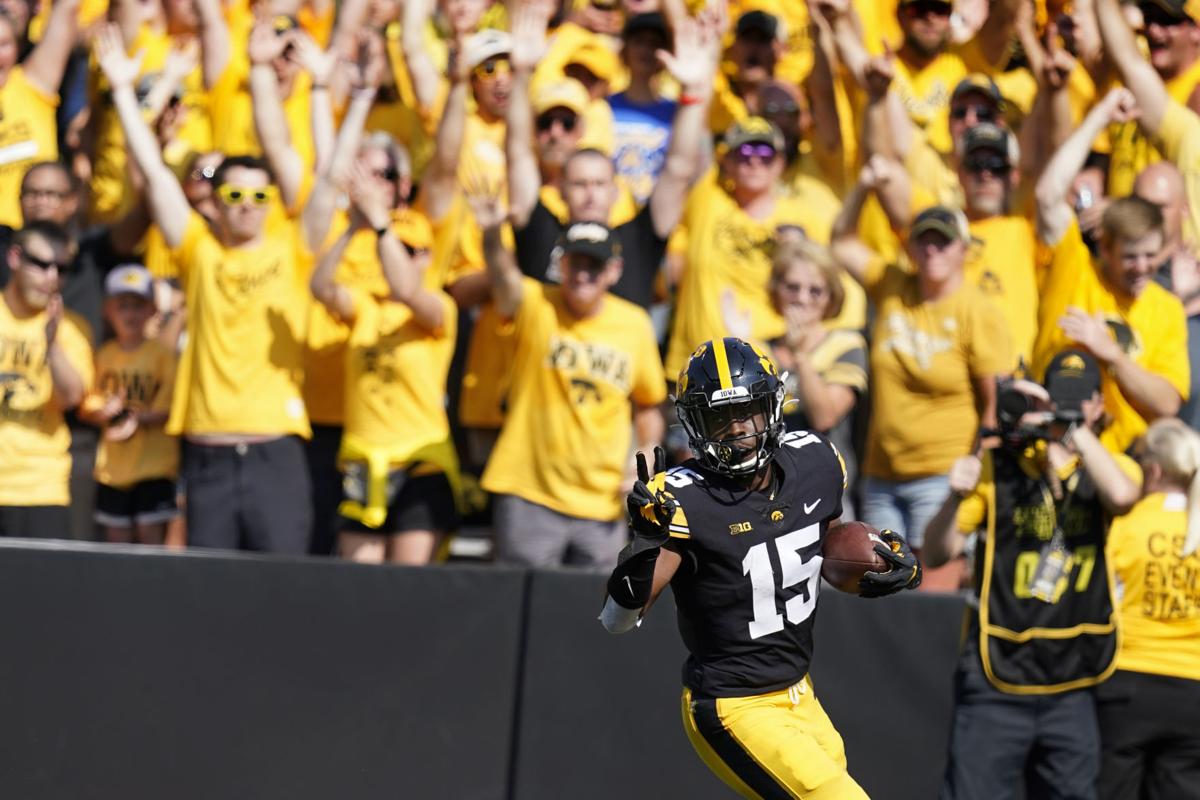 COLORADO STATE AT IOWA
WEEK 4: 2:30 P.M., KINNICK STADIUM
FIVE THINGS TO WATCH
Tyler Goodson's feet: The junior brought some life to the Iowa ground game last week, rushing for a career-high 153 yards and scoring three touchdowns in the Hawkeyes' 30-7 win over Kent State. Goodson currently ranks fifth in the Big Ten with 307 rushing yards. His work allowed Iowa to pile up a season-best 206 rushing yards last week, averaging 5.4 yards every time the Hawkeyes carried the ball.
Top tight ends: While tight end Sam LaPorta leads Iowa with 13 receptions through three games, Colorado State's Trey McBride leads the country with 30 catches this season and currently leads all tight ends with an average of 82.5 receiving yards per game in 2021. The 6-foot-4, 260-pound senior is regarded as a likely first-round pick in the NFL draft next spring and ranked by analyst Todd McShay as the best tight end prospect in the 2022 draft class.
Fresh legs: Iowa didn't enter the season with a great deal of experience on the defensive line but the Hawkeyes are utilizing depth at the four positions to keep fresh legs on the field. Twelve players took snaps on the defensive front last week, with Zach VanValkenburg, John Waggoner, Joe Evans, Logan Lee, Noah Shannon and Lukas Van Ness each getting more than 30 snaps.
Power ball: In addition to senior quarterback Todd Centeio getting the ball to tight end Trey McBride in the passing game, he hands it off an average of 21.3 times to senior running back David Bailey. The 6-0, 240-pound transfer from Boston College ran it 30 times for 133 yards last week in a 22-6 win at Toledo as part of an offensive attack that averages 180 of its 408.7 yards per game on the ground.
Sack attack: Iowa and Colorado State both enter Saturday's game after having good success in sacking opposing quarterbacks a week ago. Led by two apiece from Lukas Van Ness and Joe Evans, the Hawkeyes' seven sacks in the Kent State win were the most by Iowa in a single game since a 2000 contest against Northwestern. The Rams finished with six in the win at Toledo, an effort led by the 3.5 recorded by junior end Mohamed Kamara.
STATISTICAL LEADERS
IOWA (3-0, 1-0)
PASSING;COMP;ATT;INT;YDS;TD
Spencer Petras;49;84;0;460;2
Tyler Goodson;62;307;5.0;5
Ivory Kelly-Martin;22;91;4.1;0
Gavin Williams;4;20;4.0;0
Tyrone Tracy Jr.;2;14;7.0;0
Sam LaPorta;13;169;13.0;1
Tyrone Tracy Jr.;9;70;7.8;0
INTERCEPTIONS: Matt Hankins 2, Riley Moss 2
SACKS: Joe Evans 3, Lukas Van Ness 3
TACKLES: Jack Campbell 25, Seth Benson 20, Jack Koerner 17, Jestin Jacobs 16, Riley Moss 15
PUNT RETURNS: Charlie Jones 7-81-11.6
KICKOFF RETURNS: Charlie Jones 4-101-25.3
COLORADO STATE (1-2, 0-0)
PASSING;COMP;ATT;INT;YDS;TD
Todd Centeio;60;107;1;652;3
David Bailey;31;259;4.0;2
Todd Centeio;31;147;4.7;0
Marcus McElroy;2;35;17.5;0
Trey McBride;30;339;11.3;1
Dante Wright;10;146;14.6;0
SACKS: Mohamed Kamara 3.5, Toby McBride 1.5, Scott Patchen 1.5, Devin Phillips 1.5
TACKLES: Dequan Jackson 29, Tywan Francis 20, Henry Blackburn 19, Scott Patchan 17, Thomas Pannunzio 15
PUNT RETURNS: Geric Robinson 4-11-2.8, Dante Wright 3-16-5.3
KICKOFF RETURNS: Thomas Pannunzio 2-46-23.0
MARQUEE MATCHUP
Iowa P Tory Taylor vs. Colorado State P Ryan Stonehouse: Tory Taylor has been a field position game changer for the Hawkeyes so far this season. The sophomore has averaged 49.7 yards on the 19 occasions when he's been asked to punt during Iowa's 3-0 start. The Rams have a similar leg in senior Ryan Stonehouse. A two-time All-American and fifth-year starter positioned to establish an NCAA record with his career average of 47.2 yards per punt, Stonehouse has averaged 51.9 yards on 16 punts this season.