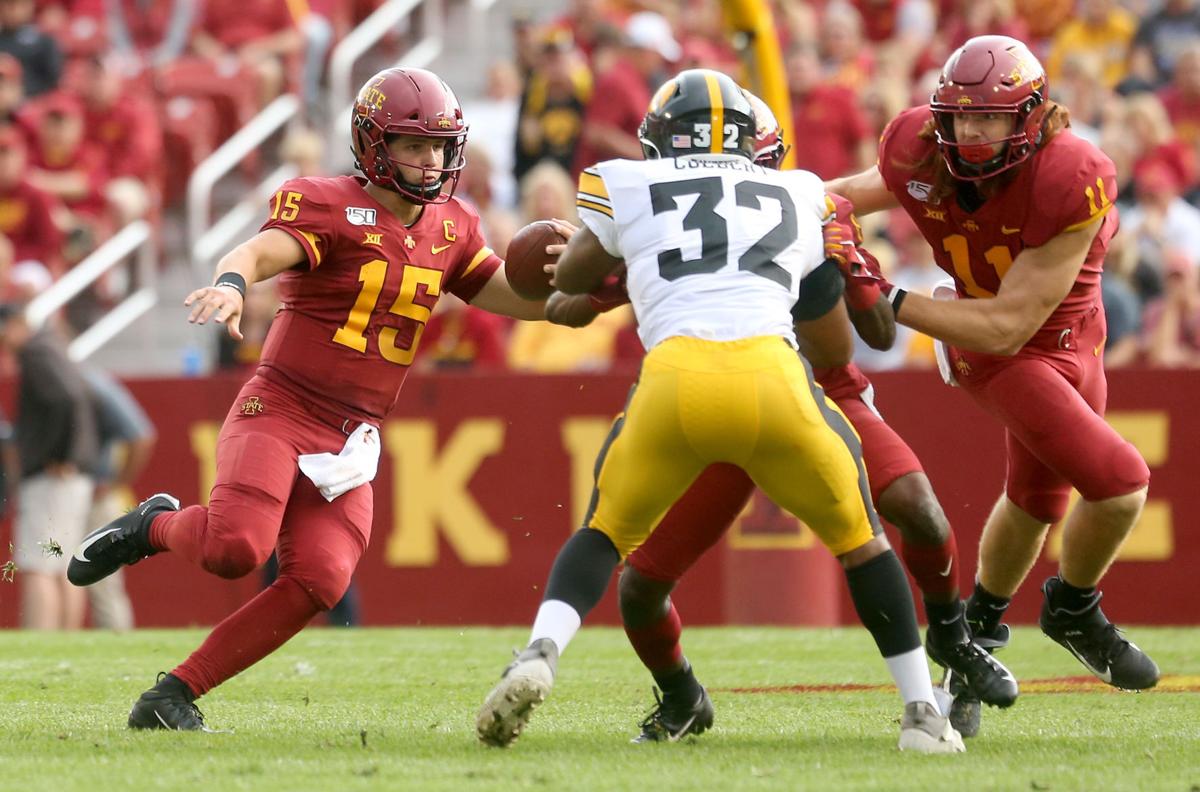 HAWKEYE GAMEDAY
IOWA AT IOWA STATE
WEEK 2: 3:30 P.M., JACK TRICE STADIUM
RADIO: WOC (1420 AM), KJOC (1170 AM)
FIVE THINGS TO WATCH
Quarterback play: Both led their teams to wins, but Iowa State senior Brock Purdy and Iowa junior Spencer Petras experienced different season debuts a week ago. Purdy connected on 21-of-26 passes for 199 yards, the seventh time in his career he has completed at least 78% of his passes. Petras struggled with connections in passing game in the Hawkeye opener, completing just 13-of-27 attempts.
Core of the defense: Iowa State middle linebacker Mike Rose has started all 39 games he has played in his career and he has a nose for the football. He led the Big 12 with five interceptions a year ago, earning conference defensive player of the year honors. Rose opened his senior season with 11 tackles against Northern Iowa and added to his career collection of 30.5 tackles for a loss with 1.5 against the Panthers.
Kickers' legs: Iowa and Iowa State start senior placekickers. The Hawkeyes' Caleb Shudak and the Cyclones' Connor Assalley both went 2-for-2 in field goal attempts last weekend. Shudak is 2-for-3 in his career with a long of 41 yards while Assalley has hit 46-of-63 tries at the onset of his fourth season in the ISU lineup. His career long is 50 yards.
Kolar's return: Both teams like to put the ball in the hands of their tight ends. Iowa's Sam LaPorta led the Hawkeyes in receptions last season and had five catches in last week's season opener against Indiana. Charlie Kolar, a 6-6, 260-pound senior and two-time All-American, sat out last week's ISU opener with an injury. He is expected back this week.
Ball security: Iowa hasn't committed a turnover in its games against Iowa State since Jordan Canzeri fumbled early in the fourth quarter of the Hawkeyes' 31-17 win at Jack Trice Stadium in 2015. That came late in the first game of Iowa's ongoing five-game win streak vs. ISU. The Hawkeyes fumbled the ball away twice a week ago, an area they want to clean up.
STATISTICAL LEADERS
IOWA (1-0, 1-0)
PASSING;COMP;ATT;INT;YDS;TD
Spencer Petras;13;27;0;145;0
Tyler Goodson;19;99;5.2;1
Ivory Kelly-Martin;8;44;5.5;0
Tyrone Tracy Jr.;2;14;7.0;0
Tyrone Tracy Jr.;2;15;7.5;0
INTERCEPTIONS: Riley Moss 2, Dane Belton 1
TACKLES: Seth Benson 10, Jack Campbell 6, Jack Koerner 5, Jestin Jacobs 4, Noah Shannon 4
PUNT RETURNS: Charlie Jones 3-28-9.3
KICKOFF RETURNS: Charlie Jones 2-57-28.5
IOWA STATE (1-0. 0-0)
PASSING;COMP;ATT;INT;YDS;TD
Brock Purdy;21;26;0;199;0
Xavier Hutchinson;7;88;12.6;0
Tarique Milton;3;37;12.3;0
INTERCEPTIONS: Datrone Young 1, Isheem Young 1
SACKS: Will McDonald 1, O'Rien Vance 1
TACKLES: Jake Hummel 11, Mike Rose 11, Isheem Young 6, O'Rien Vance 5, Greg Eisworth 4
KICKOFF RETURNS: Xavier Hutchinson 1-21-21.0
MARQUEE MATCHUP
Iowa State RB Breece Hall vs. Iowa LB Seth Benson: After being held to his lowest yardage total in 13 games in the Cyclones' season opener — 69 yards on 23 carries — the 6-foot-1, 220-pound junior preseason All-American will look to rebound against an Iowa defense which held Indiana to 77 rushing yards last week. Hall led the nation with 1,572 rushing yards in 2020. Seth Benson made his first start at weakside linebacker for the Hawkeyes against the Hoosiers and collected 10 tackles.