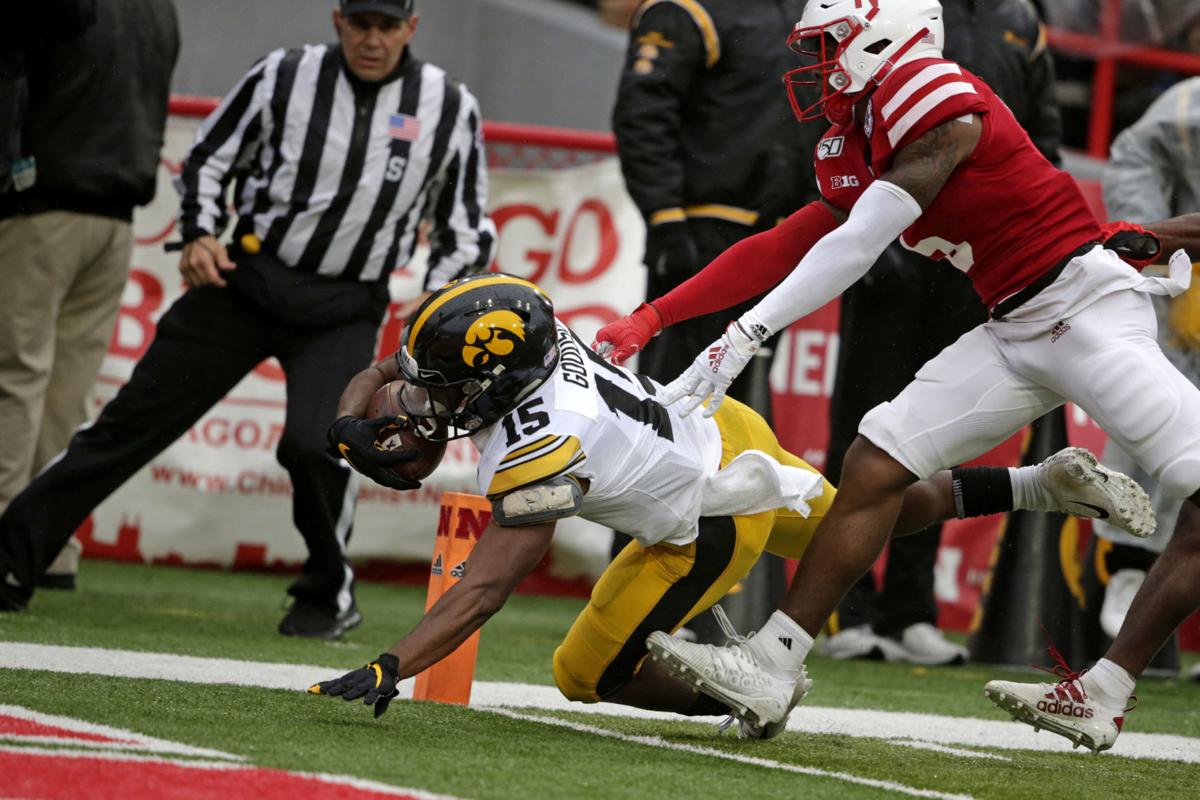 LINCOLN, Neb. — A.J. Epenesa didn't leave anything to chance Friday in Iowa's 27-24 win at Nebraska.
The Hawkeye defensive end put together his most productive game of the season to help Iowa earn a hard-fought fifth-straight victory in its series against the Cornhuskers.
"It feels real good. I've played in three of them, but it feels real good carrying that trophy," Epenesa said, referencing the Heroes Trophy earned by Iowa six times in the last seven years. "That's a real nice looking trophy, not as heavy as the other trophies, but it's a pretty trophy."
Epenesa turned in a pretty good performance to help the Hawkeyes retain possession of that prize.
He recorded 14 tackles, including five tackles for a loss and two sacks.
"He was everywhere," Iowa defensive tackle Cedrick Lattimore said. "You can sort of feel when a guy is having a game like that. You know somebody is getting stops and you keep hearing his name."
Coach Kirk Ferentz described Epenesa's performance as a "phenomenal effort."
The Iowa coach praised the work of the Hawkeye defense, which held Nebraska to 284 yards, its lowest total in the eight games it has played since gaining 231 against Ohio State.
"Full defense played well, but he was certainly a catalyst for us out there," Ferentz said.
Epenesa said found himself in the middle of the action more against the Cornhuskers than he has against other opponents.
"The adrenaline was flowing, the mind is on continuing to make plays, continuing to be at the ball," Epenesa said. "I was having some success, and I was just around the ball all the time. That's just something I've been wanting to do all season long. I had an opportunity tonight."
On the run: Iowa had success on the ground early against Nebraska, gaining 152 of its 225 rushing yards in the first quarter.
"I thought our offensive line played great. They opened a lot of holes for our running backs and gave me time to pass," quarterback Nate Stanley said. "I think our run game was clicking the whole game."
Tyler Goodson led the Hawkeyes with the first 100-yard rushing performance of the freshman's career, gaining 116 yards on 13 carries.
His work included a 55-yard touchdown run in the first quarter, the longest rushing touchdown by a Hawkeye since Akrum Wadley scored on a 75-yard run against Nebraska at Kinnick Stadium in 2016.
Black Friday return: Ihmir Smith-Marsette finally recorded a Black Friday kickoff return that counted.
The Hawkeye junior had a runback to the end zone nullified by a penalty in Iowa's 2017 Black Friday game at Memorial Stadium but found a flag-free path to the end zone in the second quarter to quickly answer a Nebraska pick six.
"I guess I was owed one here," Smith-Marsette said. "I was just glad to make a play and get some points on the board."
His 95-yard kickoff return was the ninth longest in Iowa history and the first by a Hawkeye since Jordan Cotton returned a kick 92 yards for a touchdown against Penn State on Oct. 12, 2012.
Pick six: The pick six thrown by Stanley in the second quarter on Friday was the first thrown by the Iowa senior in his three seasons as the Hawkeyes' starting quarterback.
Before Nebraska safety Cam Taylor-Britt returned an interception 38 yards for the Cornhuskers' lone first-half touchdown, the most recent pick six by an Iowa opponent was a 58-yard return of a C.J. Beathard pass by Florida's Chauncey Gardner Jr. during the 2017 Outback Bowl.
Duel threat: Adrian Martinez completed 10-of-18 passes for 50 yards and was Nebraska's second-leading rusher, his 44 yards 50 shy of Dedrick Mills' team-high total.
"He's a really great athlete," Iowa linebacker Kristian Welch said. "We did what we could to keep him in the pocket, but that's not easy to do. We did the best we could against him."
The heroes: Katie Gudenkauf, a nurse from Dubuque, and the family of James Wilke of Columbus, Nebraska, were honored at halftime as citizen heroes.
Gudenkauf was recognized for her quick response in saving the life of Jake Tebbe when he collapsed and his heart stopped while he was playing in a soccer tournament in March on the campus of Clarke University. Gudenkauf quickly began first aid until paramedics arrived.
Wilke gave his life while attempting to save the life of a stranger during spring flooding in Nebraska. Local authorities asked him to help a motorist stranded by floodwater, driving his tractor to the scene. As he crossed a flooded bridge, it gave way and Wilke and his tractor were swept away by the water.
Friday finale, for now: Nebraska will continue its 30-year Black Friday tradition next season, but a change in the Big Ten schedule will have the Cornhuskers concluding the schedule against Minnesota the next two seasons.
Iowa will finish its next two regular-season schedules against Wisconsin, which declined overtures to play on Friday.
The Hawkeyes and Cornhuskers will resume playing each other on Black Friday in 2022.
Full house: Nebraska continued in NCAA record string of sold-out football games on Friday.
The Cornhuskers announced a sellout crowd of 85,458, the 375th consecutive time Memorial Stadium has been sold out for a Nebraska home game. The streak dates to November 1962.
Up next: The Hawkeyes will learn their bowl assignment on Sunday, Dec. 8.
Representatives from the three bowls where Iowa is most likely to land, the Citrus, the Holiday and the Redbox, have watched Iowa in person at least once during the final four games of the season.