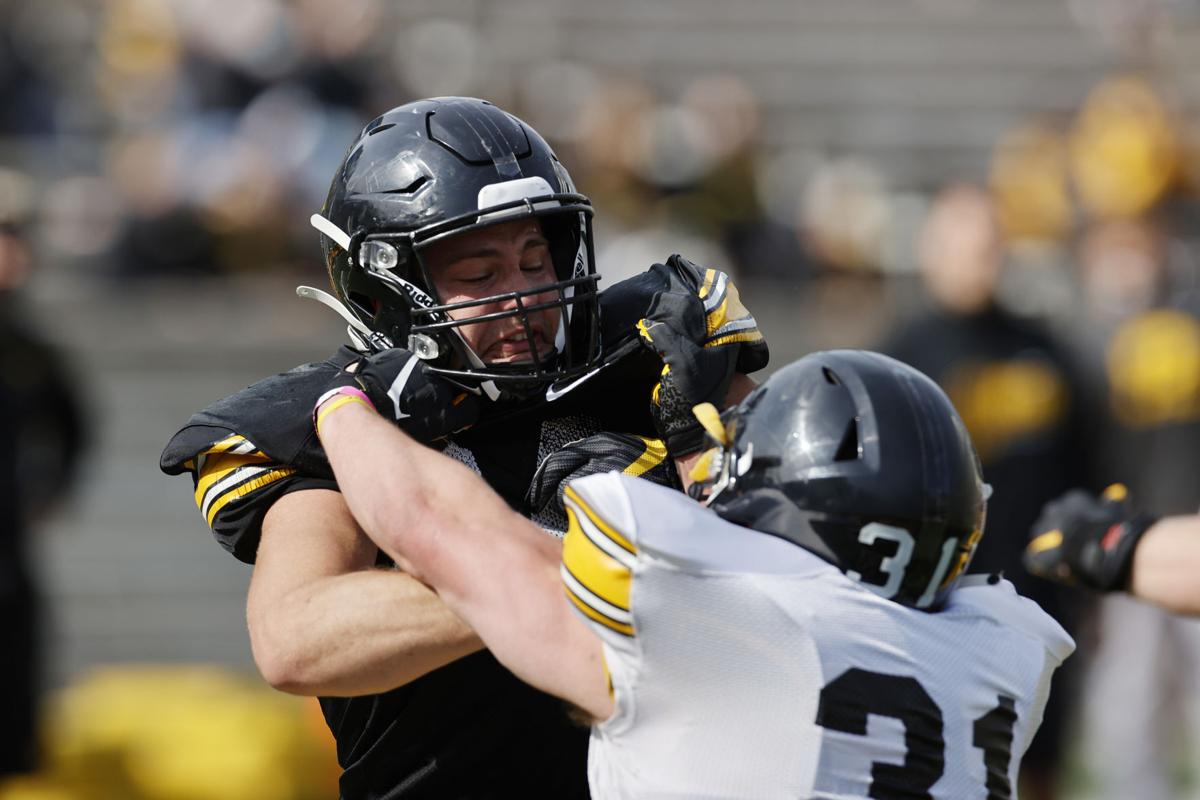 When Iowa wraps up its spring football practices with an open workout Saturday at Kinnick Stadium, the Hawkeye linebackers will continue to be comfortable being uncomfortable.
Seth Benson and Jack Campbell are the only linebackers on the roster who have been on the field for more than 100 defensive snaps during their collegiate careers and the education for the entire position group this spring has created interchangeable parts.
Linebackers coach Seth Wallace said fans can expect to see the 12 linebackers on the roster rotate through positions during different segments of the 9:30 a.m. practice, a rotation that has been a constant throughout Iowa's 15 spring workouts.
Working with a group that has combined for a total of eight starts, the idea extends beyond creating a more versatile collection of linebackers who can shift from one spot to another depending on what look an opponent may present.
Wallace wants his players to benefit from seeing the field from different angles, understanding the perspective of their teammates as they talk and work together throughout games.
"It can be uncomfortable for guys at times, stepping into a position they are not used to, but I think it can be beneficial as well," Wallace said.
He doesn't have to look any further than across the ball to see an example of that.
"Within our program, you see a guard who has tackle potential or you see a guard that has center potential. That positional flexibility that you see on our offensive line, that is what we're trying to create linebacker-wise," Wallace said.
A practical application played out during a 2017 game at Northwestern when Josey Jewell had to leave the game with an injury, moving Ben Niemann into an inside linebacker spot he had not played before at Iowa.
Wallace said he didn't want that scenario to play out in a game again, among the reasons Iowa linebackers are now being cross-trained to not only play their own natural position but to line up at the middle linebacker spot as well as the outside positions Iowa labels the will and leo spots.
Benson, Campbell and Jestin Jacobs have emerged at the top of the depth chart this spring, with Campbell filling the middle linebacker spot, Benson the will and Jacobs the leo.
The alignment can and likely will vary from game to game and within games based on what the Hawkeyes expect on the other side of the ball.
"The recipe is based on the opponent," Wallace said. "But, through what we're doing right now and with the position flexibility we are creating, I think that can give us an opportunity to become a little more creative down the road."
For example, if Iowa is facing a team that utilizes a spread approach on offense, Campbell will likely line up in the middle with Benson and Jacobs outside.
If the opponent features more of a power-based approach, it will be possible for Campbell to shift to a spot closer to the line of scrimmage while Benson and Jacobs defend from interior spots.
Benson believes the Hawkeyes as a group are getting more comfortable with the flexibility that Wallace hopes to create this spring.
"Each and every rep, we're trying to take something and learn from it," he said. "Over time, that's just going to help you be more confident and we will be able to help other guys come along as well."
That, Benson said, creates additional confidence which should allow the Hawkeyes to play faster.
While the rotation has been frequent this spring, Wallace expects to pull back on the practice time spent on it during fall camp.
"In August, we'll back off it a bit and line guys up where they are accustomed to lining up," Wallace said. "We'll have plenty of time then, but right now we want to help see the big picture clearly. They're doing a good job with it and I'm excited about what they can do as a group."