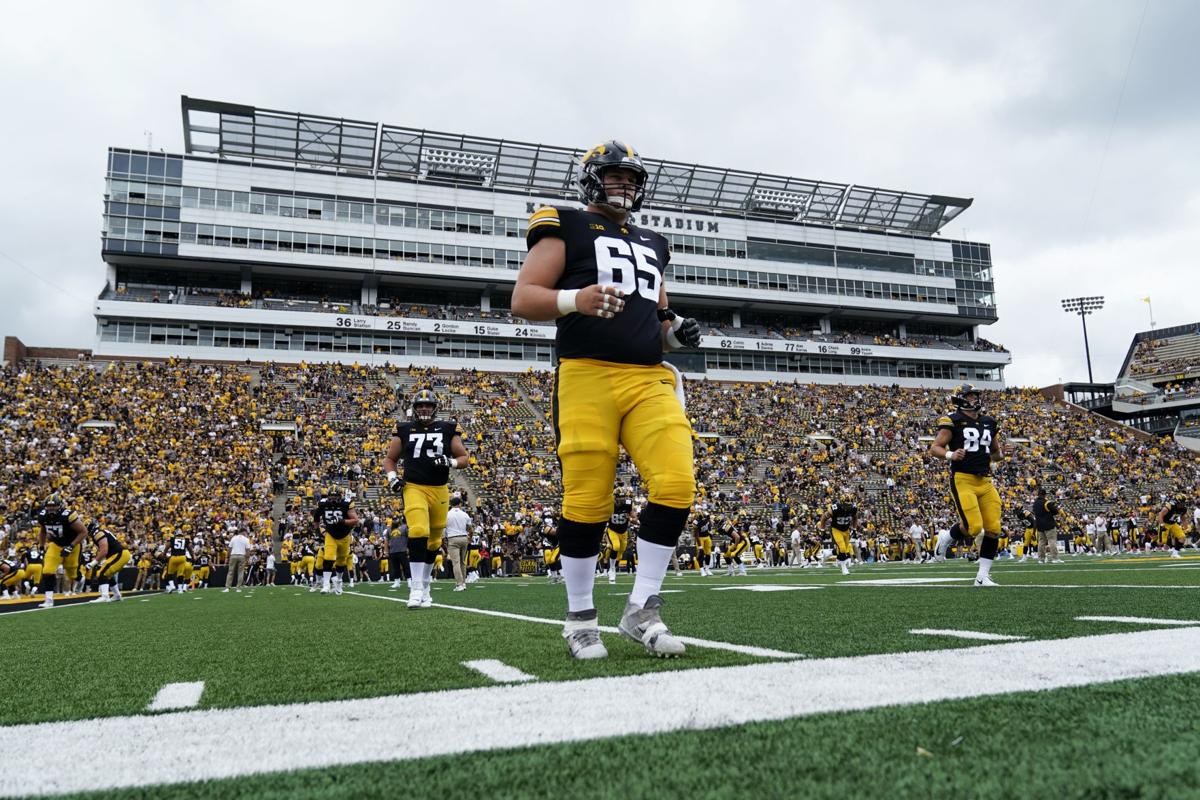 Tyler Linderbaum made it official Friday.
The consensus All-American center announced he will forgo his senior season of eligibility at Iowa and declare himself eligible for the 2022 NFL draft.
"These last four years have been nothing short of amazing," Linderbaum wrote in announcing his decision on social media.
"Being able to play the game I love with the best teammates and coaches in front of the best fan base in the world has been a dream come true. I will forever be thankful for all of the love and support I have received over the last four years and truly could not imagine my time anywhere else."
The 6-foot-3, 290-pound Linderbaum won the Rimington Trophy as the top center in college football following his work as the anchor of the Hawkeyes' offensive line during Iowa's recently completed 10-4 season.
The Big Ten offensive lineman of the year was also one of three finalists for the Outland Trophy and one of four finalists for the Lombardi Award in 2021 in addition to sweeping first-team All-American recognition from the Walter Camp Foundation, the Associated Press, Sporting News, the American Football Coaches Association and the Football Writers Association of America.
Linderbaum arrived at Iowa from nearby Solon High School, initially playing baseball for his high school team and attending summer Hawkeye workouts at the same time prior to his freshman year.
He took the field first as a defensive lineman, appearing in two games in 2018 before transitioning to center during bowl practices that season.
Linderbaum thrived in that role, making 35 starts over the past three seasons for Iowa on teams that combined for a 26-9 record.
He is projected as a probable first-round selection in the upcoming NFL draft and announced his decision three days prior to the Monday deadline underclassmen face to declare for the draft.
In reaching that conclusion, Linderbaum began by thanking his teammates.
"This could not be possible without every single one of you," Linderbaum wrote. "You have pushed me to be the player I am today and I am forever grateful for that. The lifelong friendships I have made are ones that I will cherish forever."
He went on to show appreciation for Iowa coaches and staff members who he worked with over the past four years.
"Thank you for taking a chance on a small town Iowa kid," Linderbaum wrote. "That you for pushing me to be a great football player, but an even better man."
Linderbaum is the second underclassman from last season's Iowa team to announce plans to forgo his senior season of eligibility and enter the draft pool.