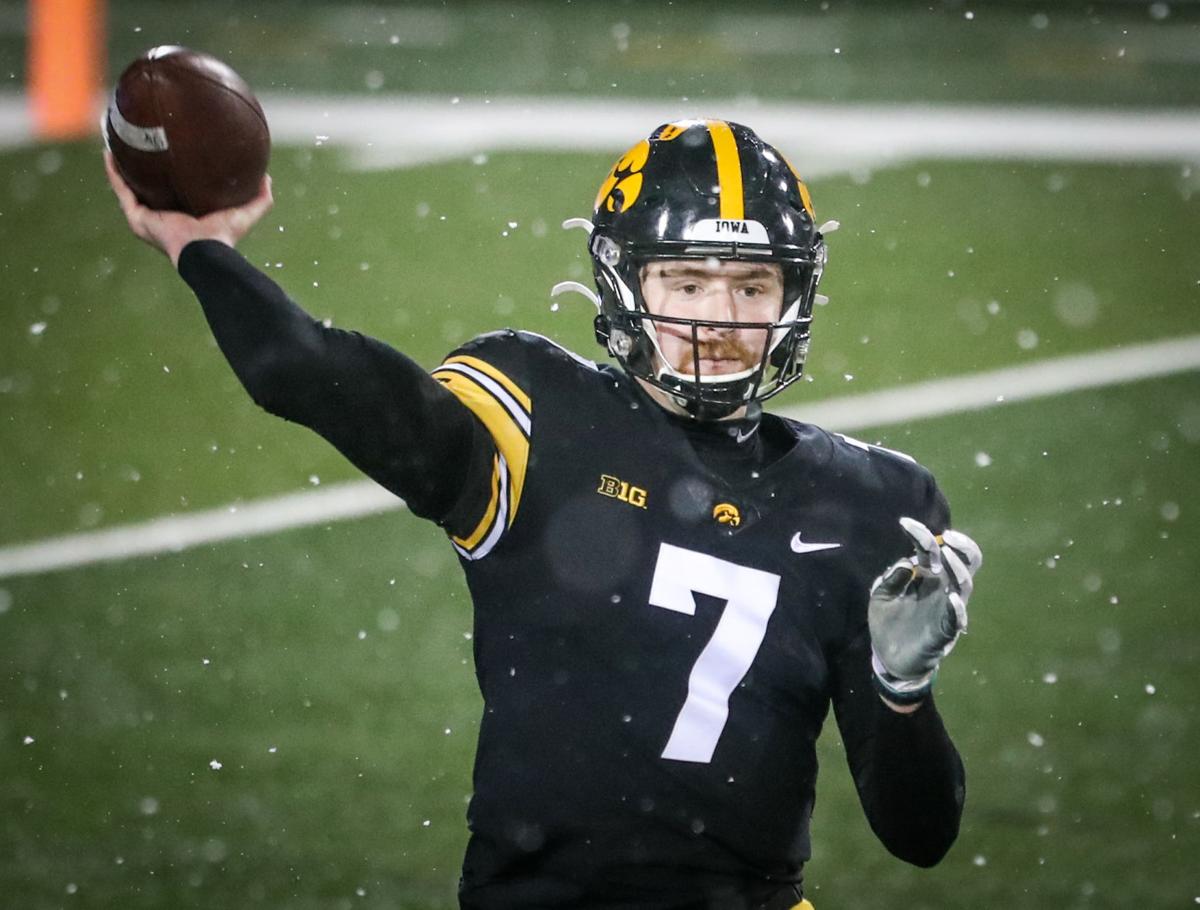 Spencer Petras welcomes the competition he faces this spring.
But, the competition Iowa's returning starting quarterback concerns himself with isn't sophomore Alex Padilla, listed as Petras' back-up on the Hawkeye spring depth chart.
It isn't even Deuce Hogan, a redshirt freshman going through spring practices for the first time since arriving at Iowa last June.
The competition Petras welcomes is the challenge presented by the game.
It's the internal competition to see how much he can improve and develop his own skill set during the 15 spring practices he missed a year ago that fuels Petras' competitive juices.
"I'm not worrying about competition from other guys. I'm more focused on myself," Petras said Tuesday.
Petras held his own during the Hawkeyes' abbreviated 2020 season, guiding Iowa to six consecutive victories after an 0-2 start.
He threw for 1,569 yards, completing 140-of-245 passes including nine touchdown passes. He also rushed for a pair of scores.
Petras also was put in a position where he had to learn on the job as he settled into a role Nate Stanley filled the previous three seasons.
Spring practices were canceled at the onset of the COVID-19 pandemic, summer workouts were an on-again, off-again proposition and fall camp came to a quick halt when the Big Ten changed plans for an on-time start to the season.
When the conference eventually reset things with a shortened, late-fall season, it was pretty much go-time for Petras and the rest of the Hawkeyes.
Coach Kirk Ferentz has mentioned on multiple occasions that Petras missed out on significant time periods that typically help quarterbacks develop cohesion with the rest of the team.
That was evident in Petras' performances, particularly early in the season.
He completed a rough-around-the-edges 53.7% of his 134 passes in Iowa's first four games. In the Hawkeyes' final four games, Petras completed 61.2% of 111 pass attempts.
Among the byproducts of the early-season shakiness — which included throwing three of his five interceptions during a second-game loss to Northwestern — was criticism from fans that Petras was prepared to handle.
"It is what it is," Petras said. "I've had my fair share of experience watching Nate deal with it. Everyone has their own opinion, and that's OK. No offense to the fans, but I couldn't care less what they say about my performance."
Instead, Petras centers his energies elsewhere.
Four practices into the 15 the Hawkeyes will hold before May 1, Petras' objectives center on "improvement and trying to have a great spring."
This is a time of year where coaches have a chance to teach without worrying about the next opponent on the schedule and it's a time of year where players have an opportunity to really work on their game.
With spring practices canceled a year ago, the unique thing about this spring for Iowa is that it is a first for the majority of players on the roster.
Iowa senior free safety Jack Koerner said following Iowa's first practice last week, Ferentz asked players who had just participated in their first spring practice with the Hawkeyes to raise a hand.
"Around 75 percent of the guys there had a hand in the air. You've got a guy like Dane Belton (with 12 starts and 16 games on his Iowa resume) and this is his first spring ball," Koerner said.
"… It's been a while. For me, 2019 was my last time, and the young guys keep asking me what the schedule is like and I have to tell them that I honestly don't remember."
Petras does know that the spring practices provide him with the competition he relishes, a chance to work on skills that will allow him to build on his 57.1% completion rate last fall, a number that compares to the 55.8% effort Stanley had as a first-year starter in 2017.
In addition to participating in Iowa's eight-week offseason strength and conditioning program beginning in late January, Petras reviewed what transpired last fall.
He watched plenty of tape, both of his own performances and that of others.
He took time to watch tape of NFL draft prospect Mac Jones as he led Alabama to a national championship last season, seeing potential similarities in their games.
"He does a great job getting the ball out of his hands, and there is a lot to learn by watching him work," Petras said.
The 6-foot-5, 231-pound junior has set a goal of improving his completion percentage to 65% "at least."
"I think that comes mainly from two things," Petras said. "For me, it's taking gifts more efficiently. If I have an easy completion I might as well take it, that kind of thing. The other big thing is ball placement on the timing routes. That's an area where I know I can improve and I have the last eight weeks. I really want to focus on taking matchups when they present themselves."
That is among the areas of growth Petras concentrates on, maximizing the competition presented by the game.
"Spring is an opportunity for us older guys to develop our chemistry and really work on our offense," he said. "It's really 15 practices to just improve."