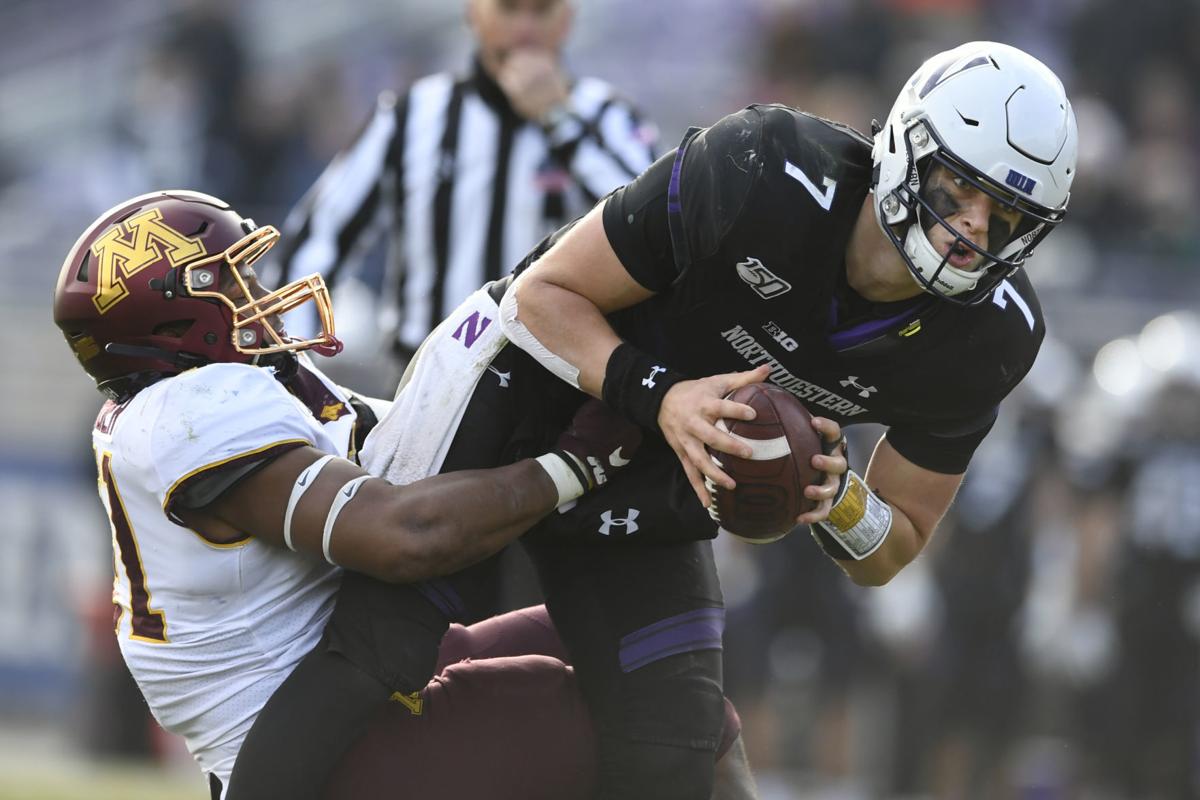 CHAMPAIGN — If the Illinois football team began to feel the tide shifting in last season's loss to Northwestern, it has a chance to ride the wave of change at 11 a.m. Saturday.
The Illini enter the final game of the season with a chance to reach seven wins for the first time in a season since 2011, and for the first time in the regular season since 2007, and beat the Wildcats for the first time since 2014.
Illinois (6-5) has won four of its last five games, and Northwestern's (2-9) only win since Sept. 14 came two weeks ago against UMass.
"It would mean everything," Illinois defensive tackle Kenyon Jackson said. "It would top this off. … We know what we have to do to beat them. We want that Land of Lincoln trophy. We've seen it too many times, but have not touched it. … It's something we want so bad and we're eager to have."
It's still unclear who will start at quarterback for Illinois after starter Brandon Peters left last week's loss at Iowa late in the fourth quarter. His status likely won't be known until the game begins.
"I know this rivalry is built on great respect and we're fired up to compete against the Illini," Northwestern coach Pat Fitzgerald said. "They're having a great year. Coach Smith is a great friend, he's doing a great job getting them bowl eligible. They've had some amazing comebacks."
Here's what to watch for.
Rivalry week
Illinois running back Reggie Corbin wore purple when he was at Gonzaga College High School in Maryland, but he's not particularly a fan of Northwestern, or its shade of purple.
Northwestern, a year removed from playing in the Big Ten championship game, is struggling this season. The Illini have a clear chance at beating their rival for the first time since 2014. On top of that, it's the final game at Memorial Stadium for a senior class that has watched losses pile up before finally breaking through for a bowl game this year.
"We want to send them out regular-season wise on a high note, and it's our rival, too," Illinois head coach Lovie Smith said. "It's a little more incentive to play your best football. We haven't beaten them since I've been here. We're a better football team."
Said senior safety Stanley Green: "We don't like that team up north and we know they don't like us. It's going to be a fun game."
You have free articles remaining.
Northwestern's defense still solid
Northwestern's offense ranks near the bottom of the Big Ten in scoring offense and total offense, ahead of only Rutgers. But the defense isn't as bad as a 2-9 record would indicate. The Wildcats rank ninth in the conference in scoring defense (24.8) and total defense (351.6 yards).
Illinois offensive coordinator Rod Smith knows its no easy task against on Saturday.
"It's crazy because defensively, once again here we are, I think they're pretty good," Rod Smith said. "I think they do a good job defensively. They're giving giving up some points but not a lot. They're keeping their football team in games."
Looking for a winning season
Lovie Smith hasn't beaten Northwestern in his four-year stint as Illinois' head coach. He's also not sniffed a winning season in Champaign. They have plans to change that on Saturday against the Wildcats.
Illinois is already bowl eligible, but a seven-win season would be key at this stage in Lovie Smith's rebuild.
"This preparation for this week, it means a lot for this program and this team," Illinois defensive lineman Jamal Milan said. "We're going to get this win for this program and it's going to be huge going into the bowl game and things like that. You can't really look past this weekend."
Similar situation?
The Illini went to Evanston last season with nothing to lose. Their season was going to end the second the clock ran out, and the Wildcats had already clinched a spot in the Big Ten championship game.
Illinois made it a game in the second half before former quarterback AJ Bush Jr. was intercepted by Wildcats' linebacker Paddy Fisher to all but end the game.
On Saturday, Northwestern has nothing to lose. Its season is going to end on Saturday regardless of the outcome. They, though, can hurt Illinois' chances to play in a better bowl game and get a big seventh win.
"I told them, 'Don't sleep on Northwestern,' because last year we came in their house in that same predicament," Green said. "We knew it was our last game of the season and we wanted to put it all on the line. We know they're going to do the same thing. They've been playing some good ball these past three weeks.
"I know they're going to come in with their best ball. They've always played their best ball ever since I've played them. They've played some good football up there."